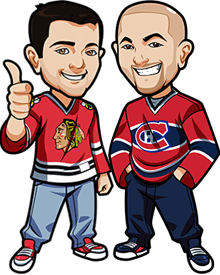 Follow @BetNHL
Welcome to the BetNHL December Contest, entitled BetNHL December Dynasty.
This contest is free to enter, and it is very simple. All you need to do is take all 30 teams in the NHL, and pick ONE game in the month of December that they will win. You will also be competing against Graeme and Scott the owners of this site, so this is a chance to prove your tipping skills!
Here is the current Standings.
Thanks to Bovada for sponsoring the contest and throwing in a $100 free bet for 1st place.
We've did the hard work for you as well by creating a nice easy schedule on Google Docs, and then a list below as well. So to make it clear – for each team, you have to pick just 1 game in December that they will win. Betting odds don't matter either – it's all about getting the W.
We'll get to all that and how to enter in the second. First of all prizes:
Bonus Prize No-One Will Get: If you went 30-0 that would be a ridiculous feat and something we need to reward. If someone goes 30-0 they will get an XBox One OR PS4 – their choice. If multiple people go 30-0 we may have to do some sort of tiebreaker or something to see who wins(and everyone else will get compensated too)- but yeah, that isn't going to happen!
1st Prize: $200. You will receive $100 in cold hard cash as well as a $100 free bet at Bovada.
2nd Prize: $50. Cold hard cash.
3rd Prize: $25. Cold hard cash.
3 Random Prizes: 3 random entrants will be mailed a hockey book out of our random and massive collection.
So that's it. You need to get all 30 picks in one e-mail to us, with a closing date of December 4th, 11:59pm EST. Then we will sit back and tally up each day how everyone is doing for the month of December. All picks including our own will be logged and on display for everyone to see.
To see the full schedule organized by date, click here.
You can send your picks in two different formats. Let's say you want to pick the Avalanche to beat the Oilers in Edmonton on December 5th, Blackhawks to beat Flyers on December 11th at home, Blue Jackets to beat the Devils at home on December 10th, and the Blues to beat the Jets in Winnipeg on December 10th. Either of these formats would work:
Avalanche: @ Oilers
Blackhawks: Flyers
Blue Jackets: Devils
Blues: @ Jets
Or
December 5th: Avalanche
December 10th: Blue Jackets, Blues
December 11th: Blackhawks
Either of those formats work – we'd prefer the latter but it's whatever is easier for you.
I don't think any teams play multiple times in the same arena, so dates don't need to be specified. (Although if you notice they do please let us know!).
All entries must be e-mailed to betnhl.ca@gmail.com and if there are any questions just comment below.
Feel free to invite all your friends and share this like crazy! The more people that enter this, the more chance we offer bigger and better contests in the future.
In the result of a tie, we will offer a tiebreaker – most likely "pick the most games correctly on January 4th" or similar.
The @ sign means that it is a road game. Hopefully we have not made any mistakes with the schedule and if we have we will catch it and contact you as fast as we can. The contest will of course begin as of December 1st, and end on December 31st.
So:
1: Read the schedule.
2: E-mail picks to betnhl.ca@gmail.com.
3: Tell your friends to join!
We'll e-mail out updates every day in December so you can sign up below for our e-mail updates and tips:
FAQ:
Q: Can I get the $100 Free Bet at another sportsbook?
No – this isn't an offering from us. It's a special offer from Bodog/Bovada who are sponsoring this contest with that awesome free bet.
Q: What if I pick the same 2 teams in the same game?
Ah – for example, December 3rd you pick "Sharks, Leafs" when the Sharks vs Leafs play each other that night. If we catch it before the game starts we'll contact you about fixing it, or if you catch it before the game starts – same deal, just e-mail us and let us know what you'd like to change it to. If it's not caught until after the games are over then unfortunately we'd mark you up at 1-1 for that.
Follow @BetNHL
BetNHL.ca » Blog »