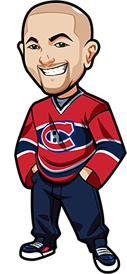 Follow @BetNHL
While the NHL season is over with – that doesn't mean the sports betting has to end!
First of all we'll comtinue to provide NHL bets throughout the Summer. Scott just posted betting tips for the awards for example 2 days ago – and we're anxiously checking the sportsbooks every day for any random prop bets they may add.
We'll be sure to cover the futures like each divisional winner, and team over/under wins etc as well once those odds are up. If we see anything on the draft we'll provide betting tips for that too.
However I wanted to point out a few other betting options for you throughout the Summer.
BetCFL.net: This is me and Scotts betting tips website dedicated to the CFL – the Canadian Football League. Now we don't do as well at that as we do at the NHL mainly because it's bloody hard to predict CFL at times – but we are profitable since we've been providing the betting tips over the last few years.
Each week, myself and Scott meet up and discuss every CFL game as well as watch the highlights etc over a few beers. We both watch every single CFL game as well and discuss it during the game then much like NHL we get together and discuss the potential tips before coming to agreement. We provide tips every single week of the CFL season plus the playoffs and Grey Cup.
The CFL season actually begins this weekend! So head on over to our CFL Betting Tips website now for all of that action.
Golf Betting Tips: This one is all me. I love betting golf. I don't do the matchups or anything like that – I usually go for the high odds picks on who is going to win each tournament. I much prefer that – especially when the payouts hit. I mean just last week in the US Open I hit this nifty one on Dustin Johnson: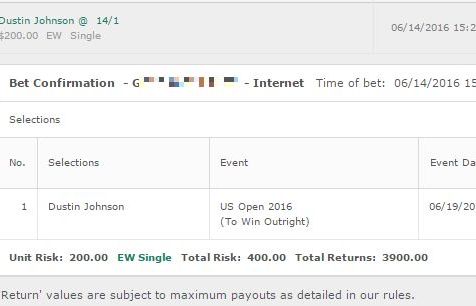 With bets on the golf you're not going to hit every week – but man, does it ever add to the excitement level. Just a couple of weeks ago I had a 125/1 pick in the LPGA and she was leading going into the final round. Holy crap was that insane and I was already spending the money. She ended up having a disastrous day but it was a fun 24 hours before that.
I cover PGA and European Tour mainly but do the Champions Tour and LPGA as well.
SportsBettingTips.org: This is a site that I work on along with a couple of other people. There's a Scott who writes there but that's a different Scott.
On that site absolutely everything is covered. From soccer to MLB to horse racing to WWE. We all have different expertise and we'll bet on anything and everything. We're covering Euro 2016 right now and are absolutely killing it – actually just had a nice 20/1 win on No Ukraine Goalscorer to really pad the bankroll.
WNBATips.com: A good many years ago I used to tip WNBA as Vegas set incredibly soft lines. Unfortunately that's not the case anymore and my interest has waned in it but I still usually have a positive ROI. Just don't expect tips every night I often go weeks without tips. 2-0 last time out though!
So if you're looking for betting tips outside of the NHL be sure to check those out.
Follow @BetNHL
BetNHL.ca » Blog »