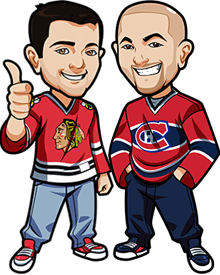 Follow @BetNHL
Well it's officially Summer here in Canada. You can tell that due to the whole 3 days of nice weather we've had in the last month.
Seriously it's bloody July and pissing rain constantly. What the hell is going on with the weather?
It's a depressing time at the moment in the world of hockey – and not just because yet another top prospect has gone to Edmonton to ruin his career. There's no NHL action – but that doesn't mean BetNHL.ca will be a graveyard for the next few months.
Over the coming months, we'll be writing weekly articles for you. Hopefully twice a week, covering a variety of topics. We may run some fun simulations on NHL 15 or NHL 16 when that comes out, as well as do some general betting advice topics.
We also plan on some daily fantasy hockey strategy articles, and we're working on a few cool projects for the beginning of the NHL season.
For those who haven't checked – the NHL 2015/2016 season begins on Wednesday, October 7th. The Habs vs Leafs start it off, followed by the Rangers vs Blackhawks. Then later that evening it's the Canucks vs Flames and Sharks vs Kings. Curious fans will have to wait until the following day to see McDavid in action, with the Oilers starting the season with a road trip in St Louis.
Last season, we provided tips for the Champions Hockey League throughout the Summer and we may do that again this time around. The CHL begins on August 20th and we're going back to last season and using the historical data to hopefully get a grip on things so we can make money from that.
We're also looking at providing coverage for more non-NHL leagues. Last season we occasionally did tips for the OHL but we'd love to expand that and regularly offer tips for the AHL, KHL etc over next season. It just depends if we have the time and if it doesn't mess up the current tips we're doing in terms of work involved.
Of course although hockey is over with for the Summer, there's still some other sports action you can get tips on:
Summer Sports Betting Tips:
First of all we both invite you over to BetCFL.net for weekly betting tips on the CFL. Both Scott & Graeme run this and offer tips on a weekly basis doing an analysis of each game, and usually offering a betting tip for every single game. We'll cover each week in the CFL so don't miss out.
Graeme also runs a Golf Betting Tips website. There are many tournaments throughout the Summer and he's had a lot of success this year. He correctly predicted Spieth winning the US Open at 8/1, and had an 80/1 success in the LPGA just last week.
He also runs a WWE Betting Tips website, offering up tips on the world of wrestling. While you may laugh – if you bet $50 on every betting tip provided, you'd be up about $6,000 since he started doing it. Speaking of things you may laugh at there is WNBA Tips. If you're a racing fan, he also does F1 Betting Tips.
Finally for a wide variety of sports betting tips be sure to check out SportsBettingTips.org.
Follow @BetNHL
BetNHL.ca » Blog »