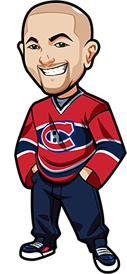 Follow @BetNHL
We have a lot of visitors from all over the world, however our audience is predominatantly Canadians. 35% of our visitors hail from the great country of Canada. Only 1% of them are from Saskatchewan – a fact I'm only mentioning because they had -50 degree weather yesterday. No wonder it's only 1% – they've probably all frozen to death up there!
We get asked a LOT of questions from our visitors about the best ways for Canadians to deposit into Sportsbooks. Even moreso now – one of the most popular deposit options was Skrill/Moneybookers. They were like Paypal, except they allowed you to deposit to gambling sites.
Unfortunately as of January 2nd, Skrill will no longer allow Canadians to deposit to gambling sites. For those curious about the reasons for this it's because they are opening up an office in Canada, and wish to play it safe in what is a gray area.
So now we're getting asked by Canadians the best deposit options for gambling sites – and where to actually bet if you're Canadian. So I wanted to write up a quick article covering that:
Canadian Gambler Deposit Options:
Canadians have about 4 major deposit options. There are a few other ones but these are the ones I'd recommend:
InstaDebit: Instadebit works similar to Moneybookers/Skrill. You attach your bank account to them and they act as an intermediary just like Skrill and Paypal. In the last month I've used them and been impressed with their customer support(replies within 5 minutes during 3 tests) as well as very fast withdrawals. This would be my #1 option.
EcoCard: Similar to Instadebit. I found most sportsbooks didn't support them unfortunately but they're still an option.
Credit Card: If you've ever tried to deposit via credit card you'll know it is hit and miss. A lot of it depends on what financial institution the credit card is tied to, which I'll talk about below. Either way, I'm hearing more and more that when you deposit via credit card your company will call you to verify the charges. All they want to do is make sure there is no fraud however.
Bank Wire/Debit Card/Cheque: Ah yes, the bank options. The fact is there are banks in Canada that for the most part just won't permit deposits for gambling. That's tied into credit cards above. From our experience, the only two banks who really have an issue with it at this time out of the major banks are TD & RBC.
That's the main options. Personally I'd recommend getting set up with Instadebit. It's a lot easier process – especially if you(which you should) have multiple betting accounts with money to chase the best odds available and bonuses.
Now let's get onto the major sportsbooks for Canada, and what they accept.
Best Sportsbooks for Canadians in 2014:
I've got accounts at – no joke – over 50 online sportsbooks. It's due to a combination of choosing the best betting odds, as well as going after bonuses and reload bonuses. I'm going to mention here a few sportsbooks you SHOULD have an account at and their deposit options. It's worth having an account at all of the below(even if you're not Canadian) for either the odds or the bonuses.
http://www.Sportsinteraction.com: A sportsbook who almost exclusively target Canadians, they offer a 100% to $125 bonus for the NHL as well as really sick mobile betting and some good, competitive betting odds. Deposit Options: Instadebit, Visa, Mastercard, EcoCard, Bank Wires.
http://www.Bodog.eu: Another favourite, Bodog offer a free NHL bet and various great NHL contests. While their odds aren't their strong point, I'll still usually find better odds here at least 1 out of 10 times, often more. Deposit Options: Credit Card & Bank Transfer. Note that if you are depositing via Credit Card, we've heard Bodog have the highest success rate amongst Canadians.
http://www.5Dimes.eu 5Dimes have bonuses but that's really not why you sign up there – it's due to top betting odds. They often have the best odds available for Canadians. Deposit Options: Western Union & Moneygram. They also have Instadebit however I believe you have to request customer support to specifically add it to your account.
http://www.PinnacleSports.com: What they lack in bonus, they make up for in betting odds. Always recommended having an accont here because they will often have the best odds. Deposit Options: Instadebit, Visa, Mastercard, Bank Transfer.
World Betting Exchange: Not just a sportsbook but a betting exchange and the best option for Canadians. There's not a lot of liquidity on the NHL market but that's actually great – play it right and you can make some relatively easy, if small money. Deposit Options: Visa, Mastercard, Bank Transfer & Cheque.
Canadian Sports Betting Summary:
Skrill pulling out of Canada is nothing but a minor inconvenience. Nothing has changed in regard to the laws or anything like that.
If you have any questions you can ask below and I'll be happy to answer them.
If you're new to sports betting online or wanting to start then I'd personally recommend the following:
(1) Open up an Instadebit account.
(2) Start to build your bankroll with the bonuses at Bet365 (Americans: We recommend http://www.bovada.lv and Sports Interaction.
(3) Claim the [geocode id=5 bonus next.
(4) Get accounts at Pinnacle, WBX and 5Dimes, and spend your money only at the books mentioned above, based on any reload bonuses and betting odds.
Any questions, ask away!
Follow @BetNHL
BetNHL.ca » Blog »