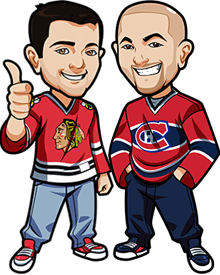 Follow @BetNHL
The NHL regular season is now done and dusted, and it's time for the race to the Stanley Cup to really heat up, with the playoffs all set.
First of all – we want to thank everyone who followed us during the season, who liked us on Social Media, and who shared our website on the likes of Facebook, Twitter, Google Plus, Reddit, Stumble Upon and various web forums. We really appreciate that, and the visitor count we have always keeps us motivated.
Throughout the course of this season, over 200,000 unique individuals read the tips on here, which is pretty cool.
It was yet another profitable season, although it did get a bit nervewracking at times! We started off strong, but had losing months in both December and January, before scraping a slight profit in February despite a 29-39 record, and then we had a massive March and April.
We profited 32.49 units for the regular season. However that's misleading – in the good way. First of all – we always use the most widely available line. If you were a savvy line shopper and only bet on the best odds available then it would be more like 36 units approximately, or even higher.
On top of that – that's just if you are betting a base unit. As your bankroll grows, so should your unit bets therefore you should have profited over 40 units this season if following all our tips.
Now the playoffs are almost upon us, we just wanted to explain how the playoff betting tips will work.
This week, we will provide tips for every series. We will do the Western Conference Tuesday, the Eastern Conference on Wednesday.
We will then skip Game 1 of every series, however provide betting tips, where applicable, for the rest of the games in the series. Special note: when we provide those tips, we are providing them irregardless of what our original forecast was. The reason for this is we get a lot of new users throughout the playoffs – many of whom won't have read our playoff predictions or NHL Playoff Betting Tips. So the individual game tips will be isolated.
That's just about it. Stay tuned, as tomorrow we will be providing the first batch of playoff tips.
Follow @BetNHL
BetNHL.ca » Blog »