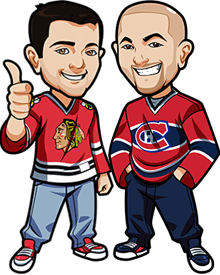 Follow @BetNHL
First of all our apologies – but this bonus is exclusively for Canadians. It's at the online sportsbook Sports Interaction, and they ONLY accept Canadians.
If you're Canadian, read on. If you're not Canadian – hey, why not move here? Tim Hortons is pretty great, and shoveling snow out of your driveway in the middle of March is always a great workout. Plus we're going to have legalized weed here soon. Comes in handy when you're watching the chore that is the CFL!
So here's the quick version of it:
The online sportsbook Sports Interaction is one of the most trustworthy sportsbooks there is. It's been around since 1997 and they ONLY accept Canadians.
You can head right on over to Sports Interaction right now if you want and all the details are on here. Here it is simplified with additional details.
The exclusive bonus we have with them is:
$20 Free Bet
$200 Deposit Bonus
The Free Bet is simple – you need to bet $20 on an NHL Moneyline. The odds don't matter. If the bet loses, they'll refund your money. (So it's best to do a higher odds one).
For the deposit bonus it's very simple – use your credit card or other means to deposit up to $200 into your new Sports Interaction account. They will do a 100% match up to $200.
So if you deposit $50, you'll get a $50 bonus giving you $100 there. If you deposit the max of $200, you'll get $200 giving you $400 there.
Very easy to claim. Here's the steps:
Use this specific link: Sports Interaction otherwise the bonus won't show up.
Click "Bet Now"
Register an account.
Deposit money. Boom, good to go.
There's a few terms and conditions. The important ones are:
– Must deposit minimum of $20.
– Before withdrawal the bonus + deposit need to be "rolled over 10x". This means wagerered. So you need to wager 10x the total of the bonus amount plus the deposit amount.
– The free bet is for the first bet you make and it's only a single bet. No parlays.
– The free bet must be placed BEFORE the game starts. Sports Interaction offers live betting but you can't use it for that.
So head on over to Sports Interaction.
Never Bet Online Before?
We get a lot of people visiting here who have never bet online before and are wary of it. They head to the corner store instead and bet via Pro Line or Sport Select or whatever it is in your province.
First of all if you need any help with it or have any questions or need reassurances, feel free to shoot us an e-mail at betnhl.ca@gmail.com. We've been gambling online since 2001.
Sports Interaction have been around forever and are completely trustworthy. If you ever have issues there we know the people at the top so we can always step in and get issues resolved.
They're a great choice for people looking for their first online sportsbook to bet at. It's easy to use and they offer a wide variety of bets – player props for example. They also offer an easy to use mobile website to make it easy to bet on your cellphone – and live betting.
Live betting is here during a game you can make bets. So maybe the Leafs are up 3-0 but you think they'll blow their lead against the Blackhawks. You can hop on and bet the Blackhawks to win at 10.00 or whatever while the game is in progress.
They're also great to have an account at due to being exclusively Canadian – this causes the odds for Canadian teams to change drastically. So with everyone betting the Leafs there, you'll get better odds for betting against the Leafs in a game than you would most other sportsbooks.
Like we said any questions shoot us an e-mail. Otherwise head on over to Sports Interaction before the season begins.
Follow @BetNHL
BetNHL.ca » Blog » Exclusive $200 Bonus & Free NHL Bet for Canadians