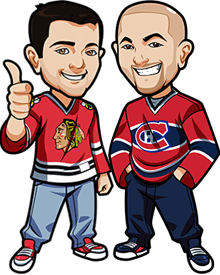 Follow @BetNHL
We're just a day away from a crucial Game 5 in the Stanley Cup Finals, and we thought what better time than to check in with our good friends at Sports Interaction?
For those new visitors: every week or so we sit down with the online sportsbook Sports Interaction for a chat about all things hockey – getting information from a sportsbooks perspective.
We wanted to first say a big thank you to Sports Interaction for doing this with us throughout the season. It's been very interesting to do and we've recieved a lot of great e-mails from people who have also enjoyed it.
If you don't have an account there yet – please do yourself a favour and sign up at Sports Interaction. You can get $125 in bonus money, plus if you're Canadian you get a $20 free bet on top of that. They've been around since the 90s, and are right up there as the most reliable, trustworthy sportsbook you'll ever use.
On with the chat:
BetNHL.ca: Going into Game 4 it was going to be quite the interesting game. It proved to be a tight scoreline, and only 44 shots on net. Do you think we'll see similar tight games the rest of the series?
Sports Interaction It does look like that's the way it is going to be – we won't see as many scoring chances now it's essentially a best of three matchup.
Many expected Tampas offense to be so fast that the Blackhawks would respond in a similar manner; and both teams would be rushing up and down the ice constantly. That isn't what has happened. Tampa have played a great defense when needed, and we've seen 3 games go under the goal total so far. We coudl see it being just as tight, or tighter, in the next 3 games.
BetNHL.ca: Tampa have home ice. Based on the few games so far – how big an advantage is that?
Sports Interaction Home Ice advantage doesn't seem to be as big a factor lately – but you still have to remember that Tampa had the best home record in the regular season. Cooper has a great ability – the ability to keep his players calm and collected even when it's a big pressure game or moment. But the Blackhawks are still the favourites to win the cup – people know they've been in spots like this before and came out trumps more often than not.
BetNHL.ca: Finally – the goaltending situation in Tampa. Thoughts?
Sports Interaction It's an interesting one. You would have expected Bishop to be #1 throughout but then Vasilevski stepped up and had an exceptional game. Bishop, if healthy should be #1 but Tampa have proven they have a very solid backup. We feel that there will be a lot of news and speculation about Bishop and his injury status – but based on the performance of Vasilevski we wouldn't worry too much about it – and wouldn't make our betting decisions based off whoever is in net.
Follow @BetNHL
BetNHL.ca » Blog »