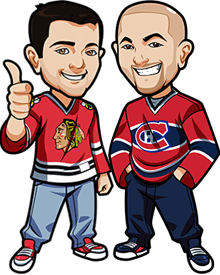 Follow @BetNHL
It's funny how a persons activity on Twitter can have such a huge and immediate response.
Most people think Twitter is just good for sending messages to celebrities, athletes etc however it can also be fantastic for the rumour mill. It's one of the best ways for rumours to get spread – and even a simple "retweet" or "favourite" can be enough to get the rumours going.
During the off-season, we're seeing many rumours like that hit the boards, all thanks to Twitter and a few random things that are happening on there.
One interesting one that got Leafs fans talking happened when Stamkos favourited an article:
Hey #Leafs fans, Stamkos just FAV'd an article about when #Toronto is going to get their 'Lebron James' to come home: pic.twitter.com/LIs53Dm54s

— Everything Hockey (@NHLinsidereport) July 14, 2014
That's all it was. A simple favorite of a tweet by an NHL superstar.
But that's all it takes sometimes and people start hoping/wishing/thinking, well why can't this happen in the NHL and more importantly in Toronto?
As a child all hockey players, or players of any sport, dream about is playing for their home town team and winning the Stanley Cup, or other championship depending on the sport, and being the hero. And for Stamkos he calls Toronto home as he was born in Markham, Ontario. So what's stopping him from "Taking his talents to Toronto" when he's eligible to sign elsewhere in the summer of 2016.
It's always fun to see NBA players come to one team to create a powerhouse. So we got to thinking then what if not only Stamkos came over to his hometown Toronto Maple Leafs but also another Toronto native joined him. Imagine if Steven Stamkos and PK Subban both came to the Leafs. They are both young superstars and a few years away from being in their primes and would greatly improve the Maple Leafs now and for the foreseeable future. It's no secret that the Maple Leafs are a hurting squad and in need of some help so how could this go wrong. How would the Leafs fare with two of the best players at the respective positions joining Kessel, Phanuef and company?
Well that's what we did. We added both players to the Leafs and simulated a season to see how the Leafs would do. They're going to destroy the league right? Win one of many cups?
Let's see how they did:
Halfway Point:
At the halfway point, things were going good for the Leafs. Although isn't that ALWAYS the case? The real question is how they'll actually perform in the second half of the season.
Regardless, they were killing it and were well clear of the 2nd place Lightning in the Atlantic Division: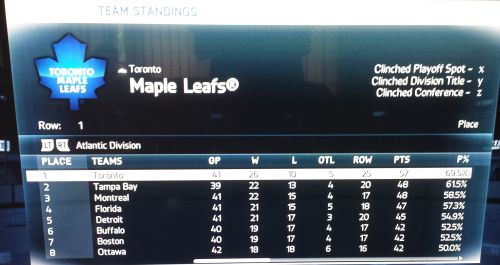 Although hey – props to the Lightning for performing so well without Stamkos in the line-up. And even the Habs are doing great – 3rd in the Division, although they are missing P.K.
The Leafs were also 2nd in the Eastern Conference, lagging behind the Washington Capitals although they are actually tied on points: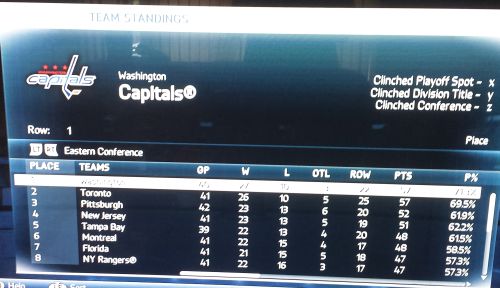 The three centers for the Leafs were the stars when it came to points, and Stamkos surprisingly was behind Bozak and tied with Kadri: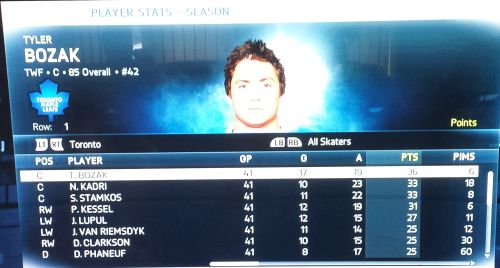 P.K. Subban was next on that screenshot below Phaneuf, however he had just 15 points.
End of the Regular Season:
Well I've got great news for Leafs fans – with the addition of Stamkos and Subban to the team that's all it would take to finish the regular season on an amazing high note – as you finished 2nd in the league: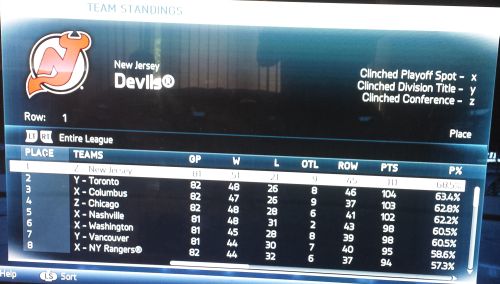 Of course, Leafs won their Division by ease.
What was the key to the Leafs failing to drop the ball? Two words: Steven Stamkos. As the rest of the Leafs struggled to impress in the 2nd half of the season, Stamkos came out firing on all cylinders: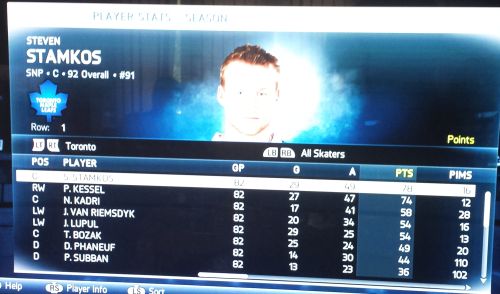 It's a bit hard to see – but Stamkos got 29 goals and 49 assists for 78 points.
The real impressive thing about this is that since the 1st half of the season – Bozak got just 13 points, and Kadri got 25. However Stamkos got an insane 45 points and yep – he is what the Leafs need to get over that second half hump they often have. Even P.K. Subban made the top points this time, with 36 points.
As For the Playoffs?
Sweeped by the Rangers, including this crushing defeat: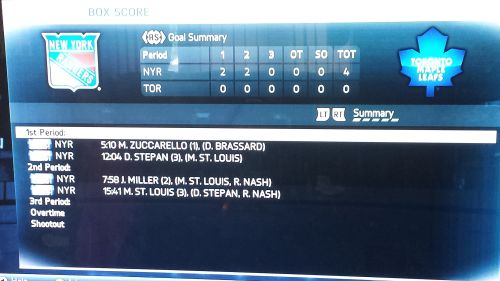 Classic Leafs.
Summary: They had a poor performance in the playoffs, but you have to give the Leafs props. All it took was 2 players for them to basically dominate the NHL during the regular season.
It's sadly only a rumour – and one that has zero foundation to it – but I know we have a lot of Leafs fans out there. How many of you would welcome Subban & Stamkos with open arms?
Follow @BetNHL
BetNHL.ca » Blog » NHL 14 Sims: Stamkos & Subban Join The Leafs