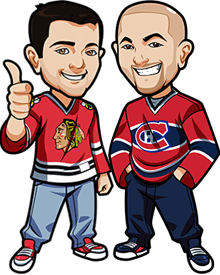 Follow @BetNHL
Usually when we get together during the season, we talk about hockey. During the off-season? Well we still talk about hockey, but the topics are a lot more limited, and we seem to retread old ground again and again.
For example – fantasy hockey. Not actual fantasy sports hockey – but fantasy situations that will most likely never happen. For the past few weeks we've been arguing about Ovechkin. Will he ever win a cup with the Capitals? If he doesn't – who could he go to where he WOULD win a cup? And how would Ovechkin affect a team like say the Oilers, or the Leafs? Or what about a star studded team such as the Penguins or Blackhawks?
We decided to put it to the test.
After a painstaking few hours on Saturday night drinking beer and looking up all the roster changes since April, we updated NHL 14 for the XBox 360 with all of the rosters to make them current, as well as any relevant line change promotions or demotions.
Then we spent Sunday doing MORE drinking, and running various simulations on NHL 14 to answer the big question:
What Will It Take for Ovechkin to Win the Stanley Cup?
We picked out 11 teams in the NHL who we decided to put Ovechkin on, and then simulated the entire season to see just what would happen.
Here are the teams that Ovechkin will play on during these simulations:
Boston Bruins
Chicago Blackhawks
Detroit Red Wings
Edmonton Oilers
Los Angeles Kings
Montreal Canadiens
New York Rangers
Pittsburgh Penguins
San Jose Sharks
Tampa Bay Lighting
Toronto Maple Leafs
Boston Bruins: The Bruins are already quite the unit, and we were curious to see how Ovechkin would blend in with the team. With everyone offering him protection, it's one of those things that we expected would rather work splendily, or be a complete disaster.
The Bruins ended up 4th in the conference, 3rd in the division and 5th in the league making the playoffs. Ovechkin had 41 goals and 38 assists for 79 points total. What was crazy was the next person in points was Kreici at just 55. They clearly utilizied Ovechkin a lot – and although it didn't look like he fit in well in a team performance, he excelled individually. During the season he scored 12 game winning goals, which would be the 2nd highest during all of this simulation and ended up picking up the Richard trophy.
Unfortunately for the Bruins, they failed at the first round of the playoffs. They lost to the eventual Stanley Cup winners the Montreal Canadiens, getting sweeped 4-0. Ovechkin came up with just 1 goal and 1 assist during this beating.
Summmary: Ovechkin on the Bruins seemed to upset their team chemistry. While he was their star player it seemed to come at the expense of the other players. He didn't show up in the playoffs where they needed him most. He would not be a good fit for the Bruins.
Chicago Blackhawks: Arguably the best team in the NHL over the past few years with a dynamite offense – how would Ovechkin add to this? You'd hope for dominance but that wasn't to happen. While the Blackhawks topped their division, they came just 3rd in the conference and 6th in the league. Ovechkin racked up 42 goals, 43 assists, 85 points, +30 during that time with 340 shots on goal, 10 power play goals and 6 game winning goals.
Despite not topping the league, Ovechkin still managed to get his most points out of all the simulations with the Blackhawks, and it didn't affect the teams starts either with everyone there or thereabouts.
In the playoffs, the Blackhawks won the Stanley Cup, beating the Ducks, Stars, Blues and Wings 4 games to 1 each and every time. Ovechkin had the most shots at 70(with Sharp and Kane close behind at 68). However his 4 goals and 6 assists for 10 points have to be considered a bit of a disappointment. Considering he was on the front line, we expected better.
Summary: He won the Stanley Cup, and had a solid season – but it wasn't one of those things where you were totally blown away by Ovechkin. Even though he replaced Sharp, Sharp in the 2nd line almost matched him stats wise so it's one of those things where they could take him or leave him.
Detroit Red Wings: Ovechkin was a great fit here, and the Red Wings had a tremendous offense. They came 2nd in the conference, 2nd in their division and 3rd in the league. Ovechkin had 38 goals and 41 assists for 79pts, with a +14, 11 PPG and 8 game winning goals. He had 306 shots which is around the halfway mark for this simulation.
What really stood out to us was how well he fit in with the line. Ovechkin had 79 points but Zetterberg also had 79 points, and Datsyuk was right up there with 78 points which was really cool to see. The 3 clearly worked extremely well together.
Sadly in the Playoffs, it was not to be. The Red Wings faced the Bruins, who sweeped them 4-0. Ovechkin only got 2 assists during these 4 games. So an offense as electric like this just wasn't to be against a much more physical defense like the Bruins.
Summary: Despite the playoff blow-out, the Red Wings line was fantastic and it was one of those times where you actually saw just how well Ovechkin could fit in.
More articles coming next week as we cover Ovechkin on the rest of the teams. How will Ovechkin and Crosby do on the same line? Is Ovechkin what the Oilers or Leafs need to win the Stanley Cup? And Ovechkin and Stamkos together – can anyone stop them?
Find out next week!
Follow @BetNHL
BetNHL.ca » Blog »