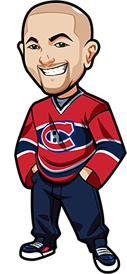 Follow @BetNHL
Hi guys,
Well we're just one day away from the NHL season kicking off. If you're wondering when the NHL 2014/2015 season starts it is October 8th, 2014.
There are four games and these are the times in ET:
7pm: Habs @ Leafs
7:30pm: Flyers @ Bruins
10pm: Canucks @ Flames
10pm: Sharks @ Kings
Now honestly – we can't wait. We are so pumped up – and tomorrow we will have NHL Betting Tips first thing in the morning(around 10am EST) for ALL FOUR opening NHL games.
However as we said – we cannot wait, and thus we have spent the day simulating the opening games on NHL 15 for the XBox One.
Hey – we have to justify the XBone as a business expense somehow right?
And of course – we will be BETTING the correct score for each game. Hey – we're degenerates why the hell wouldn't we? If you're wanting to bet along with us on the correct scores, you can do that at http://www.Bovada.lv for Americans and http://www.Bodog.eu for everyone else..
We have videos for all 4 and we'll present a report below as well for each games. Also, the XBox Upload Studio has all these fancy effects so we decided to do them in a skin for three of the games.
Habs vs Leafs: Simulated On NHL 15
Last season all 5 of these games were high scoring affairs and intense battles. That would not be the case here.
This game opened up tight, with both teams tied for shots at the end of the 1st and tied for faceoffs. Habs dominated the puck more and were passing it around better. They then went out in the 2nd period and completely and utterly dominated.
Habs racked up a total of 18 shots in the 2nd and the Leafs could get just 3 shots. they scored halfway through the 2nd off a Faceoff, and then with 2:31 left in the period scored on the powerplay.
Habs would start the 3rd perido off strong, with Parenteau skating from his own end to get a great goal with 4 Leafs players chasing him. A few minutes later Eller would get a goal, to make it a dismal opening for Leafs fans. Should note Leafs had some great chances in the 3rd period, but Price pulled off some fantastic saves.
Canadiens 4
Leafs 0
Flyers vs Bruins: Simulated on NHL 15
Interestingly in this one, the Flyers were the more aggressive team racking up 14 minutes in penalties to the Bruins 2.
The penalties cost the Flyers. With the 1st period coming to the end, Bruins scored with 6 seconds left in the period and 5 seconds left in the powerplay to take a lead into the 2nd.
It would be another power play goal halfway through the 2nd period after a lot of scrambling and a mistake by the Flyers goalie who let the puck out too early to make it 2-0. Bruins scored in the 3rd period with some sloppy goaltending to make it 3-0. Flyers did make a comeback, and brought the game back to 3-2 with 1:30 left on the clock giving an exciting last minute of play – but it wasn't to be.
Bruins 3
Flyers 2
Cancks vs Flames: Simulated on NHL 15
The Flames are still in rebuilding mode, while the Canucks plan for this season is "let's just hope everything clicks".
It did in this opener, as the Canucks dominated the Flames. It took until the 14th minute for Tanev to get a goal, and then the 2nd period saw 19 minutes before the Canucks could get another one.
They went into the 3rd period up 2-0. One thing they've been talking about in pre-season is working on the power play, and in NHL 15 that work paid off as they scored with a powerplay goal to make it 3-0.
Canucks would run riot in the 3rd, winning the game 5-1 in total.
Canucks 5
Flames 1
Sharks vs Kings: Simulated on NHL 15
3 months on from winning the Stanley Cup, the Kings took to the ice in NHL 15 hoping to get the 2014/2015 season off to a good start.
That did not happen.
It took San Jose just 5 minutes to get the puck past Quick. They would then score again just a couple minutes later after sloppy defensive work. Kings got frustrated and gave away 2 penalties in a row, which resulted in another Sharks goal.
San Jose weren't done – they scored AGAIN in the 1st period, to lead 4-0.
Sharks ended up sitting back for the rest of the game, and that was the end of it.
Sharks 4
Kings 0
Simulation Thoughts & Summary:
Obviously none of this should be taken as gospel or anything – it was just a fun little thing we were doing as we anxiously await the start of the NHL season. But holy crap I hope that Habs result comes in!!!
If you enjoyed this we can maybe make it a weekly feature going over some of the bigger games or even doing a lot more in-depth.
We'll be back tomorrow with NHL Betting Tips for the 2014/2015 season.
Follow @BetNHL
BetNHL.ca » Blog »