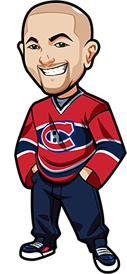 Follow @BetNHL
We had yet another winning night as we went 2-1 with the NHL Betting Tips.
Both teams we picked to win did so. Islanders won in regulation and they didn't even have to play at their best for that win. The Flyers are just pitiful out there and their lack of shots is something amazing to see. We also had the Penguins to beat the Blues and they did that. It was a solid performance from the Penguins and in particular Sidney Crosby.
Our loss was the Lightning/Kings over. A lot of shots in that game but two solid performances by Bishop and Quick to keep it under. Although in saying that – a lot of the shots even Bernier would have saved so that's not really saying much.
It's Thanksgiving in the USA and that means there is no NHL today. Happy Thanksgiving to our American readers.
I thought I'd take this time to talk about bankroll management and a couple of other topics.
I won't yammer on – I'll get straight to the point in all of this so I'd advise reading.
Bankroll Management:
We're running hot right now and we get a lot of messages from readers showing us their betting slips or telling us how much they've won. That's awesome! What's not so awesome is the lack of bankroll management we're seeing.
If you want to seriously win on sports betting the most important aspect is bankroll management. Now there are a lot of ways you can manage your bankroll – I'm going to list the most simple one. One which I feel applies to most sports bettors.
Look at your balance at online sportsbooks. See if you want to deposit any more to add to it. Then set that as your bankroll balance. This bankroll is purely for sports betting and nothing else. For simplicity let's say your bankroll is $100.
Now you break that bankroll into units. I always advise 100 units to be cautious. So what that means is each of your bets are $1. Not $20 or $30 or whatever bets you've been making. Yes it sucks but don't worry you're going to grow that amount.
Change the amount you bet as your bankroll changes. Bankroll goes up to $125? You're betting $1.25 per game as opposed to $1. Bankroll down to $50? Yikes were you betting on Bernier shutouts or something? Either way your bet amount is now $0.50.
Now not everyones a serious sports better 100% of the time. I know I'm not. If I'm watching a game, I want to place a bet. If I go to a bar and baseball is on – I may not care about the game but I'll throw on a bet. So you have your "serious" betting amount and your "casual" betting amount. I usually do 50% of my serious bet. So if a unit is $1, then you'd bet $0.50 for those casual bets.
This isn't just about betting within your limits and stopping yourself from going broke etc. It's also about distancing yourself from your money. When I first started betting online over a decade ago, I started with a bankroll of $500 and $5 bets. I worked the bankroll up and within a couple of years my betting units were in the $x,xxx range. Ever lost over $10k in a night to sports betting? I have. But you know what? It never upset me at all. Because I wasn't thinking that I just lost that amount. I was more thinking that I lost 5 units. And it made it so much easier to deal with.
Now if your bankroll is low don't worry – there's another way to grow it other than winning bets.
Take Advantage of Sportsbook Bonuses:
You should have a lot of sportsbook accounts. A LOT. One reason is so you can always get the best betting lines. I mean really – do you want to bet $100 to win $105 or $100 to win $119? Makes no sense doing the former. Another reason to have a lot of accounts is so you can take advantage of sportsbook bonuses.
These are a great way to build your bankroll. I took one of my friends under my wing last year. Throughout the NHL season, he built his bankroll up from $100 to over $7,000. Some of that was due to betting, but a large portion of it was due to bonuses. He'd go from sportsbook to sportsbook claiming all of the bonuses he could. The first thing he did in the morning was check each sportsbook to see if they had a reload bonus etc.
Do that today. Don't be lazy – get that bankroll growind and make money! Here's a couple of options:
USA Sportsbook Bonuses:
Firstly visit GT Bets who have a 100% to $250 bonus. Nice easy one for those with a small bankroll.
Deposit up to $500 at Bovada and get a 50% welcome bonus. $500 is recommended to get the max bonus. After depositing, you get the $250 in bonus money within 30 freaking minutes! So you've instantly turned your bankroll from $500 into $750, and there's only a 5x rollover. Get that now at Bovada. No bonus code needed.
Then there's BetOnline.. They have a 25% Welcome Bonus up to $1,000. But the good thing is they give you 25% bonus on EVERY deposit. So just deposit what you can now and then once the bonus is clear – deposit again for more free money. So head on over to BetOnline. and use the bonus code FIRST to get that deposit bonus.
Canada Sportsbook Bonuses:
This one expires end of November so get there soon Canada – Sports Interaction and their $20 NHL Money Back Special. It's very simple – deposit $125 and you will get $125 free in bonus money. But then they also give you a FREE $20 bet. You bet $20 and if it loses? They'll refund the bet! It's a moneyline bet so go for a riskier bet knowing you're completely freerolling.
Ready for another one? [geocode id=5 is the place to go with a 100% bonus up to $200. Canada is seriously so lucky with all the easy bonuses they have and Bodog is another great Canada exclusive one(along with Sports Interaction). So hop on over to [geocode id=5. for that one.
Outside of North America Bonuses:
It's a bit tougher for you guys due to country restrictions etc – some of you reading won't be able to sign up at all these books. But I'll cover as many as I can.
888 Sports.love to give away free money – especially with different promotions every day and free bets e-mailed to your account. They do free bet Saturdays for example. Right now they've got a treble the odds bet. Basically place $10 on something and if you win the odds get trebled. Nice little bankroll booster and they have the best odds often so it really pays to have an account here.
William Hill also offer a free 25 Euro Matched Bet.
There's also Guts who have a very solid 100% deposit bonus – and you get it paid immediately into your account. So your $100 immediately becomes $200 and they're fast becoming a top NHL book.
Just Please Remember:
Read the Terms and Conditions for every bonus okay? Every bonus will have a rollover requirement, and some may have special requirements or rules like you can't bet lower than 1.33 etc. If you have questions then ask the sportsbook via live chat and they'll explain it all.
Also feel free to e-mail us at betnhl.ca@gmail.com with any questions as we're happy to help.
Parlays/Accumulators:
I've said it before – but betting parlays is a losing play. The odds benefit the sportsbook. It's hard enough to get 1 game right let alone 3 or more. Trust us – we know!
However we also know why people bet parlays – for the big score. I occasionally will do a parlay as well – it can be fun risking a small amount to win 6-10x that amount.
Just don't go crazy with the parlays/accumulators okay? If you bet $20 an NHL game, maybe make the parlay amount 1/4 of that. So $5 on a parlay.
And just please don't bet ONLY parlays unless you have no other option.
Finally….
Track Everything in a Spreadsheet:
It's great to track your bets. You can be as detailed as you want or just have the facts. I used to write down all of the reasons I bet, all of the odds etc. But now I leave it simple. I have a spreadsheet that lists:
Date / Bet / Sport / Amount Wagered / Amount Returned
That's it. That covers it all. I only have sport because I have multiple sports I bet on and I have separate bankrolls for every sport. It's a great way to keep track of everything – especially those devilish parlays that have you cheering a $100 win, not realizing you've wagered $130 on losing parlays just to get that win!
Alright – hopefully that helped some people and we're always glad to help as we've said. If there's any topics you ever want me to discuss about sports betting just let me know by e-mailing betnhl.ca@gmail.com . You've no idea how much I love talking about it. I've literally been thinking about writing this article all morning and it's over 1700 words long and took me just 20 minutes to write. I love this stuff and hopefully I can help you guys out as much as possible.
Back tomorrow!
Follow @BetNHL
BetNHL.ca » Blog »