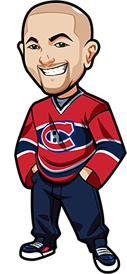 Follow @BetNHL
There are so many elements to consider when it comes to betting and one major factor is the psychology within a sport, and a particular game.
You can see examples of psychology throughout any NHL season. Sometimes it can be very basic such as the Oilers last game at Rexall, so mentally it drives them to win even further. Or a team like the Panthers going on a big winning streak then as soon as they lose one, they lose a few more afterwards. Other times it can be more complex.
I've always been a fan of psychology. Back when I started playing poker professionally, everyone else was going nuts over Holdem Poker for Advanced Players by David Sklansky while I was more into the Theory of Poker by the same author, and John Feeney's Inside the Poker Mind, which dived deep into the psychology of poker.
There was a game near the end of the 2015/2016 season which had large psychological aspects through it that I wanted to write about. If you're aware of the psychological aspects it can really help you from a live betting perspective.
The Game: Toronto Maple Leafs at Philadelphia Flyers. April 7th, 2016. Leafs won 4-3 in overtime.
The Situation: The Flyers were in a battle to get into the playoffs. They'd lost their last 2 games to the Red Wings and Penguins and with 4 games left, every single game was important. Leafs were out of the playoffs and at the bottom of the league with nothing to play for but pride.
Psychological Moment #1: Psychology was big for this game before it even started. Babcock found motivation to win the game in the sense that it would help his own team, the Detroit Red Wings. A lot of Leafs youngsters want to do the best they can so they can be there next season and part of the rebuild.
From the Flyers perspective nerves were getting to them. It had been evident in their last 3 wins over the Jets, Capitals and Senators. They looked like a team who didn't know how to control a game or protect a lead, and you just couldn't be confident in them. I even noted in the tips that night that things could get real tricky if the Leafs get an early goal.
Psychological Moment #2: The Leafs score after just 5 minutes. This crushes Philly and you see they're unsure how to turn things around here. They just look all over the place whether it be on offense or defense. The Leafs take advantage of this and score again with a few minutes left to go up 2-0. The Flyers are mentally broken and spend the rest of the period basically making sure no more damage is inflicted.
Psychological Moment #3: While it didn't pan out – at the end of the 1st period I rushed to bet the Flyers strongly, both to win and score the next goal. See – now the job for them is a lot easier mentally. Before the game they weren't sure whether to play conservative or to be aggressive, and then the early Leafs goal really muddied the waters.
At this point it's very, very clear what to do. The Flyers have to come out and overcome a 2 goal deficit and win the game. That's all that matters. This sort of thing allows the Flyers to clear their heads. They just have to go out there and score and turn things around.
It takes just 29 seconds for that to happen, as Schenn scores and makes it 2-1 to Philly.
Psychological Moment #4: It's 2-1, and the Flyers have turned everything around. They are goddamn ROLLING and for the next couple of minutes they look like the best team in the world. Every attack they make looks like a goal and you'd bet your left arm that the Flyers are going to turn this around.
Then they score, and everything changes again.
Everything changes again because the goal was challenged and called off. This changed the Flyers entire perspective. Regardless of whether it was the right call or not(and it was), they had tied the game 2-2 and suddenly they were back 2-1.
At this point you saw a MASSIVE change in the way the Flyers were playing. Their mentality wasn't "Let's win this bloody game" it was "Let's get it back to 2-2 where we were before". It was so clear to see and what you saw was a desperate, desperate Flyers team. They were throwing everyone up just trying to get back to where they were, with a lack of confidence and just frantic play. And what happens? Leafs keep getting breakaways and score on one.
The Rest of the Game: The rest of the game played out as you might expect. The Flyers didn't convert in the 2nd period and looked like they just wanted to go in and get a break and get fired up again. They came out and tied it up in the 3rd period but they didn't look as confident as they did at the beginning of the 2nd. They just looked deflated.
While it's hard to judge psychology when it comes to 3 vs 3 overtime, it wouldn't surprise me if by that point they were mentally exhausted, the adrenaline had taken its toll and they just couldn't find that final push.
Psychology Summary: For the majority of games, psychology won't come into play. However it's always good to consider any psychological aspect that will affect a game.
It could be something as notable as Jean Beliveau passing on. Rest assured in that game, the Montreal Canadiens were playing to win like no other game in a long time. Sometimes it can be more subtle – like the Crosby/Dubinsky feud that was going on, and how that would affect the players.
Often the psychological aspects of a game follow a basic template such as the Flyers/Leafs game. Look at many Capitals games in the 2nd half of the season. It was like they couldn't actually start playing until the opposition scores and that'd wake them up.
Often, psychology in sports won't be much of a factor when it comes to results or betting. Other times? You can throw pretty much every stat out the window, because psychology trumps all.
Follow @BetNHL
BetNHL.ca » Blog »