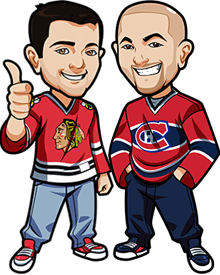 Follow @BetNHL
Hi guys,
Well it's been awhile but we just wanted to do a quick check-in after the season has ended.
Honestly as much as we loved hockey returning – it was quite a lot of work going from a couple of months of no hockey at all to non-stop playoff hockey all day long. As soon as the cup was done with – and our Lightning -1.5 bet came in – we breathed a sigh of relief and put hockey out of our minds for awhile. If you remember during the "break" we updated every day pretty much regardless so uh yeah we were a bit worn out ha.
While we said at the beginning of the playoffs our goal was to tip every game and with that goal we wouldn't be counting this in the stats, we were able to profit a few units. Whether you followed Graemes tips, Scotts tips, dual tips or tips that didn't oppose each other – it all balanced out to about a 4.25u profit. Nothing major but considering the circumstances we were pretty happy to be profitable individually.
We're busy looking ahead to next season. Of course unlike previous years things are all in disarray right now; we generally have a schedule of "This is when we start covering futures" etc. But I mean it's November 11th and the next season isn't even scheduled yet.
There's a few sportsbook futures available but just the usual general ones – who will win the cup, or each conference, and then randomly the Hart Memorial Trophy.
Anyway we just wanted to check in. We'll be back of course for the 2020/2021 season whenever it begins and will be providing futures betting tips. While we don't count them in our official stats due to variance being insane, we did manage to profit off them for about 4u last year so that was neat.
Last we heard the NHL is looking at short term hubs and could be late December or could be January. If you remember the return to action this year it was all up in the air for so long so we're not counting on anything.
Rest assured as soon as the season is announced, we'll be back and ready to cover the NHL and make fun of the Toronto Maple Leafs.
Hope everyone is doing the best they can during this trying time of no hockey! I mean I guess there's a pandemic too but man no hockey on these cold November nights sucks!
Cheers
Graeme & Scott
Follow @BetNHL
BetNHL.ca » Blog » Quick BetNHL.ca Update