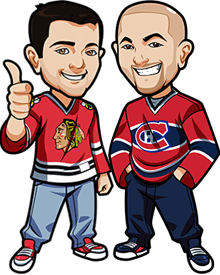 Follow @BetNHL
Hi everyone,
We wanted to send out a big thank you to everyone who has followed us this year.
This is the FOURTH year we have provided the free NHL Betting Tips, and it was yet another profitable year. There was a couple of rough months but also a couple of excellent months too.
Honestly we felt this was the toughest year since we've been doing the tips so it felt good to turn a profit. There were many times throughout the season where we were extremely confident only to see it all go tits up, so it felt good at the end of the season to be in the black.
We also had major success outside the regular NHL – with 17.57 units of profit with the OHL. And the 1st period system experimentation was a success, with the High Confidence System going +15.99 units. We ended the season with a profitable playoffs, although not as strong as previous years.
We also went got Ovechkin correct for the Rocket Richard Trophy and are waiting to see if McDavid picks up the Calder and Norris the Doughty and we profited in our NHL Playoff Predictions of who will make the playoffs prior to the season beginning. The big one there was correctly predicting the Bruins wouldn't make it at a nice 2.55 price.
So what's next? Well, the tips will resume of course when the NHL 2016/2016 begins but that doesn't mean the work ends with us. We'll be writing a lot of Summer content for everyone.
There'll be lots of betting options prior to the NHL Draft, and we'll be providing free NHL Draft Betting Tips for everyone. There'll then be futures such as conference winners, division winners, team wins etc and we'll be covering them as well.
It's not just betting tips content either we'll be providing. We'll be providing video game simulations, sportsbook reviews, betting system analysis and much more. Probably do some top 10 lists as well. Focus on some educational betting articles etc.
We want to thank you guys for following us throughout the season, and all of the comments you make on our posts. It's what spurs us on each and every day and keeps us in check and from getting sloppy.
Unfortunately at the end of the season our Facebook page was shut down due to linking to gambling sites – so if you were one of the many thousands who followed us there – sorry! We're not sure yet if we'll open a new Facebook page up there or not but we probably won't bother.
Enjoy the off-season guys and girl!
Follow @BetNHL
BetNHL.ca » Blog »