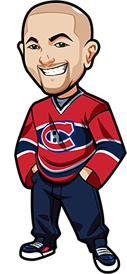 Follow @BetNHL
We got off to a great start in the Champions Hockey League Betting, going 2-1 with the tips.
Our first win was with Sparta Prahah vs Vaxjo Lakers HC. We had Over 5.5 goals in that game, and said it'd rack up the goals and that it did – Praha won a hard fought game 5-4 to make it an easy one.
We also won with Frolunda HC vs Servette GE Over 5.5 goals. Frolunda won that won 7-3 in yet another high scoring result.
Odds were 2.00 and 2.05 which were both nice prices to cash in.
Our one loss was with the Double – and it was the surprising one. We had Valerenga/Vienna Capitals Under 5.5 goals at 1.72 odds. We usually stick with the 1.70 and above price, but we decided to throw in Stavanger Oilers vs Tappara Tampere for Overs at 1.57 odds. Amazingly THAT was the one that cost us. That game was expected to hit double figures and it ended up 2-1 after a freaking shootout.
The Valerenga/Vienna Capitals game went Under 5.5 goals so if you stuck with our rule of 1.70 odds and above, it was a 3-0 night for you.
Either way – just happy to get a winning night under our belts.
I picked up an XBox One on Sunday, and pre-ordered NHL 15 digitally. It's pretty sweet because you get that 6 hour trial period which started today – so I've got to try the game out a bit. I'll invest some more time in it over the next few days then submit a review of it.
Alright, the rest of Game Day 3 takes place tomorrow, September 5th so let's get some CHL Betting Tips. As always, I recommend betting at http://www.B365.com.
I think JYP has what it takes to beat Salzburg. The 1.95 odds just aren't enough for me to take the bet though. Same thought process with HV71.
Also our beloved Nottingham Panthers are 21.00 odds. I don't hate the point spread of +3.5 on that one at 2.10.
Alright that's it – I'm off to play more NHL Be A Pro. My 140lb, 5″7 pro called Kobe Jordan just got drafted to the Blackhawks. Fun as hell getting hit and sent flying halfway across the ice. And then I'm off to enjoy some NFL! Scott and me play each other week 1 in our Fantasy League and he's got Rodgers – let's hope he gets a stinger early and sits out. Go Hawks defense!
Bet the CHL at Follow @BetNHL

BetNHL.ca » CHL Betting Tips »