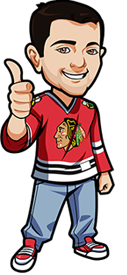 Follow @BetNHL
Its that time of year again and it couldn't have come soon enough. The NHL is now in preseason mode and for many of us its our first look at how our teams are going to look for the upcoming season.
And this is the perfect time to have a look at some fantasy hockey options. Which players are the 3 best at their respective position and 3 players who are sleepers and could have a huge year. The 3 best players are always safe picks for you as you know they are going to get you lots of points. But it's the sleepers who can make or break you fantasy pool.
And what if want to not only do a season long pool but a fantasy league that lasts one night only? Well Fanduel is the place to go for that. They have some many different options for one night fantasy leagues that its crazy and worth a look for the fantasy hockey fan
Best Defensemen
P.K Subban – Love him or Hate him P.K is a beast! Hes still young and just coming into his prime but he is already so good its scary to think how good he is going to be. The fans love him in Montreal and he loves being there. Hes going to have a great year
Erik Karlsson – On a rebuilding Ottawa team who lost all of their longtime stars like Spezza and Alfie its now Karlsson's team. He scored 20 goals last year and his numbers are only going to get better. On this team though his plus/minus is going to be brutal but the points will be there and he will again lead the team in that category
Shea Weber – Is there a more complete defensemen in the league then Shea Weber? He scores, hits, plays good d and will drop the mitts when needed. He is the best player on a Nashville team that is built from the blueline out
Sleeper Defensemen
Duncan Keith – Its hard to put Keith on the list of sleepers as he should be at the top of all defense player charts. But I had to include him on this list. He has 2 Norris Trophies and plays on a strong squad. Plays huge minutes and all situations
Brent Burns – He is a hybrid. He plays forward and D but it looks like he will move back to the blueline for this season. Grab him as a D and when he plays forward enjoy getting forward points at the D position. Good for about 15-20 goals which is huge when coming from a defensemen
Mike Green – When healthy there are few better at the offensive side of the d game. But he looks healthy this year and with the Caps bringing in help on D and a new coach who wants to take the leash off of Green, look for a huge bounce back year.
Follow @BetNHL
BetNHL.ca » Fantasy Hockey »