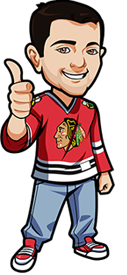 Follow @BetNHL
The season is about to start so I am sure many of you, us included, have already joined a couple Fantasy Hockey Leagues. But it's never to late to join more. Over at Fanduel you can join a fantasy hockey league that lasts only one night. You can play in leagues that have thousands of players or as few as you want. With all of the players involved in these nightly fantasy leagues there's potential to win some huge money
Below we will go over some of the goalies that you will see on the board. We will first go over the 3 best goalies, the ones that will help you win your league, and 3 sleepers, goalies who are often overlooked but are poised to have a huge year and may be available later in the draft.
Best Goalies
If you can manage to land any of these players as your goalie then you are well on your way to the top of you fantasy league. These are the players that put up the numbers each year.
Tuukka Rask – The Best goalie in the world. Consistently puts up amazing numbers and plays behind an amazing team but mainly their defensemen. Chara is a freak and that only helps Rask and fantasy owners
Carey Price – The Habs are getting better and so is Price. He will put up the usual awesome numbers. At only 27 years old he is just entering his prime which is a scary thought considering what he has already done since becoming a professional goalie
Jonathan Quick – Defending Stanley Cup winning goalie on a team that plays smothering defense. Don't let last seasons numbers scare you. He missed 24 games in November and December but was back to his usual self by the end of the season. In the Playoffs…….well we all know how that went.
Sleeper Goalies
People may overlook these three goalies since the above mentioned will draw all of the attention but make no mistake these three goalies will defiantly get some points for you and could even pass some of the above mentioned goalies by years end.
Ben Bishop – Bishop is an amazing goalie plan and simple. But now the Lightning are going to have a full and healthy year from Stamkos plus added some much needed depth at defense. Bishop is going to be a beast this year
Kari Lehtonen – The Stars had a solid year last year and went out and signed Spezza, Hemskey and more. So the Stars will be much better this year so it means that Lehtonen is going to get lots of wins
Frederik Andersen – The only issue with Andersen is John Gibson. All signs point to Andersen being the number #1 in Anaheim so for that reason alone if hes available then be sure to grab him. The Ducks were good last year and now have added Kesler and Heatley.
Follow @BetNHL
BetNHL.ca » Fantasy Hockey »