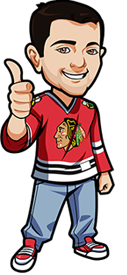 Follow @BetNHL
Is there a record for number of fantasy hockey leagues one player ahs joined during the season? I bet that Graeme and myself would be close to if not the records holders for that.
For people who haven't yet heard of it, Fanduel is an amazing and fun way to play a fantasy league that starts and ends all in one night. For me its perfect as I have all my year long pools going but what if you have a hunch that a player is about to go of for a huge night but you don't have him in your lineup. Well go to Fanduel and pick your line up for the night
Below we will go over the 3 best Left Wingers this year, the guys who are going to get you points and if available when its your turn to draft you should take them, and 3 Sleeper Left Wingers, players who may not be at the top of the LW player pool but have a good chance at having huge years
Best Left Wingers
Taylor Hall – This year is going to be the coming out party for Taylor Hall. He has been in the league for a couple years now and last year put up a point-per-game season. Expect his numbers to jump and for the Oilers to finally climb out of the West basement. Still so young and only getting better and more familiar with his line mates.
Jamie Benn – Still young and only getting better. Enjoyed success playing with Tyler Seguin so expect his numbers to increase thanks to more time together. Stars brought in forward help to ease the burden on the top line. Plays in all situations so will get you points there as well.
Chris Kunitz – He plays with some guy named Bill Cosby, err, Sidney Crosby. Great chemistry with Sid so expect big numbers yet again. No matter who plays with Crosby they will be getting points and that Kunitz by himself is a great player who played for Canada at the Olympics should make him a high draft choice.
Sleeper Left Wingers
James van Riemsdyk – Good for about 30 goals and around 70 points. The chemistry he has with Phil Kessel is unreal and the Maple Leafs season comes down to how well him and Kessel perform this season.
Daniel Sedin – Hes getting older but one thing you can never do is count out either of the Sedins. Vancouver has had some bad luck of late but they now have a new goalie and the Sedins realize their time as superstars is coming to an end. Look for one more buig season from the twins
Brandon Saad – Saad could go for 80 points or 20 points depending on who he plays with. But on a stacked Chicago team he is going to be getting points thanks to playing with two of the following: Kane, Toews, Sharp, Hossa or Brad Richards.
Follow @BetNHL
BetNHL.ca » Fantasy Hockey »