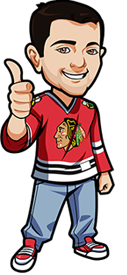 Follow @BetNHL
So we are going through each position and covering the 3 best players at that position as well as 3 sleepers in hopes that these tips will help you take home first place in your fantasy league. And although there is money to be made when playing with your friends, is there anything more gratifying then kicking your friends asses and have a summer full of insults to throw at them as you spend their money?
Another fun way to play fantasy hockey is by heading to Fanduel and submitting a team that you use for that night and that night only. Get some of your friends together and create your own league then let the chirps and sun begin. Also throughout the year we will be hosting a league where you guys can take us one just promise to go easy on the insults if you manage to beat us!
Best Right Wingers
Corey Perry – With Ryan Getzlaf he forms one of the most dominant one – two punches in the NHL. Always puts up goals and points for a strong Anaheim team. With the recent additions or Ryan Kesler and Dany Heatley the Ducks now have two unreal lines to round out their top six.
Alex Ovechkin – Alex Ovechkin has had some up and down years in his career. But one thing is certain and that's that Ovie can and will score. Hes always a threat to flirt with and pass the 50 goal mark. His numbers were down last year by is standards so expect a huge bounce back year
Patrick Kane – Amazing with the puck and has shown he can get the job done when it matters most. He has grown and matured since his issues from a couple of years ago. He will be playing with either Toews or the newly acquired Brad Richards so his points will increase this season
Sleeper Right Wingers
Rick Nash – Looking to put a miserable postseason behind him, look for Nash to remind the world that he is on of the best if not THE best power forward in the NHL. He has twice scored 40 goals in the NHL so what is stopping him from retuning to those numbers?
Radim Vrbata – Went from being the best player on a team that has had problems scoring goals to being on a line with the Sedin twins. If he develops chemistry with the Sedins then he will easily have the best season of his career. The Sedins can and do make everyone they play with that much better thanks to their unreal chemistry they developed while hanging out in the womb together
Ales Hemsky – If Hemsky could stay healthy it would be interesting to see what he could accomplish. He goes from being the number one guy in Edmonton to an after thought then onto the Sens where he developed some chemistry with Jason Spezza. Well him and Spezza are now secondary scoring options on a deep Dallas team so with less pressure he could have the best season of his career
Follow @BetNHL
BetNHL.ca » Fantasy Hockey »