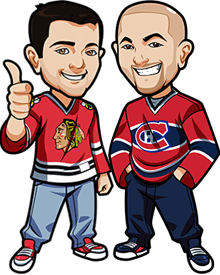 Written by Graeme & Scott on Thursday, September 19th, 2013
Follow @BetNHL
2014 Olympic Hockey Betting Tips
Ah the Olympics. A chance for hockey to take center stage by putting the best players from around the globe into one star studded event. If you think you know who will win the Gold Medal this year, then head to Bovada and under hockey futures choose your team. This year its looking like a 3 horse race but that's not to say that there will not be a Cinderella team enter into the fold this year and surprise the world. All it takes is a team to go on a 2 week hot streak and any team stands a chance.
The team with the best shot of winning this year is theRussians and they are our pick to win the tournament. You can currently bet Russia to win the 2014 Olympics at Bovada.
Below we will go over who we think the 3 best teams are who have the strongest chance of winning The Gold Medal at the 2014 Olympic Ice Hockey event taking place early 2014 – and our analysis of each, as well as our reasons for picking the Russians.
2014 Olympic Hockey Betting Odds
These betting odds are available at Bovada.
Russia 3.20
Canada 3.25
Sweden 5.00
USA 7.00
Czech Republic 9.50
Finland 11.00
Switzerland 21.00
Slovakia 26.00
Norway 201.00
Latvia 401.00
Austria 901.00
Slovenia 901.00
Russia
Home Ice advantage is going to play a HUGE part in the success of the Russians this year. And that is why they are our pick to win the 2014 Olympic Gold Medal The Russians love their hockey and anything less then a Gold on home ice would be considered a failure. But they have the talent to win this and have the best shot at winning the tournament.
Led by the uber-Talented Alex Ovechkin, who threatened to leave the NHL if he couldn't play for his Home Nation in this years Olympics, this team will not have problems finding the back of the net. Joining Ovie up front is Pavel Datsyuk, Ilya Kovalchuk, Evgeni Malkin,Alexander Radulov, Alexander Semin the list keeps going.
On Defense the talent is there just not as prominent as up front. Slava Voynov, Sergei Gonchar, Anton Volchenkov, Alexei Emelin, Andrei Markov form one of the strongest D corps that is in this tournament.
In net they have the reigning Vezina Trophey winner Sergei Bobrovsky. If Bobrovsky should drop the ball then they have Evgeni Nabokov and Semyon Varlamov ready to step in. And both are more then capable of leading this team to victory.
Our Pick to Win this years Olympic Ice Hockey Tournament is Russia which you can bet at Bovada.
Canada
Canada is so deep they could ice 2 teams and both could medal. But this is also a problem as who are the best players and one mis step and they will face intense scrutiny for the next 4 years. If they don't win gold then all the critics will say well if so and so would have been on the team then we would have won Gold. I don't envy the Canadian teams GM at all as this is a very tough choice when choosing just one team from the deep pool of Canadians available.
But as always with Canada at the Olympics we have to be considered a favorite. This is our sport. And with the team we put out there this year we stand a fantastic chance of taking the gold medal home as we did in 2010 in Vancouver
In goal look for Roberto Luongo to show the world that he is still one of the best goalies on the planet. He did come in for the struggling Martin Brodeur during the last Olympics and we know how that ended. But we also have Mike Smith and Carey Price to push him for the starting job
Canada has the best set of Defensemen in the Olympics. Shea Weber, PK Subban,Kristopher Letang, Drew Doughty, Duncan Keith and Brent Seabrook are expected to be the top 6 for Canada. Don't be surprised though if Alex Pietrangelo, Mike Green or Dan Boyle find their way onto this squad
The forwards are where this team will win or lose this year. And again this list could change depending on the start to the NHL season each player has. If a player goes on a tear then they could play their way onto this team. Patrice Bergeron, Sidney Crosby, Jonathan Toews, Steven Stamkos, John Tavares and Martin St. Louis are all virtual locks to make the team. But they also have Ryan Getzlaf, Corey Perry, Joe Thornton, Patrick Sharp, Claude Giroux and many many more superstars to pick from.
U.S.A
Pride. This Americans always are competitive and this year will be no different. They are always considered an afterthought but that is about to change. This team is led by a bunch of young and talented players who can compete with any team in this tourney. And die to their age will be a force in any International tournament for years to come
In goal they have to decide between Jonathan Quick and Ryan Miller. Either guy will give the Americans a solid goalie to lean on.
On defense they have:Ryan Suter, Kevin Shattenkirk, Dustin Byfuglien, Keith Yandle, Jack Johnson, Brooks Orpik and John Carlson and between them will Ice a strong top 6.
The Forwards are where this team will shine: Patrick Kane, Zach Parish, Bobby Ryan, Ryan Kesler, Phil Kessel, Dustin Brown, David Backes, T.J Oshie. No matter who makes this team they will be a strong and tough team who will be a pain in the ass to play against.
Our Pick To Win The Gold Medal This Year is Russia
Again these are the 3 best teams in this years Olympics – Sweden are obviously a contender but we feel the odds are too short.
Once you have made you decision head to Bovada and place your bet before the odds change and they will once the 2013-2014 NHL Season gets underway.
Follow @BetNHL
BetNHL.ca » Hockey Betting Tips »