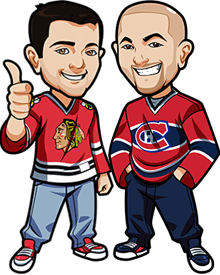 Written by Graeme & Scott on Friday, February 21st, 2014
Follow @BetNHL
Let me start this off by saying – SCREW YOU ONTARIO. While people in Alberta are allowed to get up at and head to a bar to drink beer at 5am on Sunday, Ontario won't do the same thing even though it's at 7am EST! You can do it in Toronto but that's it.
What a load of BS. It's a special, unique event which depending on timezones may be once in a lifetime.
Who wouldn't want to be able to tell the story of the time they dined on wings washed down with beer at 7am while watching Canada win the gold medal?
Bah.
Where To Bet The Olympic Medal Games:
Looking to bet the Bronze Medal game or the Gold medal game? Do it at http://www.5Dimes.eu for Americans(Need to register to see lines) and and http://www.Bet365.com for everyone else..
On with the betting tips.
Okay well obviously two big games on Friday. Sweden defeated Finland in quite the boring game, and Canada beat USA 1-0. For Americans – at least it wasn't as heartbreaking as the womens loss the day before. That was a brutal one. In the mens game – the best team on the day deservedly won and that basically sums it up.
Shame to see USA go out like that though. They've played so well in every game thus far – they just weren't themselves today, and Canada wanted it more.
Current betting status:
Graeme: 5-3, +3.87 units.
Scott: 7-2, +3.27 units.
Very tight, and overall nice records by both of us even though we're essentially being forced to bet at this point and go with a betting strategy that isn't just about winning, but by beating the other. We'll be opposing here I expect so these are not in our official records.
And with that, onto the next two games.
We both went to a bar tonight for some celebratory beers and wings, and wrote down our bets. Then we exposed the papers at the same time. It was quite fun. So with that – onto the bets, where the loser has to buy the winner a nice steak meal:
Bronze Medal Betting Tips: USA vs Finland
Scott: First going to take the United States -1.5 over Finland at 2.65 odds. The Americans were amazing all tournament but fell short to the Canadians 1-0. But that game could have went either way as it was an incredibly close game from start to finish. The Americans are going to throw everything they have at the Finns so they don't come joke empty handed.
Graeme: The USA are huge favourites for this one at 1.5 odds. I'd say a large reason for that is the betting public. USA have played great of course – but so have Finland, who disposed of Russia. USA could be down as well after todays game where they were completely dominated. I'm going with Finland 2.65 odds at a great price.
Gold Medal Betting Tips: Canada vs Sweden
Scott: Canada to win in regulation at 1.91 odds. They have already beaten the best team in the tourney so far when the won against the United States so Sweden should be an easier contest for them. But it won't be a cake walk as Sweden has shown that they are capable of playing great hockey. It will be a good game but the younger Canadians will come out on top in this one.
Graeme: I'm going to bet against Canada here. I love the value in Sweden at 2.65 odds. They've looked great throughout the tournament, and I'm not forgetting some of Canadas games where they have really struggled. Plus they went to OT with Finland. I just can't ignore the value – Sweden to win at 2.65 odds.
Place your bets at Bovada for Americans and http://www.Bet365.com for everyone else..
Olympics Contest:
Our Olympic Contest is almost over.
Follow @BetNHL
BetNHL.ca » Hockey Betting Tips »