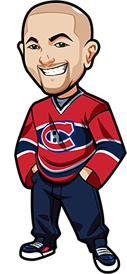 Written by Graeme on Friday, November 8th, 2013
There's more to hockey than just the NHL – there are a wide variety of other leagues and associations all over the world. One such organization is the Ontario Hockey League, or the OHL for short. This features teams in Ontario, Canada such as the London Knights, Niagara IceDogs and Windsor Spitfires.
Now don't worry – NHL Tips are still our forte. However occasionally I am going to start adding OHL Betting Tips to the NHL Articles or doing a separate post occasionally. I'll do it at the end of the article so if you have no interest, you can ignore. I attend OHL games fairly regularly being that I live in Kingston, and have been betting on the OHL for quite awhile to the point I'm comfortable releasing public OHL Betting Tips.
A couple of things you should know prior to betting on the OHL:
1: High Variance. Betting on the OHL isn't for the faint of heart. Hockey at it's core is a high variance sport and with this calibre of player it can be even more crazy. For example this season the Kingston Frontenacs beat the Sudbury Wolves 10-1, then in the next game lost 3-0 to the Wolves. The Kitchener Rangers currently have the worst record in the OHL, but recently beat the current best team the Oshawa Generals 5-3. On the road.
2: Not Offered At Most Sportsbooks. As far as I know there are only 2 sportsbooks that offer it, and only one of those we trust, which is Unibet. I don't think any American books offer it – although hit us up at betnhl.ca@gmail.com if we're wrong so I can get that updated!
So head over to Unibet and get started. Their signup bonuses vary by country so best thing is to register then head to the Sportsbooks->Promotions area.
Alright on with the OHL Betting Tips!
London Knights vs Barrie Colts:
Bet: Over 6.5 goals 1.85 at Unibet.
The Knights have the 2nd best home record in the league, next to the Guelph Storm. They're only 3rd in the Midwest but that's mainly due to their road form. The Colts are 4th in the Central Division and are fairly average on the road.
This is the first meeting of these teams but the London Knights offense should match up well against the Colts. Both teams have had lots of high scoring games and the Colts offense is on fire lately – in the last 7 games they've scored 4+ goals in 6 of them. The Knights as well are scoring like crazy averaging 4.45 goals at home.
Knights should probably win this one about 4-3 but the Colts are on a nice 2 game win streak. I much prefer the over on his one and after the battle last night against Guelph it could have tired them out.
Guelph Storm vs Plymouth Whalers:
Bet: Storm to win in regulation time. 1.45 odds at Unibet.
Guelph are hot at the moment. Brock McGinn and Scott Kosmachuk especially have been killing it when it comes to scoring. Guelph are coming off a huge overtime loss against London last night, and will want to get back in track. They are #1 in the Midwest but they know London and Erie are both closing in on them, so they need to get back on track.
Plymouth have lost their last 3 on the road and I just can't see them standing a chance here. Of course as I said – this is the OHL and you just never know, but I love the odds here as I'd personally rate the Storm at about 1.20 in this one.
As mentioned – place all OHL bets at Unibet.
Best America Sportsbooks for NHL
BetNHL.ca » Hockey Betting Tips » OHL Betting Tips For November 8th, 2013