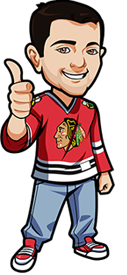 Written by Scott on Saturday, November 23rd, 2013
Follow @BetNHL
If you are feeling like betting on some other things besides who will medal at the Olympics then Bovada has got you covered.
Not only can you bet on who will win gold but you can bet on who will win each group, who will win the Women's tournament and if certain players will make their respective teams.
In this article we will be covering players who may or may not make the team. Yes that's right you can bet on if a certain player will make their Nations team. Now we are not talking about players like Sidney Crosby or Alex Ovechkin but players who are on the bubble.
Olympic Hockey Props
Again to make any of these bets be sure to head to Bovada before these odds change. these betting props are listed under Hockey and then Player Props
Will Patrice Bergeron Make Team Canada
Without a doubt Bergeron will make Team Canada and he will help them in more ways than one. He is one of the most complete 2 way players in the NHL. He was a huge part of 2010 gold medal winning team and will be counted on to be one of Canada's best players when it comes to shutting down the opposing Nations best players if he makes then team.
The betting odds for Bergeron making team Canada are 1.25 so not a lot of value but still almost a sure thing bet
Will Seth Jones Make Team USA
This is a tricky one and one that will come to health and play of his competition.
Jones is only 19 but has played beyond his years. And when you are the man behind assembling a team to represent your Nation then would you not want to get a hold of them as young as possible with the hopes that when and if they return to play again in 4 years they will remember what it means and what the team expects from them?
I think it's a bet worth making and at 2.00 odds its valuable. Bet that Seth Jones will make the USA Olympic Hockey team at Bovada
Will PK Subban Make Team Canada
The fact that the reigning Norris Trophy winner is on the bubble means that maybe Team Canada knows something that the rest of the world doesn't about him. There will be plenty of competition to make Canada's blue line but how can you not take a player like PK.
You would have to hope that Canada sees the light and has him on the team come the Olympics which in the end they will.
Bet PK Subban to make team Canada's Olympic team for 1.50 betting odds
Will Chris Kunitz Make Team Canada
When you look at how well Kunitz has done during his time in Pittsburgh you will see the reason for his success; he is riding shotgun with Sidney Crosby. The chemistry they have is undeniable and if Canada is to stand any chance of winning the Gold medal this year they will need Crosby to be playing the best hockey of his life and Kunitz will help him to do that.
Not only will Kunitz make team Canada he will be on the team's top line with his line mate and good friend Sid the Kid.
Bet that Chris Kuntiz will make Team Canada for 2.00 Betting Odds
Will Patrick Sharp Make Team Canada
Team Canada has a problem that any other nation would love to have. They have so much Depth that they could put together 2 teams and they both could medal. That's why Patrick Sharp won't make team Canada.
He has great chemistry with Jonathan Toews but there is just no room for him on this team. And it's a shame as he is a great player who may play some of his best hockey in the clutch and when the game is on the line.
Bet that Patrick Sharp will not make Team Canada for 1.50 betting odds at Bovada
Follow @BetNHL
BetNHL.ca » Hockey Betting Tips »