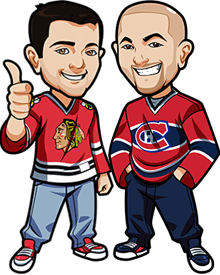 Written by Graeme & Scott on Tuesday, February 18th, 2014
Follow @BetNHL
Welcome to the Olympic Hockey Betting Tips for Ferbuary 19th, 2014.
In case you missed it yesterday – we've decided rather than doing official tips, both of us will split up and present our individual bets for each day. This is because (1) We're not as confident about handicapping olympic hockey, and (2) We were conflicting over a lot of the picks.
Because we're competitive guys, we've also got a contest going between each other. The loser must take the winner out to dinner at The Keg Steakhouse. The winner gets whatever he wants meal wise, including appetizer and dessert, plus all the beer he can drink – all paid for by the loser.
So yeah – that's made the games a lot more fun. Along with our bets we're both talking crap to each other over text during the game.
Let's quickly recap yesterdays action – the winner is the one with the most units at the end:
February 18th Results:
Graeme: Went 2-1, including a huge pick of Slovenia -1.5 at +250 odds. Current results: 2-1, +2.22 units.
Scott: Went 2-1 winning both Over/Under picks in Switzerland vs Latvia. Current results: 2-1, +1.4 units.
February 19th Olympic Hockey Betting Odds:
Sweden -3.5 vs Slovenia +3,5, O/U 5.5.
Finland +1 vs Russia -1, O/U 4.5.
Canada -4 vs Latvia +4, O/U 6.5.
USA -1.5 vs Czech Republic +1.5, O/U 5.5.
Taken from http://www.5Dimes.eu for Americans(Need to register to see lines) and and http://www.Bet365.com for everyone else..
Graemes Olympic Bets for February 19th:
While I was disappointed at the Swiss losing to Latvia, it does make a theoretically easier game for Team Canada. Although I'm not sure if that's a good thing – with the possibilities of playing USA then Russia, I'd much prefer they get into the tougher games as soon as possible. Will be interesting to see how it works out and I'm nervous as hell for Price.
First bet I see that I am going for is USA -1.5. 2.15 odds for that, and they did a tremendous job over Slovenia and Slovakia. Czechs beat Slovakia but it was a tight enough game. The sportsbooks haven't given the USA ANY respect for the whole tournament – so might as well jump on it while you can. To me, that's a no-brainer.
Next is Under 6.5 in Canada vs Latvia. 1.90 odds for that. Considering out of the 7 games these teams have played only once has it went over 6.5, and NEVER in any of the Canada games – it just seems like another no-brainer bet. Very possible Canada get an early 2 goal lead and Latvia push up exposing themselves. But I will take that risk.
Finally – a basic math bet. I want Russia to win this tournament, I really do. And after their 4-0 win over Norway, I'm already telling my buddies at the pub about how "Russia are back" and "this is what they needed", talking about how the confidence is soaring through the team, and after that free scoring game they're ready to rock and roll with the gold medal now in sight.
But they've struggled in 2 of their games, are going up against a well rested Finnish team who did a great job against Canada. How can you NOT take Finland to win at 2.60 odds?
All of that at Bovada for Americans and http://www.Bet365.com for everyone else..
Scott's Olympic Hockey Betting for February 19th 2014
First I gotta go with Sweden -3.5 Over Slovenia. Sure Slovenia surprised the Austrians and won 4-0 but Sweden is a much, much better team. Sweden was ranked #1 after the round robin for a reason, they are a great team and will walk all over Slovenia who already lost to the United States and Russia, who are similar is skill to the Swedes.
Next I'm going to go with United States -1.5 over the Czech Republic. The Americans looked amazing during the round robin beating Latvia, Slovakia and the Russians (3-2 in OT). They have already beaten teams who are equal too the Czechs and also the Russians who are a stronger team on home ice.
Lastly I'm going to go with Canada -3.5 over Latvia. Was nice to see Latvia beat Switzerland for the first true upset of the Olympics but their win streak ends with this one. The Canadians are going to shorten their bench now that he round robin is over and start giving their first and second lines more ice time.
I'll be placing these bets as a single, and also as a treble at Bovada for Americans and http://www.Bet365.com for everyone else..
Follow @BetNHL
BetNHL.ca » Hockey Betting Tips »