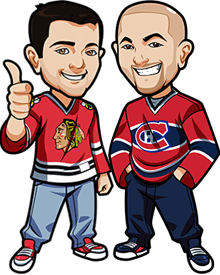 Written by Graeme & Scott on Thursday, February 20th, 2014
Follow @BetNHL
It was a great day of betting yesterday.
Graeme went 3-0 with his Olympic hockey bets with all 3 coming in with relative ease, including Finland beating Russia at 2.6 odds. If you had a parlay on that bad boy, it was about 11/1 odds which was a huge payout.
Scott also went 2-1 with only Canada -3.5 letting him down. Canada hammered the Latvian goal but just could not get more than the 2 in what was a tough matchup for them.
And with that, we're down to the semi-finals, to see who is playing for the medals. On February 21st 2014 we have Sweden vs Finland and Canada vs USA.
Now we'll be honest – these are two tough, tough games. We've both debated and thought a lot – and honestly, we won't be betting big money on these. They're both very tricky and could go either way. So don't go betting tons of money thinking you'll be rich – I think it's very hard to handicap these.
But let's get to the tips and also see if we can find some prop bets to take advantage of. As a reminder, here are our stats since we've started providing different picks:
Graeme: 5-1, +5.87 units.
Scott: 4-2, +2.2 units.
Person with the least amount at the end buys a nice steak dinner for the winner.
USA vs Canada Olympic Hockey Betting Tips:
Canada vs USA Betting Odds: Pickem Odds, Over/Under of 5.5. From http://www.5Dimes.eu for Americans(Need to register to see lines) and and http://www.Bet365.com for everyone else..
Graeme: If you go by the basic math and base it on the history of the tournament thus far, USA are the team to bet. Despite their early exit the Russians are a strong team and the USA beat them. They've also manhandled every other team they've played. They show a really strong camaraderie which is lacking in Team Canada.
But on the other hand – I really think Canada wins this one. They've won every game thus far(although one in OT), they have the stronger lineup – and they're going to be motivated for this game like no other. Honestly it wouldn't surprise me in the least to see them come out firing on all cylinders, dominate and defeat the USA, then throw in a sub-par effort in the gold medal game.
I could probably sit here and give you 100 reasons as to why Canada will win this one. But much like Russia vs Finland, I'm going to try and take all emotion out of it and go with USA to win. As I type that I am already regretting it. But I'm sticking with it, even though I'm already waving goodbye to my money. Go 'Merica!
Scott: I'm sure this is going to surprise people with their lackluster play so far but my first tip is Canada -1.5 for 3.50 odds.
Sure they haven't had the best Olympics yet but their team is built to win this thing. Even without Tavares, who was playing 4th line center and minutes, they will win this game. Crosby is going to break out of his funk and what better team to do it against than the United States. He was able to 4 years ago….
My next tip is Canada to win in regulation for 2.40. If I already have them to win by 2 the. This game won't go to overtime. The Canadians are in a funk but when it counts they will show up for the task.
I need to catch up on Graeme, so it's win big or go home!
Sweden vs Finland Olympic Hockey Betting Tips:
Sweden vs Finland Betting Odds: Finland +130, Sweden -155, Over/Under 4.5.
Graeme: Boy is this a tough one. In my opinion Sweden to have an edge but it is a very slight one, and I think the bookies have the odds pretty much perfect. I couldn't bet on Sweden at that price. If you're looking to bet a winner however, I'd go with Sweden -1.5. You're getting +190 odds on that and that's a good price with the potential of an empty netter and great value.
My actual bet for this game is Over 4.5 Goals at +105 odds. Both teams have great firing power as they've demonstrated throughout the Olympics, and with this game being a must-win obviously if any team goes down the other team are going to be pushing up strong and a lot of pressure – which can also expose themselves. Unlike the NHL regular season both teams will have a "never give up" mentality which should hopefully bring us a lot of goals.
Scott: I'm taking Sweden money line for 1.67. This is an extra bet I'm making to catch and pass Graeme. I would like to take the more valuable spread but Finland is a strong and pesky team so I like Sweden to win but it won't be a blow out.
OHL Betting Tip: Frontenacs vs Icedogs
Take the Kingston Frontenacs to win on the road. 1.7 odds for a regulation time win, at BetOnline..
Follow @BetNHL
BetNHL.ca » Hockey Betting Tips »