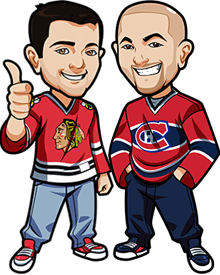 Follow @BetNHL
For some people Betting on the outcome of games just isn't enough. So over at[geocode id=5 they also offer you the option to bet on player props.
They offer new props all the time: some will be for something to happen within the next week or month, while others will be things to happen for the next season. These are great for people who follow the NHL for more than just the scores, some props are for players getting traded and others are for rule changes and coaching changes.
So if betting on these types of things interests you then head to Bodog, sign up and take advantage of these amazing betting options by Clicking Here
So currently there are 4 player props available but they're new ones added and removed all the time so be sure to check back often to see all the cool props that will come available before they are completed.
Will the Toronto Maple Leafs trade Phil Kessel before the 2013 Trade Deadline?:
This is pretty straight forward, will the Maple Leafs Phil Kessel be traded before the trade deadline this year or not? The Trade Deadline is April 3rd, 2013.
Well this comes down to a few things; Will the Leafs continue their strong play and make a push for the Playoffs?, Would they be able to get back something worth while? Well I can't see the Leafs moving Kessel anytime soon. I mean Brian Burke, who made this trade to the anger of many Leaf fans at the time, really over paid for Kessel. The draft picks they used for Kessel ended up being Tyler Seguin and Dougie Hamilton, both players would have went a long way towards the re-building the Leafs and Burke had hoped for.
But like it or not, Kessel is the face of the Leafs and unless they get an unreal package offered to them for Kessel this won't be happining before the 2013 Trade Deadline
So if you agree or disagree with me then head to [geocode id=5 and place your bet.
Will the Toronto Maple Leafs trade Dion Phaneuf before the 2013 Trade Deadline?:
Again another Maple Leaf Player Prop and this one involves the Toronto Maple Leafs Captain – Dion Phaneuf and Will Phaneuf be traded before the 2013 Trade Deadline?
This is another one that will come down to the wire before we know which way the team is leaning. And in what seems to be a Leafs go to move, they completely overpaid for Phanuef, although not as badly as they did for Kessel, and the move has panned out as they had hoped it would. The Leafs moved Matt Satjan, Ian White, Niklas Hagman and Jamal Mayers for Phaneuf, Keith Aulie and Fredrik Sjostrom. So as you can see it was really lopsided in the Flames favor, I mean why acquire a defensemen like Phaneuf for a dman like White if after only 3 years you are going to move him?
But as of writing this the Toronto Maple Leafs are currently in 6th place and are only 2 points out of first, so as long as the Leafs continue their strong play then I don't see this happening anytime soon.
Go to Bodog to bet on this Player Prop
NHL Specials – Will Todd McLellan be head coach for the San Jose Sharks for Game 1 the 2013-2104 NHL Season?
This one is tricky to determine: Will Todd McLellan still be the coach the Sharks for the start of next season?
After years in which the San Jose Sharks have always been a strong Regular Season team to only come up short in the Playoffs, will Doug Wilson and the rest of the Sharks organization have enough patience to ride it out another for another year?
Well it has been 5 years now that McLellan has been coach of the Sharks, replacing Ron Wilson, and his record is amazing, 2008-2009 1st in the Pacific, 09-10 1st in the Pacific, 10-11 1st in the Pacific, 11-12 2nd in the Pacific and last year again 1st in the Pacific.
So as you can see it wasn't like his tenure in San Jose has been disastrous, the opposite actually. But with the teams core getting older and teams quick to replace coaches thinking that they are the reason behind the teams failure this could be Todd McLellans last season in California.
So head to Bodog and Bet on What Todd McLellans fate be for next year?
NHL Specials – Will a "Coaches Challenge" Rule be instituted for the 2013-2014 NHL Season?
So you may or may not like the idea of this but it is a great questionWill there be a Coaches Challenge rule in the NHL next years?
There seems to be more missed calls each and every year and I think that this would have both positive and negative effects.
On the plus side teams, and more specifically coaches, would be able to challenge a play that the referees may have missed. And as the referees are human they will miss calls from time to time as it happens in every sport out there.
But the NHL has always been about being the Fastest game out there and any challenges would only slow down the game. And teams who were to have a call reveresed against them would surely cause a huge stink afterwards.
But I think that the Pros outweigh the Cons here. I mean did you see how badly offsides Matt Duchene was for that goal February 18th? And it is for calls like that one and missed goals that can and will cost a team 2 points in the standings and ultimately a chance at the playoffs.
So I think that the NHL will institute this rule for next season and you can place your bets on either side of this argument at [geocode id=5
Follow @BetNHL
BetNHL.ca » NHL Prop Bets »