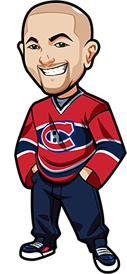 Follow @BetNHL
NHL 15 is released on September 9th, and this would be the first NHL game to be released on the new systems, XBox One and Playstation 4.
I decided to go with NHL 15 on the XBox One(and bought the system just last Saturday). There were a couple of reasons for that. First, I prefer the controller. Second, I love the idea of being able to Skype with my friends while I play, and make rude gestures involving my crotch when I score against them.
Third, EA Access is just the bomb. $5 a month and I get Battlefield, Madden 14, Fifa 14, Need for Speed Rivals and Peggle 2? Sign me the hell up.
Fourth – the 6 hour trial period. You pre-order NHL 15, and a week before release you actually get to play the full game for a total of 6 hours. I've been craving hockey badly and counting down the days until the release date. The ability to access the game for 6 hours, and then continue any career etc I've started when the full game launches was perfect.
The 6 hour trial period started yesterday, and I've already used up the full 6 hours. After 6 hours of intense and fun NHL 15 action on the XBox One, here are my thoughts:
NHL 15 Pros:
This game plays like an absolute dream. I've read stuff about new puck physics and all that – I don't really know the deal or what it all entails. All I know is this is the most fun I've had gameplay wise with an NHL game in a long, long time.
The graphics, the sound, the presentation etc – it all immerses you into the action just that much more. Gameplay wise, it's just fantastic. Here's a cleverly worked goal I scored in it:
Man did that goal feel good.
It comes with Hockey Ultimate Team, Be A Pro and Be a GM as well as Practise mode. It's also got the great mode Relive Classic NHL Moments. The moments are taken from the 2013/2014 season, and they are going to be updating it with moments from the 2014/2015 season. For example – Sidneys Slump, Game 7 of Penguins vs Rangers. You get to take control of Crosby with about 1:41 left and need to score 2 goals. Ot The Spectacular Ben Scrivens – take over Scrivens from Oilers vs Sharks with 13:50 left and keep a shutout, from that big game on January 29th, 2014. All of these were in NHL 14 if memory serves me correct – but they're always my favourite game modes.
Overall, NHL 15 does exactly what I want it to do. It plays great, I can play versus my friends and watch their misery as I score goal after goal, and I get to flip them the bird repeatedly.
What's not to like?
Quite a lot, actually.
NHL 15 Cons:
Whew – where do I begin?
A lot of factors in this game were apparently created from the ground up. Due to that they're missing SOOOOOO much stuff. They'd already announced that EASHL wouldn't be in the current gen versions, and that OTP won't be in at launch but will be added at some point.
But man, it's missing so much. Live the Life, Be A Legend, NHL 94, creating plays and teams, editing players – all gone, and practice mode is weak as hell. No season mode!
Be a GM is butchered to all hell – can't play the AHL games, no fantasy draft, you can't choose who to draft(it's all automated), no pre-season.
Be A Pro has one major glaring omission – you can't sim to your next shift, so you have to watch with that horrible camera angle where you can barely see the game being played. There's no minor leagues or anything like that – which sucks as I loved going through with the Kingston Frontenacs in the Memorial Cup and so on. Instead you just pick a team to play on, or let them choose a random team.
Creating a pro is super weak too you don't get to choose things like their hair – small things that I felt always personalized a player. Just their face.
HUT doesn't have tournaments and you can't play against your friends. Which really sucks because honestly I go online against random people I get schooled most of the time.
No shootout mode online or offline. The game, in terms of all the different modes, is extremely limited.
NHL 15 Review Summary – Should You Buy It?
It really depends on how you feel about any of the missing, or butchered modes.
Me, personally? I'll miss those modes for sure, and it's very disappointing but what I want the game for is worth it – being able to play online against my friends, with Kinect capturing my grinning face every time P.K. thunders the puck into the net.
Gameplay wise, it's unmatched compared to any previous incarnations of NHL. Those 6 hours just absolutely flew by and I don't think I've had that much fun with an NHL game before. I'm counting the days until I can start playing it again.
If any of the missing/watered down modes are a deal breaker to you – speak with your wallet and don't buy it. Don't even buy NHL 15 for the XBox 360 or PS3(which has the modes) – take a stance, and tell EA why you're doing just that.
But if you're wanting it mainly to play hockey, all else be damned? Buy it, and buy it now.
Follow @BetNHL
BetNHL.ca » Reviews »