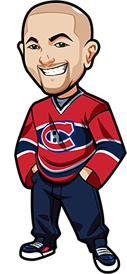 Follow @BetNHL
I honestly don't know why I call this "Summer reading". i guess technically it's Summer – but I read all these three books over the last week, and I read them all in the house cuddled under some bloody blankets. I refuse to put the heating on in the Summer but it's so freezing I'm almost tempted to.
Should also note – anyone who likes mystery books like Harlan Coben etc should read some Linwood Barclay. Only his standalone novels though, not the Zack Walker series of books. The standalones are amazing and I just read his most recent one No Safe House. Great, great book.
So okay – more hockey reading. Here's what I've read in the last week, and my thoughts on them:
Winning, Nothing Else Book Review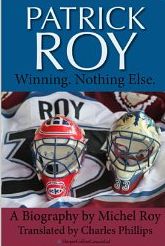 This is a biography of the great Patrick Roy. Roy of course was the Habs goalie for years, and is now the coach of the Colorado Avalanche. It was written back in 2008 and is actually by Patricks father, Michel Roy. There is an interesting back story for the book in that Patrick never wanted a biography written about him. He turned down a bunch of offers, but eventually his dad took over with this one and as he was starting to write it, Patrick Roy got more and more invested in the idea.
I never read this when it first came out, but I really enjoyed Roy and his first year with the Avs so I wanted to look this one up. It's a pretty massive book, and it's good enough – but considering some of the things that have occurred in the life of Patrick Roy – I felt having his dad write the book was a mistake.
Many of the incidents really needed that outsider perspective to it – and with Patrick Roy not being on board fully with a book being made anyway – that obviously hurt it. Some of the writing was rough too – and although he tried not to – there was still many hints of bias by Michel Roy.
Overall it was an okay book. Some good trips down memory lane as always, but I always felt like there could have been a lot more to it.
Anchorboy Review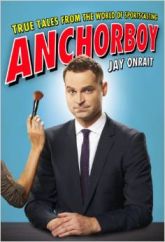 I was really looking forward to this book. Jay Onrait is one of those sports anchors who you watch BECAUSE of him – when he and Dan O'Toole left TSN to go to Fox Sports my watching of Fox Sports Life went up a LOT.
I wasn't disappointed – but it's not something I'd be rushing out to buy immediately either. It's a short book that runs through everything rather quickly – I flew through it and not because it was just so good I couldn't put it down – but because it really felt very short.
It was a fun read however. It's really the perfect book for having while sitting on the toilet. Pick it up, skim through a few chapters and then wait till next time. Pretty much as expected.
Good stocking stuffer gift for Christmas. In summary – Anchorboy is the ideal book to read on the toilet.
If there's a second edition, I will allow Jay to put that quote in it.
Fighting Back Review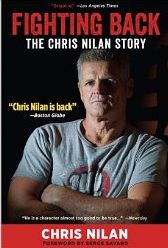 Fighting Back is the story of Chris Nilan, who played in the NHL throughout the 80s and first few years of the 90s. He played for almost a decade at the Habs, had a 3 season stint with the New York Rangers, a brief 2 seasons at the Boston Bruins, before returning to wrap up his career in Montreal.
Nilan is someone who you've probably watched in many Youtube videos – dude was a killer. He has racked up over 3,000 penalty minutes his career which is just insane, and also averaged 4.42 penalty minutes per game which is just insane. Oh and he set the record for most penalties in one game – getting 10 of them, 42 minutes.
Post-hockey, the dude had his problems. Shoplifting, drugs, alcohol, divorce etc – was really pumped about the book.
I was not disappointed – Knuckles Nilan – pardon the pun – pulls no punches with this book. It was sad reading about his battle with addiction. I recently read Mike Tysons book and there were so many similarities – it's really sad to see. It was also interesting getting the perspective of one of hockeys tough guys.
Very enjoyable book and one that I'd recommend any hockey fan reading. Of the three listed here, this was the best one by far. Highly recommended.
Follow @BetNHL
BetNHL.ca » Reviews » Summer Reading #2: Roy, Onrait & Knuckles