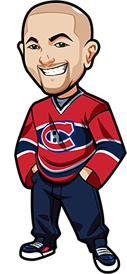 Follow @BetNHL
Well it's been a crappy Summer so far in Canada – hence all those NHL sims. Here in Ontario it seems we'll have 1 day of sunshine followed by 3 days of rain. Not fun at all. As I write this, it feels like a bloody hurricane outside with just gale force winds. And that's after 2 days of just pouring rain that didn't stop for about 30 hours.
Welcome to the middle of August.
On those rare Summer days however, i've been able to get outside and do some reading which is nice. Of course on my book reading list is hockey books. I just can't get enough of them – and thanks to ECW Press sending us a few excellent choices, I've been able to read a nice variety of books.
Today I'm going to review three hockey books that I've read over this Summer:
Tales of a First Round Nothing Review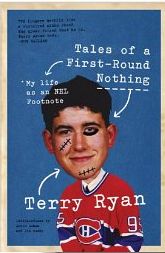 This book is written by Terry Ryan. Ryan was the Habs highest draft pick in 10 years, picked at #8 in the 1995 NHL draft. There was so much hope and expectation surrounding Ryan. The result? 8 games, 0 goals, 0 assists and no more NHL career for Terry Ryan.
This was a very amusing book. I'm a big fan of self-deprecating humour and while it wasn't entirely that – Ryan was very open and honest throughout the book. I'd actually just finished Dustin Diamonds Behind the Bell prior to this. That book was nauseating, with Diamonds sole goal apparently to make us realize what a cool dude he was growing up.
Thankfully Ryans book isn't like that. He's very straight up and honest, and it's full of very funny stories as well. It's written as if you had sat down with Ryan, asked him to tell stories about his hockey career over some beers and then he just told story, after story.
Very enjoyable read, covering Ryans full career not just the NHL. Enjoyable for any hockey fan – not just Habs fans.
Heart of the Blackhawks Review: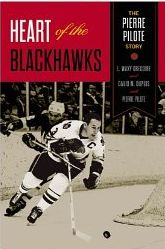 Heart of the Blackhawks is the story of Pierre Pilote, one of the best defenders of the 60s. Pilote holds quite the resume, with 3 Norris trophy wins, 7 times in a row all star player, Chicago Blackhawks captain. And oh – did I mention this dude played 376 games in a freaking row?
It's no surprise that his #3 jersey was retired, or that Pilote is also a member of the Hall of Fame.
Born in the 80s, I obviously don't know as much about that era although I'm aware of the "Original Six". It was really cool going back and reading all about it. I also lent it to a friends dad, who WAS alive during that era and he said it was great – like taking a trip through memory lane.
I've read a lot of these autobiographies and memoirs – and at times, I can find it tough if I haven't lived during that era. Thankfully, I had no such issues with this book. It's done in a really cool format – basically the stories are written as if they were going into a newspaper. Written in a factual style – and then backed up with quotes from Pilote. It helped me understand more exactly what he was taking about, and a great look at the career of Pierre Pilote.
If you have any relatives or friends who lived through this era, I'd highly recommend getting them this book. If you didn't live through this era I'd still say it is worth a read. However it is a MUST buy for people who went through that era. I gave the book to a couple of people to read sections of and they couldn't put it down – they said it was great going back and reading through games that they actually remembered etc.
Solid book, and enjoyable reading.
The Third Best Hull Review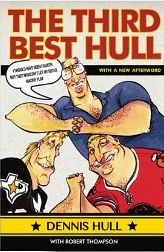 We all know Bobby Hull of course, and also Brett Hull – but what about Dennis Hull? Largely due to the success of his son, when people talk about the "Hull" name it's more about Bobby and Brett. Yet Bobbys Hull Dennis played with him on the Blackhawks, hammered in 300+ goals and was a fantastic left winger.
Yet the poor guys nickname was "The Silver Jet", while Bobby was "The Golden Jet" because ya know – it was Bobby freaking Hull.
Thankfully there is no bitterness from Dennis – and he's turned it into a new post-hockey career. He travels North America as a public speaker, and wrote this novel The Third Best Hull, a great and amusing title.
The only disappointment I had in this book was that it wasn't longer. It was the type of book where you felt so much more could have been put in. Actually there's one more disappointment – that he's not doing any public speeches nearby in the near future, because after reading the book I know I need to go see him live.
It moved at a fast pace, and I learned a lot about Dennis Hull. I'm guilty of not thinking of him other than "Bobby Hulls brother" – but that's changed after reading this book. This dude was actually a bloody good hockey player, and a good writer too! There was a lot of laughs in this book, and a lot of interesting and fun stories too.
He's been doing public speaking for awhile and that's obviously crossed into the book world. Of the three, this was easily the most well-written, and the one I would recommend most.
I've read some more hockey books this Summer and I'll post reviews of them soon. In the meantime if you've did any reading I'd love to hear of them – always looking for new books to read. I'm a fast reader which is good and bad – nice to go through books, but sucks when you're finished a 200 page biography in an afternoon!
Follow @BetNHL
BetNHL.ca » Reviews » Summer Reading: 3 Hockey Book Reviews