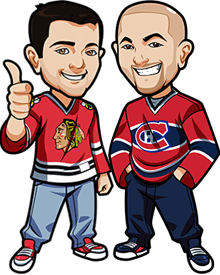 Follow @BetNHL
This is a complete listing of the NHL 2018/2019 schedule in AEST Format.
AEST is of course Australian Eastern Standard Time. Sometimes we think how cool that would be – getting up nice and early and watching hockey over breakfast or brunch.
But man nothing beats beer and wings at night and making the drunken decision to stick around for the West Coast game.
Either way if you're looking for a printable version of the 2018/2019 AEST Schedule, this is it. You can also filter it by your favourite team(s) and also download it and do what you want with it.
Enjoy.
2018/2019 NHL Schedule in AEST – Australian Eastern Standard Time
| Date: | Road: | Home: | Time: |
| --- | --- | --- | --- |
| Thursday, October 04, 2018 | Canadiens | Maple Leafs | 9AM AEST |
| Thursday, October 04, 2018 | Bruins | Capitals | 9:30AM AEST |
| Thursday, October 04, 2018 | Flames | Canucks | 12PM AEST |
| Thursday, October 04, 2018 | Ducks | Sharks | 12:30PM AEST |
| Friday, October 05, 2018 | Bruins | Sabres | 9AM AEST |
| Friday, October 05, 2018 | Predators | Rangers | 9AM AEST |
| Friday, October 05, 2018 | Capitals | Penguins | 9AM AEST |
| Friday, October 05, 2018 | Islanders | Hurricanes | 9AM AEST |
| Friday, October 05, 2018 | Blackhawks | Senators | 9:30AM AEST |
| Friday, October 05, 2018 | Blue Jackets | Red Wings | 9:30AM AEST |
| Friday, October 05, 2018 | Jets | Blues | 10AM AEST |
| Friday, October 05, 2018 | Coyotes | Stars | 10:30AM AEST |
| Friday, October 05, 2018 | Wild | Avalanche | 11AM AEST |
| Friday, October 05, 2018 | Flyers | Golden Knights | 12PM AEST |
| Saturday, October 06, 2018 | Hurricanes | Blue Jackets | 9AM AEST |
| Saturday, October 06, 2018 | Sharks | Kings | 12:30PM AEST |
| Sunday, October 07, 2018 | Edmonton Oilers | Devils | 3AM AEST |
| Sunday, October 07, 2018 | Jets | Stars | 9AM AEST |
| Sunday, October 07, 2018 | Rangers | Sabres | 9AM AEST |
| Sunday, October 07, 2018 | Senators | Maple Leafs | 9AM AEST |
| Sunday, October 07, 2018 | Panthers | Lightning | 9AM AEST |
| Sunday, October 07, 2018 | Predators | Islanders | 9AM AEST |
| Sunday, October 07, 2018 | Canadiens | Penguins | 9AM AEST |
| Sunday, October 07, 2018 | Blackhawks | Blues | 10AM AEST |
| Sunday, October 07, 2018 | Golden Knights | Wild | 10AM AEST |
| Sunday, October 07, 2018 | Ducks | Coyotes | 11AM AEST |
| Sunday, October 07, 2018 | Flyers | Avalanche | 11AM AEST |
| Sunday, October 07, 2018 | Canucks | Flames | 12PM AEST |
| Monday, October 08, 2018 | Rangers | Hurricanes | 7AM AEST |
| Monday, October 08, 2018 | Maple Leafs | Blackhawks | 9AM AEST |
| Monday, October 08, 2018 | Red Wings | Kings | 12:30PM AEST |
| Tuesday, October 09, 2018 | Senators | Bruins | 3AM AEST |
| Tuesday, October 09, 2018 | Sharks | Islanders | 3AM AEST |
| Tuesday, October 09, 2018 | Golden Knights | Sabres | 5AM AEST |
| Tuesday, October 09, 2018 | Red Wings | Ducks | 12PM AEST |
| Wednesday, October 10, 2018 | Sharks | Flyers | 9AM AEST |
| Wednesday, October 10, 2018 | Canucks | Hurricanes | 9AM AEST |
| Wednesday, October 10, 2018 | Avalanche | Blue Jackets | 9AM AEST |
| Wednesday, October 10, 2018 | Flames | Predators | 10AM AEST |
| Wednesday, October 10, 2018 | Kings | Jets | 10AM AEST |
| Wednesday, October 10, 2018 | Maple Leafs | Stars | 10:30AM AEST |
| Thursday, October 11, 2018 | Flyers | Senators | 9:30AM AEST |
| Thursday, October 11, 2018 | Golden Knights | Capitals | 10AM AEST |
| Thursday, October 11, 2018 | Coyotes | Ducks | 12PM AEST |
| Friday, October 12, 2018 | Edmonton Oilers | Bruins | 9AM AEST |
| Friday, October 12, 2018 | Avalanche | Sabres | 9AM AEST |
| Friday, October 12, 2018 | Blue Jackets | Panthers | 9AM AEST |
| Friday, October 12, 2018 | Capitals | Devils | 9AM AEST |
| Friday, October 12, 2018 | Sharks | Rangers | 9AM AEST |
| Friday, October 12, 2018 | Golden Knights | Penguins | 9AM AEST |
| Friday, October 12, 2018 | Kings | Canadiens | 9:30AM AEST |
| Friday, October 12, 2018 | Maple Leafs | Red Wings | 9:30AM AEST |
| Friday, October 12, 2018 | Canucks | Lightning | 9:30AM AEST |
| Friday, October 12, 2018 | Flames | Blues | 10AM AEST |
| Friday, October 12, 2018 | Jets | Predators | 10AM AEST |
| Friday, October 12, 2018 | Blackhawks | Wild | 10AM AEST |
| Sunday, October 14, 2018 | Edmonton Oilers | Rangers | 3AM AEST |
| Sunday, October 14, 2018 | Golden Knights | Flyers | 3AM AEST |
| Sunday, October 14, 2018 | Kings | Senators | 4AM AEST |
| Sunday, October 14, 2018 | Hurricanes | Wild | 8AM AEST |
| Sunday, October 14, 2018 | Red Wings | Bruins | 9AM AEST |
| Sunday, October 14, 2018 | Penguins | Canadiens | 9AM AEST |
| Sunday, October 14, 2018 | Blue Jackets | Lightning | 9AM AEST |
| Sunday, October 14, 2018 | Canucks | Panthers | 9AM AEST |
| Sunday, October 14, 2018 | Maple Leafs | Capitals | 9AM AEST |
| Sunday, October 14, 2018 | Islanders | Predators | 10AM AEST |
| Sunday, October 14, 2018 | Ducks | Stars | 10AM AEST |
| Sunday, October 14, 2018 | Blues | Blackhawks | 10:30AM AEST |
| Sunday, October 14, 2018 | Sabres | Coyotes | 11AM AEST |
| Sunday, October 14, 2018 | Flames | Avalanche | 12PM AEST |
| Monday, October 15, 2018 | Sharks | Devils | 3AM AEST |
| Monday, October 15, 2018 | Ducks | Blues | 9AM AEST |
| Monday, October 15, 2018 | Hurricanes | Jets | 9AM AEST |
| Tuesday, October 16, 2018 | Kings | Maple Leafs | 9:30AM AEST |
| Tuesday, October 16, 2018 | Red Wings | Canadiens | 9:30AM AEST |
| Tuesday, October 16, 2018 | Stars | Senators | 9:30AM AEST |
| Tuesday, October 16, 2018 | Wild | Predators | 10AM AEST |
| Wednesday, October 17, 2018 | Stars | Devils | 9AM AEST |
| Wednesday, October 17, 2018 | Avalanche | Rangers | 9AM AEST |
| Wednesday, October 17, 2018 | Panthers | Flyers | 9AM AEST |
| Wednesday, October 17, 2018 | Canucks | Penguins | 9AM AEST |
| Wednesday, October 17, 2018 | Hurricanes | Lightning | 9:30AM AEST |
| Wednesday, October 17, 2018 | Coyotes | Wild | 10AM AEST |
| Wednesday, October 17, 2018 | Edmonton Oilers | Jets | 10AM AEST |
| Wednesday, October 17, 2018 | Sabres | Golden Knights | 12PM AEST |
| Thursday, October 18, 2018 | Blues | Canadiens | 9AM AEST |
| Thursday, October 18, 2018 | Rangers | Capitals | 9AM AEST |
| Thursday, October 18, 2018 | Bruins | Flames | 11:30AM AEST |
| Thursday, October 18, 2018 | Islanders | Ducks | 12PM AEST |
| Friday, October 19, 2018 | Penguins | Maple Leafs | 9AM AEST |
| Friday, October 19, 2018 | Avalanche | Devils | 9AM AEST |
| Friday, October 19, 2018 | Flyers | Blue Jackets | 9AM AEST |
| Friday, October 19, 2018 | Red Wings | Lightning | 9:30AM AEST |
| Friday, October 19, 2018 | Canucks | Jets | 10AM AEST |
| Friday, October 19, 2018 | Coyotes | Blackhawks | 10:30AM AEST |
| Friday, October 19, 2018 | Bruins | Edmonton Oilers | 11AM AEST |
| Friday, October 19, 2018 | Islanders | Kings | 12:30PM AEST |
| Friday, October 19, 2018 | Sabres | Sharks | 12:30PM AEST |
| Saturday, October 20, 2018 | Panthers | Capitals | 9AM AEST |
| Saturday, October 20, 2018 | Wild | Stars | 10AM AEST |
| Saturday, October 20, 2018 | Predators | Flames | 11AM AEST |
| Sunday, October 21, 2018 | Devils | Flyers | 3AM AEST |
| Sunday, October 21, 2018 | Avalanche | Hurricanes | 3AM AEST |
| Sunday, October 21, 2018 | Coyotes | Jets | 5AM AEST |
| Sunday, October 21, 2018 | Sabres | Kings | 6AM AEST |
| Sunday, October 21, 2018 | Blues | Maple Leafs | 9AM AEST |
| Sunday, October 21, 2018 | Canadiens | Senators | 9AM AEST |
| Sunday, October 21, 2018 | Red Wings | Panthers | 9AM AEST |
| Sunday, October 21, 2018 | Blackhawks | Blue Jackets | 9AM AEST |
| Sunday, October 21, 2018 | Lightning | Wild | 10AM AEST |
| Sunday, October 21, 2018 | Bruins | Canucks | 12PM AEST |
| Sunday, October 21, 2018 | Ducks | Golden Knights | 12PM AEST |
| Sunday, October 21, 2018 | Predators | Edmonton Oilers | 12PM AEST |
| Sunday, October 21, 2018 | Islanders | Sharks | 12:30PM AEST |
| Monday, October 22, 2018 | Lightning | Blackhawks | 9AM AEST |
| Monday, October 22, 2018 | Flames | Rangers | 9AM AEST |
| Monday, October 22, 2018 | Sabres | Ducks | 10AM AEST |
| Tuesday, October 23, 2018 | Avalanche | Flyers | 9AM AEST |
| Tuesday, October 23, 2018 | Hurricanes | Red Wings | 9:30AM AEST |
| Tuesday, October 23, 2018 | Blues | Jets | 10AM AEST |
| Tuesday, October 23, 2018 | Capitals | Canucks | 12PM AEST |
| Wednesday, October 24, 2018 | Panthers | Rangers | 9AM AEST |
| Wednesday, October 24, 2018 | Coyotes | Blue Jackets | 9AM AEST |
| Wednesday, October 24, 2018 | Flames | Canadiens | 9:30AM AEST |
| Wednesday, October 24, 2018 | Bruins | Senators | 9:30AM AEST |
| Wednesday, October 24, 2018 | Sharks | Predators | 10AM AEST |
| Wednesday, October 24, 2018 | Ducks | Blackhawks | 10:30AM AEST |
| Wednesday, October 24, 2018 | Kings | Stars | 10:30AM AEST |
| Wednesday, October 24, 2018 | Penguins | Edmonton Oilers | 11AM AEST |
| Thursday, October 25, 2018 | Maple Leafs | Jets | 9AM AEST |
| Thursday, October 25, 2018 | Panthers | Islanders | 9AM AEST |
| Thursday, October 25, 2018 | Lightning | Avalanche | 11:30AM AEST |
| Thursday, October 25, 2018 | Canucks | Golden Knights | 12PM AEST |
| Friday, October 26, 2018 | Flyers | Bruins | 9AM AEST |
| Friday, October 26, 2018 | Canadiens | Sabres | 9AM AEST |
| Friday, October 26, 2018 | Predators | Devils | 9AM AEST |
| Friday, October 26, 2018 | Blue Jackets | Blues | 10AM AEST |
| Friday, October 26, 2018 | Kings | Wild | 10AM AEST |
| Friday, October 26, 2018 | Rangers | Blackhawks | 10:30AM AEST |
| Friday, October 26, 2018 | Ducks | Stars | 10:30AM AEST |
| Friday, October 26, 2018 | Penguins | Flames | 11AM AEST |
| Friday, October 26, 2018 | Capitals | Edmonton Oilers | 11AM AEST |
| Friday, October 26, 2018 | Canucks | Coyotes | 12PM AEST |
| Saturday, October 27, 2018 | Lightning | Golden Knights | 8AM AEST |
| Saturday, October 27, 2018 | Jets | Red Wings | 9:30AM AEST |
| Saturday, October 27, 2018 | Sharks | Hurricanes | 9:30AM AEST |
| Saturday, October 27, 2018 | Senators | Avalanche | 11AM AEST |
| Sunday, October 28, 2018 | Panthers | Devils | 3AM AEST |
| Sunday, October 28, 2018 | Islanders | Flyers | 3AM AEST |
| Sunday, October 28, 2018 | Edmonton Oilers | Predators | 5AM AEST |
| Sunday, October 28, 2018 | Capitals | Flames | 6AM AEST |
| Sunday, October 28, 2018 | Canadiens | Bruins | 9AM AEST |
| Sunday, October 28, 2018 | Jets | Maple Leafs | 9AM AEST |
| Sunday, October 28, 2018 | Sabres | Blue Jackets | 9AM AEST |
| Sunday, October 28, 2018 | Blackhawks | Blues | 10AM AEST |
| Sunday, October 28, 2018 | Avalanche | Wild | 10AM AEST |
| Sunday, October 28, 2018 | Lightning | Coyotes | 11AM AEST |
| Sunday, October 28, 2018 | Penguins | Canucks | 12PM AEST |
| Monday, October 29, 2018 | Rangers | Kings | 5:30AM EST |
| Monday, October 29, 2018 | Stars | Red Wings | 7AM AEST |
| Monday, October 29, 2018 | Islanders | Hurricanes | 7AM AEST |
| Monday, October 29, 2018 | Edmonton Oilers | Blackhawks | 8AM AEST |
| Monday, October 29, 2018 | Senators | Golden Knights | 10AM AEST |
| Monday, October 29, 2018 | Sharks | Ducks | 10AM AEST |
| Tuesday, October 30, 2018 | Flames | Maple Leafs | 9AM AEST |
| Tuesday, October 30, 2018 | Wild | Canucks | 12PM AEST |
| Wednesday, October 31, 2018 | Flames | Sabres | 9AM AEST |
| Wednesday, October 31, 2018 | Islanders | Penguins | 9AM AEST |
| Wednesday, October 31, 2018 | Bruins | Hurricanes | 9AM AEST |
| Wednesday, October 31, 2018 | Red Wings | Blue Jackets | 9AM AEST |
| Wednesday, October 31, 2018 | Stars | Canadiens | 9:30AM AEST |
| Wednesday, October 31, 2018 | Devils | Lightning | 9:30AM AEST |
| Wednesday, October 31, 2018 | Golden Knights | Predators | 10AM AEST |
| Wednesday, October 31, 2018 | Wild | Edmonton Oilers | 11AM AEST |
| Wednesday, October 31, 2018 | Senators | Coyotes | 12PM AEST |
| Wednesday, October 31, 2018 | Flyers | Ducks | 12PM AEST |
| Wednesday, October 31, 2018 | Rangers | Sharks | 12:30PM AEST |
| Thursday, November 01, 2018 | Blackhawks | Canucks | 12PM AEST |
| Friday, November 02, 2018 | Jets | Panthers | 4AM AEST |
| Friday, November 02, 2018 | Stars | Maple Leafs | 9AM AEST |
| Friday, November 02, 2018 | Penguins | Islanders | 9AM AEST |
| Friday, November 02, 2018 | Capitals | Canadiens | 9:30AM AEST |
| Friday, November 02, 2018 | Sabres | Senators | 9:30AM AEST |
| Friday, November 02, 2018 | Devils | Red Wings | 9:30AM AEST |
| Friday, November 02, 2018 | Predators | Lightning | 9:30AM AEST |
| Friday, November 02, 2018 | Golden Knights | Blues | 10AM AEST |
| Friday, November 02, 2018 | Avalanche | Flames | 11AM AEST |
| Friday, November 02, 2018 | Blackhawks | Edmonton Oilers | 11AM AEST |
| Friday, November 02, 2018 | Rangers | Ducks | 12PM AEST |
| Friday, November 02, 2018 | Flyers | Kings | 12:30PM AEST |
| Friday, November 02, 2018 | Blue Jackets | Sharks | 12:30PM AEST |
| Saturday, November 03, 2018 | Panthers | Jets | 4AM AEST |
| Saturday, November 03, 2018 | Avalanche | Canucks | 12PM AEST |
| Saturday, November 03, 2018 | Hurricanes | Coyotes | 12PM AEST |
| Sunday, November 04, 2018 | Senators | Sabres | 3AM AEST |
| Sunday, November 04, 2018 | Lightning | Canadiens | 9AM AEST |
| Sunday, November 04, 2018 | Edmonton Oilers | Red Wings | 9AM AEST |
| Sunday, November 04, 2018 | Devils | Islanders | 9AM AEST |
| Sunday, November 04, 2018 | Maple Leafs | Penguins | 9AM AEST |
| Sunday, November 04, 2018 | Stars | Capitals | 9AM AEST |
| Sunday, November 04, 2018 | Wild | Blues | 10AM AEST |
| Sunday, November 04, 2018 | Bruins | Predators | 10AM AEST |
| Sunday, November 04, 2018 | Hurricanes | Golden Knights | 12PM AEST |
| Sunday, November 04, 2018 | Blackhawks | Flames | 12PM AEST |
| Sunday, November 04, 2018 | Blue Jackets | Kings | 12:30PM AEST |
| Sunday, November 04, 2018 | Flyers | Sharks | 12:30PM AEST |
| Monday, November 05, 2018 | Lightning | Senators | 9AM AEST |
| Monday, November 05, 2018 | Sabres | Rangers | 9AM AEST |
| Monday, November 05, 2018 | Blue Jackets | Ducks | 11AM AEST |
| Tuesday, November 06, 2018 | Stars | Bruins | 9AM AEST |
| Tuesday, November 06, 2018 | Canadiens | Islanders | 9AM AEST |
| Tuesday, November 06, 2018 | Devils | Penguins | 9AM AEST |
| Tuesday, November 06, 2018 | Edmonton Oilers | Capitals | 9AM AEST |
| Tuesday, November 06, 2018 | Flyers | Coyotes | 11AM AEST |
| Wednesday, November 07, 2018 | Golden Knights | Maple Leafs | 9AM AEST |
| Wednesday, November 07, 2018 | Canadiens | Rangers | 9AM AEST |
| Wednesday, November 07, 2018 | Stars | Blue Jackets | 9AM AEST |
| Wednesday, November 07, 2018 | Devils | Senators | 9:30AM AEST |
| Wednesday, November 07, 2018 | Canucks | Red Wings | 9:30AM AEST |
| Wednesday, November 07, 2018 | Edmonton Oilers | Lightning | 9:30AM AEST |
| Wednesday, November 07, 2018 | Hurricanes | Blues | 10AM AEST |
| Wednesday, November 07, 2018 | Ducks | Kings | 12:30PM AEST |
| Wednesday, November 07, 2018 | Wild | Sharks | 12:30PM AEST |
| Thursday, November 08, 2018 | Penguins | Capitals | 9:30AM AEST |
| Thursday, November 08, 2018 | Predators | Avalanche | 12PM AEST |
| Thursday, November 08, 2018 | Flames | Ducks | 12:30PM AEST |
| Friday, November 09, 2018 | Canucks | Bruins | 9AM AEST |
| Friday, November 09, 2018 | Edmonton Oilers | Panthers | 9AM AEST |
| Friday, November 09, 2018 | Coyotes | Flyers | 9AM AEST |
| Friday, November 09, 2018 | Sabres | Canadiens | 9:30AM AEST |
| Friday, November 09, 2018 | Golden Knights | Senators | 9:30AM AEST |
| Friday, November 09, 2018 | Islanders | Lightning | 9:30AM AEST |
| Friday, November 09, 2018 | Hurricanes | Blackhawks | 10:30AM AEST |
| Friday, November 09, 2018 | Sharks | Stars | 10:30AM AEST |
| Friday, November 09, 2018 | Wild | Kings | 12:30PM AEST |
| Saturday, November 10, 2018 | Devils | Maple Leafs | 9AM AEST |
| Saturday, November 10, 2018 | Blue Jackets | Capitals | 9AM AEST |
| Saturday, November 10, 2018 | Rangers | Red Wings | 9:30AM AEST |
| Saturday, November 10, 2018 | Sharks | Blues | 10AM AEST |
| Saturday, November 10, 2018 | Avalanche | Jets | 10AM AEST |
| Saturday, November 10, 2018 | Wild | Ducks | 12PM AEST |
| Sunday, November 11, 2018 | Canucks | Sabres | 3AM AEST |
| Sunday, November 11, 2018 | Blackhawks | Flyers | 3AM AEST |
| Sunday, November 11, 2018 | Predators | Stars | 4AM AEST |
| Sunday, November 11, 2018 | Maple Leafs | Bruins | 9AM AEST |
| Sunday, November 11, 2018 | Golden Knights | Canadiens | 9AM AEST |
| Sunday, November 11, 2018 | Senators | Lightning | 9AM AEST |
| Sunday, November 11, 2018 | Islanders | Panthers | 9AM AEST |
| Sunday, November 11, 2018 | Coyotes | Penguins | 9AM AEST |
| Sunday, November 11, 2018 | Red Wings | Hurricanes | 9AM AEST |
| Sunday, November 11, 2018 | Rangers | Blue Jackets | 9AM AEST |
| Sunday, November 11, 2018 | Flames | Kings | 12PM AEST |
| Monday, November 12, 2018 | Wild | Blues | 5AM AEST |
| Monday, November 12, 2018 | Senators | Panthers | 7AM AEST |
| Monday, November 12, 2018 | Coyotes | Capitals | 7AM AEST |
| Monday, November 12, 2018 | Devils | Jets | 9AM AEST |
| Monday, November 12, 2018 | Golden Knights | Bruins | 9AM AEST |
| Monday, November 12, 2018 | Flames | Sharks | 11AM AEST |
| Monday, November 12, 2018 | Avalanche | Edmonton Oilers | 11:30AM AEST |
| Tuesday, November 13, 2018 | Canucks | Rangers | 9AM AEST |
| Tuesday, November 13, 2018 | Blackhawks | Hurricanes | 9AM AEST |
| Tuesday, November 13, 2018 | Blue Jackets | Stars | 10:30AM AEST |
| Tuesday, November 13, 2018 | Predators | Ducks | 12PM AEST |
| Wednesday, November 14, 2018 | Lightning | Sabres | 9AM AEST |
| Wednesday, November 14, 2018 | Penguins | Devils | 9AM AEST |
| Wednesday, November 14, 2018 | Canucks | Islanders | 9AM AEST |
| Wednesday, November 14, 2018 | Panthers | Flyers | 9AM AEST |
| Wednesday, November 14, 2018 | Coyotes | Red Wings | 9:30AM AEST |
| Wednesday, November 14, 2018 | Capitals | Wild | 10AM AEST |
| Wednesday, November 14, 2018 | Canadiens | Edmonton Oilers | 11AM AEST |
| Wednesday, November 14, 2018 | Maple Leafs | Kings | 12:30PM AEST |
| Wednesday, November 14, 2018 | Predators | Sharks | 12:30PM AEST |
| Thursday, November 15, 2018 | Blues | Blackhawks | 10AM AEST |
| Thursday, November 15, 2018 | Capitals | Jets | 10AM AEST |
| Thursday, November 15, 2018 | Bruins | Avalanche | 12PM AEST |
| Thursday, November 15, 2018 | Ducks | Golden Knights | 12:30PM AEST |
| Friday, November 16, 2018 | Rangers | Islanders | 9AM AEST |
| Friday, November 16, 2018 | Devils | Flyers | 9AM AEST |
| Friday, November 16, 2018 | Lightning | Penguins | 9AM AEST |
| Friday, November 16, 2018 | Panthers | Blue Jackets | 9AM AEST |
| Friday, November 16, 2018 | Red Wings | Senators | 9:30AM AEST |
| Friday, November 16, 2018 | Canucks | Wild | 10AM AEST |
| Friday, November 16, 2018 | Canadiens | Flames | 11AM AEST |
| Friday, November 16, 2018 | Predators | Coyotes | 11AM AEST |
| Friday, November 16, 2018 | Maple Leafs | Sharks | 12:30PM AEST |
| Saturday, November 17, 2018 | Bruins | Stars | 10AM AEST |
| Saturday, November 17, 2018 | Sabres | Jets | 10AM AEST |
| Saturday, November 17, 2018 | Kings | Blackhawks | 10:30AM AEST |
| Saturday, November 17, 2018 | Capitals | Avalanche | 11AM AEST |
| Saturday, November 17, 2018 | Blues | Golden Knights | 12PM AEST |
| Saturday, November 17, 2018 | Maple Leafs | Ducks | 12PM AEST |
| Sunday, November 18, 2018 | Red Wings | Devils | 3AM AEST |
| Sunday, November 18, 2018 | Lightning | Flyers | 3AM AEST |
| Sunday, November 18, 2018 | Sabres | Wild | 8AM AEST |
| Sunday, November 18, 2018 | Canadiens | Canucks | 9AM AEST |
| Sunday, November 18, 2018 | Penguins | Senators | 9AM AEST |
| Sunday, November 18, 2018 | Panthers | Rangers | 9AM AEST |
| Sunday, November 18, 2018 | Blue Jackets | Hurricanes | 9AM AEST |
| Sunday, November 18, 2018 | Bruins | Coyotes | 10AM AEST |
| Sunday, November 18, 2018 | Kings | Predators | 10AM AEST |
| Sunday, November 18, 2018 | Edmonton Oilers | Flames | 12PM AEST |
| Sunday, November 18, 2018 | Blues | Sharks | 12:30PM AEST |
| Monday, November 19, 2018 | Stars | Islanders | 3AM AEST |
| Monday, November 19, 2018 | Devils | Hurricanes | 7AM AEST |
| Monday, November 19, 2018 | Wild | Blackhawks | 8AM AEST |
| Monday, November 19, 2018 | Avalanche | Ducks | 10AM AEST |
| Monday, November 19, 2018 | Golden Knights | Edmonton Oilers | 10AM AEST |
| Tuesday, November 20, 2018 | Blue Jackets | Maple Leafs | 9AM AEST |
| Tuesday, November 20, 2018 | Stars | Rangers | 9AM AEST |
| Tuesday, November 20, 2018 | Sabres | Penguins | 9AM AEST |
| Tuesday, November 20, 2018 | Capitals | Canadiens | 9:30AM AEST |
| Tuesday, November 20, 2018 | Panthers | Senators | 9:30AM AEST |
| Tuesday, November 20, 2018 | Kings | Blues | 10AM AEST |
| Tuesday, November 20, 2018 | Lightning | Predators | 10AM AEST |
| Tuesday, November 20, 2018 | Golden Knights | Flames | 11AM AEST |
| Tuesday, November 20, 2018 | Jets | Canucks | 12PM AEST |
| Wednesday, November 21, 2018 | Edmonton Oilers | Sharks | 12:30PM AEST |
| Thursday, November 22, 2018 | Flyers | Sabres | 9AM AEST |
| Thursday, November 22, 2018 | Canadiens | Devils | 9AM AEST |
| Thursday, November 22, 2018 | Islanders | Rangers | 9AM AEST |
| Thursday, November 22, 2018 | Stars | Penguins | 9AM AEST |
| Thursday, November 22, 2018 | Blackhawks | Capitals | 9AM AEST |
| Thursday, November 22, 2018 | Maple Leafs | Hurricanes | 9AM AEST |
| Thursday, November 22, 2018 | Bruins | Red Wings | 9:30AM AEST |
| Thursday, November 22, 2018 | Panthers | Lightning | 9:30AM AEST |
| Thursday, November 22, 2018 | Blues | Predators | 10AM AEST |
| Thursday, November 22, 2018 | Senators | Wild | 10AM AEST |
| Thursday, November 22, 2018 | Golden Knights | Coyotes | 11AM AEST |
| Thursday, November 22, 2018 | Canucks | Ducks | 12PM AEST |
| Thursday, November 22, 2018 | Jets | Flames | 12PM AEST |
| Thursday, November 22, 2018 | Avalanche | Kings | 12:30PM AEST |
| Saturday, November 24, 2018 | Rangers | Flyers | 3AM AEST |
| Saturday, November 24, 2018 | Edmonton Oilers | Ducks | 6AM AEST |
| Saturday, November 24, 2018 | Jets | Wild | 6AM AEST |
| Saturday, November 24, 2018 | Canadiens | Sabres | 6AM AEST |
| Saturday, November 24, 2018 | Islanders | Devils | 6AM AEST |
| Saturday, November 24, 2018 | Red Wings | Capitals | 6AM AEST |
| Saturday, November 24, 2018 | Flames | Golden Knights | 8AM AEST |
| Saturday, November 24, 2018 | Maple Leafs | Blue Jackets | 9AM AEST |
| Saturday, November 24, 2018 | Penguins | Bruins | 9:30AM AEST |
| Saturday, November 24, 2018 | Blackhawks | Lightning | 9:30AM AEST |
| Saturday, November 24, 2018 | Panthers | Hurricanes | 9:30AM AEST |
| Saturday, November 24, 2018 | Avalanche | Coyotes | 10AM AEST |
| Saturday, November 24, 2018 | Predators | Blues | 10AM AEST |
| Saturday, November 24, 2018 | Senators | Stars | 10AM AEST |
| Saturday, November 24, 2018 | Canucks | Sharks | 11AM AEST |
| Sunday, November 25, 2018 | Capitals | Rangers | 4AM AEST |
| Sunday, November 25, 2018 | Jets | Blues | 9AM AEST |
| Sunday, November 25, 2018 | Flyers | Maple Leafs | 9AM AEST |
| Sunday, November 25, 2018 | Bruins | Canadiens | 9AM AEST |
| Sunday, November 25, 2018 | Sabres | Red Wings | 9AM AEST |
| Sunday, November 25, 2018 | Blackhawks | Panthers | 9AM AEST |
| Sunday, November 25, 2018 | Hurricanes | Islanders | 9AM AEST |
| Sunday, November 25, 2018 | Blue Jackets | Penguins | 9AM AEST |
| Sunday, November 25, 2018 | Stars | Avalanche | 11AM AEST |
| Sunday, November 25, 2018 | Sharks | Golden Knights | 12PM AEST |
| Sunday, November 25, 2018 | Canucks | Kings | 12PM AEST |
| Monday, November 26, 2018 | Flames | Coyotes | 5AM AEST |
| Monday, November 26, 2018 | Devils | Lightning | 9AM AEST |
| Monday, November 26, 2018 | Ducks | Predators | 10AM AEST |
| Monday, November 26, 2018 | Edmonton Oilers | Kings | 12:30PM AEST |
| Tuesday, November 27, 2018 | Bruins | Maple Leafs | 9AM AEST |
| Tuesday, November 27, 2018 | Devils | Panthers | 9AM AEST |
| Tuesday, November 27, 2018 | Capitals | Islanders | 9AM AEST |
| Tuesday, November 27, 2018 | Senators | Rangers | 9AM AEST |
| Tuesday, November 27, 2018 | Blue Jackets | Red Wings | 9:30AM AEST |
| Wednesday, November 28, 2018 | Sharks | Sabres | 9AM AEST |
| Wednesday, November 28, 2018 | Senators | Flyers | 9AM AEST |
| Wednesday, November 28, 2018 | Hurricanes | Canadiens | 9:30AM AEST |
| Wednesday, November 28, 2018 | Ducks | Lightning | 9:30AM AEST |
| Wednesday, November 28, 2018 | Avalanche | Predators | 10AM AEST |
| Wednesday, November 28, 2018 | Coyotes | Wild | 10AM AEST |
| Wednesday, November 28, 2018 | Penguins | Jets | 10AM AEST |
| Wednesday, November 28, 2018 | Golden Knights | Blackhawks | 10:30AM AEST |
| Wednesday, November 28, 2018 | Stars | Edmonton Oilers | 11AM AEST |
| Wednesday, November 28, 2018 | Kings | Canucks | 12PM AEST |
| Thursday, November 29, 2018 | Blues | Red Wings | 9AM AEST |
| Thursday, November 29, 2018 | Ducks | Panthers | 9AM AEST |
| Thursday, November 29, 2018 | Sharks | Maple Leafs | 9:30AM AEST |
| Thursday, November 29, 2018 | Stars | Flames | 11AM AEST |
| Thursday, November 29, 2018 | Penguins | Avalanche | 11:30AM AEST |
| Friday, November 30, 2018 | Islanders | Bruins | 9AM AEST |
| Friday, November 30, 2018 | Wild | Blue Jackets | 9AM AEST |
| Friday, November 30, 2018 | Rangers | Senators | 9:30AM AEST |
| Friday, November 30, 2018 | Sabres | Lightning | 9:30AM AEST |
| Friday, November 30, 2018 | Coyotes | Predators | 10AM AEST |
| Friday, November 30, 2018 | Blackhawks | Jets | 10AM AEST |
| Friday, November 30, 2018 | Kings | Edmonton Oilers | 11AM AEST |
| Friday, November 30, 2018 | Golden Knights | Canucks | 12PM AEST |
| Saturday, December 01, 2018 | Sabres | Panthers | 9AM AEST |
| Saturday, December 01, 2018 | Devils | Capitals | 9AM AEST |
| Saturday, December 01, 2018 | Ducks | Hurricanes | 9:30AM AEST |
| Saturday, December 01, 2018 | Blues | Avalanche | 11AM AEST |
| Saturday, December 01, 2018 | Kings | Flames | 11AM AEST |
| Sunday, December 02, 2018 | Sharks | Senators | 4AM AEST |
| Sunday, December 02, 2018 | Stars | Canucks | 6AM AEST |
| Sunday, December 02, 2018 | Maple Leafs | Wild | 9AM AEST |
| Sunday, December 02, 2018 | Red Wings | Bruins | 9AM AEST |
| Sunday, December 02, 2018 | Rangers | Canadiens | 9AM AEST |
| Sunday, December 02, 2018 | Lightning | Panthers | 9AM AEST |
| Sunday, December 02, 2018 | Jets | Devils | 9AM AEST |
| Sunday, December 02, 2018 | Blue Jackets | Islanders | 9AM AEST |
| Sunday, December 02, 2018 | Flyers | Penguins | 9AM AEST |
| Sunday, December 02, 2018 | Blues | Coyotes | 10AM AEST |
| Sunday, December 02, 2018 | Blackhawks | Predators | 10AM AEST |
| Sunday, December 02, 2018 | Golden Knights | Edmonton Oilers | 12PM AEST |
| Monday, December 03, 2018 | Ducks | Capitals | 5AM AEST |
| Monday, December 03, 2018 | Jets | Rangers | 8AM AEST |
| Monday, December 03, 2018 | Flames | Blackhawks | 9AM AEST |
| Monday, December 03, 2018 | Sharks | Canadiens | 9AM AEST |
| Monday, December 03, 2018 | Avalanche | Red Wings | 9AM AEST |
| Monday, December 03, 2018 | Hurricanes | Kings | 12:30PM AEST |
| Tuesday, December 04, 2018 | Lightning | Devils | 9AM AEST |
| Tuesday, December 04, 2018 | Sabres | Predators | 10AM AEST |
| Tuesday, December 04, 2018 | Edmonton Oilers | Stars | 10:30AM AEST |
| Wednesday, December 05, 2018 | Maple Leafs | Sabres | 9AM AEST |
| Wednesday, December 05, 2018 | Bruins | Panthers | 9AM AEST |
| Wednesday, December 05, 2018 | Jets | Islanders | 9AM AEST |
| Wednesday, December 05, 2018 | Avalanche | Penguins | 9AM AEST |
| Wednesday, December 05, 2018 | Flames | Blue Jackets | 9AM AEST |
| Wednesday, December 05, 2018 | Senators | Canadiens | 9:30AM AEST |
| Wednesday, December 05, 2018 | Lightning | Red Wings | 9:30AM AEST |
| Wednesday, December 05, 2018 | Wild | Canucks | 12PM AEST |
| Wednesday, December 05, 2018 | Capitals | Golden Knights | 12PM AEST |
| Wednesday, December 05, 2018 | Coyotes | Kings | 12:30PM AEST |
| Thursday, December 06, 2018 | Edmonton Oilers | Blues | 10AM AEST |
| Thursday, December 06, 2018 | Blackhawks | Ducks | 12:30PM AEST |
| Thursday, December 06, 2018 | Hurricanes | Sharks | 12:30PM AEST |
| Friday, December 07, 2018 | Red Wings | Maple Leafs | 9AM AEST |
| Friday, December 07, 2018 | Avalanche | Panthers | 9AM AEST |
| Friday, December 07, 2018 | Blue Jackets | Flyers | 9AM AEST |
| Friday, December 07, 2018 | Islanders | Penguins | 9AM AEST |
| Friday, December 07, 2018 | Canadiens | Senators | 9:30AM AEST |
| Friday, December 07, 2018 | Bruins | Lightning | 9:30AM AEST |
| Friday, December 07, 2018 | Wild | Flames | 11AM AEST |
| Friday, December 07, 2018 | Capitals | Coyotes | 11AM AEST |
| Friday, December 07, 2018 | Predators | Canucks | 12PM AEST |
| Friday, December 07, 2018 | Blackhawks | Golden Knights | 12PM AEST |
| Friday, December 07, 2018 | Devils | Kings | 12:30PM AEST |
| Saturday, December 08, 2018 | Sharks | Stars | 10AM AEST |
| Saturday, December 08, 2018 | Blues | Jets | 10AM AEST |
| Saturday, December 08, 2018 | Wild | Edmonton Oilers | 11AM AEST |
| Saturday, December 08, 2018 | Hurricanes | Ducks | 12PM AEST |
| Sunday, December 09, 2018 | Flyers | Sabres | 3AM AEST |
| Sunday, December 09, 2018 | Golden Knights | Kings | 6AM AEST |
| Sunday, December 09, 2018 | Maple Leafs | Bruins | 9AM AEST |
| Sunday, December 09, 2018 | Penguins | Senators | 9AM AEST |
| Sunday, December 09, 2018 | Islanders | Red Wings | 9AM AEST |
| Sunday, December 09, 2018 | Avalanche | Lightning | 9AM AEST |
| Sunday, December 09, 2018 | Rangers | Panthers | 9AM AEST |
| Sunday, December 09, 2018 | Capitals | Blue Jackets | 9AM AEST |
| Sunday, December 09, 2018 | Sharks | Coyotes | 10AM AEST |
| Sunday, December 09, 2018 | Predators | Flames | 12PM AEST |
| Monday, December 10, 2018 | Canucks | Blues | 5AM AEST |
| Monday, December 10, 2018 | Flyers | Jets | 5AM AEST |
| Monday, December 10, 2018 | Bruins | Senators | 7AM AEST |
| Monday, December 10, 2018 | Canadiens | Blackhawks | 8AM AEST |
| Monday, December 10, 2018 | Devils | Ducks | 10AM AEST |
| Monday, December 10, 2018 | Stars | Golden Knights | 11AM AEST |
| Monday, December 10, 2018 | Flames | Edmonton Oilers | 11AM AEST |
| Tuesday, December 11, 2018 | Penguins | Islanders | 9AM AEST |
| Tuesday, December 11, 2018 | Kings | Red Wings | 9:30AM AEST |
| Tuesday, December 11, 2018 | Rangers | Lightning | 9:30AM AEST |
| Tuesday, December 11, 2018 | Devils | Sharks | 12:30PM AEST |
| Wednesday, December 12, 2018 | Coyotes | Bruins | 9AM AEST |
| Wednesday, December 12, 2018 | Kings | Sabres | 9AM AEST |
| Wednesday, December 12, 2018 | Red Wings | Capitals | 9AM AEST |
| Wednesday, December 12, 2018 | Maple Leafs | Hurricanes | 9AM AEST |
| Wednesday, December 12, 2018 | Canucks | Blue Jackets | 9AM AEST |
| Wednesday, December 12, 2018 | Panthers | Blues | 10AM AEST |
| Wednesday, December 12, 2018 | Senators | Predators | 10AM AEST |
| Wednesday, December 12, 2018 | Canadiens | Wild | 10AM AEST |
| Wednesday, December 12, 2018 | Blackhawks | Jets | 10AM AEST |
| Wednesday, December 12, 2018 | Edmonton Oilers | Avalanche | 11AM AEST |
| Thursday, December 13, 2018 | Golden Knights | Islanders | 9AM AEST |
| Thursday, December 13, 2018 | Penguins | Blackhawks | 10AM AEST |
| Thursday, December 13, 2018 | Flyers | Flames | 10:30AM AEST |
| Thursday, December 13, 2018 | Stars | Ducks | 12PM AEST |
| Friday, December 14, 2018 | Coyotes | Sabres | 9AM AEST |
| Friday, December 14, 2018 | Kings | Blue Jackets | 9AM AEST |
| Friday, December 14, 2018 | Hurricanes | Canadiens | 9:30AM AEST |
| Friday, December 14, 2018 | Maple Leafs | Lightning | 9:30AM AEST |
| Friday, December 14, 2018 | Canucks | Predators | 10AM AEST |
| Friday, December 14, 2018 | Panthers | Wild | 10AM AEST |
| Friday, December 14, 2018 | Edmonton Oilers | Jets | 10AM AEST |
| Friday, December 14, 2018 | Stars | Sharks | 12:30PM AEST |
| Saturday, December 15, 2018 | Golden Knights | Devils | 9AM AEST |
| Saturday, December 15, 2018 | Coyotes | Rangers | 9AM AEST |
| Saturday, December 15, 2018 | Bruins | Penguins | 9AM AEST |
| Saturday, December 15, 2018 | Senators | Red Wings | 9:30AM AEST |
| Saturday, December 15, 2018 | Capitals | Hurricanes | 9:30AM AEST |
| Saturday, December 15, 2018 | Avalanche | Blues | 10AM AEST |
| Saturday, December 15, 2018 | Jets | Blackhawks | 10:30AM AEST |
| Saturday, December 15, 2018 | Flyers | Edmonton Oilers | 11AM AEST |
| Sunday, December 16, 2018 | Flames | Wild | 4AM AEST |
| Sunday, December 16, 2018 | Senators | Canadiens | 9AM AEST |
| Sunday, December 16, 2018 | Maple Leafs | Panthers | 9AM AEST |
| Sunday, December 16, 2018 | Red Wings | Islanders | 9AM AEST |
| Sunday, December 16, 2018 | Kings | Penguins | 9AM AEST |
| Sunday, December 16, 2018 | Sabres | Capitals | 9AM AEST |
| Sunday, December 16, 2018 | Ducks | Blue Jackets | 9AM AEST |
| Sunday, December 16, 2018 | Devils | Predators | 10AM AEST |
| Sunday, December 16, 2018 | Stars | Avalanche | 11AM AEST |
| Sunday, December 16, 2018 | Flyers | Canucks | 12PM AEST |
| Monday, December 17, 2018 | Golden Knights | Rangers | 3AM AEST |
| Monday, December 17, 2018 | Coyotes | Hurricanes | 3AM AEST |
| Monday, December 17, 2018 | Flames | Blues | 5AM AEST |
| Monday, December 17, 2018 | Sabres | Bruins | 7AM AEST |
| Monday, December 17, 2018 | Sharks | Blackhawks | 9AM AEST |
| Monday, December 17, 2018 | Lightning | Jets | 9AM AEST |
| Monday, December 17, 2018 | Edmonton Oilers | Canucks | 12PM AEST |
| Tuesday, December 18, 2018 | Ducks | Penguins | 9AM AEST |
| Tuesday, December 18, 2018 | Golden Knights | Blue Jackets | 9AM AEST |
| Tuesday, December 18, 2018 | Bruins | Canadiens | 9:30AM AEST |
| Tuesday, December 18, 2018 | Predators | Senators | 9:30AM AEST |
| Tuesday, December 18, 2018 | Islanders | Avalanche | 11AM AEST |
| Wednesday, December 19, 2018 | Panthers | Sabres | 9AM AEST |
| Wednesday, December 19, 2018 | Maple Leafs | Devils | 9AM AEST |
| Wednesday, December 19, 2018 | Ducks | Rangers | 9AM AEST |
| Wednesday, December 19, 2018 | Red Wings | Flyers | 9AM AEST |
| Wednesday, December 19, 2018 | Sharks | Wild | 10AM AEST |
| Wednesday, December 19, 2018 | Predators | Blackhawks | 10:30AM AEST |
| Wednesday, December 19, 2018 | Flames | Stars | 10:30AM AEST |
| Wednesday, December 19, 2018 | Blues | Edmonton Oilers | 11AM AEST |
| Wednesday, December 19, 2018 | Islanders | Coyotes | 11AM AEST |
| Wednesday, December 19, 2018 | Lightning | Canucks | 12PM AEST |
| Wednesday, December 19, 2018 | Jets | Kings | 12:30PM AEST |
| Thursday, December 20, 2018 | Penguins | Capitals | 10AM AEST |
| Thursday, December 20, 2018 | Canadiens | Avalanche | 10:30AM AEST |
| Friday, December 21, 2018 | Ducks | Bruins | 9AM AEST |
| Friday, December 21, 2018 | Panthers | Maple Leafs | 9AM AEST |
| Friday, December 21, 2018 | Predators | Flyers | 9AM AEST |
| Friday, December 21, 2018 | Wild | Penguins | 9AM AEST |
| Friday, December 21, 2018 | Red Wings | Hurricanes | 9AM AEST |
| Friday, December 21, 2018 | Devils | Blue Jackets | 9AM AEST |
| Friday, December 21, 2018 | Blackhawks | Stars | 10:30AM AEST |
| Friday, December 21, 2018 | Lightning | Flames | 11AM AEST |
| Friday, December 21, 2018 | Canadiens | Coyotes | 11AM AEST |
| Friday, December 21, 2018 | Blues | Canucks | 12PM AEST |
| Friday, December 21, 2018 | Islanders | Golden Knights | 12PM AEST |
| Friday, December 21, 2018 | Jets | Sharks | 12:30PM AEST |
| Saturday, December 22, 2018 | Senators | Devils | 9AM AEST |
| Saturday, December 22, 2018 | Sabres | Capitals | 9AM AEST |
| Saturday, December 22, 2018 | Blackhawks | Avalanche | 11AM AEST |
| Sunday, December 23, 2018 | Predators | Bruins | 3AM AEST |
| Sunday, December 23, 2018 | Blue Jackets | Flyers | 3AM AEST |
| Sunday, December 23, 2018 | Panthers | Red Wings | 4AM AEST |
| Sunday, December 23, 2018 | Canadiens | Golden Knights | 6AM AEST |
| Sunday, December 23, 2018 | Kings | Sharks | 6AM AEST |
| Sunday, December 23, 2018 | Blues | Flames | 6AM AEST |
| Sunday, December 23, 2018 | Avalanche | Coyotes | 9AM AEST |
| Sunday, December 23, 2018 | Ducks | Sabres | 9AM AEST |
| Sunday, December 23, 2018 | Rangers | Maple Leafs | 9AM AEST |
| Sunday, December 23, 2018 | Capitals | Senators | 9AM AEST |
| Sunday, December 23, 2018 | Penguins | Hurricanes | 9AM AEST |
| Sunday, December 23, 2018 | Stars | Wild | 10AM AEST |
| Sunday, December 23, 2018 | Jets | Canucks | 12PM AEST |
| Sunday, December 23, 2018 | Lightning | Edmonton Oilers | 12PM AEST |
| Monday, December 24, 2018 | Blue Jackets | Devils | 3AM AEST |
| Monday, December 24, 2018 | Bruins | Hurricanes | 7AM AEST |
| Monday, December 24, 2018 | Panthers | Blackhawks | 9AM AEST |
| Monday, December 24, 2018 | Flyers | Rangers | 9AM AEST |
| Monday, December 24, 2018 | Red Wings | Maple Leafs | 9:30AM AEST |
| Monday, December 24, 2018 | Kings | Golden Knights | 10AM AEST |
| Monday, December 24, 2018 | Coyotes | Sharks | 10AM AEST |
| Monday, December 24, 2018 | Islanders | Stars | 10AM AEST |
| Friday, December 28, 2018 | Devils | Bruins | 9AM AEST |
| Friday, December 28, 2018 | Blue Jackets | Rangers | 9AM AEST |
| Friday, December 28, 2018 | Red Wings | Penguins | 9AM AEST |
| Friday, December 28, 2018 | Hurricanes | Capitals | 9AM AEST |
| Friday, December 28, 2018 | Flyers | Lightning | 9:30AM AEST |
| Friday, December 28, 2018 | Sabres | Blues | 10AM AEST |
| Friday, December 28, 2018 | Stars | Predators | 10AM AEST |
| Friday, December 28, 2018 | Flames | Jets | 10AM AEST |
| Friday, December 28, 2018 | Wild | Blackhawks | 10:30AM AEST |
| Friday, December 28, 2018 | Canucks | Edmonton Oilers | 11AM AEST |
| Friday, December 28, 2018 | Avalanche | Golden Knights | 12PM AEST |
| Friday, December 28, 2018 | Coyotes | Kings | 12:30PM AEST |
| Friday, December 28, 2018 | Ducks | Sharks | 12:30PM AEST |
| Saturday, December 29, 2018 | Canadiens | Panthers | 9AM AEST |
| Saturday, December 29, 2018 | Senators | Islanders | 9AM AEST |
| Saturday, December 29, 2018 | Maple Leafs | Blue Jackets | 9AM AEST |
| Sunday, December 30, 2018 | Hurricanes | Devils | 3AM AEST |
| Sunday, December 30, 2018 | Wild | Jets | 5AM AEST |
| Sunday, December 30, 2018 | Golden Knights | Kings | 6AM AEST |
| Sunday, December 30, 2018 | Sharks | Edmonton Oilers | 6AM AEST |
| Sunday, December 30, 2018 | Bruins | Sabres | 9AM AEST |
| Sunday, December 30, 2018 | Islanders | Maple Leafs | 9AM AEST |
| Sunday, December 30, 2018 | Capitals | Senators | 9AM AEST |
| Sunday, December 30, 2018 | Canadiens | Lightning | 9AM AEST |
| Sunday, December 30, 2018 | Flyers | Panthers | 9AM AEST |
| Sunday, December 30, 2018 | Penguins | Blues | 10AM AEST |
| Sunday, December 30, 2018 | Rangers | Predators | 10AM AEST |
| Sunday, December 30, 2018 | Red Wings | Stars | 10AM AEST |
| Sunday, December 30, 2018 | Blackhawks | Avalanche | 11AM AEST |
| Sunday, December 30, 2018 | Coyotes | Ducks | 12PM AEST |
| Sunday, December 30, 2018 | Canucks | Flames | 12PM AEST |
| Monday, December 31, 2018 | Golden Knights | Coyotes | 10AM AEST |
| Tuesday, January 01, 2019 | Predators | Capitals | 2:30AM AEST |
| Tuesday, January 01, 2019 | Canucks | Devils | 3AM AEST |
| Tuesday, January 01, 2019 | Penguins | Wild | 8AM AEST |
| Tuesday, January 01, 2019 | Islanders | Sabres | 8AM AEST |
| Tuesday, January 01, 2019 | Flyers | Hurricanes | 8AM AEST |
| Tuesday, January 01, 2019 | Rangers | Blues | 9AM AEST |
| Tuesday, January 01, 2019 | Senators | Blue Jackets | 9AM AEST |
| Tuesday, January 01, 2019 | Panthers | Red Wings | 9:30AM AEST |
| Tuesday, January 01, 2019 | Kings | Avalanche | 10AM AEST |
| Tuesday, January 01, 2019 | Canadiens | Stars | 10:30AM AEST |
| Tuesday, January 01, 2019 | Sharks | Flames | 11AM AEST |
| Tuesday, January 01, 2019 | Jets | Edmonton Oilers | 11AM AEST |
| Tuesday, January 01, 2019 | Lightning | Ducks | 12PM AEST |
| Wednesday, January 02, 2019 | Bruins | Blackhawks | 3AM AEST |
| Wednesday, January 02, 2019 | Flyers | Predators | 10:30AM AEST |
| Wednesday, January 02, 2019 | Kings | Golden Knights | 11AM AEST |
| Thursday, January 03, 2019 | Canucks | Senators | 9AM AEST |
| Thursday, January 03, 2019 | Flames | Red Wings | 9AM AEST |
| Thursday, January 03, 2019 | Penguins | Rangers | 9AM AEST |
| Thursday, January 03, 2019 | Devils | Stars | 10:30AM AEST |
| Thursday, January 03, 2019 | Sharks | Avalanche | 11:30AM AEST |
| Thursday, January 03, 2019 | Edmonton Oilers | Coyotes | 11:30AM AEST |
| Friday, January 04, 2019 | Wild | Maple Leafs | 4AM AEST |
| Friday, January 04, 2019 | Flames | Bruins | 9AM AEST |
| Friday, January 04, 2019 | Panthers | Sabres | 9AM AEST |
| Friday, January 04, 2019 | Blackhawks | Islanders | 9AM AEST |
| Friday, January 04, 2019 | Hurricanes | Flyers | 9AM AEST |
| Friday, January 04, 2019 | Canucks | Canadiens | 9:30AM AEST |
| Friday, January 04, 2019 | Capitals | Blues | 10AM AEST |
| Friday, January 04, 2019 | Lightning | Kings | 12:30PM AEST |
| Saturday, January 05, 2019 | Jets | Penguins | 9AM AEST |
| Saturday, January 05, 2019 | Predators | Red Wings | 9:30AM AEST |
| Saturday, January 05, 2019 | Blue Jackets | Hurricanes | 9:30AM AEST |
| Saturday, January 05, 2019 | Capitals | Stars | 10AM AEST |
| Saturday, January 05, 2019 | Rangers | Avalanche | 11AM AEST |
| Saturday, January 05, 2019 | Devils | Coyotes | 11AM AEST |
| Saturday, January 05, 2019 | Golden Knights | Ducks | 12PM AEST |
| Sunday, January 06, 2019 | Flames | Flyers | 3AM AEST |
| Sunday, January 06, 2019 | Wild | Senators | 4AM AEST |
| Sunday, January 06, 2019 | Sabres | Bruins | 9AM AEST |
| Sunday, January 06, 2019 | Canucks | Maple Leafs | 9AM AEST |
| Sunday, January 06, 2019 | Predators | Canadiens | 9AM AEST |
| Sunday, January 06, 2019 | Blue Jackets | Panthers | 9AM AEST |
| Sunday, January 06, 2019 | Islanders | Blues | 10AM AEST |
| Sunday, January 06, 2019 | Edmonton Oilers | Kings | 12PM AEST |
| Sunday, January 06, 2019 | Lightning | Sharks | 13AM AEST |
| Monday, January 07, 2019 | Hurricanes | Senators | 4AM AEST |
| Monday, January 07, 2019 | Devils | Golden Knights | 6AM AEST |
| Monday, January 07, 2019 | Rangers | Coyotes | 6AM AEST |
| Monday, January 07, 2019 | Stars | Jets | 7AM AEST |
| Monday, January 07, 2019 | Capitals | Red Wings | 7AM AEST |
| Monday, January 07, 2019 | Edmonton Oilers | Ducks | 10AM AEST |
| Monday, January 07, 2019 | Blackhawks | Penguins | 10AM AEST |
| Tuesday, January 08, 2019 | Predators | Maple Leafs | 9AM AEST |
| Tuesday, January 08, 2019 | Blues | Flyers | 9AM AEST |
| Tuesday, January 08, 2019 | Wild | Canadiens | 9:30AM AEST |
| Tuesday, January 08, 2019 | Flames | Blackhawks | 10:30AM AEST |
| Tuesday, January 08, 2019 | Kings | Sharks | 12:30PM AEST |
| Wednesday, January 09, 2019 | Wild | Bruins | 9AM AEST |
| Wednesday, January 09, 2019 | Devils | Sabres | 9AM AEST |
| Wednesday, January 09, 2019 | Hurricanes | Islanders | 9AM AEST |
| Wednesday, January 09, 2019 | Panthers | Penguins | 9AM AEST |
| Wednesday, January 09, 2019 | Flyers | Capitals | 9AM AEST |
| Wednesday, January 09, 2019 | Canadiens | Red Wings | 9:30AM AEST |
| Wednesday, January 09, 2019 | Blue Jackets | Lightning | 9:30AM AEST |
| Wednesday, January 09, 2019 | Stars | Blues | 10AM AEST |
| Wednesday, January 09, 2019 | Avalanche | Jets | 10AM AEST |
| Wednesday, January 09, 2019 | Rangers | Golden Knights | 12PM AEST |
| Wednesday, January 09, 2019 | Edmonton Oilers | Sharks | 12:30PM AEST |
| Thursday, January 10, 2019 | Predators | Blackhawks | 10AM AEST |
| Thursday, January 10, 2019 | Avalanche | Flames | 11:30AM AEST |
| Thursday, January 10, 2019 | Senators | Ducks | 12PM AEST |
| Friday, January 11, 2019 | Capitals | Bruins | 9AM AEST |
| Friday, January 11, 2019 | Maple Leafs | Devils | 9AM AEST |
| Friday, January 11, 2019 | Islanders | Rangers | 9AM AEST |
| Friday, January 11, 2019 | Stars | Flyers | 9AM AEST |
| Friday, January 11, 2019 | Predators | Blue Jackets | 9AM AEST |
| Friday, January 11, 2019 | Hurricanes | Lightning | 9:30AM AEST |
| Friday, January 11, 2019 | Canadiens | Blues | 10AM AEST |
| Friday, January 11, 2019 | Jets | Wild | 10AM AEST |
| Friday, January 11, 2019 | Panthers | Edmonton Oilers | 11AM AEST |
| Friday, January 11, 2019 | Coyotes | Canucks | 12PM AEST |
| Friday, January 11, 2019 | Sharks | Golden Knights | 12PM AEST |
| Friday, January 11, 2019 | Senators | Kings | 12:30PM AEST |
| Saturday, January 12, 2019 | Sabres | Hurricanes | 9:30AM AEST |
| Saturday, January 12, 2019 | Red Wings | Jets | 10AM AEST |
| Saturday, January 12, 2019 | Panthers | Flames | 11AM AEST |
| Saturday, January 12, 2019 | Penguins | Ducks | 12PM AEST |
| Sunday, January 13, 2019 | Flyers | Devils | 3AM AEST |
| Sunday, January 13, 2019 | Rangers | Islanders | 3AM AEST |
| Sunday, January 13, 2019 | Lightning | Sabres | 9AM AEST |
| Sunday, January 13, 2019 | Bruins | Maple Leafs | 9AM AEST |
| Sunday, January 13, 2019 | Avalanche | Canadiens | 9AM AEST |
| Sunday, January 13, 2019 | Blue Jackets | Capitals | 9AM AEST |
| Sunday, January 13, 2019 | Red Wings | Wild | 10AM AEST |
| Sunday, January 13, 2019 | Golden Knights | Blackhawks | 10:30AM AEST |
| Sunday, January 13, 2019 | Blues | Stars | 11AM AEST |
| Sunday, January 13, 2019 | Senators | Sharks | 12PM AEST |
| Sunday, January 13, 2019 | Coyotes | Edmonton Oilers | 12PM AEST |
| Sunday, January 13, 2019 | Penguins | Kings | 12:30PM AEST |
| Monday, January 14, 2019 | Predators | Hurricanes | 3AM AEST |
| Monday, January 14, 2019 | Ducks | Jets | 8AM AEST |
| Monday, January 14, 2019 | Rangers | Blue Jackets | 8AM AEST |
| Monday, January 14, 2019 | Panthers | Canucks | 9AM AEST |
| Monday, January 14, 2019 | Lightning | Islanders | 9AM AEST |
| Monday, January 14, 2019 | Coyotes | Flames | 11:30AM AEST |
| Tuesday, January 15, 2019 | Canadiens | Bruins | 9AM AEST |
| Tuesday, January 15, 2019 | Avalanche | Maple Leafs | 9AM AEST |
| Tuesday, January 15, 2019 | Blackhawks | Devils | 9AM AEST |
| Tuesday, January 15, 2019 | Wild | Flyers | 9AM AEST |
| Tuesday, January 15, 2019 | Blues | Capitals | 9AM AEST |
| Tuesday, January 15, 2019 | Sabres | Edmonton Oilers | 11AM AEST |
| Wednesday, January 16, 2019 | Blues | Islanders | 9AM AEST |
| Wednesday, January 16, 2019 | Hurricanes | Rangers | 9AM AEST |
| Wednesday, January 16, 2019 | Devils | Blue Jackets | 9AM AEST |
| Wednesday, January 16, 2019 | Panthers | Canadiens | 9:30AM AEST |
| Wednesday, January 16, 2019 | Ducks | Red Wings | 9:30AM AEST |
| Wednesday, January 16, 2019 | Capitals | Predators | 10AM AEST |
| Wednesday, January 16, 2019 | Kings | Wild | 10AM AEST |
| Wednesday, January 16, 2019 | Golden Knights | Jets | 10AM AEST |
| Wednesday, January 16, 2019 | Lightning | Stars | 10:30AM AEST |
| Wednesday, January 16, 2019 | Penguins | Sharks | 12PM AEST |
| Thursday, January 17, 2019 | Avalanche | Senators | 9AM AEST |
| Thursday, January 17, 2019 | Bruins | Flyers | 9:30AM AEST |
| Thursday, January 17, 2019 | Sabres | Flames | 11:30AM AEST |
| Thursday, January 17, 2019 | Edmonton Oilers | Canucks | 12PM AEST |
| Thursday, January 17, 2019 | Sharks | Coyotes | 12PM AEST |
| Friday, January 18, 2019 | Blues | Bruins | 9AM AEST |
| Friday, January 18, 2019 | Devils | Islanders | 9AM AEST |
| Friday, January 18, 2019 | Blackhawks | Rangers | 9AM AEST |
| Friday, January 18, 2019 | Maple Leafs | Lightning | 9:30AM AEST |
| Friday, January 18, 2019 | Jets | Predators | 10AM AEST |
| Friday, January 18, 2019 | Ducks | Wild | 10AM AEST |
| Friday, January 18, 2019 | Kings | Stars | 10:30AM AEST |
| Saturday, January 19, 2019 | Maple Leafs | Panthers | 9AM AEST |
| Saturday, January 19, 2019 | Canadiens | Blue Jackets | 9AM AEST |
| Saturday, January 19, 2019 | Islanders | Capitals | 9:30AM AEST |
| Saturday, January 19, 2019 | Senators | Hurricanes | 9:30AM AEST |
| Saturday, January 19, 2019 | Red Wings | Flames | 11AM AEST |
| Saturday, January 19, 2019 | Penguins | Coyotes | 11AM AEST |
| Saturday, January 19, 2019 | Sabres | Canucks | 12PM AEST |
| Sunday, January 20, 2019 | Ducks | Devils | 3AM AEST |
| Sunday, January 20, 2019 | Kings | Avalanche | 5AM AEST |
| Sunday, January 20, 2019 | Senators | Blues | 9AM AEST |
| Sunday, January 20, 2019 | Jets | Stars | 9AM AEST |
| Sunday, January 20, 2019 | Rangers | Bruins | 9AM AEST |
| Sunday, January 20, 2019 | Flyers | Canadiens | 9AM AEST |
| Sunday, January 20, 2019 | Sharks | Lightning | 9AM AEST |
| Sunday, January 20, 2019 | Panthers | Predators | 10AM AEST |
| Sunday, January 20, 2019 | Blue Jackets | Wild | 11AM AEST |
| Sunday, January 20, 2019 | Penguins | Golden Knights | 12PM AEST |
| Sunday, January 20, 2019 | Flames | Edmonton Oilers | 12PM AEST |
| Monday, January 21, 2019 | Capitals | Blackhawks | 2:30AM AEST |
| Monday, January 21, 2019 | Ducks | Islanders | 5AM AEST |
| Monday, January 21, 2019 | Red Wings | Canucks | 6AM AEST |
| Monday, January 21, 2019 | Coyotes | Maple Leafs | 9AM AEST |
| Monday, January 21, 2019 | Hurricanes | Edmonton Oilers | 11:30AM AEST |
| Tuesday, January 22, 2019 | Predators | Avalanche | 5AM AEST |
| Tuesday, January 22, 2019 | Blues | Kings | 6AM AEST |
| Tuesday, January 22, 2019 | Wild | Golden Knights | 8AM AEST |
| Tuesday, January 22, 2019 | Sharks | Panthers | 9AM AEST |
| Wednesday, January 23, 2019 | Sharks | Capitals | 9AM AEST |
| Wednesday, January 23, 2019 | Coyotes | Senators | 9:30AM AEST |
| Wednesday, January 23, 2019 | Islanders | Blackhawks | 10:30AM AEST |
| Wednesday, January 23, 2019 | Hurricanes | Flames | 11AM AEST |
| Wednesday, January 23, 2019 | Red Wings | Edmonton Oilers | 11AM AEST |
| Thursday, January 24, 2019 | Capitals | Maple Leafs | 9:30AM AEST |
| Thursday, January 24, 2019 | Coyotes | Canadiens | 9:30AM AEST |
| Thursday, January 24, 2019 | Wild | Avalanche | 11:30AM AEST |
| Thursday, January 24, 2019 | Predators | Golden Knights | 12PM AEST |
| Thursday, January 24, 2019 | Blues | Ducks | 12PM AEST |
| Thursday, January 24, 2019 | Hurricanes | Canucks | 12:30PM AEST |
| Tuesday, January 29, 2019 | Jets | Flyers | 9AM AEST |
| Tuesday, January 29, 2019 | Devils | Penguins | 9AM AEST |
| Wednesday, January 30, 2019 | Jets | Bruins | 9AM AEST |
| Wednesday, January 30, 2019 | Flyers | Rangers | 9AM AEST |
| Wednesday, January 30, 2019 | Sabres | Blue Jackets | 9AM AEST |
| Thursday, January 31, 2019 | Lightning | Penguins | 10AM AEST |
| Thursday, January 31, 2019 | Sabres | Stars | 10:30AM AEST |
| Friday, February 01, 2019 | Flyers | Bruins | 9AM AEST |
| Friday, February 01, 2019 | Rangers | Devils | 9AM AEST |
| Friday, February 01, 2019 | Blue Jackets | Jets | 10AM AEST |
| Saturday, February 02, 2019 | Blackhawks | Sabres | 9AM AEST |
| Saturday, February 02, 2019 | Predators | Panthers | 9AM AEST |
| Saturday, February 02, 2019 | Lightning | Islanders | 9AM AEST |
| Saturday, February 02, 2019 | Senators | Penguins | 9AM AEST |
| Saturday, February 02, 2019 | Flames | Capitals | 9AM AEST |
| Saturday, February 02, 2019 | Maple Leafs | Red Wings | 9:30AM AEST |
| Saturday, February 02, 2019 | Golden Knights | Hurricanes | 9:30AM AEST |
| Saturday, February 02, 2019 | Wild | Stars | 10AM AEST |
| Sunday, February 03, 2019 | Edmonton Oilers | Flyers | 3AM AEST |
| Sunday, February 03, 2019 | Devils | Canadiens | 4AM AEST |
| Sunday, February 03, 2019 | Ducks | Jets | 9AM AEST |
| Sunday, February 03, 2019 | Penguins | Maple Leafs | 9AM AEST |
| Sunday, February 03, 2019 | Red Wings | Senators | 9AM AEST |
| Sunday, February 03, 2019 | Golden Knights | Panthers | 9AM AEST |
| Sunday, February 03, 2019 | Kings | Islanders | 9AM AEST |
| Sunday, February 03, 2019 | Lightning | Rangers | 9AM AEST |
| Sunday, February 03, 2019 | Blues | Blue Jackets | 9AM AEST |
| Sunday, February 03, 2019 | Stars | Predators | 10AM AEST |
| Sunday, February 03, 2019 | Blackhawks | Wild | 10AM AEST |
| Sunday, February 03, 2019 | Canucks | Avalanche | 12PM AEST |
| Sunday, February 03, 2019 | Coyotes | Sharks | 12:30PM AEST |
| Monday, February 04, 2019 | Bruins | Capitals | 2:30AM AEST |
| Monday, February 04, 2019 | Edmonton Oilers | Canadiens | 4AM AEST |
| Monday, February 04, 2019 | Flames | Hurricanes | 4AM AEST |
| Tuesday, February 05, 2019 | Ducks | Maple Leafs | 9AM AEST |
| Tuesday, February 05, 2019 | Kings | Rangers | 9AM AEST |
| Tuesday, February 05, 2019 | Canucks | Flyers | 9AM AEST |
| Tuesday, February 05, 2019 | Coyotes | Stars | 10:30AM AEST |
| Wednesday, February 06, 2019 | Islanders | Bruins | 9AM AEST |
| Wednesday, February 06, 2019 | Wild | Sabres | 9AM AEST |
| Wednesday, February 06, 2019 | Blues | Panthers | 9AM AEST |
| Wednesday, February 06, 2019 | Kings | Devils | 9AM AEST |
| Wednesday, February 06, 2019 | Hurricanes | Penguins | 9AM AEST |
| Wednesday, February 06, 2019 | Canucks | Capitals | 9AM AEST |
| Wednesday, February 06, 2019 | Ducks | Canadiens | 9:30AM AEST |
| Wednesday, February 06, 2019 | Golden Knights | Lightning | 9:30AM AEST |
| Wednesday, February 06, 2019 | Coyotes | Predators | 10AM AEST |
| Wednesday, February 06, 2019 | Sharks | Jets | 10AM AEST |
| Wednesday, February 06, 2019 | Blue Jackets | Avalanche | 11AM AEST |
| Wednesday, February 06, 2019 | Blackhawks | Edmonton Oilers | 11AM AEST |
| Thursday, February 07, 2019 | Senators | Maple Leafs | 9:30AM AEST |
| Thursday, February 07, 2019 | Bruins | Rangers | 10AM AEST |
| Friday, February 08, 2019 | Hurricanes | Sabres | 9AM AEST |
| Friday, February 08, 2019 | Penguins | Panthers | 9AM AEST |
| Friday, February 08, 2019 | Islanders | Devils | 9AM AEST |
| Friday, February 08, 2019 | Kings | Flyers | 9AM AEST |
| Friday, February 08, 2019 | Avalanche | Capitals | 9AM AEST |
| Friday, February 08, 2019 | Jets | Canadiens | 9:30AM AEST |
| Friday, February 08, 2019 | Ducks | Senators | 9:30AM AEST |
| Friday, February 08, 2019 | Golden Knights | Red Wings | 9:30AM AEST |
| Friday, February 08, 2019 | Blues | Lightning | 9:30AM AEST |
| Friday, February 08, 2019 | Stars | Predators | 10AM AEST |
| Friday, February 08, 2019 | Edmonton Oilers | Wild | 10AM AEST |
| Friday, February 08, 2019 | Canucks | Blackhawks | 10:30AM AEST |
| Friday, February 08, 2019 | Sharks | Flames | 11AM AEST |
| Friday, February 08, 2019 | Blue Jackets | Coyotes | 11AM AEST |
| Saturday, February 09, 2019 | Hurricanes | Rangers | 9AM AEST |
| Sunday, February 10, 2019 | Kings | Bruins | 3AM AEST |
| Sunday, February 10, 2019 | Red Wings | Sabres | 3AM AEST |
| Sunday, February 10, 2019 | Wild | Devils | 3AM AEST |
| Sunday, February 10, 2019 | Avalanche | Islanders | 3AM AEST |
| Sunday, February 10, 2019 | Ducks | Flyers | 3AM AEST |
| Sunday, February 10, 2019 | Predators | Blues | 4AM AEST |
| Sunday, February 10, 2019 | Jets | Senators | 4AM AEST |
| Sunday, February 10, 2019 | Stars | Coyotes | 6AM AEST |
| Sunday, February 10, 2019 | Sharks | Edmonton Oilers | 9AM AEST |
| Sunday, February 10, 2019 | Maple Leafs | Canadiens | 9AM AEST |
| Sunday, February 10, 2019 | Penguins | Lightning | 9AM AEST |
| Sunday, February 10, 2019 | Panthers | Capitals | 9AM AEST |
| Sunday, February 10, 2019 | Flames | Canucks | 12PM AEST |
| Sunday, February 10, 2019 | Blue Jackets | Golden Knights | 12PM AEST |
| Monday, February 11, 2019 | Blues | Predators | 2:30AM AEST |
| Monday, February 11, 2019 | Red Wings | Blackhawks | 5AM AEST |
| Monday, February 11, 2019 | Avalanche | Bruins | 5AM AEST |
| Monday, February 11, 2019 | Jets | Sabres | 5AM AEST |
| Monday, February 11, 2019 | Hurricanes | Devils | 5AM AEST |
| Monday, February 11, 2019 | Wild | Islanders | 5AM AEST |
| Monday, February 11, 2019 | Lightning | Panthers | 8AM AEST |
| Monday, February 11, 2019 | Maple Leafs | Rangers | 9AM AEST |
| Tuesday, February 12, 2019 | Penguins | Flyers | 9AM AEST |
| Tuesday, February 12, 2019 | Kings | Capitals | 9AM AEST |
| Tuesday, February 12, 2019 | Sharks | Canucks | 12PM AEST |
| Wednesday, February 13, 2019 | Blackhawks | Bruins | 9AM AEST |
| Wednesday, February 13, 2019 | Islanders | Sabres | 9AM AEST |
| Wednesday, February 13, 2019 | Stars | Panthers | 9AM AEST |
| Wednesday, February 13, 2019 | Capitals | Blue Jackets | 9AM AEST |
| Wednesday, February 13, 2019 | Hurricanes | Senators | 9:30AM AEST |
| Wednesday, February 13, 2019 | Flames | Lightning | 9:30AM AEST |
| Wednesday, February 13, 2019 | Devils | Blues | 10AM AEST |
| Wednesday, February 13, 2019 | Red Wings | Predators | 10AM AEST |
| Wednesday, February 13, 2019 | Flyers | Wild | 10AM AEST |
| Wednesday, February 13, 2019 | Rangers | Jets | 10AM AEST |
| Wednesday, February 13, 2019 | Maple Leafs | Avalanche | 11AM AEST |
| Wednesday, February 13, 2019 | Coyotes | Golden Knights | 12PM AEST |
| Thursday, February 14, 2019 | Edmonton Oilers | Penguins | 10AM AEST |
| Thursday, February 14, 2019 | Canucks | Ducks | 12:30PM AEST |
| Friday, February 15, 2019 | Flames | Panthers | 9AM AEST |
| Friday, February 15, 2019 | Islanders | Blue Jackets | 9AM AEST |
| Friday, February 15, 2019 | Senators | Red Wings | 9:30AM AEST |
| Friday, February 15, 2019 | Stars | Lightning | 9:30AM AEST |
| Friday, February 15, 2019 | Canadiens | Predators | 10AM AEST |
| Friday, February 15, 2019 | Avalanche | Jets | 10AM AEST |
| Friday, February 15, 2019 | Devils | Blackhawks | 10:30AM AEST |
| Friday, February 15, 2019 | Blues | Coyotes | 11AM AEST |
| Friday, February 15, 2019 | Maple Leafs | Golden Knights | 12PM AEST |
| Friday, February 15, 2019 | Canucks | Kings | 12:30PM AEST |
| Friday, February 15, 2019 | Capitals | Sharks | 12:30PM AEST |
| Saturday, February 16, 2019 | Rangers | Sabres | 9AM AEST |
| Saturday, February 16, 2019 | Edmonton Oilers | Hurricanes | 9:30AM AEST |
| Saturday, February 16, 2019 | Devils | Wild | 10:30AM AEST |
| Saturday, February 16, 2019 | Bruins | Ducks | 12PM AEST |
| Sunday, February 17, 2019 | Red Wings | Flyers | 3AM AEST |
| Sunday, February 17, 2019 | Flames | Penguins | 3AM AEST |
| Sunday, February 17, 2019 | Blues | Avalanche | 5AM AEST |
| Sunday, February 17, 2019 | Maple Leafs | Coyotes | 9AM AEST |
| Sunday, February 17, 2019 | Senators | Jets | 9AM AEST |
| Sunday, February 17, 2019 | Canadiens | Lightning | 9AM AEST |
| Sunday, February 17, 2019 | Edmonton Oilers | Islanders | 9AM AEST |
| Sunday, February 17, 2019 | Stars | Hurricanes | 10AM AEST |
| Sunday, February 17, 2019 | Blue Jackets | Blackhawks | 10:30AM AEST |
| Sunday, February 17, 2019 | Predators | Golden Knights | 12PM AEST |
| Sunday, February 17, 2019 | Canucks | Sharks | 12PM AEST |
| Sunday, February 17, 2019 | Bruins | Kings | 12:30PM AEST |
| Monday, February 18, 2019 | Rangers | Penguins | 2:30AM AEST |
| Monday, February 18, 2019 | Blues | Wild | 5AM AEST |
| Monday, February 18, 2019 | Sabres | Devils | 8AM AEST |
| Monday, February 18, 2019 | Flyers | Red Wings | 9AM AEST |
| Monday, February 18, 2019 | Canadiens | Panthers | 9AM AEST |
| Monday, February 18, 2019 | Capitals | Ducks | 11AM AEST |
| Tuesday, February 19, 2019 | Coyotes | Flames | 6AM AEST |
| Tuesday, February 19, 2019 | Lightning | Blue Jackets | 9AM AEST |
| Tuesday, February 19, 2019 | Senators | Blackhawks | 10:30AM AEST |
| Tuesday, February 19, 2019 | Golden Knights | Avalanche | 11AM AEST |
| Tuesday, February 19, 2019 | Capitals | Kings | 12:30PM AEST |
| Tuesday, February 19, 2019 | Bruins | Sharks | 12:30PM AEST |
| Wednesday, February 20, 2019 | Sabres | Panthers | 9AM AEST |
| Wednesday, February 20, 2019 | Penguins | Devils | 9AM AEST |
| Wednesday, February 20, 2019 | Lightning | Flyers | 9AM AEST |
| Wednesday, February 20, 2019 | Rangers | Hurricanes | 9AM AEST |
| Wednesday, February 20, 2019 | Blue Jackets | Canadiens | 9:30AM AEST |
| Wednesday, February 20, 2019 | Maple Leafs | Blues | 10AM AEST |
| Wednesday, February 20, 2019 | Ducks | Wild | 10AM AEST |
| Wednesday, February 20, 2019 | Predators | Stars | 10:30AM AEST |
| Wednesday, February 20, 2019 | Coyotes | Edmonton Oilers | 11AM AEST |
| Thursday, February 21, 2019 | Blackhawks | Red Wings | 9:30AM AEST |
| Thursday, February 21, 2019 | Jets | Avalanche | 10:30AM AEST |
| Thursday, February 21, 2019 | Islanders | Flames | 11:30AM AEST |
| Thursday, February 21, 2019 | Bruins | Golden Knights | 12PM AEST |
| Friday, February 22, 2019 | Capitals | Maple Leafs | 9AM AEST |
| Friday, February 22, 2019 | Hurricanes | Panthers | 9AM AEST |
| Friday, February 22, 2019 | Senators | Devils | 9AM AEST |
| Friday, February 22, 2019 | Wild | Rangers | 9AM AEST |
| Friday, February 22, 2019 | Sharks | Penguins | 9AM AEST |
| Friday, February 22, 2019 | Flyers | Canadiens | 9:30AM AEST |
| Friday, February 22, 2019 | Sabres | Lightning | 9:30AM AEST |
| Friday, February 22, 2019 | Kings | Predators | 10AM AEST |
| Friday, February 22, 2019 | Blues | Stars | 10:30AM AEST |
| Friday, February 22, 2019 | Islanders | Edmonton Oilers | 11AM AEST |
| Friday, February 22, 2019 | Coyotes | Canucks | 12PM AEST |
| Saturday, February 23, 2019 | Blue Jackets | Senators | 9AM AEST |
| Saturday, February 23, 2019 | Avalanche | Blackhawks | 9:30AM AEST |
| Saturday, February 23, 2019 | Wild | Red Wings | 9:30AM AEST |
| Saturday, February 23, 2019 | Ducks | Flames | 11AM AEST |
| Saturday, February 23, 2019 | Jets | Golden Knights | 12PM AEST |
| Sunday, February 24, 2019 | Capitals | Sabres | 3AM AEST |
| Sunday, February 24, 2019 | Devils | Rangers | 3AM AEST |
| Sunday, February 24, 2019 | Bruins | Blues | 6AM AEST |
| Sunday, February 24, 2019 | Hurricanes | Stars | 7AM AEST |
| Sunday, February 24, 2019 | Kings | Panthers | 7AM AEST |
| Sunday, February 24, 2019 | Sharks | Blue Jackets | 7AM AEST |
| Sunday, February 24, 2019 | Avalanche | Predators | 7:30AM AEST |
| Sunday, February 24, 2019 | Canadiens | Maple Leafs | 9AM AEST |
| Sunday, February 24, 2019 | Penguins | Flyers | 10AM AEST |
| Sunday, February 24, 2019 | Islanders | Canucks | 12PM AEST |
| Sunday, February 24, 2019 | Ducks | Edmonton Oilers | 12PM AEST |
| Monday, February 25, 2019 | Rangers | Capitals | 2:30AM AEST |
| Monday, February 25, 2019 | Stars | Blackhawks | 5AM AEST |
| Monday, February 25, 2019 | Sharks | Red Wings | 5AM AEST |
| Monday, February 25, 2019 | Blues | Wild | 9AM AEST |
| Monday, February 25, 2019 | Flames | Senators | 9AM AEST |
| Monday, February 25, 2019 | Jets | Coyotes | 11AM AEST |
| Tuesday, February 26, 2019 | Sabres | Maple Leafs | 9AM AEST |
| Tuesday, February 26, 2019 | Canadiens | Devils | 9AM AEST |
| Tuesday, February 26, 2019 | Kings | Lightning | 9:30AM AEST |
| Tuesday, February 26, 2019 | Edmonton Oilers | Predators | 10AM AEST |
| Tuesday, February 26, 2019 | Panthers | Avalanche | 11AM AEST |
| Tuesday, February 26, 2019 | Ducks | Canucks | 12PM AEST |
| Wednesday, February 27, 2019 | Sharks | Bruins | 9AM AEST |
| Wednesday, February 27, 2019 | Flames | Islanders | 9AM AEST |
| Wednesday, February 27, 2019 | Sabres | Flyers | 9AM AEST |
| Wednesday, February 27, 2019 | Senators | Capitals | 9AM AEST |
| Wednesday, February 27, 2019 | Kings | Hurricanes | 9AM AEST |
| Wednesday, February 27, 2019 | Penguins | Blue Jackets | 9AM AEST |
| Wednesday, February 27, 2019 | Canadiens | Red Wings | 9:30AM AEST |
| Wednesday, February 27, 2019 | Predators | Blues | 10AM AEST |
| Wednesday, February 27, 2019 | Wild | Jets | 10AM AEST |
| Wednesday, February 27, 2019 | Panthers | Coyotes | 11AM AEST |
| Wednesday, February 27, 2019 | Stars | Golden Knights | 12PM AEST |
| Thursday, February 28, 2019 | Edmonton Oilers | Maple Leafs | 9AM AEST |
| Thursday, February 28, 2019 | Flames | Devils | 9AM AEST |
| Thursday, February 28, 2019 | Lightning | Rangers | 9:30AM AEST |
| Thursday, February 28, 2019 | Canucks | Avalanche | 11:30AM AEST |
| Thursday, February 28, 2019 | Blackhawks | Ducks | 12PM AEST |
| Friday, March 01, 2019 | Lightning | Bruins | 9AM AEST |
| Friday, March 01, 2019 | Maple Leafs | Islanders | 9AM AEST |
| Friday, March 01, 2019 | Flyers | Blue Jackets | 9AM AEST |
| Friday, March 01, 2019 | Edmonton Oilers | Senators | 9:30AM AEST |
| Friday, March 01, 2019 | Canucks | Coyotes | 11AM AEST |
| Friday, March 01, 2019 | Panthers | Golden Knights | 12PM AEST |
| Friday, March 01, 2019 | Stars | Kings | 12:30PM AEST |
| Saturday, March 02, 2019 | Penguins | Sabres | 9AM AEST |
| Saturday, March 02, 2019 | Flyers | Devils | 9AM AEST |
| Saturday, March 02, 2019 | Capitals | Islanders | 9AM AEST |
| Saturday, March 02, 2019 | Canadiens | Rangers | 9AM AEST |
| Saturday, March 02, 2019 | Blues | Hurricanes | 9:30AM AEST |
| Saturday, March 02, 2019 | Predators | Jets | 10AM AEST |
| Saturday, March 02, 2019 | Golden Knights | Ducks | 12PM AEST |
| Saturday, March 02, 2019 | Avalanche | Sharks | 12:30PM AEST |
| Sunday, March 03, 2019 | Edmonton Oilers | Blue Jackets | 4AM AEST |
| Sunday, March 03, 2019 | Blackhawks | Kings | 6AM AEST |
| Sunday, March 03, 2019 | Devils | Bruins | 9AM AEST |
| Sunday, March 03, 2019 | Sabres | Maple Leafs | 9AM AEST |
| Sunday, March 03, 2019 | Penguins | Canadiens | 9AM AEST |
| Sunday, March 03, 2019 | Senators | Lightning | 9AM AEST |
| Sunday, March 03, 2019 | Hurricanes | Panthers | 9AM AEST |
| Sunday, March 03, 2019 | Red Wings | Coyotes | 10AM AEST |
| Sunday, March 03, 2019 | Stars | Blues | 10AM AEST |
| Sunday, March 03, 2019 | Wild | Flames | 12PM AEST |
| Monday, March 04, 2019 | Capitals | Rangers | 2:30AM AEST |
| Monday, March 04, 2019 | Flyers | Islanders | 5AM AEST |
| Monday, March 04, 2019 | Canucks | Golden Knights | 6AM AEST |
| Monday, March 04, 2019 | Avalanche | Ducks | 6AM AEST |
| Monday, March 04, 2019 | Senators | Panthers | 7AM AEST |
| Monday, March 04, 2019 | Jets | Blue Jackets | 9AM AEST |
| Monday, March 04, 2019 | Predators | Wild | 9:30AM AEST |
| Monday, March 04, 2019 | Blackhawks | Sharks | 12PM AEST |
| Tuesday, March 05, 2019 | Edmonton Oilers | Sabres | 9AM AEST |
| Tuesday, March 05, 2019 | Maple Leafs | Flames | 11AM AEST |
| Wednesday, March 06, 2019 | Hurricanes | Bruins | 9AM AEST |
| Wednesday, March 06, 2019 | Blue Jackets | Devils | 9AM AEST |
| Wednesday, March 06, 2019 | Senators | Islanders | 9AM AEST |
| Wednesday, March 06, 2019 | Panthers | Penguins | 9AM AEST |
| Wednesday, March 06, 2019 | Jets | Lightning | 9:30AM AEST |
| Wednesday, March 06, 2019 | Wild | Predators | 10AM AEST |
| Wednesday, March 06, 2019 | Rangers | Stars | 10:30AM AEST |
| Wednesday, March 06, 2019 | Red Wings | Avalanche | 11AM AEST |
| Wednesday, March 06, 2019 | Ducks | Coyotes | 11AM AEST |
| Wednesday, March 06, 2019 | Canadiens | Kings | 12:30PM AEST |
| Thursday, March 07, 2019 | Capitals | Flyers | 9:30AM AEST |
| Thursday, March 07, 2019 | Maple Leafs | Canucks | 11AM AEST |
| Thursday, March 07, 2019 | Blues | Ducks | 12PM AEST |
| Thursday, March 07, 2019 | Flames | Golden Knights | 12:30PM AEST |
| Friday, March 08, 2019 | Panthers | Bruins | 9AM AEST |
| Friday, March 08, 2019 | Blue Jackets | Penguins | 9AM AEST |
| Friday, March 08, 2019 | Islanders | Senators | 9:30AM AEST |
| Friday, March 08, 2019 | Rangers | Red Wings | 9:30AM AEST |
| Friday, March 08, 2019 | Wild | Lightning | 9:30AM AEST |
| Friday, March 08, 2019 | Sabres | Blackhawks | 10:30AM AEST |
| Friday, March 08, 2019 | Avalanche | Stars | 10:30AM AEST |
| Friday, March 08, 2019 | Canucks | Edmonton Oilers | 11AM AEST |
| Friday, March 08, 2019 | Flames | Coyotes | 11AM AEST |
| Friday, March 08, 2019 | Blues | Kings | 12:30PM AEST |
| Friday, March 08, 2019 | Canadiens | Sharks | 12:30PM AEST |
| Saturday, March 09, 2019 | Wild | Panthers | 9AM AEST |
| Saturday, March 09, 2019 | Devils | Capitals | 9AM AEST |
| Saturday, March 09, 2019 | Jets | Hurricanes | 9:30AM AEST |
| Saturday, March 09, 2019 | Canadiens | Ducks | 12PM AEST |
| Sunday, March 10, 2019 | Sabres | Avalanche | 5AM AEST |
| Sunday, March 10, 2019 | Blues | Sharks | 6AM AEST |
| Sunday, March 10, 2019 | Maple Leafs | Edmonton Oilers | 9AM AEST |
| Sunday, March 10, 2019 | Senators | Bruins | 9AM AEST |
| Sunday, March 10, 2019 | Red Wings | Lightning | 9AM AEST |
| Sunday, March 10, 2019 | Flyers | Islanders | 9AM AEST |
| Sunday, March 10, 2019 | Devils | Rangers | 9AM AEST |
| Sunday, March 10, 2019 | Penguins | Blue Jackets | 9AM AEST |
| Sunday, March 10, 2019 | Kings | Coyotes | 10AM AEST |
| Sunday, March 10, 2019 | Hurricanes | Predators | 10AM AEST |
| Sunday, March 10, 2019 | Blackhawks | Stars | 10AM AEST |
| Sunday, March 10, 2019 | Golden Knights | Canucks | 12PM AEST |
| Monday, March 11, 2019 | Red Wings | Panthers | 7AM AEST |
| Monday, March 11, 2019 | Jets | Capitals | 9AM AEST |
| Monday, March 11, 2019 | Bruins | Penguins | 9:30AM AEST |
| Monday, March 11, 2019 | Golden Knights | Flames | 11:30AM AEST |
| Monday, March 11, 2019 | Kings | Ducks | 12PM AEST |
| Tuesday, March 12, 2019 | Lightning | Maple Leafs | 9AM AEST |
| Tuesday, March 12, 2019 | Blue Jackets | Islanders | 9AM AEST |
| Tuesday, March 12, 2019 | Senators | Flyers | 9AM AEST |
| Tuesday, March 12, 2019 | Sharks | Wild | 10AM AEST |
| Tuesday, March 12, 2019 | Coyotes | Blackhawks | 10:30AM AEST |
| Tuesday, March 12, 2019 | Hurricanes | Avalanche | 11AM AEST |
| Tuesday, March 12, 2019 | Rangers | Edmonton Oilers | 11AM AEST |
| Wednesday, March 13, 2019 | Stars | Sabres | 9AM AEST |
| Wednesday, March 13, 2019 | Capitals | Penguins | 9AM AEST |
| Wednesday, March 13, 2019 | Bruins | Blue Jackets | 9AM AEST |
| Wednesday, March 13, 2019 | Red Wings | Canadiens | 9:30AM AEST |
| Wednesday, March 13, 2019 | Coyotes | Blues | 10AM AEST |
| Wednesday, March 13, 2019 | Sharks | Jets | 10AM AEST |
| Wednesday, March 13, 2019 | Devils | Flames | 11AM AEST |
| Wednesday, March 13, 2019 | Predators | Ducks | 12PM AEST |
| Thursday, March 14, 2019 | Blackhawks | Maple Leafs | 9AM AEST |
| Thursday, March 14, 2019 | Devils | Edmonton Oilers | 11:30AM AEST |
| Thursday, March 14, 2019 | Rangers | Canucks | 12PM AEST |
| Friday, March 15, 2019 | Penguins | Sabres | 9AM AEST |
| Friday, March 15, 2019 | Canadiens | Islanders | 9AM AEST |
| Friday, March 15, 2019 | Capitals | Flyers | 9AM AEST |
| Friday, March 15, 2019 | Blues | Senators | 9:30AM AEST |
| Friday, March 15, 2019 | Lightning | Red Wings | 9:30AM AEST |
| Friday, March 15, 2019 | Stars | Wild | 10AM AEST |
| Friday, March 15, 2019 | Bruins | Jets | 10AM AEST |
| Friday, March 15, 2019 | Ducks | Coyotes | 12PM AEST |
| Friday, March 15, 2019 | Predators | Kings | 12:30PM AEST |
| Friday, March 15, 2019 | Panthers | Sharks | 12:30PM AEST |
| Saturday, March 16, 2019 | Flyers | Maple Leafs | 9AM AEST |
| Saturday, March 16, 2019 | Hurricanes | Blue Jackets | 9AM AEST |
| Saturday, March 16, 2019 | Golden Knights | Stars | 10AM AEST |
| Saturday, March 16, 2019 | Ducks | Avalanche | 11AM AEST |
| Saturday, March 16, 2019 | Rangers | Flames | 11AM AEST |
| Saturday, March 16, 2019 | Devils | Canucks | 12PM AEST |
| Sunday, March 17, 2019 | Blues | Penguins | 3AM AEST |
| Sunday, March 17, 2019 | Islanders | Red Wings | 4AM AEST |
| Sunday, March 17, 2019 | Panthers | Kings | 6AM AEST |
| Sunday, March 17, 2019 | Flames | Jets | 9AM AEST |
| Sunday, March 17, 2019 | Blue Jackets | Bruins | 9AM AEST |
| Sunday, March 17, 2019 | Blackhawks | Canadiens | 9AM AEST |
| Sunday, March 17, 2019 | Maple Leafs | Senators | 9AM AEST |
| Sunday, March 17, 2019 | Capitals | Lightning | 9AM AEST |
| Sunday, March 17, 2019 | Sabres | Hurricanes | 9AM AEST |
| Sunday, March 17, 2019 | Rangers | Wild | 10AM AEST |
| Sunday, March 17, 2019 | Edmonton Oilers | Coyotes | 12PM AEST |
| Sunday, March 17, 2019 | Predators | Sharks | 12:30PM AEST |
| Monday, March 18, 2019 | Devils | Avalanche | 5AM AEST |
| Monday, March 18, 2019 | Blues | Sabres | 7AM AEST |
| Monday, March 18, 2019 | Islanders | Wild | 8AM AEST |
| Monday, March 18, 2019 | Canucks | Stars | 9AM AEST |
| Monday, March 18, 2019 | Flyers | Penguins | 9:30AM AEST |
| Monday, March 18, 2019 | Panthers | Ducks | 11AM AEST |
| Monday, March 18, 2019 | Edmonton Oilers | Golden Knights | 12PM AEST |
| Tuesday, March 19, 2019 | Coyotes | Lightning | 9:30AM AEST |
| Tuesday, March 19, 2019 | Canucks | Blackhawks | 10:30AM AEST |
| Tuesday, March 19, 2019 | Jets | Kings | 12:30PM AEST |
| Tuesday, March 19, 2019 | Golden Knights | Sharks | 12:30PM AEST |
| Wednesday, March 20, 2019 | Capitals | Devils | 9AM AEST |
| Wednesday, March 20, 2019 | Bruins | Islanders | 9AM AEST |
| Wednesday, March 20, 2019 | Red Wings | Rangers | 9AM AEST |
| Wednesday, March 20, 2019 | Canadiens | Flyers | 9AM AEST |
| Wednesday, March 20, 2019 | Penguins | Hurricanes | 9AM AEST |
| Wednesday, March 20, 2019 | Edmonton Oilers | Blues | 10AM AEST |
| Wednesday, March 20, 2019 | Maple Leafs | Predators | 10AM AEST |
| Wednesday, March 20, 2019 | Avalanche | Wild | 10AM AEST |
| Wednesday, March 20, 2019 | Panthers | Stars | 10:30AM AEST |
| Wednesday, March 20, 2019 | Blue Jackets | Flames | 11AM AEST |
| Thursday, March 21, 2019 | Maple Leafs | Sabres | 9AM AEST |
| Thursday, March 21, 2019 | Lightning | Capitals | 9:30AM AEST |
| Thursday, March 21, 2019 | Senators | Canucks | 12PM AEST |
| Thursday, March 21, 2019 | Jets | Ducks | 12PM AEST |
| Friday, March 22, 2019 | Coyotes | Panthers | 9AM AEST |
| Friday, March 22, 2019 | Bruins | Devils | 9AM AEST |
| Friday, March 22, 2019 | Lightning | Hurricanes | 9AM AEST |
| Friday, March 22, 2019 | Islanders | Canadiens | 9:30AM AEST |
| Friday, March 22, 2019 | Red Wings | Blues | 10AM AEST |
| Friday, March 22, 2019 | Penguins | Predators | 10AM AEST |
| Friday, March 22, 2019 | Flyers | Blackhawks | 10:30AM AEST |
| Friday, March 22, 2019 | Avalanche | Stars | 10:30AM AEST |
| Friday, March 22, 2019 | Senators | Flames | 11AM AEST |
| Friday, March 22, 2019 | Blue Jackets | Edmonton Oilers | 11AM AEST |
| Friday, March 22, 2019 | Jets | Golden Knights | 12PM AEST |
| Friday, March 22, 2019 | Sharks | Kings | 12:30PM AEST |
| Saturday, March 23, 2019 | Wild | Capitals | 9AM AEST |
| Saturday, March 23, 2019 | Sharks | Ducks | 12PM AEST |
| Sunday, March 24, 2019 | Coyotes | Devils | 3AM AEST |
| Sunday, March 24, 2019 | Islanders | Flyers | 3AM AEST |
| Sunday, March 24, 2019 | Blackhawks | Avalanche | 5AM AEST |
| Sunday, March 24, 2019 | Senators | Edmonton Oilers | 6AM AEST |
| Sunday, March 24, 2019 | Predators | Jets | 9AM AEST |
| Sunday, March 24, 2019 | Rangers | Maple Leafs | 9AM AEST |
| Sunday, March 24, 2019 | Sabres | Canadiens | 9AM AEST |
| Sunday, March 24, 2019 | Bruins | Panthers | 9AM AEST |
| Sunday, March 24, 2019 | Wild | Hurricanes | 9AM AEST |
| Sunday, March 24, 2019 | Lightning | Blues | 10AM AEST |
| Sunday, March 24, 2019 | Penguins | Stars | 10AM AEST |
| Sunday, March 24, 2019 | Flames | Canucks | 12PM AEST |
| Sunday, March 24, 2019 | Red Wings | Golden Knights | 12PM AEST |
| Sunday, March 24, 2019 | Ducks | Kings | 12:30PM AEST |
| Monday, March 25, 2019 | Flyers | Capitals | 2:30AM AEST |
| Monday, March 25, 2019 | Coyotes | Islanders | 5AM AEST |
| Monday, March 25, 2019 | Canadiens | Hurricanes | 9AM AEST |
| Monday, March 25, 2019 | Avalanche | Blackhawks | 10AM AEST |
| Monday, March 25, 2019 | Blue Jackets | Canucks | 12PM AEST |
| Tuesday, March 26, 2019 | Panthers | Maple Leafs | 9AM AEST |
| Tuesday, March 26, 2019 | Sabres | Devils | 9AM AEST |
| Tuesday, March 26, 2019 | Penguins | Rangers | 9AM AEST |
| Tuesday, March 26, 2019 | Bruins | Lightning | 9:30AM AEST |
| Tuesday, March 26, 2019 | Golden Knights | Blues | 10AM AEST |
| Tuesday, March 26, 2019 | Predators | Wild | 10AM AEST |
| Tuesday, March 26, 2019 | Stars | Jets | 10AM AEST |
| Tuesday, March 26, 2019 | Kings | Flames | 11AM AEST |
| Tuesday, March 26, 2019 | Red Wings | Sharks | 12:30PM AEST |
| Wednesday, March 27, 2019 | Hurricanes | Capitals | 9AM AEST |
| Wednesday, March 27, 2019 | Islanders | Blue Jackets | 9AM AEST |
| Wednesday, March 27, 2019 | Panthers | Canadiens | 9:30AM AEST |
| Wednesday, March 27, 2019 | Sabres | Senators | 9:30AM AEST |
| Wednesday, March 27, 2019 | Kings | Edmonton Oilers | 11AM AEST |
| Wednesday, March 27, 2019 | Ducks | Canucks | 12PM AEST |
| Wednesday, March 27, 2019 | Blackhawks | Coyotes | 12PM AEST |
| Thursday, March 28, 2019 | Maple Leafs | Flyers | 9AM AEST |
| Thursday, March 28, 2019 | Rangers | Bruins | 9:30AM AEST |
| Thursday, March 28, 2019 | Stars | Flames | 11:30AM AEST |
| Thursday, March 28, 2019 | Golden Knights | Avalanche | 12PM AEST |
| Friday, March 29, 2019 | Red Wings | Sabres | 9AM AEST |
| Friday, March 29, 2019 | Capitals | Hurricanes | 9AM AEST |
| Friday, March 29, 2019 | Canadiens | Blue Jackets | 9AM AEST |
| Friday, March 29, 2019 | Panthers | Senators | 9:30AM AEST |
| Friday, March 29, 2019 | Islanders | Jets | 10AM AEST |
| Friday, March 29, 2019 | Stars | Edmonton Oilers | 11AM AEST |
| Friday, March 29, 2019 | Kings | Canucks | 12PM AEST |
| Friday, March 29, 2019 | Blackhawks | Sharks | 12:30PM AEST |
| Saturday, March 30, 2019 | Blues | Rangers | 9AM AEST |
| Saturday, March 30, 2019 | Predators | Penguins | 9AM AEST |
| Saturday, March 30, 2019 | Devils | Red Wings | 9:30AM AEST |
| Saturday, March 30, 2019 | Coyotes | Avalanche | 11AM AEST |
| Saturday, March 30, 2019 | Ducks | Flames | 11AM AEST |
| Saturday, March 30, 2019 | Wild | Golden Knights | 12PM AEST |
| Sunday, March 31, 2019 | Flyers | Hurricanes | 3AM AEST |
| Sunday, March 31, 2019 | Canadiens | Jets | 9AM AEST |
| Sunday, March 31, 2019 | Panthers | Bruins | 9AM AEST |
| Sunday, March 31, 2019 | Maple Leafs | Senators | 9AM AEST |
| Sunday, March 31, 2019 | Capitals | Lightning | 9AM AEST |
| Sunday, March 31, 2019 | Blues | Devils | 9AM AEST |
| Sunday, March 31, 2019 | Sabres | Islanders | 9AM AEST |
| Sunday, March 31, 2019 | Blue Jackets | Predators | 10AM AEST |
| Sunday, March 31, 2019 | Golden Knights | Sharks | 11AM AEST |
| Sunday, March 31, 2019 | Stars | Canucks | 12PM AEST |
| Sunday, March 31, 2019 | Ducks | Edmonton Oilers | 12PM AEST |
| Sunday, March 31, 2019 | Blackhawks | Kings | 12:30PM AEST |
| Monday, April 01, 2019 | Rangers | Flyers | 2:30AM AEST |
| Monday, April 01, 2019 | Wild | Coyotes | 7AM AEST |
| Monday, April 01, 2019 | Hurricanes | Penguins | 7AM AEST |
| Monday, April 01, 2019 | Blue Jackets | Sabres | 8AM AEST |
| Monday, April 01, 2019 | Bruins | Red Wings | 9:30AM AEST |
| Monday, April 01, 2019 | Flames | Sharks | 10AM AEST |
| Tuesday, April 02, 2019 | Capitals | Panthers | 9AM AEST |
| Tuesday, April 02, 2019 | Rangers | Devils | 9AM AEST |
| Tuesday, April 02, 2019 | Maple Leafs | Islanders | 9AM AEST |
| Tuesday, April 02, 2019 | Lightning | Senators | 9:30AM AEST |
| Tuesday, April 02, 2019 | Avalanche | Blues | 10AM AEST |
| Tuesday, April 02, 2019 | Jets | Blackhawks | 10:30AM AEST |
| Tuesday, April 02, 2019 | Edmonton Oilers | Golden Knights | 12PM AEST |
| Tuesday, April 02, 2019 | Flames | Kings | 12PM AEST |
| Wednesday, April 03, 2019 | Predators | Sabres | 9AM AEST |
| Wednesday, April 03, 2019 | Bruins | Blue Jackets | 9AM AEST |
| Wednesday, April 03, 2019 | Hurricanes | Maple Leafs | 9:30AM AEST |
| Wednesday, April 03, 2019 | Lightning | Canadiens | 9:30AM AEST |
| Wednesday, April 03, 2019 | Penguins | Red Wings | 9:30AM AEST |
| Wednesday, April 03, 2019 | Jets | Wild | 10AM AEST |
| Wednesday, April 03, 2019 | Flyers | Stars | 10:30AM AEST |
| Wednesday, April 03, 2019 | Edmonton Oilers | Avalanche | 11AM AEST |
| Wednesday, April 03, 2019 | Sharks | Canucks | 12PM AEST |
| Wednesday, April 03, 2019 | Kings | Coyotes | 12PM AEST |
| Thursday, April 04, 2019 | Senators | Rangers | 9:30AM AEST |
| Thursday, April 04, 2019 | Blues | Blackhawks | 10AM AEST |
| Thursday, April 04, 2019 | Flames | Ducks | 12:30PM AEST |
| Friday, April 05, 2019 | Senators | Sabres | 9AM AEST |
| Friday, April 05, 2019 | Lightning | Maple Leafs | 9AM AEST |
| Friday, April 05, 2019 | Islanders | Panthers | 9AM AEST |
| Friday, April 05, 2019 | Red Wings | Penguins | 9AM AEST |
| Friday, April 05, 2019 | Canadiens | Capitals | 9AM AEST |
| Friday, April 05, 2019 | Devils | Hurricanes | 9AM AEST |
| Friday, April 05, 2019 | Flyers | Blues | 10AM AEST |
| Friday, April 05, 2019 | Canucks | Predators | 10AM AEST |
| Friday, April 05, 2019 | Bruins | Wild | 10AM AEST |
| Friday, April 05, 2019 | Jets | Avalanche | 11AM AEST |
| Friday, April 05, 2019 | Sharks | Edmonton Oilers | 11AM AEST |
| Friday, April 05, 2019 | Coyotes | Golden Knights | 12PM AEST |
| Saturday, April 06, 2019 | Blue Jackets | Rangers | 9AM AEST |
| Saturday, April 06, 2019 | Stars | Blackhawks | 10:30AM AEST |
| Saturday, April 06, 2019 | Kings | Ducks | 12PM AEST |
| Sunday, April 07, 2019 | Lightning | Bruins | 2:30AM AEST |
| Sunday, April 07, 2019 | Canucks | Blues | 6AM AEST |
| Sunday, April 07, 2019 | Maple Leafs | Canadiens | 9AM AEST |
| Sunday, April 07, 2019 | Blue Jackets | Senators | 9AM AEST |
| Sunday, April 07, 2019 | Sabres | Red Wings | 9AM AEST |
| Sunday, April 07, 2019 | Devils | Panthers | 9AM AEST |
| Sunday, April 07, 2019 | Hurricanes | Flyers | 9AM AEST |
| Sunday, April 07, 2019 | Rangers | Penguins | 9AM AEST |
| Sunday, April 07, 2019 | Islanders | Capitals | 9AM AEST |
| Sunday, April 07, 2019 | Blackhawks | Predators | 10AM AEST |
| Sunday, April 07, 2019 | Wild | Stars | 10AM AEST |
| Sunday, April 07, 2019 | Jets | Coyotes | 12PM AEST |
| Sunday, April 07, 2019 | Edmonton Oilers | Flames | 12PM AEST |
| Sunday, April 07, 2019 | Golden Knights | Kings | 12:30PM AEST |
| Sunday, April 07, 2019 | Avalanche | Sharks | 12:30PM AEST |
Follow @BetNHL
BetNHL.ca » Schedule »