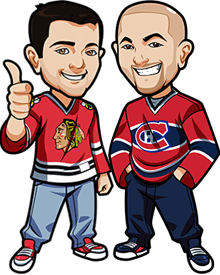 Follow @BetNHL
This is a complete listing of the 2018/2019 NHL Schedule in AST – Atlantic Standard Time.
Now we should note that with daylight savings times and all that it can make things rather tricky. We THINK this should be good but are not 100% sure. We'll keep an eye on things as the season kicks off and as the time zones all change etc and see if we have things going correct.
AST or Atlantic Standard Time is most prominent in Nova Scotia, home of one of the best cities in the world Halifax. Seriously if you are a beer drinker head to Halifax. What a great place that is.
Here's the printable AST schedule which you can also download and if there are any issues with time zones or anything else let us know in the comments and we'll get everything sorted.
NHL 2018/2019 Schedule - AST
| Date: | Road: | Home: | Time: |
| --- | --- | --- | --- |
| Wednesday, October 03, 2018 | Canadiens | Maple Leafs | 8PM AST |
| Wednesday, October 03, 2018 | Bruins | Capitals | 8:30PM AST |
| Wednesday, October 03, 2018 | Flames | Canucks | 11PM AST |
| Wednesday, October 03, 2018 | Ducks | Sharks | 11:30PM AST |
| Thursday, October 04, 2018 | Bruins | Sabres | 8PM AST |
| Thursday, October 04, 2018 | Predators | Rangers | 8PM AST |
| Thursday, October 04, 2018 | Capitals | Penguins | 8PM AST |
| Thursday, October 04, 2018 | Islanders | Hurricanes | 8PM AST |
| Thursday, October 04, 2018 | Blackhawks | Senators | 8:30PM AST |
| Thursday, October 04, 2018 | Blue Jackets | Red Wings | 8:30PM AST |
| Thursday, October 04, 2018 | Jets | Blues | 9PM AST |
| Thursday, October 04, 2018 | Coyotes | Stars | 9:30PM AST |
| Thursday, October 04, 2018 | Wild | Avalanche | 10PM AST |
| Thursday, October 04, 2018 | Flyers | Golden Knights | 11PM AST |
| Friday, October 05, 2018 | Hurricanes | Blue Jackets | 8PM AST |
| Friday, October 05, 2018 | Sharks | Kings | 11:30PM AST |
| Saturday, October 06, 2018 | Edmonton Oilers | Devils | 2PM AST |
| Saturday, October 06, 2018 | Jets | Stars | 8PM AST |
| Saturday, October 06, 2018 | Rangers | Sabres | 8PM AST |
| Saturday, October 06, 2018 | Senators | Maple Leafs | 8PM AST |
| Saturday, October 06, 2018 | Panthers | Lightning | 8PM AST |
| Saturday, October 06, 2018 | Predators | Islanders | 8PM AST |
| Saturday, October 06, 2018 | Canadiens | Penguins | 8PM AST |
| Saturday, October 06, 2018 | Blackhawks | Blues | 9PM AST |
| Saturday, October 06, 2018 | Golden Knights | Wild | 9PM AST |
| Saturday, October 06, 2018 | Ducks | Coyotes | 10PM AST |
| Saturday, October 06, 2018 | Flyers | Avalanche | 10PM AST |
| Saturday, October 06, 2018 | Canucks | Flames | 11PM AST |
| Sunday, October 07, 2018 | Rangers | Hurricanes | 6PM AST |
| Sunday, October 07, 2018 | Maple Leafs | Blackhawks | 8PM AST |
| Sunday, October 07, 2018 | Red Wings | Kings | 11:30PM AST |
| Monday, October 08, 2018 | Senators | Bruins | 2PM AST |
| Monday, October 08, 2018 | Sharks | Islanders | 2PM AST |
| Monday, October 08, 2018 | Golden Knights | Sabres | 4PM AST |
| Monday, October 08, 2018 | Red Wings | Ducks | 11PM AST |
| Tuesday, October 09, 2018 | Sharks | Flyers | 8PM AST |
| Tuesday, October 09, 2018 | Canucks | Hurricanes | 8PM AST |
| Tuesday, October 09, 2018 | Avalanche | Blue Jackets | 8PM AST |
| Tuesday, October 09, 2018 | Flames | Predators | 9PM AST |
| Tuesday, October 09, 2018 | Kings | Jets | 9PM AST |
| Tuesday, October 09, 2018 | Maple Leafs | Stars | 9:30PM AST |
| Wednesday, October 10, 2018 | Flyers | Senators | 8:30PM AST |
| Wednesday, October 10, 2018 | Golden Knights | Capitals | 9PM AST |
| Wednesday, October 10, 2018 | Coyotes | Ducks | 11PM AST |
| Thursday, October 11, 2018 | Edmonton Oilers | Bruins | 8PM AST |
| Thursday, October 11, 2018 | Avalanche | Sabres | 8PM AST |
| Thursday, October 11, 2018 | Blue Jackets | Panthers | 8PM AST |
| Thursday, October 11, 2018 | Capitals | Devils | 8PM AST |
| Thursday, October 11, 2018 | Sharks | Rangers | 8PM AST |
| Thursday, October 11, 2018 | Golden Knights | Penguins | 8PM AST |
| Thursday, October 11, 2018 | Kings | Canadiens | 8:30PM AST |
| Thursday, October 11, 2018 | Maple Leafs | Red Wings | 8:30PM AST |
| Thursday, October 11, 2018 | Canucks | Lightning | 8:30PM AST |
| Thursday, October 11, 2018 | Flames | Blues | 9PM AST |
| Thursday, October 11, 2018 | Jets | Predators | 9PM AST |
| Thursday, October 11, 2018 | Blackhawks | Wild | 9PM AST |
| Saturday, October 13, 2018 | Edmonton Oilers | Rangers | 2PM AST |
| Saturday, October 13, 2018 | Golden Knights | Flyers | 2PM AST |
| Saturday, October 13, 2018 | Kings | Senators | 3PM AST |
| Saturday, October 13, 2018 | Hurricanes | Wild | 7PM AST |
| Saturday, October 13, 2018 | Red Wings | Bruins | 8PM AST |
| Saturday, October 13, 2018 | Penguins | Canadiens | 8PM AST |
| Saturday, October 13, 2018 | Blue Jackets | Lightning | 8PM AST |
| Saturday, October 13, 2018 | Canucks | Panthers | 8PM AST |
| Saturday, October 13, 2018 | Maple Leafs | Capitals | 8PM AST |
| Saturday, October 13, 2018 | Islanders | Predators | 9PM AST |
| Saturday, October 13, 2018 | Ducks | Stars | 9PM AST |
| Saturday, October 13, 2018 | Blues | Blackhawks | 9:30PM AST |
| Saturday, October 13, 2018 | Sabres | Coyotes | 10PM AST |
| Saturday, October 13, 2018 | Flames | Avalanche | 11PM AST |
| Sunday, October 14, 2018 | Sharks | Devils | 2PM AST |
| Sunday, October 14, 2018 | Ducks | Blues | 8PM AST |
| Sunday, October 14, 2018 | Hurricanes | Jets | 8PM AST |
| Monday, October 15, 2018 | Kings | Maple Leafs | 8:30PM AST |
| Monday, October 15, 2018 | Red Wings | Canadiens | 8:30PM AST |
| Monday, October 15, 2018 | Stars | Senators | 8:30PM AST |
| Monday, October 15, 2018 | Wild | Predators | 9PM AST |
| Tuesday, October 16, 2018 | Stars | Devils | 8PM AST |
| Tuesday, October 16, 2018 | Avalanche | Rangers | 8PM AST |
| Tuesday, October 16, 2018 | Panthers | Flyers | 8PM AST |
| Tuesday, October 16, 2018 | Canucks | Penguins | 8PM AST |
| Tuesday, October 16, 2018 | Hurricanes | Lightning | 8:30PM AST |
| Tuesday, October 16, 2018 | Coyotes | Wild | 9PM AST |
| Tuesday, October 16, 2018 | Edmonton Oilers | Jets | 9PM AST |
| Tuesday, October 16, 2018 | Sabres | Golden Knights | 11PM AST |
| Wednesday, October 17, 2018 | Blues | Canadiens | 8PM AST |
| Wednesday, October 17, 2018 | Rangers | Capitals | 8PM AST |
| Wednesday, October 17, 2018 | Bruins | Flames | 10:30PM AST |
| Wednesday, October 17, 2018 | Islanders | Ducks | 11PM AST |
| Thursday, October 18, 2018 | Penguins | Maple Leafs | 8PM AST |
| Thursday, October 18, 2018 | Avalanche | Devils | 8PM AST |
| Thursday, October 18, 2018 | Flyers | Blue Jackets | 8PM AST |
| Thursday, October 18, 2018 | Red Wings | Lightning | 8:30PM AST |
| Thursday, October 18, 2018 | Canucks | Jets | 9PM AST |
| Thursday, October 18, 2018 | Coyotes | Blackhawks | 9:30PM AST |
| Thursday, October 18, 2018 | Bruins | Edmonton Oilers | 10PM AST |
| Thursday, October 18, 2018 | Islanders | Kings | 11:30PM AST |
| Thursday, October 18, 2018 | Sabres | Sharks | 11:30PM AST |
| Friday, October 19, 2018 | Panthers | Capitals | 8PM AST |
| Friday, October 19, 2018 | Wild | Stars | 9PM AST |
| Friday, October 19, 2018 | Predators | Flames | 10PM AST |
| Saturday, October 20, 2018 | Devils | Flyers | 2PM AST |
| Saturday, October 20, 2018 | Avalanche | Hurricanes | 2PM AST |
| Saturday, October 20, 2018 | Coyotes | Jets | 4PM AST |
| Saturday, October 20, 2018 | Sabres | Kings | 5PM AST |
| Saturday, October 20, 2018 | Blues | Maple Leafs | 8PM AST |
| Saturday, October 20, 2018 | Canadiens | Senators | 8PM AST |
| Saturday, October 20, 2018 | Red Wings | Panthers | 8PM AST |
| Saturday, October 20, 2018 | Blackhawks | Blue Jackets | 8PM AST |
| Saturday, October 20, 2018 | Lightning | Wild | 9PM AST |
| Saturday, October 20, 2018 | Bruins | Canucks | 11PM AST |
| Saturday, October 20, 2018 | Ducks | Golden Knights | 11PM AST |
| Saturday, October 20, 2018 | Predators | Edmonton Oilers | 11PM AST |
| Saturday, October 20, 2018 | Islanders | Sharks | 11:30PM AST |
| Sunday, October 21, 2018 | Lightning | Blackhawks | 8PM AST |
| Sunday, October 21, 2018 | Flames | Rangers | 8PM AST |
| Sunday, October 21, 2018 | Sabres | Ducks | 9PM AST |
| Monday, October 22, 2018 | Avalanche | Flyers | 8PM AST |
| Monday, October 22, 2018 | Hurricanes | Red Wings | 8:30PM AST |
| Monday, October 22, 2018 | Blues | Jets | 9PM AST |
| Monday, October 22, 2018 | Capitals | Canucks | 11PM AST |
| Tuesday, October 23, 2018 | Panthers | Rangers | 8PM AST |
| Tuesday, October 23, 2018 | Coyotes | Blue Jackets | 8PM AST |
| Tuesday, October 23, 2018 | Flames | Canadiens | 8:30PM AST |
| Tuesday, October 23, 2018 | Bruins | Senators | 8:30PM AST |
| Tuesday, October 23, 2018 | Sharks | Predators | 9PM AST |
| Tuesday, October 23, 2018 | Ducks | Blackhawks | 9:30PM AST |
| Tuesday, October 23, 2018 | Kings | Stars | 9:30PM AST |
| Tuesday, October 23, 2018 | Penguins | Edmonton Oilers | 10PM AST |
| Wednesday, October 24, 2018 | Maple Leafs | Jets | 8PM AST |
| Wednesday, October 24, 2018 | Panthers | Islanders | 8PM AST |
| Wednesday, October 24, 2018 | Lightning | Avalanche | 10:30PM AST |
| Wednesday, October 24, 2018 | Canucks | Golden Knights | 11PM AST |
| Thursday, October 25, 2018 | Flyers | Bruins | 8PM AST |
| Thursday, October 25, 2018 | Canadiens | Sabres | 8PM AST |
| Thursday, October 25, 2018 | Predators | Devils | 8PM AST |
| Thursday, October 25, 2018 | Blue Jackets | Blues | 9PM AST |
| Thursday, October 25, 2018 | Kings | Wild | 9PM AST |
| Thursday, October 25, 2018 | Rangers | Blackhawks | 9:30PM AST |
| Thursday, October 25, 2018 | Ducks | Stars | 9:30PM AST |
| Thursday, October 25, 2018 | Penguins | Flames | 10PM AST |
| Thursday, October 25, 2018 | Capitals | Edmonton Oilers | 10PM AST |
| Thursday, October 25, 2018 | Canucks | Coyotes | 11PM AST |
| Friday, October 26, 2018 | Lightning | Golden Knights | 7PM AST |
| Friday, October 26, 2018 | Jets | Red Wings | 8:30PM AST |
| Friday, October 26, 2018 | Sharks | Hurricanes | 8:30PM AST |
| Friday, October 26, 2018 | Senators | Avalanche | 10PM AST |
| Saturday, October 27, 2018 | Panthers | Devils | 2PM AST |
| Saturday, October 27, 2018 | Islanders | Flyers | 2PM AST |
| Saturday, October 27, 2018 | Edmonton Oilers | Predators | 4PM AST |
| Saturday, October 27, 2018 | Capitals | Flames | 5PM AST |
| Saturday, October 27, 2018 | Canadiens | Bruins | 8PM AST |
| Saturday, October 27, 2018 | Jets | Maple Leafs | 8PM AST |
| Saturday, October 27, 2018 | Sabres | Blue Jackets | 8PM AST |
| Saturday, October 27, 2018 | Blackhawks | Blues | 9PM AST |
| Saturday, October 27, 2018 | Avalanche | Wild | 9PM AST |
| Saturday, October 27, 2018 | Lightning | Coyotes | 10PM AST |
| Saturday, October 27, 2018 | Penguins | Canucks | 11PM AST |
| Sunday, October 28, 2018 | Rangers | Kings | 4:30PM AST |
| Sunday, October 28, 2018 | Stars | Red Wings | 6PM AST |
| Sunday, October 28, 2018 | Islanders | Hurricanes | 6PM AST |
| Sunday, October 28, 2018 | Edmonton Oilers | Blackhawks | 7PM AST |
| Sunday, October 28, 2018 | Senators | Golden Knights | 9PM AST |
| Sunday, October 28, 2018 | Sharks | Ducks | 9PM AST |
| Monday, October 29, 2018 | Flames | Maple Leafs | 8PM AST |
| Monday, October 29, 2018 | Wild | Canucks | 11PM AST |
| Tuesday, October 30, 2018 | Flames | Sabres | 8PM AST |
| Tuesday, October 30, 2018 | Islanders | Penguins | 8PM AST |
| Tuesday, October 30, 2018 | Bruins | Hurricanes | 8PM AST |
| Tuesday, October 30, 2018 | Red Wings | Blue Jackets | 8PM AST |
| Tuesday, October 30, 2018 | Stars | Canadiens | 8:30PM AST |
| Tuesday, October 30, 2018 | Devils | Lightning | 8:30PM AST |
| Tuesday, October 30, 2018 | Golden Knights | Predators | 9PM AST |
| Tuesday, October 30, 2018 | Wild | Edmonton Oilers | 10PM AST |
| Tuesday, October 30, 2018 | Senators | Coyotes | 11PM AST |
| Tuesday, October 30, 2018 | Flyers | Ducks | 11PM AST |
| Tuesday, October 30, 2018 | Rangers | Sharks | 11:30PM AST |
| Wednesday, October 31, 2018 | Blackhawks | Canucks | 11PM AST |
| Thursday, November 01, 2018 | Jets | Panthers | 3PM AST |
| Thursday, November 01, 2018 | Stars | Maple Leafs | 8PM AST |
| Thursday, November 01, 2018 | Penguins | Islanders | 8PM AST |
| Thursday, November 01, 2018 | Capitals | Canadiens | 8:30PM AST |
| Thursday, November 01, 2018 | Sabres | Senators | 8:30PM AST |
| Thursday, November 01, 2018 | Devils | Red Wings | 8:30PM AST |
| Thursday, November 01, 2018 | Predators | Lightning | 8:30PM AST |
| Thursday, November 01, 2018 | Golden Knights | Blues | 9PM AST |
| Thursday, November 01, 2018 | Avalanche | Flames | 10PM AST |
| Thursday, November 01, 2018 | Blackhawks | Edmonton Oilers | 10PM AST |
| Thursday, November 01, 2018 | Rangers | Ducks | 11PM AST |
| Thursday, November 01, 2018 | Flyers | Kings | 11:30PM AST |
| Thursday, November 01, 2018 | Blue Jackets | Sharks | 11:30PM AST |
| Friday, November 02, 2018 | Panthers | Jets | 3PM AST |
| Friday, November 02, 2018 | Avalanche | Canucks | 11PM AST |
| Friday, November 02, 2018 | Hurricanes | Coyotes | 11PM AST |
| Saturday, November 03, 2018 | Senators | Sabres | 2PM AST |
| Saturday, November 03, 2018 | Lightning | Canadiens | 8PM AST |
| Saturday, November 03, 2018 | Edmonton Oilers | Red Wings | 8PM AST |
| Saturday, November 03, 2018 | Devils | Islanders | 8PM AST |
| Saturday, November 03, 2018 | Maple Leafs | Penguins | 8PM AST |
| Saturday, November 03, 2018 | Stars | Capitals | 8PM AST |
| Saturday, November 03, 2018 | Wild | Blues | 9PM AST |
| Saturday, November 03, 2018 | Bruins | Predators | 9PM AST |
| Saturday, November 03, 2018 | Hurricanes | Golden Knights | 11PM AST |
| Saturday, November 03, 2018 | Blackhawks | Flames | 11PM AST |
| Saturday, November 03, 2018 | Blue Jackets | Kings | 11:30PM AST |
| Saturday, November 03, 2018 | Flyers | Sharks | 11:30PM AST |
| Sunday, November 04, 2018 | Lightning | Senators | 8PM AST |
| Sunday, November 04, 2018 | Sabres | Rangers | 8PM AST |
| Sunday, November 04, 2018 | Blue Jackets | Ducks | 10PM AST |
| Monday, November 05, 2018 | Stars | Bruins | 8PM AST |
| Monday, November 05, 2018 | Canadiens | Islanders | 8PM AST |
| Monday, November 05, 2018 | Devils | Penguins | 8PM AST |
| Monday, November 05, 2018 | Edmonton Oilers | Capitals | 8PM AST |
| Monday, November 05, 2018 | Flyers | Coyotes | 10PM AST |
| Tuesday, November 06, 2018 | Golden Knights | Maple Leafs | 8PM AST |
| Tuesday, November 06, 2018 | Canadiens | Rangers | 8PM AST |
| Tuesday, November 06, 2018 | Stars | Blue Jackets | 8PM AST |
| Tuesday, November 06, 2018 | Devils | Senators | 8:30PM AST |
| Tuesday, November 06, 2018 | Canucks | Red Wings | 8:30PM AST |
| Tuesday, November 06, 2018 | Edmonton Oilers | Lightning | 8:30PM AST |
| Tuesday, November 06, 2018 | Hurricanes | Blues | 9PM AST |
| Tuesday, November 06, 2018 | Ducks | Kings | 11:30PM AST |
| Tuesday, November 06, 2018 | Wild | Sharks | 11:30PM AST |
| Wednesday, November 07, 2018 | Penguins | Capitals | 8:30PM AST |
| Wednesday, November 07, 2018 | Predators | Avalanche | 11PM AST |
| Wednesday, November 07, 2018 | Flames | Ducks | 11:30PM AST |
| Thursday, November 08, 2018 | Canucks | Bruins | 8PM AST |
| Thursday, November 08, 2018 | Edmonton Oilers | Panthers | 8PM AST |
| Thursday, November 08, 2018 | Coyotes | Flyers | 8PM AST |
| Thursday, November 08, 2018 | Sabres | Canadiens | 8:30PM AST |
| Thursday, November 08, 2018 | Golden Knights | Senators | 8:30PM AST |
| Thursday, November 08, 2018 | Islanders | Lightning | 8:30PM AST |
| Thursday, November 08, 2018 | Hurricanes | Blackhawks | 9:30PM AST |
| Thursday, November 08, 2018 | Sharks | Stars | 9:30PM AST |
| Thursday, November 08, 2018 | Wild | Kings | 11:30PM AST |
| Friday, November 09, 2018 | Devils | Maple Leafs | 8PM AST |
| Friday, November 09, 2018 | Blue Jackets | Capitals | 8PM AST |
| Friday, November 09, 2018 | Rangers | Red Wings | 8:30PM AST |
| Friday, November 09, 2018 | Sharks | Blues | 9PM AST |
| Friday, November 09, 2018 | Avalanche | Jets | 9PM AST |
| Friday, November 09, 2018 | Wild | Ducks | 11PM AST |
| Saturday, November 10, 2018 | Canucks | Sabres | 2PM AST |
| Saturday, November 10, 2018 | Blackhawks | Flyers | 2PM AST |
| Saturday, November 10, 2018 | Predators | Stars | 3PM AST |
| Saturday, November 10, 2018 | Maple Leafs | Bruins | 8PM AST |
| Saturday, November 10, 2018 | Golden Knights | Canadiens | 8PM AST |
| Saturday, November 10, 2018 | Senators | Lightning | 8PM AST |
| Saturday, November 10, 2018 | Islanders | Panthers | 8PM AST |
| Saturday, November 10, 2018 | Coyotes | Penguins | 8PM AST |
| Saturday, November 10, 2018 | Red Wings | Hurricanes | 8PM AST |
| Saturday, November 10, 2018 | Rangers | Blue Jackets | 8PM AST |
| Saturday, November 10, 2018 | Flames | Kings | 11PM AST |
| Sunday, November 11, 2018 | Wild | Blues | 4PM AST |
| Sunday, November 11, 2018 | Senators | Panthers | 6PM AST |
| Sunday, November 11, 2018 | Coyotes | Capitals | 6PM AST |
| Sunday, November 11, 2018 | Devils | Jets | 8PM AST |
| Sunday, November 11, 2018 | Golden Knights | Bruins | 8PM AST |
| Sunday, November 11, 2018 | Flames | Sharks | 10PM AST |
| Sunday, November 11, 2018 | Avalanche | Edmonton Oilers | 10:30PM AST |
| Monday, November 12, 2018 | Canucks | Rangers | 8PM AST |
| Monday, November 12, 2018 | Blackhawks | Hurricanes | 8PM AST |
| Monday, November 12, 2018 | Blue Jackets | Stars | 9:30PM AST |
| Monday, November 12, 2018 | Predators | Ducks | 11PM AST |
| Tuesday, November 13, 2018 | Lightning | Sabres | 8PM AST |
| Tuesday, November 13, 2018 | Penguins | Devils | 8PM AST |
| Tuesday, November 13, 2018 | Canucks | Islanders | 8PM AST |
| Tuesday, November 13, 2018 | Panthers | Flyers | 8PM AST |
| Tuesday, November 13, 2018 | Coyotes | Red Wings | 8:30PM AST |
| Tuesday, November 13, 2018 | Capitals | Wild | 9PM AST |
| Tuesday, November 13, 2018 | Canadiens | Edmonton Oilers | 10PM AST |
| Tuesday, November 13, 2018 | Maple Leafs | Kings | 11:30PM AST |
| Tuesday, November 13, 2018 | Predators | Sharks | 11:30PM AST |
| Wednesday, November 14, 2018 | Blues | Blackhawks | 9PM AST |
| Wednesday, November 14, 2018 | Capitals | Jets | 9PM AST |
| Wednesday, November 14, 2018 | Bruins | Avalanche | 11PM AST |
| Wednesday, November 14, 2018 | Ducks | Golden Knights | 11:30PM AST |
| Thursday, November 15, 2018 | Rangers | Islanders | 8PM AST |
| Thursday, November 15, 2018 | Devils | Flyers | 8PM AST |
| Thursday, November 15, 2018 | Lightning | Penguins | 8PM AST |
| Thursday, November 15, 2018 | Panthers | Blue Jackets | 8PM AST |
| Thursday, November 15, 2018 | Red Wings | Senators | 8:30PM AST |
| Thursday, November 15, 2018 | Canucks | Wild | 9PM AST |
| Thursday, November 15, 2018 | Canadiens | Flames | 10PM AST |
| Thursday, November 15, 2018 | Predators | Coyotes | 10PM AST |
| Thursday, November 15, 2018 | Maple Leafs | Sharks | 11:30PM AST |
| Friday, November 16, 2018 | Bruins | Stars | 9PM AST |
| Friday, November 16, 2018 | Sabres | Jets | 9PM AST |
| Friday, November 16, 2018 | Kings | Blackhawks | 9:30PM AST |
| Friday, November 16, 2018 | Capitals | Avalanche | 10PM AST |
| Friday, November 16, 2018 | Blues | Golden Knights | 11PM AST |
| Friday, November 16, 2018 | Maple Leafs | Ducks | 11PM AST |
| Saturday, November 17, 2018 | Red Wings | Devils | 2PM AST |
| Saturday, November 17, 2018 | Lightning | Flyers | 2PM AST |
| Saturday, November 17, 2018 | Sabres | Wild | 7PM AST |
| Saturday, November 17, 2018 | Canadiens | Canucks | 8PM AST |
| Saturday, November 17, 2018 | Penguins | Senators | 8PM AST |
| Saturday, November 17, 2018 | Panthers | Rangers | 8PM AST |
| Saturday, November 17, 2018 | Blue Jackets | Hurricanes | 8PM AST |
| Saturday, November 17, 2018 | Bruins | Coyotes | 9PM AST |
| Saturday, November 17, 2018 | Kings | Predators | 9PM AST |
| Saturday, November 17, 2018 | Edmonton Oilers | Flames | 11PM AST |
| Saturday, November 17, 2018 | Blues | Sharks | 11:30PM AST |
| Sunday, November 18, 2018 | Stars | Islanders | 2PM AST |
| Sunday, November 18, 2018 | Devils | Hurricanes | 6PM AST |
| Sunday, November 18, 2018 | Wild | Blackhawks | 7PM AST |
| Sunday, November 18, 2018 | Avalanche | Ducks | 9PM AST |
| Sunday, November 18, 2018 | Golden Knights | Edmonton Oilers | 9PM AST |
| Monday, November 19, 2018 | Blue Jackets | Maple Leafs | 8PM AST |
| Monday, November 19, 2018 | Stars | Rangers | 8PM AST |
| Monday, November 19, 2018 | Sabres | Penguins | 8PM AST |
| Monday, November 19, 2018 | Capitals | Canadiens | 8:30PM AST |
| Monday, November 19, 2018 | Panthers | Senators | 8:30PM AST |
| Monday, November 19, 2018 | Kings | Blues | 9PM AST |
| Monday, November 19, 2018 | Lightning | Predators | 9PM AST |
| Monday, November 19, 2018 | Golden Knights | Flames | 10PM AST |
| Monday, November 19, 2018 | Jets | Canucks | 11PM AST |
| Tuesday, November 20, 2018 | Edmonton Oilers | Sharks | 11:30PM AST |
| Wednesday, November 21, 2018 | Flyers | Sabres | 8PM AST |
| Wednesday, November 21, 2018 | Canadiens | Devils | 8PM AST |
| Wednesday, November 21, 2018 | Islanders | Rangers | 8PM AST |
| Wednesday, November 21, 2018 | Stars | Penguins | 8PM AST |
| Wednesday, November 21, 2018 | Blackhawks | Capitals | 8PM AST |
| Wednesday, November 21, 2018 | Maple Leafs | Hurricanes | 8PM AST |
| Wednesday, November 21, 2018 | Bruins | Red Wings | 8:30PM AST |
| Wednesday, November 21, 2018 | Panthers | Lightning | 8:30PM AST |
| Wednesday, November 21, 2018 | Blues | Predators | 9PM AST |
| Wednesday, November 21, 2018 | Senators | Wild | 9PM AST |
| Wednesday, November 21, 2018 | Golden Knights | Coyotes | 10PM AST |
| Wednesday, November 21, 2018 | Canucks | Ducks | 11PM AST |
| Wednesday, November 21, 2018 | Jets | Flames | 11PM AST |
| Wednesday, November 21, 2018 | Avalanche | Kings | 11:30PM AST |
| Friday, November 23, 2018 | Rangers | Flyers | 2PM AST |
| Friday, November 23, 2018 | Edmonton Oilers | Ducks | 5PM AST |
| Friday, November 23, 2018 | Jets | Wild | 5PM AST |
| Friday, November 23, 2018 | Canadiens | Sabres | 5PM AST |
| Friday, November 23, 2018 | Islanders | Devils | 5PM AST |
| Friday, November 23, 2018 | Red Wings | Capitals | 5PM AST |
| Friday, November 23, 2018 | Flames | Golden Knights | 7PM AST |
| Friday, November 23, 2018 | Maple Leafs | Blue Jackets | 8PM AST |
| Friday, November 23, 2018 | Penguins | Bruins | 8:30PM AST |
| Friday, November 23, 2018 | Blackhawks | Lightning | 8:30PM AST |
| Friday, November 23, 2018 | Panthers | Hurricanes | 8:30PM AST |
| Friday, November 23, 2018 | Avalanche | Coyotes | 9PM AST |
| Friday, November 23, 2018 | Predators | Blues | 9PM AST |
| Friday, November 23, 2018 | Senators | Stars | 9PM AST |
| Friday, November 23, 2018 | Canucks | Sharks | 10PM AST |
| Saturday, November 24, 2018 | Capitals | Rangers | 3PM AST |
| Saturday, November 24, 2018 | Jets | Blues | 8PM AST |
| Saturday, November 24, 2018 | Flyers | Maple Leafs | 8PM AST |
| Saturday, November 24, 2018 | Bruins | Canadiens | 8PM AST |
| Saturday, November 24, 2018 | Sabres | Red Wings | 8PM AST |
| Saturday, November 24, 2018 | Blackhawks | Panthers | 8PM AST |
| Saturday, November 24, 2018 | Hurricanes | Islanders | 8PM AST |
| Saturday, November 24, 2018 | Blue Jackets | Penguins | 8PM AST |
| Saturday, November 24, 2018 | Stars | Avalanche | 10PM AST |
| Saturday, November 24, 2018 | Sharks | Golden Knights | 11PM AST |
| Saturday, November 24, 2018 | Canucks | Kings | 11PM AST |
| Sunday, November 25, 2018 | Flames | Coyotes | 4PM AST |
| Sunday, November 25, 2018 | Devils | Lightning | 8PM AST |
| Sunday, November 25, 2018 | Ducks | Predators | 9PM AST |
| Sunday, November 25, 2018 | Edmonton Oilers | Kings | 11:30PM AST |
| Monday, November 26, 2018 | Bruins | Maple Leafs | 8PM AST |
| Monday, November 26, 2018 | Devils | Panthers | 8PM AST |
| Monday, November 26, 2018 | Capitals | Islanders | 8PM AST |
| Monday, November 26, 2018 | Senators | Rangers | 8PM AST |
| Monday, November 26, 2018 | Blue Jackets | Red Wings | 8:30PM AST |
| Tuesday, November 27, 2018 | Sharks | Sabres | 8PM AST |
| Tuesday, November 27, 2018 | Senators | Flyers | 8PM AST |
| Tuesday, November 27, 2018 | Hurricanes | Canadiens | 8:30PM AST |
| Tuesday, November 27, 2018 | Ducks | Lightning | 8:30PM AST |
| Tuesday, November 27, 2018 | Avalanche | Predators | 9PM AST |
| Tuesday, November 27, 2018 | Coyotes | Wild | 9PM AST |
| Tuesday, November 27, 2018 | Penguins | Jets | 9PM AST |
| Tuesday, November 27, 2018 | Golden Knights | Blackhawks | 9:30PM AST |
| Tuesday, November 27, 2018 | Stars | Edmonton Oilers | 10PM AST |
| Tuesday, November 27, 2018 | Kings | Canucks | 11PM AST |
| Wednesday, November 28, 2018 | Blues | Red Wings | 8PM AST |
| Wednesday, November 28, 2018 | Ducks | Panthers | 8PM AST |
| Wednesday, November 28, 2018 | Sharks | Maple Leafs | 8:30PM AST |
| Wednesday, November 28, 2018 | Stars | Flames | 10PM AST |
| Wednesday, November 28, 2018 | Penguins | Avalanche | 10:30PM AST |
| Thursday, November 29, 2018 | Islanders | Bruins | 8PM AST |
| Thursday, November 29, 2018 | Wild | Blue Jackets | 8PM AST |
| Thursday, November 29, 2018 | Rangers | Senators | 8:30PM AST |
| Thursday, November 29, 2018 | Sabres | Lightning | 8:30PM AST |
| Thursday, November 29, 2018 | Coyotes | Predators | 9PM AST |
| Thursday, November 29, 2018 | Blackhawks | Jets | 9PM AST |
| Thursday, November 29, 2018 | Kings | Edmonton Oilers | 10PM AST |
| Thursday, November 29, 2018 | Golden Knights | Canucks | 11PM AST |
| Friday, November 30, 2018 | Sabres | Panthers | 8PM AST |
| Friday, November 30, 2018 | Devils | Capitals | 8PM AST |
| Friday, November 30, 2018 | Ducks | Hurricanes | 8:30PM AST |
| Friday, November 30, 2018 | Blues | Avalanche | 10PM AST |
| Friday, November 30, 2018 | Kings | Flames | 10PM AST |
| Saturday, December 01, 2018 | Sharks | Senators | 3PM AST |
| Saturday, December 01, 2018 | Stars | Canucks | 5PM AST |
| Saturday, December 01, 2018 | Maple Leafs | Wild | 8PM AST |
| Saturday, December 01, 2018 | Red Wings | Bruins | 8PM AST |
| Saturday, December 01, 2018 | Rangers | Canadiens | 8PM AST |
| Saturday, December 01, 2018 | Lightning | Panthers | 8PM AST |
| Saturday, December 01, 2018 | Jets | Devils | 8PM AST |
| Saturday, December 01, 2018 | Blue Jackets | Islanders | 8PM AST |
| Saturday, December 01, 2018 | Flyers | Penguins | 8PM AST |
| Saturday, December 01, 2018 | Blues | Coyotes | 9PM AST |
| Saturday, December 01, 2018 | Blackhawks | Predators | 9PM AST |
| Saturday, December 01, 2018 | Golden Knights | Edmonton Oilers | 11PM AST |
| Sunday, December 02, 2018 | Ducks | Capitals | 4PM AST |
| Sunday, December 02, 2018 | Jets | Rangers | 7PM AST |
| Sunday, December 02, 2018 | Flames | Blackhawks | 8PM AST |
| Sunday, December 02, 2018 | Sharks | Canadiens | 8PM AST |
| Sunday, December 02, 2018 | Avalanche | Red Wings | 8PM AST |
| Sunday, December 02, 2018 | Hurricanes | Kings | 11:30PM AST |
| Monday, December 03, 2018 | Lightning | Devils | 8PM AST |
| Monday, December 03, 2018 | Sabres | Predators | 9PM AST |
| Monday, December 03, 2018 | Edmonton Oilers | Stars | 9:30PM AST |
| Tuesday, December 04, 2018 | Maple Leafs | Sabres | 8PM AST |
| Tuesday, December 04, 2018 | Bruins | Panthers | 8PM AST |
| Tuesday, December 04, 2018 | Jets | Islanders | 8PM AST |
| Tuesday, December 04, 2018 | Avalanche | Penguins | 8PM AST |
| Tuesday, December 04, 2018 | Flames | Blue Jackets | 8PM AST |
| Tuesday, December 04, 2018 | Senators | Canadiens | 8:30PM AST |
| Tuesday, December 04, 2018 | Lightning | Red Wings | 8:30PM AST |
| Tuesday, December 04, 2018 | Wild | Canucks | 11PM AST |
| Tuesday, December 04, 2018 | Capitals | Golden Knights | 11PM AST |
| Tuesday, December 04, 2018 | Coyotes | Kings | 11:30PM AST |
| Wednesday, December 05, 2018 | Edmonton Oilers | Blues | 9PM AST |
| Wednesday, December 05, 2018 | Blackhawks | Ducks | 11:30PM AST |
| Wednesday, December 05, 2018 | Hurricanes | Sharks | 11:30PM AST |
| Thursday, December 06, 2018 | Red Wings | Maple Leafs | 8PM AST |
| Thursday, December 06, 2018 | Avalanche | Panthers | 8PM AST |
| Thursday, December 06, 2018 | Blue Jackets | Flyers | 8PM AST |
| Thursday, December 06, 2018 | Islanders | Penguins | 8PM AST |
| Thursday, December 06, 2018 | Canadiens | Senators | 8:30PM AST |
| Thursday, December 06, 2018 | Bruins | Lightning | 8:30PM AST |
| Thursday, December 06, 2018 | Wild | Flames | 10PM AST |
| Thursday, December 06, 2018 | Capitals | Coyotes | 10PM AST |
| Thursday, December 06, 2018 | Predators | Canucks | 11PM AST |
| Thursday, December 06, 2018 | Blackhawks | Golden Knights | 11PM AST |
| Thursday, December 06, 2018 | Devils | Kings | 11:30PM AST |
| Friday, December 07, 2018 | Sharks | Stars | 9PM AST |
| Friday, December 07, 2018 | Blues | Jets | 9PM AST |
| Friday, December 07, 2018 | Wild | Edmonton Oilers | 10PM AST |
| Friday, December 07, 2018 | Hurricanes | Ducks | 11PM AST |
| Saturday, December 08, 2018 | Flyers | Sabres | 2PM AST |
| Saturday, December 08, 2018 | Golden Knights | Kings | 5PM AST |
| Saturday, December 08, 2018 | Maple Leafs | Bruins | 8PM AST |
| Saturday, December 08, 2018 | Penguins | Senators | 8PM AST |
| Saturday, December 08, 2018 | Islanders | Red Wings | 8PM AST |
| Saturday, December 08, 2018 | Avalanche | Lightning | 8PM AST |
| Saturday, December 08, 2018 | Rangers | Panthers | 8PM AST |
| Saturday, December 08, 2018 | Capitals | Blue Jackets | 8PM AST |
| Saturday, December 08, 2018 | Sharks | Coyotes | 9PM AST |
| Saturday, December 08, 2018 | Predators | Flames | 11PM AST |
| Sunday, December 09, 2018 | Canucks | Blues | 4PM AST |
| Sunday, December 09, 2018 | Flyers | Jets | 4PM AST |
| Sunday, December 09, 2018 | Bruins | Senators | 6PM AST |
| Sunday, December 09, 2018 | Canadiens | Blackhawks | 7PM AST |
| Sunday, December 09, 2018 | Devils | Ducks | 9PM AST |
| Sunday, December 09, 2018 | Stars | Golden Knights | 10PM AST |
| Sunday, December 09, 2018 | Flames | Edmonton Oilers | 10PM AST |
| Monday, December 10, 2018 | Penguins | Islanders | 8PM AST |
| Monday, December 10, 2018 | Kings | Red Wings | 8:30PM AST |
| Monday, December 10, 2018 | Rangers | Lightning | 8:30PM AST |
| Monday, December 10, 2018 | Devils | Sharks | 11:30PM AST |
| Tuesday, December 11, 2018 | Coyotes | Bruins | 8PM AST |
| Tuesday, December 11, 2018 | Kings | Sabres | 8PM AST |
| Tuesday, December 11, 2018 | Red Wings | Capitals | 8PM AST |
| Tuesday, December 11, 2018 | Maple Leafs | Hurricanes | 8PM AST |
| Tuesday, December 11, 2018 | Canucks | Blue Jackets | 8PM AST |
| Tuesday, December 11, 2018 | Panthers | Blues | 9PM AST |
| Tuesday, December 11, 2018 | Senators | Predators | 9PM AST |
| Tuesday, December 11, 2018 | Canadiens | Wild | 9PM AST |
| Tuesday, December 11, 2018 | Blackhawks | Jets | 9PM AST |
| Tuesday, December 11, 2018 | Edmonton Oilers | Avalanche | 10PM AST |
| Wednesday, December 12, 2018 | Golden Knights | Islanders | 8PM AST |
| Wednesday, December 12, 2018 | Penguins | Blackhawks | 9PM AST |
| Wednesday, December 12, 2018 | Flyers | Flames | 9:30PM AST |
| Wednesday, December 12, 2018 | Stars | Ducks | 11PM AST |
| Thursday, December 13, 2018 | Coyotes | Sabres | 8PM AST |
| Thursday, December 13, 2018 | Kings | Blue Jackets | 8PM AST |
| Thursday, December 13, 2018 | Hurricanes | Canadiens | 8:30PM AST |
| Thursday, December 13, 2018 | Maple Leafs | Lightning | 8:30PM AST |
| Thursday, December 13, 2018 | Canucks | Predators | 9PM AST |
| Thursday, December 13, 2018 | Panthers | Wild | 9PM AST |
| Thursday, December 13, 2018 | Edmonton Oilers | Jets | 9PM AST |
| Thursday, December 13, 2018 | Stars | Sharks | 11:30PM AST |
| Friday, December 14, 2018 | Golden Knights | Devils | 8PM AST |
| Friday, December 14, 2018 | Coyotes | Rangers | 8PM AST |
| Friday, December 14, 2018 | Bruins | Penguins | 8PM AST |
| Friday, December 14, 2018 | Senators | Red Wings | 8:30PM AST |
| Friday, December 14, 2018 | Capitals | Hurricanes | 8:30PM AST |
| Friday, December 14, 2018 | Avalanche | Blues | 9PM AST |
| Friday, December 14, 2018 | Jets | Blackhawks | 9:30PM AST |
| Friday, December 14, 2018 | Flyers | Edmonton Oilers | 10PM AST |
| Saturday, December 15, 2018 | Flames | Wild | 3PM AST |
| Saturday, December 15, 2018 | Senators | Canadiens | 8PM AST |
| Saturday, December 15, 2018 | Maple Leafs | Panthers | 8PM AST |
| Saturday, December 15, 2018 | Red Wings | Islanders | 8PM AST |
| Saturday, December 15, 2018 | Kings | Penguins | 8PM AST |
| Saturday, December 15, 2018 | Sabres | Capitals | 8PM AST |
| Saturday, December 15, 2018 | Ducks | Blue Jackets | 8PM AST |
| Saturday, December 15, 2018 | Devils | Predators | 9PM AST |
| Saturday, December 15, 2018 | Stars | Avalanche | 10PM AST |
| Saturday, December 15, 2018 | Flyers | Canucks | 11PM AST |
| Sunday, December 16, 2018 | Golden Knights | Rangers | 2PM AST |
| Sunday, December 16, 2018 | Coyotes | Hurricanes | 2PM AST |
| Sunday, December 16, 2018 | Flames | Blues | 4PM AST |
| Sunday, December 16, 2018 | Sabres | Bruins | 6PM AST |
| Sunday, December 16, 2018 | Sharks | Blackhawks | 8PM AST |
| Sunday, December 16, 2018 | Lightning | Jets | 8PM AST |
| Sunday, December 16, 2018 | Edmonton Oilers | Canucks | 11PM AST |
| Monday, December 17, 2018 | Ducks | Penguins | 8PM AST |
| Monday, December 17, 2018 | Golden Knights | Blue Jackets | 8PM AST |
| Monday, December 17, 2018 | Bruins | Canadiens | 8:30PM AST |
| Monday, December 17, 2018 | Predators | Senators | 8:30PM AST |
| Monday, December 17, 2018 | Islanders | Avalanche | 10PM AST |
| Tuesday, December 18, 2018 | Panthers | Sabres | 8PM AST |
| Tuesday, December 18, 2018 | Maple Leafs | Devils | 8PM AST |
| Tuesday, December 18, 2018 | Ducks | Rangers | 8PM AST |
| Tuesday, December 18, 2018 | Red Wings | Flyers | 8PM AST |
| Tuesday, December 18, 2018 | Sharks | Wild | 9PM AST |
| Tuesday, December 18, 2018 | Predators | Blackhawks | 9:30PM AST |
| Tuesday, December 18, 2018 | Flames | Stars | 9:30PM AST |
| Tuesday, December 18, 2018 | Blues | Edmonton Oilers | 10PM AST |
| Tuesday, December 18, 2018 | Islanders | Coyotes | 10PM AST |
| Tuesday, December 18, 2018 | Lightning | Canucks | 11PM AST |
| Tuesday, December 18, 2018 | Jets | Kings | 11:30PM AST |
| Wednesday, December 19, 2018 | Penguins | Capitals | 9PM AST |
| Wednesday, December 19, 2018 | Canadiens | Avalanche | 9:30PM AST |
| Thursday, December 20, 2018 | Ducks | Bruins | 8PM AST |
| Thursday, December 20, 2018 | Panthers | Maple Leafs | 8PM AST |
| Thursday, December 20, 2018 | Predators | Flyers | 8PM AST |
| Thursday, December 20, 2018 | Wild | Penguins | 8PM AST |
| Thursday, December 20, 2018 | Red Wings | Hurricanes | 8PM AST |
| Thursday, December 20, 2018 | Devils | Blue Jackets | 8PM AST |
| Thursday, December 20, 2018 | Blackhawks | Stars | 9:30PM AST |
| Thursday, December 20, 2018 | Lightning | Flames | 10PM AST |
| Thursday, December 20, 2018 | Canadiens | Coyotes | 10PM AST |
| Thursday, December 20, 2018 | Blues | Canucks | 11PM AST |
| Thursday, December 20, 2018 | Islanders | Golden Knights | 11PM AST |
| Thursday, December 20, 2018 | Jets | Sharks | 11:30PM AST |
| Friday, December 21, 2018 | Senators | Devils | 8PM AST |
| Friday, December 21, 2018 | Sabres | Capitals | 8PM AST |
| Friday, December 21, 2018 | Blackhawks | Avalanche | 10PM AST |
| Saturday, December 22, 2018 | Predators | Bruins | 2PM AST |
| Saturday, December 22, 2018 | Blue Jackets | Flyers | 2PM AST |
| Saturday, December 22, 2018 | Panthers | Red Wings | 3PM AST |
| Saturday, December 22, 2018 | Canadiens | Golden Knights | 5PM AST |
| Saturday, December 22, 2018 | Kings | Sharks | 5PM AST |
| Saturday, December 22, 2018 | Blues | Flames | 5PM AST |
| Saturday, December 22, 2018 | Avalanche | Coyotes | 8PM AST |
| Saturday, December 22, 2018 | Ducks | Sabres | 8PM AST |
| Saturday, December 22, 2018 | Rangers | Maple Leafs | 8PM AST |
| Saturday, December 22, 2018 | Capitals | Senators | 8PM AST |
| Saturday, December 22, 2018 | Penguins | Hurricanes | 8PM AST |
| Saturday, December 22, 2018 | Stars | Wild | 9PM AST |
| Saturday, December 22, 2018 | Jets | Canucks | 11PM AST |
| Saturday, December 22, 2018 | Lightning | Edmonton Oilers | 11PM AST |
| Sunday, December 23, 2018 | Blue Jackets | Devils | 2PM AST |
| Sunday, December 23, 2018 | Bruins | Hurricanes | 6PM AST |
| Sunday, December 23, 2018 | Panthers | Blackhawks | 8PM AST |
| Sunday, December 23, 2018 | Flyers | Rangers | 8PM AST |
| Sunday, December 23, 2018 | Red Wings | Maple Leafs | 8:30PM AST |
| Sunday, December 23, 2018 | Kings | Golden Knights | 9PM AST |
| Sunday, December 23, 2018 | Coyotes | Sharks | 9PM AST |
| Sunday, December 23, 2018 | Islanders | Stars | 9PM AST |
| Thursday, December 27, 2018 | Devils | Bruins | 8PM AST |
| Thursday, December 27, 2018 | Blue Jackets | Rangers | 8PM AST |
| Thursday, December 27, 2018 | Red Wings | Penguins | 8PM AST |
| Thursday, December 27, 2018 | Hurricanes | Capitals | 8PM AST |
| Thursday, December 27, 2018 | Flyers | Lightning | 8:30PM AST |
| Thursday, December 27, 2018 | Sabres | Blues | 9PM AST |
| Thursday, December 27, 2018 | Stars | Predators | 9PM AST |
| Thursday, December 27, 2018 | Flames | Jets | 9PM AST |
| Thursday, December 27, 2018 | Wild | Blackhawks | 9:30PM AST |
| Thursday, December 27, 2018 | Canucks | Edmonton Oilers | 10PM AST |
| Thursday, December 27, 2018 | Avalanche | Golden Knights | 11PM AST |
| Thursday, December 27, 2018 | Coyotes | Kings | 11:30PM AST |
| Thursday, December 27, 2018 | Ducks | Sharks | 11:30PM AST |
| Friday, December 28, 2018 | Canadiens | Panthers | 8PM AST |
| Friday, December 28, 2018 | Senators | Islanders | 8PM AST |
| Friday, December 28, 2018 | Maple Leafs | Blue Jackets | 8PM AST |
| Saturday, December 29, 2018 | Hurricanes | Devils | 2PM AST |
| Saturday, December 29, 2018 | Wild | Jets | 4PM AST |
| Saturday, December 29, 2018 | Golden Knights | Kings | 5PM AST |
| Saturday, December 29, 2018 | Sharks | Edmonton Oilers | 5PM AST |
| Saturday, December 29, 2018 | Bruins | Sabres | 8PM AST |
| Saturday, December 29, 2018 | Islanders | Maple Leafs | 8PM AST |
| Saturday, December 29, 2018 | Capitals | Senators | 8PM AST |
| Saturday, December 29, 2018 | Canadiens | Lightning | 8PM AST |
| Saturday, December 29, 2018 | Flyers | Panthers | 8PM AST |
| Saturday, December 29, 2018 | Penguins | Blues | 9PM AST |
| Saturday, December 29, 2018 | Rangers | Predators | 9PM AST |
| Saturday, December 29, 2018 | Red Wings | Stars | 9PM AST |
| Saturday, December 29, 2018 | Blackhawks | Avalanche | 10PM AST |
| Saturday, December 29, 2018 | Coyotes | Ducks | 11PM AST |
| Saturday, December 29, 2018 | Canucks | Flames | 11PM AST |
| Sunday, December 30, 2018 | Golden Knights | Coyotes | 9PM AST |
| Monday, December 31, 2018 | Predators | Capitals | 1:30PM AST |
| Monday, December 31, 2018 | Canucks | Devils | 2PM AST |
| Monday, December 31, 2018 | Penguins | Wild | 7PM AST |
| Monday, December 31, 2018 | Islanders | Sabres | 7PM AST |
| Monday, December 31, 2018 | Flyers | Hurricanes | 7PM AST |
| Monday, December 31, 2018 | Rangers | Blues | 8PM AST |
| Monday, December 31, 2018 | Senators | Blue Jackets | 8PM AST |
| Monday, December 31, 2018 | Panthers | Red Wings | 8:30PM AST |
| Monday, December 31, 2018 | Kings | Avalanche | 9PM AST |
| Monday, December 31, 2018 | Canadiens | Stars | 9:30PM AST |
| Monday, December 31, 2018 | Sharks | Flames | 10PM AST |
| Monday, December 31, 2018 | Jets | Edmonton Oilers | 10PM AST |
| Monday, December 31, 2018 | Lightning | Ducks | 11PM AST |
| Tuesday, January 01, 2019 | Bruins | Blackhawks | 2PM AST |
| Tuesday, January 01, 2019 | Flyers | Predators | 9:30PM AST |
| Tuesday, January 01, 2019 | Kings | Golden Knights | 10PM AST |
| Wednesday, January 02, 2019 | Canucks | Senators | 8PM AST |
| Wednesday, January 02, 2019 | Flames | Red Wings | 8PM AST |
| Wednesday, January 02, 2019 | Penguins | Rangers | 8PM AST |
| Wednesday, January 02, 2019 | Devils | Stars | 9:30PM AST |
| Wednesday, January 02, 2019 | Sharks | Avalanche | 10:30PM AST |
| Wednesday, January 02, 2019 | Edmonton Oilers | Coyotes | 10:30PM AST |
| Thursday, January 03, 2019 | Wild | Maple Leafs | 3PM AST |
| Thursday, January 03, 2019 | Flames | Bruins | 8PM AST |
| Thursday, January 03, 2019 | Panthers | Sabres | 8PM AST |
| Thursday, January 03, 2019 | Blackhawks | Islanders | 8PM AST |
| Thursday, January 03, 2019 | Hurricanes | Flyers | 8PM AST |
| Thursday, January 03, 2019 | Canucks | Canadiens | 8:30PM AST |
| Thursday, January 03, 2019 | Capitals | Blues | 9PM AST |
| Thursday, January 03, 2019 | Lightning | Kings | 11:30PM AST |
| Friday, January 04, 2019 | Jets | Penguins | 8PM AST |
| Friday, January 04, 2019 | Predators | Red Wings | 8:30PM AST |
| Friday, January 04, 2019 | Blue Jackets | Hurricanes | 8:30PM AST |
| Friday, January 04, 2019 | Capitals | Stars | 9PM AST |
| Friday, January 04, 2019 | Rangers | Avalanche | 10PM AST |
| Friday, January 04, 2019 | Devils | Coyotes | 10PM AST |
| Friday, January 04, 2019 | Golden Knights | Ducks | 11PM AST |
| Saturday, January 05, 2019 | Flames | Flyers | 2PM AST |
| Saturday, January 05, 2019 | Wild | Senators | 3PM AST |
| Saturday, January 05, 2019 | Sabres | Bruins | 8PM AST |
| Saturday, January 05, 2019 | Canucks | Maple Leafs | 8PM AST |
| Saturday, January 05, 2019 | Predators | Canadiens | 8PM AST |
| Saturday, January 05, 2019 | Blue Jackets | Panthers | 8PM AST |
| Saturday, January 05, 2019 | Islanders | Blues | 9PM AST |
| Saturday, January 05, 2019 | Edmonton Oilers | Kings | 11PM AST |
| Saturday, January 05, 2019 | Lightning | Sharks | 12PM AST |
| Sunday, January 06, 2019 | Hurricanes | Senators | 3PM AST |
| Sunday, January 06, 2019 | Devils | Golden Knights | 5PM AST |
| Sunday, January 06, 2019 | Rangers | Coyotes | 5PM AST |
| Sunday, January 06, 2019 | Stars | Jets | 6PM AST |
| Sunday, January 06, 2019 | Capitals | Red Wings | 6PM AST |
| Sunday, January 06, 2019 | Edmonton Oilers | Ducks | 9PM AST |
| Sunday, January 06, 2019 | Blackhawks | Penguins | 9PM AST |
| Monday, January 07, 2019 | Predators | Maple Leafs | 8PM AST |
| Monday, January 07, 2019 | Blues | Flyers | 8PM AST |
| Monday, January 07, 2019 | Wild | Canadiens | 8:30PM AST |
| Monday, January 07, 2019 | Flames | Blackhawks | 9:30PM AST |
| Monday, January 07, 2019 | Kings | Sharks | 11:30PM AST |
| Tuesday, January 08, 2019 | Wild | Bruins | 8PM AST |
| Tuesday, January 08, 2019 | Devils | Sabres | 8PM AST |
| Tuesday, January 08, 2019 | Hurricanes | Islanders | 8PM AST |
| Tuesday, January 08, 2019 | Panthers | Penguins | 8PM AST |
| Tuesday, January 08, 2019 | Flyers | Capitals | 8PM AST |
| Tuesday, January 08, 2019 | Canadiens | Red Wings | 8:30PM AST |
| Tuesday, January 08, 2019 | Blue Jackets | Lightning | 8:30PM AST |
| Tuesday, January 08, 2019 | Stars | Blues | 9PM AST |
| Tuesday, January 08, 2019 | Avalanche | Jets | 9PM AST |
| Tuesday, January 08, 2019 | Rangers | Golden Knights | 11PM AST |
| Tuesday, January 08, 2019 | Edmonton Oilers | Sharks | 11:30PM AST |
| Wednesday, January 09, 2019 | Predators | Blackhawks | 9PM AST |
| Wednesday, January 09, 2019 | Avalanche | Flames | 10:30PM AST |
| Wednesday, January 09, 2019 | Senators | Ducks | 11PM AST |
| Thursday, January 10, 2019 | Capitals | Bruins | 8PM AST |
| Thursday, January 10, 2019 | Maple Leafs | Devils | 8PM AST |
| Thursday, January 10, 2019 | Islanders | Rangers | 8PM AST |
| Thursday, January 10, 2019 | Stars | Flyers | 8PM AST |
| Thursday, January 10, 2019 | Predators | Blue Jackets | 8PM AST |
| Thursday, January 10, 2019 | Hurricanes | Lightning | 8:30PM AST |
| Thursday, January 10, 2019 | Canadiens | Blues | 9PM AST |
| Thursday, January 10, 2019 | Jets | Wild | 9PM AST |
| Thursday, January 10, 2019 | Panthers | Edmonton Oilers | 10PM AST |
| Thursday, January 10, 2019 | Coyotes | Canucks | 11PM AST |
| Thursday, January 10, 2019 | Sharks | Golden Knights | 11PM AST |
| Thursday, January 10, 2019 | Senators | Kings | 11:30PM AST |
| Friday, January 11, 2019 | Sabres | Hurricanes | 8:30PM AST |
| Friday, January 11, 2019 | Red Wings | Jets | 9PM AST |
| Friday, January 11, 2019 | Panthers | Flames | 10PM AST |
| Friday, January 11, 2019 | Penguins | Ducks | 11PM AST |
| Saturday, January 12, 2019 | Flyers | Devils | 2PM AST |
| Saturday, January 12, 2019 | Rangers | Islanders | 2PM AST |
| Saturday, January 12, 2019 | Lightning | Sabres | 8PM AST |
| Saturday, January 12, 2019 | Bruins | Maple Leafs | 8PM AST |
| Saturday, January 12, 2019 | Avalanche | Canadiens | 8PM AST |
| Saturday, January 12, 2019 | Blue Jackets | Capitals | 8PM AST |
| Saturday, January 12, 2019 | Red Wings | Wild | 9PM AST |
| Saturday, January 12, 2019 | Golden Knights | Blackhawks | 9:30PM AST |
| Saturday, January 12, 2019 | Blues | Stars | 10PM AST |
| Saturday, January 12, 2019 | Senators | Sharks | 11PM AST |
| Saturday, January 12, 2019 | Coyotes | Edmonton Oilers | 11PM AST |
| Saturday, January 12, 2019 | Penguins | Kings | 11:30PM AST |
| Sunday, January 13, 2019 | Predators | Hurricanes | 2PM AST |
| Sunday, January 13, 2019 | Ducks | Jets | 7PM AST |
| Sunday, January 13, 2019 | Rangers | Blue Jackets | 7PM AST |
| Sunday, January 13, 2019 | Panthers | Canucks | 8PM AST |
| Sunday, January 13, 2019 | Lightning | Islanders | 8PM AST |
| Sunday, January 13, 2019 | Coyotes | Flames | 10:30PM AST |
| Monday, January 14, 2019 | Canadiens | Bruins | 8PM AST |
| Monday, January 14, 2019 | Avalanche | Maple Leafs | 8PM AST |
| Monday, January 14, 2019 | Blackhawks | Devils | 8PM AST |
| Monday, January 14, 2019 | Wild | Flyers | 8PM AST |
| Monday, January 14, 2019 | Blues | Capitals | 8PM AST |
| Monday, January 14, 2019 | Sabres | Edmonton Oilers | 10PM AST |
| Tuesday, January 15, 2019 | Blues | Islanders | 8PM AST |
| Tuesday, January 15, 2019 | Hurricanes | Rangers | 8PM AST |
| Tuesday, January 15, 2019 | Devils | Blue Jackets | 8PM AST |
| Tuesday, January 15, 2019 | Panthers | Canadiens | 8:30PM AST |
| Tuesday, January 15, 2019 | Ducks | Red Wings | 8:30PM AST |
| Tuesday, January 15, 2019 | Capitals | Predators | 9PM AST |
| Tuesday, January 15, 2019 | Kings | Wild | 9PM AST |
| Tuesday, January 15, 2019 | Golden Knights | Jets | 9PM AST |
| Tuesday, January 15, 2019 | Lightning | Stars | 9:30PM AST |
| Tuesday, January 15, 2019 | Penguins | Sharks | 11PM AST |
| Wednesday, January 16, 2019 | Avalanche | Senators | 8PM AST |
| Wednesday, January 16, 2019 | Bruins | Flyers | 8:30PM AST |
| Wednesday, January 16, 2019 | Sabres | Flames | 10:30PM AST |
| Wednesday, January 16, 2019 | Edmonton Oilers | Canucks | 11PM AST |
| Wednesday, January 16, 2019 | Sharks | Coyotes | 11PM AST |
| Thursday, January 17, 2019 | Blues | Bruins | 8PM AST |
| Thursday, January 17, 2019 | Devils | Islanders | 8PM AST |
| Thursday, January 17, 2019 | Blackhawks | Rangers | 8PM AST |
| Thursday, January 17, 2019 | Maple Leafs | Lightning | 8:30PM AST |
| Thursday, January 17, 2019 | Jets | Predators | 9PM AST |
| Thursday, January 17, 2019 | Ducks | Wild | 9PM AST |
| Thursday, January 17, 2019 | Kings | Stars | 9:30PM AST |
| Friday, January 18, 2019 | Maple Leafs | Panthers | 8PM AST |
| Friday, January 18, 2019 | Canadiens | Blue Jackets | 8PM AST |
| Friday, January 18, 2019 | Islanders | Capitals | 8:30PM AST |
| Friday, January 18, 2019 | Senators | Hurricanes | 8:30PM AST |
| Friday, January 18, 2019 | Red Wings | Flames | 10PM AST |
| Friday, January 18, 2019 | Penguins | Coyotes | 10PM AST |
| Friday, January 18, 2019 | Sabres | Canucks | 11PM AST |
| Saturday, January 19, 2019 | Ducks | Devils | 2PM AST |
| Saturday, January 19, 2019 | Kings | Avalanche | 4PM AST |
| Saturday, January 19, 2019 | Senators | Blues | 8PM AST |
| Saturday, January 19, 2019 | Jets | Stars | 8PM AST |
| Saturday, January 19, 2019 | Rangers | Bruins | 8PM AST |
| Saturday, January 19, 2019 | Flyers | Canadiens | 8PM AST |
| Saturday, January 19, 2019 | Sharks | Lightning | 8PM AST |
| Saturday, January 19, 2019 | Panthers | Predators | 9PM AST |
| Saturday, January 19, 2019 | Blue Jackets | Wild | 10PM AST |
| Saturday, January 19, 2019 | Penguins | Golden Knights | 11PM AST |
| Saturday, January 19, 2019 | Flames | Edmonton Oilers | 11PM AST |
| Sunday, January 20, 2019 | Capitals | Blackhawks | 1:30PM AST |
| Sunday, January 20, 2019 | Ducks | Islanders | 4PM AST |
| Sunday, January 20, 2019 | Red Wings | Canucks | 5PM AST |
| Sunday, January 20, 2019 | Coyotes | Maple Leafs | 8PM AST |
| Sunday, January 20, 2019 | Hurricanes | Edmonton Oilers | 10:30PM AST |
| Monday, January 21, 2019 | Predators | Avalanche | 4PM AST |
| Monday, January 21, 2019 | Blues | Kings | 5PM AST |
| Monday, January 21, 2019 | Wild | Golden Knights | 7PM AST |
| Monday, January 21, 2019 | Sharks | Panthers | 8PM AST |
| Tuesday, January 22, 2019 | Sharks | Capitals | 8PM AST |
| Tuesday, January 22, 2019 | Coyotes | Senators | 8:30PM AST |
| Tuesday, January 22, 2019 | Islanders | Blackhawks | 9:30PM AST |
| Tuesday, January 22, 2019 | Hurricanes | Flames | 10PM AST |
| Tuesday, January 22, 2019 | Red Wings | Edmonton Oilers | 10PM AST |
| Wednesday, January 23, 2019 | Capitals | Maple Leafs | 8:30PM AST |
| Wednesday, January 23, 2019 | Coyotes | Canadiens | 8:30PM AST |
| Wednesday, January 23, 2019 | Wild | Avalanche | 10:30PM AST |
| Wednesday, January 23, 2019 | Predators | Golden Knights | 11PM AST |
| Wednesday, January 23, 2019 | Blues | Ducks | 11PM AST |
| Wednesday, January 23, 2019 | Hurricanes | Canucks | 11:30PM AST |
| Monday, January 28, 2019 | Jets | Flyers | 8PM AST |
| Monday, January 28, 2019 | Devils | Penguins | 8PM AST |
| Tuesday, January 29, 2019 | Jets | Bruins | 8PM AST |
| Tuesday, January 29, 2019 | Flyers | Rangers | 8PM AST |
| Tuesday, January 29, 2019 | Sabres | Blue Jackets | 8PM AST |
| Wednesday, January 30, 2019 | Lightning | Penguins | 9PM AST |
| Wednesday, January 30, 2019 | Sabres | Stars | 9:30PM AST |
| Thursday, January 31, 2019 | Flyers | Bruins | 8PM AST |
| Thursday, January 31, 2019 | Rangers | Devils | 8PM AST |
| Thursday, January 31, 2019 | Blue Jackets | Jets | 9PM AST |
| Friday, February 01, 2019 | Blackhawks | Sabres | 8PM AST |
| Friday, February 01, 2019 | Predators | Panthers | 8PM AST |
| Friday, February 01, 2019 | Lightning | Islanders | 8PM AST |
| Friday, February 01, 2019 | Senators | Penguins | 8PM AST |
| Friday, February 01, 2019 | Flames | Capitals | 8PM AST |
| Friday, February 01, 2019 | Maple Leafs | Red Wings | 8:30PM AST |
| Friday, February 01, 2019 | Golden Knights | Hurricanes | 8:30PM AST |
| Friday, February 01, 2019 | Wild | Stars | 9PM AST |
| Saturday, February 02, 2019 | Edmonton Oilers | Flyers | 2PM AST |
| Saturday, February 02, 2019 | Devils | Canadiens | 3PM AST |
| Saturday, February 02, 2019 | Ducks | Jets | 8PM AST |
| Saturday, February 02, 2019 | Penguins | Maple Leafs | 8PM AST |
| Saturday, February 02, 2019 | Red Wings | Senators | 8PM AST |
| Saturday, February 02, 2019 | Golden Knights | Panthers | 8PM AST |
| Saturday, February 02, 2019 | Kings | Islanders | 8PM AST |
| Saturday, February 02, 2019 | Lightning | Rangers | 8PM AST |
| Saturday, February 02, 2019 | Blues | Blue Jackets | 8PM AST |
| Saturday, February 02, 2019 | Stars | Predators | 9PM AST |
| Saturday, February 02, 2019 | Blackhawks | Wild | 9PM AST |
| Saturday, February 02, 2019 | Canucks | Avalanche | 11PM AST |
| Saturday, February 02, 2019 | Coyotes | Sharks | 11:30PM AST |
| Sunday, February 03, 2019 | Bruins | Capitals | 1:30PM AST |
| Sunday, February 03, 2019 | Edmonton Oilers | Canadiens | 3PM AST |
| Sunday, February 03, 2019 | Flames | Hurricanes | 3PM AST |
| Monday, February 04, 2019 | Ducks | Maple Leafs | 8PM AST |
| Monday, February 04, 2019 | Kings | Rangers | 8PM AST |
| Monday, February 04, 2019 | Canucks | Flyers | 8PM AST |
| Monday, February 04, 2019 | Coyotes | Stars | 9:30PM AST |
| Tuesday, February 05, 2019 | Islanders | Bruins | 8PM AST |
| Tuesday, February 05, 2019 | Wild | Sabres | 8PM AST |
| Tuesday, February 05, 2019 | Blues | Panthers | 8PM AST |
| Tuesday, February 05, 2019 | Kings | Devils | 8PM AST |
| Tuesday, February 05, 2019 | Hurricanes | Penguins | 8PM AST |
| Tuesday, February 05, 2019 | Canucks | Capitals | 8PM AST |
| Tuesday, February 05, 2019 | Ducks | Canadiens | 8:30PM AST |
| Tuesday, February 05, 2019 | Golden Knights | Lightning | 8:30PM AST |
| Tuesday, February 05, 2019 | Coyotes | Predators | 9PM AST |
| Tuesday, February 05, 2019 | Sharks | Jets | 9PM AST |
| Tuesday, February 05, 2019 | Blue Jackets | Avalanche | 10PM AST |
| Tuesday, February 05, 2019 | Blackhawks | Edmonton Oilers | 10PM AST |
| Wednesday, February 06, 2019 | Senators | Maple Leafs | 8:30PM AST |
| Wednesday, February 06, 2019 | Bruins | Rangers | 9PM AST |
| Thursday, February 07, 2019 | Hurricanes | Sabres | 8PM AST |
| Thursday, February 07, 2019 | Penguins | Panthers | 8PM AST |
| Thursday, February 07, 2019 | Islanders | Devils | 8PM AST |
| Thursday, February 07, 2019 | Kings | Flyers | 8PM AST |
| Thursday, February 07, 2019 | Avalanche | Capitals | 8PM AST |
| Thursday, February 07, 2019 | Jets | Canadiens | 8:30PM AST |
| Thursday, February 07, 2019 | Ducks | Senators | 8:30PM AST |
| Thursday, February 07, 2019 | Golden Knights | Red Wings | 8:30PM AST |
| Thursday, February 07, 2019 | Blues | Lightning | 8:30PM AST |
| Thursday, February 07, 2019 | Stars | Predators | 9PM AST |
| Thursday, February 07, 2019 | Edmonton Oilers | Wild | 9PM AST |
| Thursday, February 07, 2019 | Canucks | Blackhawks | 9:30PM AST |
| Thursday, February 07, 2019 | Sharks | Flames | 10PM AST |
| Thursday, February 07, 2019 | Blue Jackets | Coyotes | 10PM AST |
| Friday, February 08, 2019 | Hurricanes | Rangers | 8PM AST |
| Saturday, February 09, 2019 | Kings | Bruins | 2PM AST |
| Saturday, February 09, 2019 | Red Wings | Sabres | 2PM AST |
| Saturday, February 09, 2019 | Wild | Devils | 2PM AST |
| Saturday, February 09, 2019 | Avalanche | Islanders | 2PM AST |
| Saturday, February 09, 2019 | Ducks | Flyers | 2PM AST |
| Saturday, February 09, 2019 | Predators | Blues | 3PM AST |
| Saturday, February 09, 2019 | Jets | Senators | 3PM AST |
| Saturday, February 09, 2019 | Stars | Coyotes | 5PM AST |
| Saturday, February 09, 2019 | Sharks | Edmonton Oilers | 8PM AST |
| Saturday, February 09, 2019 | Maple Leafs | Canadiens | 8PM AST |
| Saturday, February 09, 2019 | Penguins | Lightning | 8PM AST |
| Saturday, February 09, 2019 | Panthers | Capitals | 8PM AST |
| Saturday, February 09, 2019 | Flames | Canucks | 11PM AST |
| Saturday, February 09, 2019 | Blue Jackets | Golden Knights | 11PM AST |
| Sunday, February 10, 2019 | Blues | Predators | 1:30PM AST |
| Sunday, February 10, 2019 | Red Wings | Blackhawks | 4PM AST |
| Sunday, February 10, 2019 | Avalanche | Bruins | 4PM AST |
| Sunday, February 10, 2019 | Jets | Sabres | 4PM AST |
| Sunday, February 10, 2019 | Hurricanes | Devils | 4PM AST |
| Sunday, February 10, 2019 | Wild | Islanders | 4PM AST |
| Sunday, February 10, 2019 | Lightning | Panthers | 7PM AST |
| Sunday, February 10, 2019 | Maple Leafs | Rangers | 8PM AST |
| Monday, February 11, 2019 | Penguins | Flyers | 8PM AST |
| Monday, February 11, 2019 | Kings | Capitals | 8PM AST |
| Monday, February 11, 2019 | Sharks | Canucks | 11PM AST |
| Tuesday, February 12, 2019 | Blackhawks | Bruins | 8PM AST |
| Tuesday, February 12, 2019 | Islanders | Sabres | 8PM AST |
| Tuesday, February 12, 2019 | Stars | Panthers | 8PM AST |
| Tuesday, February 12, 2019 | Capitals | Blue Jackets | 8PM AST |
| Tuesday, February 12, 2019 | Hurricanes | Senators | 8:30PM AST |
| Tuesday, February 12, 2019 | Flames | Lightning | 8:30PM AST |
| Tuesday, February 12, 2019 | Devils | Blues | 9PM AST |
| Tuesday, February 12, 2019 | Red Wings | Predators | 9PM AST |
| Tuesday, February 12, 2019 | Flyers | Wild | 9PM AST |
| Tuesday, February 12, 2019 | Rangers | Jets | 9PM AST |
| Tuesday, February 12, 2019 | Maple Leafs | Avalanche | 10PM AST |
| Tuesday, February 12, 2019 | Coyotes | Golden Knights | 11PM AST |
| Wednesday, February 13, 2019 | Edmonton Oilers | Penguins | 9PM AST |
| Wednesday, February 13, 2019 | Canucks | Ducks | 11:30PM AST |
| Thursday, February 14, 2019 | Flames | Panthers | 8PM AST |
| Thursday, February 14, 2019 | Islanders | Blue Jackets | 8PM AST |
| Thursday, February 14, 2019 | Senators | Red Wings | 8:30PM AST |
| Thursday, February 14, 2019 | Stars | Lightning | 8:30PM AST |
| Thursday, February 14, 2019 | Canadiens | Predators | 9PM AST |
| Thursday, February 14, 2019 | Avalanche | Jets | 9PM AST |
| Thursday, February 14, 2019 | Devils | Blackhawks | 9:30PM AST |
| Thursday, February 14, 2019 | Blues | Coyotes | 10PM AST |
| Thursday, February 14, 2019 | Maple Leafs | Golden Knights | 11PM AST |
| Thursday, February 14, 2019 | Canucks | Kings | 11:30PM AST |
| Thursday, February 14, 2019 | Capitals | Sharks | 11:30PM AST |
| Friday, February 15, 2019 | Rangers | Sabres | 8PM AST |
| Friday, February 15, 2019 | Edmonton Oilers | Hurricanes | 8:30PM AST |
| Friday, February 15, 2019 | Devils | Wild | 9:30PM AST |
| Friday, February 15, 2019 | Bruins | Ducks | 11PM AST |
| Saturday, February 16, 2019 | Red Wings | Flyers | 2PM AST |
| Saturday, February 16, 2019 | Flames | Penguins | 2PM AST |
| Saturday, February 16, 2019 | Blues | Avalanche | 4PM AST |
| Saturday, February 16, 2019 | Maple Leafs | Coyotes | 8PM AST |
| Saturday, February 16, 2019 | Senators | Jets | 8PM AST |
| Saturday, February 16, 2019 | Canadiens | Lightning | 8PM AST |
| Saturday, February 16, 2019 | Edmonton Oilers | Islanders | 8PM AST |
| Saturday, February 16, 2019 | Stars | Hurricanes | 9PM AST |
| Saturday, February 16, 2019 | Blue Jackets | Blackhawks | 9:30PM AST |
| Saturday, February 16, 2019 | Predators | Golden Knights | 11PM AST |
| Saturday, February 16, 2019 | Canucks | Sharks | 11PM AST |
| Saturday, February 16, 2019 | Bruins | Kings | 11:30PM AST |
| Sunday, February 17, 2019 | Rangers | Penguins | 1:30PM AST |
| Sunday, February 17, 2019 | Blues | Wild | 4PM AST |
| Sunday, February 17, 2019 | Sabres | Devils | 7PM AST |
| Sunday, February 17, 2019 | Flyers | Red Wings | 8PM AST |
| Sunday, February 17, 2019 | Canadiens | Panthers | 8PM AST |
| Sunday, February 17, 2019 | Capitals | Ducks | 10PM AST |
| Monday, February 18, 2019 | Coyotes | Flames | 5PM AST |
| Monday, February 18, 2019 | Lightning | Blue Jackets | 8PM AST |
| Monday, February 18, 2019 | Senators | Blackhawks | 9:30PM AST |
| Monday, February 18, 2019 | Golden Knights | Avalanche | 10PM AST |
| Monday, February 18, 2019 | Capitals | Kings | 11:30PM AST |
| Monday, February 18, 2019 | Bruins | Sharks | 11:30PM AST |
| Tuesday, February 19, 2019 | Sabres | Panthers | 8PM AST |
| Tuesday, February 19, 2019 | Penguins | Devils | 8PM AST |
| Tuesday, February 19, 2019 | Lightning | Flyers | 8PM AST |
| Tuesday, February 19, 2019 | Rangers | Hurricanes | 8PM AST |
| Tuesday, February 19, 2019 | Blue Jackets | Canadiens | 8:30PM AST |
| Tuesday, February 19, 2019 | Maple Leafs | Blues | 9PM AST |
| Tuesday, February 19, 2019 | Ducks | Wild | 9PM AST |
| Tuesday, February 19, 2019 | Predators | Stars | 9:30PM AST |
| Tuesday, February 19, 2019 | Coyotes | Edmonton Oilers | 10PM AST |
| Wednesday, February 20, 2019 | Blackhawks | Red Wings | 8:30PM AST |
| Wednesday, February 20, 2019 | Jets | Avalanche | 9:30PM AST |
| Wednesday, February 20, 2019 | Islanders | Flames | 10:30PM AST |
| Wednesday, February 20, 2019 | Bruins | Golden Knights | 11PM AST |
| Thursday, February 21, 2019 | Capitals | Maple Leafs | 8PM AST |
| Thursday, February 21, 2019 | Hurricanes | Panthers | 8PM AST |
| Thursday, February 21, 2019 | Senators | Devils | 8PM AST |
| Thursday, February 21, 2019 | Wild | Rangers | 8PM AST |
| Thursday, February 21, 2019 | Sharks | Penguins | 8PM AST |
| Thursday, February 21, 2019 | Flyers | Canadiens | 8:30PM AST |
| Thursday, February 21, 2019 | Sabres | Lightning | 8:30PM AST |
| Thursday, February 21, 2019 | Kings | Predators | 9PM AST |
| Thursday, February 21, 2019 | Blues | Stars | 9:30PM AST |
| Thursday, February 21, 2019 | Islanders | Edmonton Oilers | 10PM AST |
| Thursday, February 21, 2019 | Coyotes | Canucks | 11PM AST |
| Friday, February 22, 2019 | Blue Jackets | Senators | 8PM AST |
| Friday, February 22, 2019 | Avalanche | Blackhawks | 8:30PM AST |
| Friday, February 22, 2019 | Wild | Red Wings | 8:30PM AST |
| Friday, February 22, 2019 | Ducks | Flames | 10PM AST |
| Friday, February 22, 2019 | Jets | Golden Knights | 11PM AST |
| Saturday, February 23, 2019 | Capitals | Sabres | 2PM AST |
| Saturday, February 23, 2019 | Devils | Rangers | 2PM AST |
| Saturday, February 23, 2019 | Bruins | Blues | 5PM AST |
| Saturday, February 23, 2019 | Hurricanes | Stars | 6PM AST |
| Saturday, February 23, 2019 | Kings | Panthers | 6PM AST |
| Saturday, February 23, 2019 | Sharks | Blue Jackets | 6PM AST |
| Saturday, February 23, 2019 | Avalanche | Predators | 6:30PM AST |
| Saturday, February 23, 2019 | Canadiens | Maple Leafs | 8PM AST |
| Saturday, February 23, 2019 | Penguins | Flyers | 9PM AST |
| Saturday, February 23, 2019 | Islanders | Canucks | 11PM AST |
| Saturday, February 23, 2019 | Ducks | Edmonton Oilers | 11PM AST |
| Sunday, February 24, 2019 | Rangers | Capitals | 1:30PM AST |
| Sunday, February 24, 2019 | Stars | Blackhawks | 4PM AST |
| Sunday, February 24, 2019 | Sharks | Red Wings | 4PM AST |
| Sunday, February 24, 2019 | Blues | Wild | 8PM AST |
| Sunday, February 24, 2019 | Flames | Senators | 8PM AST |
| Sunday, February 24, 2019 | Jets | Coyotes | 10PM AST |
| Monday, February 25, 2019 | Sabres | Maple Leafs | 8PM AST |
| Monday, February 25, 2019 | Canadiens | Devils | 8PM AST |
| Monday, February 25, 2019 | Kings | Lightning | 8:30PM AST |
| Monday, February 25, 2019 | Edmonton Oilers | Predators | 9PM AST |
| Monday, February 25, 2019 | Panthers | Avalanche | 10PM AST |
| Monday, February 25, 2019 | Ducks | Canucks | 11PM AST |
| Tuesday, February 26, 2019 | Sharks | Bruins | 8PM AST |
| Tuesday, February 26, 2019 | Flames | Islanders | 8PM AST |
| Tuesday, February 26, 2019 | Sabres | Flyers | 8PM AST |
| Tuesday, February 26, 2019 | Senators | Capitals | 8PM AST |
| Tuesday, February 26, 2019 | Kings | Hurricanes | 8PM AST |
| Tuesday, February 26, 2019 | Penguins | Blue Jackets | 8PM AST |
| Tuesday, February 26, 2019 | Canadiens | Red Wings | 8:30PM AST |
| Tuesday, February 26, 2019 | Predators | Blues | 9PM AST |
| Tuesday, February 26, 2019 | Wild | Jets | 9PM AST |
| Tuesday, February 26, 2019 | Panthers | Coyotes | 10PM AST |
| Tuesday, February 26, 2019 | Stars | Golden Knights | 11PM AST |
| Wednesday, February 27, 2019 | Edmonton Oilers | Maple Leafs | 8PM AST |
| Wednesday, February 27, 2019 | Flames | Devils | 8PM AST |
| Wednesday, February 27, 2019 | Lightning | Rangers | 8:30PM AST |
| Wednesday, February 27, 2019 | Canucks | Avalanche | 10:30PM AST |
| Wednesday, February 27, 2019 | Blackhawks | Ducks | 11PM AST |
| Thursday, February 28, 2019 | Lightning | Bruins | 8PM AST |
| Thursday, February 28, 2019 | Maple Leafs | Islanders | 8PM AST |
| Thursday, February 28, 2019 | Flyers | Blue Jackets | 8PM AST |
| Thursday, February 28, 2019 | Edmonton Oilers | Senators | 8:30PM AST |
| Thursday, February 28, 2019 | Canucks | Coyotes | 10PM AST |
| Thursday, February 28, 2019 | Panthers | Golden Knights | 11PM AST |
| Thursday, February 28, 2019 | Stars | Kings | 11:30PM AST |
| Friday, March 01, 2019 | Penguins | Sabres | 8PM AST |
| Friday, March 01, 2019 | Flyers | Devils | 8PM AST |
| Friday, March 01, 2019 | Capitals | Islanders | 8PM AST |
| Friday, March 01, 2019 | Canadiens | Rangers | 8PM AST |
| Friday, March 01, 2019 | Blues | Hurricanes | 8:30PM AST |
| Friday, March 01, 2019 | Predators | Jets | 9PM AST |
| Friday, March 01, 2019 | Golden Knights | Ducks | 11PM AST |
| Friday, March 01, 2019 | Avalanche | Sharks | 11:30PM AST |
| Saturday, March 02, 2019 | Edmonton Oilers | Blue Jackets | 3PM AST |
| Saturday, March 02, 2019 | Blackhawks | Kings | 5PM AST |
| Saturday, March 02, 2019 | Devils | Bruins | 8PM AST |
| Saturday, March 02, 2019 | Sabres | Maple Leafs | 8PM AST |
| Saturday, March 02, 2019 | Penguins | Canadiens | 8PM AST |
| Saturday, March 02, 2019 | Senators | Lightning | 8PM AST |
| Saturday, March 02, 2019 | Hurricanes | Panthers | 8PM AST |
| Saturday, March 02, 2019 | Red Wings | Coyotes | 9PM AST |
| Saturday, March 02, 2019 | Stars | Blues | 9PM AST |
| Saturday, March 02, 2019 | Wild | Flames | 11PM AST |
| Sunday, March 03, 2019 | Capitals | Rangers | 1:30PM AST |
| Sunday, March 03, 2019 | Flyers | Islanders | 4PM AST |
| Sunday, March 03, 2019 | Canucks | Golden Knights | 5PM AST |
| Sunday, March 03, 2019 | Avalanche | Ducks | 5PM AST |
| Sunday, March 03, 2019 | Senators | Panthers | 6PM AST |
| Sunday, March 03, 2019 | Jets | Blue Jackets | 8PM AST |
| Sunday, March 03, 2019 | Predators | Wild | 8:30PM AST |
| Sunday, March 03, 2019 | Blackhawks | Sharks | 11PM AST |
| Monday, March 04, 2019 | Edmonton Oilers | Sabres | 8PM AST |
| Monday, March 04, 2019 | Maple Leafs | Flames | 10PM AST |
| Tuesday, March 05, 2019 | Hurricanes | Bruins | 8PM AST |
| Tuesday, March 05, 2019 | Blue Jackets | Devils | 8PM AST |
| Tuesday, March 05, 2019 | Senators | Islanders | 8PM AST |
| Tuesday, March 05, 2019 | Panthers | Penguins | 8PM AST |
| Tuesday, March 05, 2019 | Jets | Lightning | 8:30PM AST |
| Tuesday, March 05, 2019 | Wild | Predators | 9PM AST |
| Tuesday, March 05, 2019 | Rangers | Stars | 9:30PM AST |
| Tuesday, March 05, 2019 | Red Wings | Avalanche | 10PM AST |
| Tuesday, March 05, 2019 | Ducks | Coyotes | 10PM AST |
| Tuesday, March 05, 2019 | Canadiens | Kings | 11:30PM AST |
| Wednesday, March 06, 2019 | Capitals | Flyers | 8:30PM AST |
| Wednesday, March 06, 2019 | Maple Leafs | Canucks | 10PM AST |
| Wednesday, March 06, 2019 | Blues | Ducks | 11PM AST |
| Wednesday, March 06, 2019 | Flames | Golden Knights | 11:30PM AST |
| Thursday, March 07, 2019 | Panthers | Bruins | 8PM AST |
| Thursday, March 07, 2019 | Blue Jackets | Penguins | 8PM AST |
| Thursday, March 07, 2019 | Islanders | Senators | 8:30PM AST |
| Thursday, March 07, 2019 | Rangers | Red Wings | 8:30PM AST |
| Thursday, March 07, 2019 | Wild | Lightning | 8:30PM AST |
| Thursday, March 07, 2019 | Sabres | Blackhawks | 9:30PM AST |
| Thursday, March 07, 2019 | Avalanche | Stars | 9:30PM AST |
| Thursday, March 07, 2019 | Canucks | Edmonton Oilers | 10PM AST |
| Thursday, March 07, 2019 | Flames | Coyotes | 10PM AST |
| Thursday, March 07, 2019 | Blues | Kings | 11:30PM AST |
| Thursday, March 07, 2019 | Canadiens | Sharks | 11:30PM AST |
| Friday, March 08, 2019 | Wild | Panthers | 8PM AST |
| Friday, March 08, 2019 | Devils | Capitals | 8PM AST |
| Friday, March 08, 2019 | Jets | Hurricanes | 8:30PM AST |
| Friday, March 08, 2019 | Canadiens | Ducks | 11PM AST |
| Saturday, March 09, 2019 | Sabres | Avalanche | 4PM AST |
| Saturday, March 09, 2019 | Blues | Sharks | 5PM AST |
| Saturday, March 09, 2019 | Maple Leafs | Edmonton Oilers | 8PM AST |
| Saturday, March 09, 2019 | Senators | Bruins | 8PM AST |
| Saturday, March 09, 2019 | Red Wings | Lightning | 8PM AST |
| Saturday, March 09, 2019 | Flyers | Islanders | 8PM AST |
| Saturday, March 09, 2019 | Devils | Rangers | 8PM AST |
| Saturday, March 09, 2019 | Penguins | Blue Jackets | 8PM AST |
| Saturday, March 09, 2019 | Kings | Coyotes | 9PM AST |
| Saturday, March 09, 2019 | Hurricanes | Predators | 9PM AST |
| Saturday, March 09, 2019 | Blackhawks | Stars | 9PM AST |
| Saturday, March 09, 2019 | Golden Knights | Canucks | 11PM AST |
| Sunday, March 10, 2019 | Red Wings | Panthers | 6PM AST |
| Sunday, March 10, 2019 | Jets | Capitals | 8PM AST |
| Sunday, March 10, 2019 | Bruins | Penguins | 8:30PM AST |
| Sunday, March 10, 2019 | Golden Knights | Flames | 10:30PM AST |
| Sunday, March 10, 2019 | Kings | Ducks | 11PM AST |
| Monday, March 11, 2019 | Lightning | Maple Leafs | 8PM AST |
| Monday, March 11, 2019 | Blue Jackets | Islanders | 8PM AST |
| Monday, March 11, 2019 | Senators | Flyers | 8PM AST |
| Monday, March 11, 2019 | Sharks | Wild | 9PM AST |
| Monday, March 11, 2019 | Coyotes | Blackhawks | 9:30PM AST |
| Monday, March 11, 2019 | Hurricanes | Avalanche | 10PM AST |
| Monday, March 11, 2019 | Rangers | Edmonton Oilers | 10PM AST |
| Tuesday, March 12, 2019 | Stars | Sabres | 8PM AST |
| Tuesday, March 12, 2019 | Capitals | Penguins | 8PM AST |
| Tuesday, March 12, 2019 | Bruins | Blue Jackets | 8PM AST |
| Tuesday, March 12, 2019 | Red Wings | Canadiens | 8:30PM AST |
| Tuesday, March 12, 2019 | Coyotes | Blues | 9PM AST |
| Tuesday, March 12, 2019 | Sharks | Jets | 9PM AST |
| Tuesday, March 12, 2019 | Devils | Flames | 10PM AST |
| Tuesday, March 12, 2019 | Predators | Ducks | 11PM AST |
| Wednesday, March 13, 2019 | Blackhawks | Maple Leafs | 8PM AST |
| Wednesday, March 13, 2019 | Devils | Edmonton Oilers | 10:30PM AST |
| Wednesday, March 13, 2019 | Rangers | Canucks | 11PM AST |
| Thursday, March 14, 2019 | Penguins | Sabres | 8PM AST |
| Thursday, March 14, 2019 | Canadiens | Islanders | 8PM AST |
| Thursday, March 14, 2019 | Capitals | Flyers | 8PM AST |
| Thursday, March 14, 2019 | Blues | Senators | 8:30PM AST |
| Thursday, March 14, 2019 | Lightning | Red Wings | 8:30PM AST |
| Thursday, March 14, 2019 | Stars | Wild | 9PM AST |
| Thursday, March 14, 2019 | Bruins | Jets | 9PM AST |
| Thursday, March 14, 2019 | Ducks | Coyotes | 11PM AST |
| Thursday, March 14, 2019 | Predators | Kings | 11:30PM AST |
| Thursday, March 14, 2019 | Panthers | Sharks | 11:30PM AST |
| Friday, March 15, 2019 | Flyers | Maple Leafs | 8PM AST |
| Friday, March 15, 2019 | Hurricanes | Blue Jackets | 8PM AST |
| Friday, March 15, 2019 | Golden Knights | Stars | 9PM AST |
| Friday, March 15, 2019 | Ducks | Avalanche | 10PM AST |
| Friday, March 15, 2019 | Rangers | Flames | 10PM AST |
| Friday, March 15, 2019 | Devils | Canucks | 11PM AST |
| Saturday, March 16, 2019 | Blues | Penguins | 2PM AST |
| Saturday, March 16, 2019 | Islanders | Red Wings | 3PM AST |
| Saturday, March 16, 2019 | Panthers | Kings | 5PM AST |
| Saturday, March 16, 2019 | Flames | Jets | 8PM AST |
| Saturday, March 16, 2019 | Blue Jackets | Bruins | 8PM AST |
| Saturday, March 16, 2019 | Blackhawks | Canadiens | 8PM AST |
| Saturday, March 16, 2019 | Maple Leafs | Senators | 8PM AST |
| Saturday, March 16, 2019 | Capitals | Lightning | 8PM AST |
| Saturday, March 16, 2019 | Sabres | Hurricanes | 8PM AST |
| Saturday, March 16, 2019 | Rangers | Wild | 9PM AST |
| Saturday, March 16, 2019 | Edmonton Oilers | Coyotes | 11PM AST |
| Saturday, March 16, 2019 | Predators | Sharks | 11:30PM AST |
| Sunday, March 17, 2019 | Devils | Avalanche | 4PM AST |
| Sunday, March 17, 2019 | Blues | Sabres | 6PM AST |
| Sunday, March 17, 2019 | Islanders | Wild | 7PM AST |
| Sunday, March 17, 2019 | Canucks | Stars | 8PM AST |
| Sunday, March 17, 2019 | Flyers | Penguins | 8:30PM AST |
| Sunday, March 17, 2019 | Panthers | Ducks | 10PM AST |
| Sunday, March 17, 2019 | Edmonton Oilers | Golden Knights | 11PM AST |
| Monday, March 18, 2019 | Coyotes | Lightning | 8:30PM AST |
| Monday, March 18, 2019 | Canucks | Blackhawks | 9:30PM AST |
| Monday, March 18, 2019 | Jets | Kings | 11:30PM AST |
| Monday, March 18, 2019 | Golden Knights | Sharks | 11:30PM AST |
| Tuesday, March 19, 2019 | Capitals | Devils | 8PM AST |
| Tuesday, March 19, 2019 | Bruins | Islanders | 8PM AST |
| Tuesday, March 19, 2019 | Red Wings | Rangers | 8PM AST |
| Tuesday, March 19, 2019 | Canadiens | Flyers | 8PM AST |
| Tuesday, March 19, 2019 | Penguins | Hurricanes | 8PM AST |
| Tuesday, March 19, 2019 | Edmonton Oilers | Blues | 9PM AST |
| Tuesday, March 19, 2019 | Maple Leafs | Predators | 9PM AST |
| Tuesday, March 19, 2019 | Avalanche | Wild | 9PM AST |
| Tuesday, March 19, 2019 | Panthers | Stars | 9:30PM AST |
| Tuesday, March 19, 2019 | Blue Jackets | Flames | 10PM AST |
| Wednesday, March 20, 2019 | Maple Leafs | Sabres | 8PM AST |
| Wednesday, March 20, 2019 | Lightning | Capitals | 8:30PM AST |
| Wednesday, March 20, 2019 | Senators | Canucks | 11PM AST |
| Wednesday, March 20, 2019 | Jets | Ducks | 11PM AST |
| Thursday, March 21, 2019 | Coyotes | Panthers | 8PM AST |
| Thursday, March 21, 2019 | Bruins | Devils | 8PM AST |
| Thursday, March 21, 2019 | Lightning | Hurricanes | 8PM AST |
| Thursday, March 21, 2019 | Islanders | Canadiens | 8:30PM AST |
| Thursday, March 21, 2019 | Red Wings | Blues | 9PM AST |
| Thursday, March 21, 2019 | Penguins | Predators | 9PM AST |
| Thursday, March 21, 2019 | Flyers | Blackhawks | 9:30PM AST |
| Thursday, March 21, 2019 | Avalanche | Stars | 9:30PM AST |
| Thursday, March 21, 2019 | Senators | Flames | 10PM AST |
| Thursday, March 21, 2019 | Blue Jackets | Edmonton Oilers | 10PM AST |
| Thursday, March 21, 2019 | Jets | Golden Knights | 11PM AST |
| Thursday, March 21, 2019 | Sharks | Kings | 11:30PM AST |
| Friday, March 22, 2019 | Wild | Capitals | 8PM AST |
| Friday, March 22, 2019 | Sharks | Ducks | 11PM AST |
| Saturday, March 23, 2019 | Coyotes | Devils | 2PM AST |
| Saturday, March 23, 2019 | Islanders | Flyers | 2PM AST |
| Saturday, March 23, 2019 | Blackhawks | Avalanche | 4PM AST |
| Saturday, March 23, 2019 | Senators | Edmonton Oilers | 5PM AST |
| Saturday, March 23, 2019 | Predators | Jets | 8PM AST |
| Saturday, March 23, 2019 | Rangers | Maple Leafs | 8PM AST |
| Saturday, March 23, 2019 | Sabres | Canadiens | 8PM AST |
| Saturday, March 23, 2019 | Bruins | Panthers | 8PM AST |
| Saturday, March 23, 2019 | Wild | Hurricanes | 8PM AST |
| Saturday, March 23, 2019 | Lightning | Blues | 9PM AST |
| Saturday, March 23, 2019 | Penguins | Stars | 9PM AST |
| Saturday, March 23, 2019 | Flames | Canucks | 11PM AST |
| Saturday, March 23, 2019 | Red Wings | Golden Knights | 11PM AST |
| Saturday, March 23, 2019 | Ducks | Kings | 11:30PM AST |
| Sunday, March 24, 2019 | Flyers | Capitals | 1:30PM AST |
| Sunday, March 24, 2019 | Coyotes | Islanders | 4PM AST |
| Sunday, March 24, 2019 | Canadiens | Hurricanes | 8PM AST |
| Sunday, March 24, 2019 | Avalanche | Blackhawks | 9PM AST |
| Sunday, March 24, 2019 | Blue Jackets | Canucks | 11PM AST |
| Monday, March 25, 2019 | Panthers | Maple Leafs | 8PM AST |
| Monday, March 25, 2019 | Sabres | Devils | 8PM AST |
| Monday, March 25, 2019 | Penguins | Rangers | 8PM AST |
| Monday, March 25, 2019 | Bruins | Lightning | 8:30PM AST |
| Monday, March 25, 2019 | Golden Knights | Blues | 9PM AST |
| Monday, March 25, 2019 | Predators | Wild | 9PM AST |
| Monday, March 25, 2019 | Stars | Jets | 9PM AST |
| Monday, March 25, 2019 | Kings | Flames | 10PM AST |
| Monday, March 25, 2019 | Red Wings | Sharks | 11:30PM AST |
| Tuesday, March 26, 2019 | Hurricanes | Capitals | 8PM AST |
| Tuesday, March 26, 2019 | Islanders | Blue Jackets | 8PM AST |
| Tuesday, March 26, 2019 | Panthers | Canadiens | 8:30PM AST |
| Tuesday, March 26, 2019 | Sabres | Senators | 8:30PM AST |
| Tuesday, March 26, 2019 | Kings | Edmonton Oilers | 10PM AST |
| Tuesday, March 26, 2019 | Ducks | Canucks | 11PM AST |
| Tuesday, March 26, 2019 | Blackhawks | Coyotes | 11PM AST |
| Wednesday, March 27, 2019 | Maple Leafs | Flyers | 8PM AST |
| Wednesday, March 27, 2019 | Rangers | Bruins | 8:30PM AST |
| Wednesday, March 27, 2019 | Stars | Flames | 10:30PM AST |
| Wednesday, March 27, 2019 | Golden Knights | Avalanche | 11PM AST |
| Thursday, March 28, 2019 | Red Wings | Sabres | 8PM AST |
| Thursday, March 28, 2019 | Capitals | Hurricanes | 8PM AST |
| Thursday, March 28, 2019 | Canadiens | Blue Jackets | 8PM AST |
| Thursday, March 28, 2019 | Panthers | Senators | 8:30PM AST |
| Thursday, March 28, 2019 | Islanders | Jets | 9PM AST |
| Thursday, March 28, 2019 | Stars | Edmonton Oilers | 10PM AST |
| Thursday, March 28, 2019 | Kings | Canucks | 11PM AST |
| Thursday, March 28, 2019 | Blackhawks | Sharks | 11:30PM AST |
| Friday, March 29, 2019 | Blues | Rangers | 8PM AST |
| Friday, March 29, 2019 | Predators | Penguins | 8PM AST |
| Friday, March 29, 2019 | Devils | Red Wings | 8:30PM AST |
| Friday, March 29, 2019 | Coyotes | Avalanche | 10PM AST |
| Friday, March 29, 2019 | Ducks | Flames | 10PM AST |
| Friday, March 29, 2019 | Wild | Golden Knights | 11PM AST |
| Saturday, March 30, 2019 | Flyers | Hurricanes | 2PM AST |
| Saturday, March 30, 2019 | Canadiens | Jets | 8PM AST |
| Saturday, March 30, 2019 | Panthers | Bruins | 8PM AST |
| Saturday, March 30, 2019 | Maple Leafs | Senators | 8PM AST |
| Saturday, March 30, 2019 | Capitals | Lightning | 8PM AST |
| Saturday, March 30, 2019 | Blues | Devils | 8PM AST |
| Saturday, March 30, 2019 | Sabres | Islanders | 8PM AST |
| Saturday, March 30, 2019 | Blue Jackets | Predators | 9PM AST |
| Saturday, March 30, 2019 | Golden Knights | Sharks | 10PM AST |
| Saturday, March 30, 2019 | Stars | Canucks | 11PM AST |
| Saturday, March 30, 2019 | Ducks | Edmonton Oilers | 11PM AST |
| Saturday, March 30, 2019 | Blackhawks | Kings | 11:30PM AST |
| Sunday, March 31, 2019 | Rangers | Flyers | 1:30PM AST |
| Sunday, March 31, 2019 | Wild | Coyotes | 6PM AST |
| Sunday, March 31, 2019 | Hurricanes | Penguins | 6PM AST |
| Sunday, March 31, 2019 | Blue Jackets | Sabres | 7PM AST |
| Sunday, March 31, 2019 | Bruins | Red Wings | 8:30PM AST |
| Sunday, March 31, 2019 | Flames | Sharks | 9PM AST |
| Monday, April 01, 2019 | Capitals | Panthers | 8PM AST |
| Monday, April 01, 2019 | Rangers | Devils | 8PM AST |
| Monday, April 01, 2019 | Maple Leafs | Islanders | 8PM AST |
| Monday, April 01, 2019 | Lightning | Senators | 8:30PM AST |
| Monday, April 01, 2019 | Avalanche | Blues | 9PM AST |
| Monday, April 01, 2019 | Jets | Blackhawks | 9:30PM AST |
| Monday, April 01, 2019 | Edmonton Oilers | Golden Knights | 11PM AST |
| Monday, April 01, 2019 | Flames | Kings | 11PM AST |
| Tuesday, April 02, 2019 | Predators | Sabres | 8PM AST |
| Tuesday, April 02, 2019 | Bruins | Blue Jackets | 8PM AST |
| Tuesday, April 02, 2019 | Hurricanes | Maple Leafs | 8:30PM AST |
| Tuesday, April 02, 2019 | Lightning | Canadiens | 8:30PM AST |
| Tuesday, April 02, 2019 | Penguins | Red Wings | 8:30PM AST |
| Tuesday, April 02, 2019 | Jets | Wild | 9PM AST |
| Tuesday, April 02, 2019 | Flyers | Stars | 9:30PM AST |
| Tuesday, April 02, 2019 | Edmonton Oilers | Avalanche | 10PM AST |
| Tuesday, April 02, 2019 | Sharks | Canucks | 11PM AST |
| Tuesday, April 02, 2019 | Kings | Coyotes | 11PM AST |
| Wednesday, April 03, 2019 | Senators | Rangers | 8:30PM AST |
| Wednesday, April 03, 2019 | Blues | Blackhawks | 9PM AST |
| Wednesday, April 03, 2019 | Flames | Ducks | 11:30PM AST |
| Thursday, April 04, 2019 | Senators | Sabres | 8PM AST |
| Thursday, April 04, 2019 | Lightning | Maple Leafs | 8PM AST |
| Thursday, April 04, 2019 | Islanders | Panthers | 8PM AST |
| Thursday, April 04, 2019 | Red Wings | Penguins | 8PM AST |
| Thursday, April 04, 2019 | Canadiens | Capitals | 8PM AST |
| Thursday, April 04, 2019 | Devils | Hurricanes | 8PM AST |
| Thursday, April 04, 2019 | Flyers | Blues | 9PM AST |
| Thursday, April 04, 2019 | Canucks | Predators | 9PM AST |
| Thursday, April 04, 2019 | Bruins | Wild | 9PM AST |
| Thursday, April 04, 2019 | Jets | Avalanche | 10PM AST |
| Thursday, April 04, 2019 | Sharks | Edmonton Oilers | 10PM AST |
| Thursday, April 04, 2019 | Coyotes | Golden Knights | 11PM AST |
| Friday, April 05, 2019 | Blue Jackets | Rangers | 8PM AST |
| Friday, April 05, 2019 | Stars | Blackhawks | 9:30PM AST |
| Friday, April 05, 2019 | Kings | Ducks | 11PM AST |
| Saturday, April 06, 2019 | Lightning | Bruins | 1:30PM AST |
| Saturday, April 06, 2019 | Canucks | Blues | 5PM AST |
| Saturday, April 06, 2019 | Maple Leafs | Canadiens | 8PM AST |
| Saturday, April 06, 2019 | Blue Jackets | Senators | 8PM AST |
| Saturday, April 06, 2019 | Sabres | Red Wings | 8PM AST |
| Saturday, April 06, 2019 | Devils | Panthers | 8PM AST |
| Saturday, April 06, 2019 | Hurricanes | Flyers | 8PM AST |
| Saturday, April 06, 2019 | Rangers | Penguins | 8PM AST |
| Saturday, April 06, 2019 | Islanders | Capitals | 8PM AST |
| Saturday, April 06, 2019 | Blackhawks | Predators | 9PM AST |
| Saturday, April 06, 2019 | Wild | Stars | 9PM AST |
| Saturday, April 06, 2019 | Jets | Coyotes | 11PM AST |
| Saturday, April 06, 2019 | Edmonton Oilers | Flames | 11PM AST |
| Saturday, April 06, 2019 | Golden Knights | Kings | 11:30PM AST |
| Saturday, April 06, 2019 | Avalanche | Sharks | 11:30PM AST |
Follow @BetNHL
BetNHL.ca » Schedule » 2018/2019 NHL Schedule in AST – Atlantic Standard Time