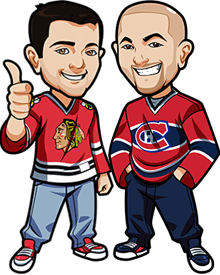 Follow @BetNHL
Hi everyone,
One thing we had requested from visitors were schedules of the NHL in specific time zones across Canada/North America and so that's what we are working towards doing.
Below is the complete 2018/2019 schedule in EST format or Eastern Standard Time.
Most of Ontario, Nunavut and Quebec use EST as well as states in the USA such as New York, New Jersey and Ohio.
This is also a printable NHL 2018/2019 schedule in EST. You can print the entire thing if you want or even download it to your computer or phone or add it to your Google Drive.
It's also searchable meaning you can search for just your team if you wish. We'll have more timezones in the next few days. If there are any timezones out of Canada you want this for shoot us an e-mail at betnhl.ca@gmail.com and we'll see what we can do. Same if you have any suggestions on how to improve this.
NHL 2018-2019 Schedule EST
| Date: | Road: | Home: | Time: |
| --- | --- | --- | --- |
| Wednesday, October 03 | Canadiens | Maple Leafs | 7PM EST |
| Wednesday, October 03 | Bruins | Capitals | 7:30PM EST |
| Wednesday, October 03 | Flames | Canucks | 10PM EST |
| Wednesday, October 03 | Ducks | Sharks | 10:30PM EST |
| Thursday, October 04 | Bruins | Sabres | 7PM EST |
| Thursday, October 04 | Predators | Rangers | 7PM EST |
| Thursday, October 04 | Capitals | Penguins | 7PM EST |
| Thursday, October 04 | Islanders | Hurricanes | 7PM EST |
| Thursday, October 04 | Blackhawks | Senators | 7:30PM EST |
| Thursday, October 04 | Blue Jackets | Red Wings | 7:30PM EST |
| Thursday, October 04 | Jets | Blues | 8PM EST |
| Thursday, October 04 | Coyotes | Stars | 8:30PM EST |
| Thursday, October 04 | Wild | Avalanche | 9PM EST |
| Thursday, October 04 | Flyers | Golden Knights | 10PM EST |
| Friday, October 05 | Hurricanes | Blue Jackets | 7PM EST |
| Friday, October 05 | Sharks | Kings | 10:30PM EST |
| Saturday, October 06 | Edmonton Oilers | Devils | 1PM EST |
| Saturday, October 06 | Jets | Stars | 7PM EST |
| Saturday, October 06 | Rangers | Sabres | 7PM EST |
| Saturday, October 06 | Senators | Maple Leafs | 7PM EST |
| Saturday, October 06 | Panthers | Lightning | 7PM EST |
| Saturday, October 06 | Predators | Islanders | 7PM EST |
| Saturday, October 06 | Canadiens | Penguins | 7PM EST |
| Saturday, October 06 | Blackhawks | Blues | 8PM EST |
| Saturday, October 06 | Golden Knights | Wild | 8PM EST |
| Saturday, October 06 | Ducks | Coyotes | 9PM EST |
| Saturday, October 06 | Flyers | Avalanche | 9PM EST |
| Saturday, October 06 | Canucks | Flames | 10PM EST |
| Sunday, October 07 | Rangers | Hurricanes | 5PM EST |
| Sunday, October 07 | Maple Leafs | Blackhawks | 7PM EST |
| Sunday, October 07 | Red Wings | Kings | 10:30PM EST |
| Monday, October 08 | Senators | Bruins | 1PM EST |
| Monday, October 08 | Sharks | Islanders | 1PM EST |
| Monday, October 08 | Golden Knights | Sabres | 3PM EST |
| Monday, October 08 | Red Wings | Ducks | 10PM EST |
| Tuesday, October 09 | Sharks | Flyers | 7PM EST |
| Tuesday, October 09 | Canucks | Hurricanes | 7PM EST |
| Tuesday, October 09 | Avalanche | Blue Jackets | 7PM EST |
| Tuesday, October 09 | Flames | Predators | 8PM EST |
| Tuesday, October 09 | Kings | Jets | 8PM EST |
| Tuesday, October 09 | Maple Leafs | Stars | 8:30PM EST |
| Wednesday, October 10 | Flyers | Senators | 7:30PM EST |
| Wednesday, October 10 | Golden Knights | Capitals | 8PM EST |
| Wednesday, October 10 | Coyotes | Ducks | 10PM EST |
| Thursday, October 11 | Edmonton Oilers | Bruins | 7PM EST |
| Thursday, October 11 | Avalanche | Sabres | 7PM EST |
| Thursday, October 11 | Blue Jackets | Panthers | 7PM EST |
| Thursday, October 11 | Capitals | Devils | 7PM EST |
| Thursday, October 11 | Sharks | Rangers | 7PM EST |
| Thursday, October 11 | Golden Knights | Penguins | 7PM EST |
| Thursday, October 11 | Kings | Canadiens | 7:30PM EST |
| Thursday, October 11 | Maple Leafs | Red Wings | 7:30PM EST |
| Thursday, October 11 | Canucks | Lightning | 7:30PM EST |
| Thursday, October 11 | Flames | Blues | 8PM EST |
| Thursday, October 11 | Jets | Predators | 8PM EST |
| Thursday, October 11 | Blackhawks | Wild | 8PM EST |
| Saturday, October 13 | Edmonton Oilers | Rangers | 1PM EST |
| Saturday, October 13 | Golden Knights | Flyers | 1PM EST |
| Saturday, October 13 | Kings | Senators | 2PM EST |
| Saturday, October 13 | Hurricanes | Wild | 6PM EST |
| Saturday, October 13 | Red Wings | Bruins | 7PM EST |
| Saturday, October 13 | Penguins | Canadiens | 7PM EST |
| Saturday, October 13 | Blue Jackets | Lightning | 7PM EST |
| Saturday, October 13 | Canucks | Panthers | 7PM EST |
| Saturday, October 13 | Maple Leafs | Capitals | 7PM EST |
| Saturday, October 13 | Islanders | Predators | 8PM EST |
| Saturday, October 13 | Ducks | Stars | 8PM EST |
| Saturday, October 13 | Blues | Blackhawks | 8:30PM EST |
| Saturday, October 13 | Sabres | Coyotes | 9PM EST |
| Saturday, October 13 | Flames | Avalanche | 10PM EST |
| Sunday, October 14 | Sharks | Devils | 1PM EST |
| Sunday, October 14 | Ducks | Blues | 7PM EST |
| Sunday, October 14 | Hurricanes | Jets | 7PM EST |
| Monday, October 15 | Kings | Maple Leafs | 7:30PM EST |
| Monday, October 15 | Red Wings | Canadiens | 7:30PM EST |
| Monday, October 15 | Stars | Senators | 7:30PM EST |
| Monday, October 15 | Wild | Predators | 8PM EST |
| Tuesday, October 16 | Stars | Devils | 7PM EST |
| Tuesday, October 16 | Avalanche | Rangers | 7PM EST |
| Tuesday, October 16 | Panthers | Flyers | 7PM EST |
| Tuesday, October 16 | Canucks | Penguins | 7PM EST |
| Tuesday, October 16 | Hurricanes | Lightning | 7:30PM EST |
| Tuesday, October 16 | Coyotes | Wild | 8PM EST |
| Tuesday, October 16 | Edmonton Oilers | Jets | 8PM EST |
| Tuesday, October 16 | Sabres | Golden Knights | 10PM EST |
| Wednesday, October 17 | Blues | Canadiens | 7PM EST |
| Wednesday, October 17 | Rangers | Capitals | 7PM EST |
| Wednesday, October 17 | Bruins | Flames | 9:30PM EST |
| Wednesday, October 17 | Islanders | Ducks | 10PM EST |
| Thursday, October 18 | Penguins | Maple Leafs | 7PM EST |
| Thursday, October 18 | Avalanche | Devils | 7PM EST |
| Thursday, October 18 | Flyers | Blue Jackets | 7PM EST |
| Thursday, October 18 | Red Wings | Lightning | 7:30PM EST |
| Thursday, October 18 | Canucks | Jets | 8PM EST |
| Thursday, October 18 | Coyotes | Blackhawks | 8:30PM EST |
| Thursday, October 18 | Bruins | Edmonton Oilers | 9PM EST |
| Thursday, October 18 | Islanders | Kings | 10:30PM EST |
| Thursday, October 18 | Sabres | Sharks | 10:30PM EST |
| Friday, October 19 | Panthers | Capitals | 7PM EST |
| Friday, October 19 | Wild | Stars | 8PM EST |
| Friday, October 19 | Predators | Flames | 9PM EST |
| Saturday, October 20 | Devils | Flyers | 1PM EST |
| Saturday, October 20 | Avalanche | Hurricanes | 1PM EST |
| Saturday, October 20 | Coyotes | Jets | 3PM EST |
| Saturday, October 20 | Sabres | Kings | 4PM EST |
| Saturday, October 20 | Blues | Maple Leafs | 7PM EST |
| Saturday, October 20 | Canadiens | Senators | 7PM EST |
| Saturday, October 20 | Red Wings | Panthers | 7PM EST |
| Saturday, October 20 | Blackhawks | Blue Jackets | 7PM EST |
| Saturday, October 20 | Lightning | Wild | 8PM EST |
| Saturday, October 20 | Bruins | Canucks | 10PM EST |
| Saturday, October 20 | Ducks | Golden Knights | 10PM EST |
| Saturday, October 20 | Predators | Edmonton Oilers | 10PM EST |
| Saturday, October 20 | Islanders | Sharks | 10:30PM EST |
| Sunday, October 21 | Lightning | Blackhawks | 7PM EST |
| Sunday, October 21 | Flames | Rangers | 7PM EST |
| Sunday, October 21 | Sabres | Ducks | 8PM EST |
| Monday, October 22 | Avalanche | Flyers | 7PM EST |
| Monday, October 22 | Hurricanes | Red Wings | 7:30PM EST |
| Monday, October 22 | Blues | Jets | 8PM EST |
| Monday, October 22 | Capitals | Canucks | 10PM EST |
| Tuesday, October 23 | Panthers | Rangers | 7PM EST |
| Tuesday, October 23 | Coyotes | Blue Jackets | 7PM EST |
| Tuesday, October 23 | Flames | Canadiens | 7:30PM EST |
| Tuesday, October 23 | Bruins | Senators | 7:30PM EST |
| Tuesday, October 23 | Sharks | Predators | 8PM EST |
| Tuesday, October 23 | Ducks | Blackhawks | 8:30PM EST |
| Tuesday, October 23 | Kings | Stars | 8:30PM EST |
| Tuesday, October 23 | Penguins | Edmonton Oilers | 9PM EST |
| Wednesday, October 24 | Maple Leafs | Jets | 7PM EST |
| Wednesday, October 24 | Panthers | Islanders | 7PM EST |
| Wednesday, October 24 | Lightning | Avalanche | 9:30PM EST |
| Wednesday, October 24 | Canucks | Golden Knights | 10PM EST |
| Thursday, October 25 | Flyers | Bruins | 7PM EST |
| Thursday, October 25 | Canadiens | Sabres | 7PM EST |
| Thursday, October 25 | Predators | Devils | 7PM EST |
| Thursday, October 25 | Blue Jackets | Blues | 8PM EST |
| Thursday, October 25 | Kings | Wild | 8PM EST |
| Thursday, October 25 | Rangers | Blackhawks | 8:30PM EST |
| Thursday, October 25 | Ducks | Stars | 8:30PM EST |
| Thursday, October 25 | Penguins | Flames | 9PM EST |
| Thursday, October 25 | Capitals | Edmonton Oilers | 9PM EST |
| Thursday, October 25 | Canucks | Coyotes | 10PM EST |
| Friday, October 26 | Lightning | Golden Knights | 6PM EST |
| Friday, October 26 | Jets | Red Wings | 7:30PM EST |
| Friday, October 26 | Sharks | Hurricanes | 7:30PM EST |
| Friday, October 26 | Senators | Avalanche | 9PM EST |
| Saturday, October 27 | Panthers | Devils | 1PM EST |
| Saturday, October 27 | Islanders | Flyers | 1PM EST |
| Saturday, October 27 | Edmonton Oilers | Predators | 3PM EST |
| Saturday, October 27 | Capitals | Flames | 4PM EST |
| Saturday, October 27 | Canadiens | Bruins | 7PM EST |
| Saturday, October 27 | Jets | Maple Leafs | 7PM EST |
| Saturday, October 27 | Sabres | Blue Jackets | 7PM EST |
| Saturday, October 27 | Blackhawks | Blues | 8PM EST |
| Saturday, October 27 | Avalanche | Wild | 8PM EST |
| Saturday, October 27 | Lightning | Coyotes | 9PM EST |
| Saturday, October 27 | Penguins | Canucks | 10PM EST |
| Sunday, October 28 | Rangers | Kings | 3:30PM EST |
| Sunday, October 28 | Stars | Red Wings | 5PM EST |
| Sunday, October 28 | Islanders | Hurricanes | 5PM EST |
| Sunday, October 28 | Edmonton Oilers | Blackhawks | 6PM EST |
| Sunday, October 28 | Senators | Golden Knights | 8PM EST |
| Sunday, October 28 | Sharks | Ducks | 8PM EST |
| Monday, October 29 | Flames | Maple Leafs | 7PM EST |
| Monday, October 29 | Wild | Canucks | 10PM EST |
| Tuesday, October 30 | Flames | Sabres | 7PM EST |
| Tuesday, October 30 | Islanders | Penguins | 7PM EST |
| Tuesday, October 30 | Bruins | Hurricanes | 7PM EST |
| Tuesday, October 30 | Red Wings | Blue Jackets | 7PM EST |
| Tuesday, October 30 | Stars | Canadiens | 7:30PM EST |
| Tuesday, October 30 | Devils | Lightning | 7:30PM EST |
| Tuesday, October 30 | Golden Knights | Predators | 8PM EST |
| Tuesday, October 30 | Wild | Edmonton Oilers | 9PM EST |
| Tuesday, October 30 | Senators | Coyotes | 10PM EST |
| Tuesday, October 30 | Flyers | Ducks | 10PM EST |
| Tuesday, October 30 | Rangers | Sharks | 10:30PM EST |
| Wednesday, October 31 | Blackhawks | Canucks | 10PM EST |
| Thursday, November 01 | Jets | Panthers | 2PM EST |
| Thursday, November 01 | Stars | Maple Leafs | 7PM EST |
| Thursday, November 01 | Penguins | Islanders | 7PM EST |
| Thursday, November 01 | Capitals | Canadiens | 7:30PM EST |
| Thursday, November 01 | Sabres | Senators | 7:30PM EST |
| Thursday, November 01 | Devils | Red Wings | 7:30PM EST |
| Thursday, November 01 | Predators | Lightning | 7:30PM EST |
| Thursday, November 01 | Golden Knights | Blues | 8PM EST |
| Thursday, November 01 | Avalanche | Flames | 9PM EST |
| Thursday, November 01 | Blackhawks | Edmonton Oilers | 9PM EST |
| Thursday, November 01 | Rangers | Ducks | 10PM EST |
| Thursday, November 01 | Flyers | Kings | 10:30PM EST |
| Thursday, November 01 | Blue Jackets | Sharks | 10:30PM EST |
| Friday, November 02 | Panthers | Jets | 2PM EST |
| Friday, November 02 | Avalanche | Canucks | 10PM EST |
| Friday, November 02 | Hurricanes | Coyotes | 10PM EST |
| Saturday, November 03 | Senators | Sabres | 1PM EST |
| Saturday, November 03 | Lightning | Canadiens | 7PM EST |
| Saturday, November 03 | Edmonton Oilers | Red Wings | 7PM EST |
| Saturday, November 03 | Devils | Islanders | 7PM EST |
| Saturday, November 03 | Maple Leafs | Penguins | 7PM EST |
| Saturday, November 03 | Stars | Capitals | 7PM EST |
| Saturday, November 03 | Wild | Blues | 8PM EST |
| Saturday, November 03 | Bruins | Predators | 8PM EST |
| Saturday, November 03 | Hurricanes | Golden Knights | 10PM EST |
| Saturday, November 03 | Blackhawks | Flames | 10PM EST |
| Saturday, November 03 | Blue Jackets | Kings | 10:30PM EST |
| Saturday, November 03 | Flyers | Sharks | 10:30PM EST |
| Sunday, November 04 | Lightning | Senators | 7PM EST |
| Sunday, November 04 | Sabres | Rangers | 7PM EST |
| Sunday, November 04 | Blue Jackets | Ducks | 9PM EST |
| Monday, November 05 | Stars | Bruins | 7PM EST |
| Monday, November 05 | Canadiens | Islanders | 7PM EST |
| Monday, November 05 | Devils | Penguins | 7PM EST |
| Monday, November 05 | Edmonton Oilers | Capitals | 7PM EST |
| Monday, November 05 | Flyers | Coyotes | 9PM EST |
| Tuesday, November 06 | Golden Knights | Maple Leafs | 7PM EST |
| Tuesday, November 06 | Canadiens | Rangers | 7PM EST |
| Tuesday, November 06 | Stars | Blue Jackets | 7PM EST |
| Tuesday, November 06 | Devils | Senators | 7:30PM EST |
| Tuesday, November 06 | Canucks | Red Wings | 7:30PM EST |
| Tuesday, November 06 | Edmonton Oilers | Lightning | 7:30PM EST |
| Tuesday, November 06 | Hurricanes | Blues | 8PM EST |
| Tuesday, November 06 | Ducks | Kings | 10:30PM EST |
| Tuesday, November 06 | Wild | Sharks | 10:30PM EST |
| Wednesday, November 07 | Penguins | Capitals | 7:30PM EST |
| Wednesday, November 07 | Predators | Avalanche | 10PM EST |
| Wednesday, November 07 | Flames | Ducks | 10:30PM EST |
| Thursday, November 08 | Canucks | Bruins | 7PM EST |
| Thursday, November 08 | Edmonton Oilers | Panthers | 7PM EST |
| Thursday, November 08 | Coyotes | Flyers | 7PM EST |
| Thursday, November 08 | Sabres | Canadiens | 7:30PM EST |
| Thursday, November 08 | Golden Knights | Senators | 7:30PM EST |
| Thursday, November 08 | Islanders | Lightning | 7:30PM EST |
| Thursday, November 08 | Hurricanes | Blackhawks | 8:30PM EST |
| Thursday, November 08 | Sharks | Stars | 8:30PM EST |
| Thursday, November 08 | Wild | Kings | 10:30PM EST |
| Friday, November 09 | Devils | Maple Leafs | 7PM EST |
| Friday, November 09 | Blue Jackets | Capitals | 7PM EST |
| Friday, November 09 | Rangers | Red Wings | 7:30PM EST |
| Friday, November 09 | Sharks | Blues | 8PM EST |
| Friday, November 09 | Avalanche | Jets | 8PM EST |
| Friday, November 09 | Wild | Ducks | 10PM EST |
| Saturday, November 10 | Canucks | Sabres | 1PM EST |
| Saturday, November 10 | Blackhawks | Flyers | 1PM EST |
| Saturday, November 10 | Predators | Stars | 2PM EST |
| Saturday, November 10 | Maple Leafs | Bruins | 7PM EST |
| Saturday, November 10 | Golden Knights | Canadiens | 7PM EST |
| Saturday, November 10 | Senators | Lightning | 7PM EST |
| Saturday, November 10 | Islanders | Panthers | 7PM EST |
| Saturday, November 10 | Coyotes | Penguins | 7PM EST |
| Saturday, November 10 | Red Wings | Hurricanes | 7PM EST |
| Saturday, November 10 | Rangers | Blue Jackets | 7PM EST |
| Saturday, November 10 | Flames | Kings | 10PM EST |
| Sunday, November 11 | Wild | Blues | 3PM EST |
| Sunday, November 11 | Senators | Panthers | 5PM EST |
| Sunday, November 11 | Coyotes | Capitals | 5PM EST |
| Sunday, November 11 | Devils | Jets | 7PM EST |
| Sunday, November 11 | Golden Knights | Bruins | 7PM EST |
| Sunday, November 11 | Flames | Sharks | 9PM EST |
| Sunday, November 11 | Avalanche | Edmonton Oilers | 9:30PM EST |
| Monday, November 12 | Canucks | Rangers | 7PM EST |
| Monday, November 12 | Blackhawks | Hurricanes | 7PM EST |
| Monday, November 12 | Blue Jackets | Stars | 8:30PM EST |
| Monday, November 12 | Predators | Ducks | 10PM EST |
| Tuesday, November 13 | Lightning | Sabres | 7PM EST |
| Tuesday, November 13 | Penguins | Devils | 7PM EST |
| Tuesday, November 13 | Canucks | Islanders | 7PM EST |
| Tuesday, November 13 | Panthers | Flyers | 7PM EST |
| Tuesday, November 13 | Coyotes | Red Wings | 7:30PM EST |
| Tuesday, November 13 | Capitals | Wild | 8PM EST |
| Tuesday, November 13 | Canadiens | Edmonton Oilers | 9PM EST |
| Tuesday, November 13 | Maple Leafs | Kings | 10:30PM EST |
| Tuesday, November 13 | Predators | Sharks | 10:30PM EST |
| Wednesday, November 14 | Blues | Blackhawks | 8PM EST |
| Wednesday, November 14 | Capitals | Jets | 8PM EST |
| Wednesday, November 14 | Bruins | Avalanche | 10PM EST |
| Wednesday, November 14 | Ducks | Golden Knights | 10:30PM EST |
| Thursday, November 15 | Rangers | Islanders | 7PM EST |
| Thursday, November 15 | Devils | Flyers | 7PM EST |
| Thursday, November 15 | Lightning | Penguins | 7PM EST |
| Thursday, November 15 | Panthers | Blue Jackets | 7PM EST |
| Thursday, November 15 | Red Wings | Senators | 7:30PM EST |
| Thursday, November 15 | Canucks | Wild | 8PM EST |
| Thursday, November 15 | Canadiens | Flames | 9PM EST |
| Thursday, November 15 | Predators | Coyotes | 9PM EST |
| Thursday, November 15 | Maple Leafs | Sharks | 10:30PM EST |
| Friday, November 16 | Bruins | Stars | 8PM EST |
| Friday, November 16 | Sabres | Jets | 8PM EST |
| Friday, November 16 | Kings | Blackhawks | 8:30PM EST |
| Friday, November 16 | Capitals | Avalanche | 9PM EST |
| Friday, November 16 | Blues | Golden Knights | 10PM EST |
| Friday, November 16 | Maple Leafs | Ducks | 10PM EST |
| Saturday, November 17 | Red Wings | Devils | 1PM EST |
| Saturday, November 17 | Lightning | Flyers | 1PM EST |
| Saturday, November 17 | Sabres | Wild | 6PM EST |
| Saturday, November 17 | Canadiens | Canucks | 7PM EST |
| Saturday, November 17 | Penguins | Senators | 7PM EST |
| Saturday, November 17 | Panthers | Rangers | 7PM EST |
| Saturday, November 17 | Blue Jackets | Hurricanes | 7PM EST |
| Saturday, November 17 | Bruins | Coyotes | 8PM EST |
| Saturday, November 17 | Kings | Predators | 8PM EST |
| Saturday, November 17 | Edmonton Oilers | Flames | 10PM EST |
| Saturday, November 17 | Blues | Sharks | 10:30PM EST |
| Sunday, November 18 | Stars | Islanders | 1PM EST |
| Sunday, November 18 | Devils | Hurricanes | 5PM EST |
| Sunday, November 18 | Wild | Blackhawks | 6PM EST |
| Sunday, November 18 | Avalanche | Ducks | 8PM EST |
| Sunday, November 18 | Golden Knights | Edmonton Oilers | 8PM EST |
| Monday, November 19 | Blue Jackets | Maple Leafs | 7PM EST |
| Monday, November 19 | Stars | Rangers | 7PM EST |
| Monday, November 19 | Sabres | Penguins | 7PM EST |
| Monday, November 19 | Capitals | Canadiens | 7:30PM EST |
| Monday, November 19 | Panthers | Senators | 7:30PM EST |
| Monday, November 19 | Kings | Blues | 8PM EST |
| Monday, November 19 | Lightning | Predators | 8PM EST |
| Monday, November 19 | Golden Knights | Flames | 9PM EST |
| Monday, November 19 | Jets | Canucks | 10PM EST |
| Tuesday, November 20 | Edmonton Oilers | Sharks | 10:30PM EST |
| Wednesday, November 21 | Flyers | Sabres | 7PM EST |
| Wednesday, November 21 | Canadiens | Devils | 7PM EST |
| Wednesday, November 21 | Islanders | Rangers | 7PM EST |
| Wednesday, November 21 | Stars | Penguins | 7PM EST |
| Wednesday, November 21 | Blackhawks | Capitals | 7PM EST |
| Wednesday, November 21 | Maple Leafs | Hurricanes | 7PM EST |
| Wednesday, November 21 | Bruins | Red Wings | 7:30PM EST |
| Wednesday, November 21 | Panthers | Lightning | 7:30PM EST |
| Wednesday, November 21 | Blues | Predators | 8PM EST |
| Wednesday, November 21 | Senators | Wild | 8PM EST |
| Wednesday, November 21 | Golden Knights | Coyotes | 9PM EST |
| Wednesday, November 21 | Canucks | Ducks | 10PM EST |
| Wednesday, November 21 | Jets | Flames | 10PM EST |
| Wednesday, November 21 | Avalanche | Kings | 10:30PM EST |
| Friday, November 23 | Rangers | Flyers | 1PM EST |
| Friday, November 23 | Edmonton Oilers | Ducks | 4PM EST |
| Friday, November 23 | Jets | Wild | 4PM EST |
| Friday, November 23 | Canadiens | Sabres | 4PM EST |
| Friday, November 23 | Islanders | Devils | 4PM EST |
| Friday, November 23 | Red Wings | Capitals | 4PM EST |
| Friday, November 23 | Flames | Golden Knights | 6PM EST |
| Friday, November 23 | Maple Leafs | Blue Jackets | 7PM EST |
| Friday, November 23 | Penguins | Bruins | 7:30PM EST |
| Friday, November 23 | Blackhawks | Lightning | 7:30PM EST |
| Friday, November 23 | Panthers | Hurricanes | 7:30PM EST |
| Friday, November 23 | Avalanche | Coyotes | 8PM EST |
| Friday, November 23 | Predators | Blues | 8PM EST |
| Friday, November 23 | Senators | Stars | 8PM EST |
| Friday, November 23 | Canucks | Sharks | 9PM EST |
| Saturday, November 24 | Capitals | Rangers | 2PM EST |
| Saturday, November 24 | Jets | Blues | 7PM EST |
| Saturday, November 24 | Flyers | Maple Leafs | 7PM EST |
| Saturday, November 24 | Bruins | Canadiens | 7PM EST |
| Saturday, November 24 | Sabres | Red Wings | 7PM EST |
| Saturday, November 24 | Blackhawks | Panthers | 7PM EST |
| Saturday, November 24 | Hurricanes | Islanders | 7PM EST |
| Saturday, November 24 | Blue Jackets | Penguins | 7PM EST |
| Saturday, November 24 | Stars | Avalanche | 9PM EST |
| Saturday, November 24 | Sharks | Golden Knights | 10PM EST |
| Saturday, November 24 | Canucks | Kings | 10PM EST |
| Sunday, November 25 | Flames | Coyotes | 3PM EST |
| Sunday, November 25 | Devils | Lightning | 7PM EST |
| Sunday, November 25 | Ducks | Predators | 8PM EST |
| Sunday, November 25 | Edmonton Oilers | Kings | 10:30PM EST |
| Monday, November 26 | Bruins | Maple Leafs | 7PM EST |
| Monday, November 26 | Devils | Panthers | 7PM EST |
| Monday, November 26 | Capitals | Islanders | 7PM EST |
| Monday, November 26 | Senators | Rangers | 7PM EST |
| Monday, November 26 | Blue Jackets | Red Wings | 7:30PM EST |
| Tuesday, November 27 | Sharks | Sabres | 7PM EST |
| Tuesday, November 27 | Senators | Flyers | 7PM EST |
| Tuesday, November 27 | Hurricanes | Canadiens | 7:30PM EST |
| Tuesday, November 27 | Ducks | Lightning | 7:30PM EST |
| Tuesday, November 27 | Avalanche | Predators | 8PM EST |
| Tuesday, November 27 | Coyotes | Wild | 8PM EST |
| Tuesday, November 27 | Penguins | Jets | 8PM EST |
| Tuesday, November 27 | Golden Knights | Blackhawks | 8:30PM EST |
| Tuesday, November 27 | Stars | Edmonton Oilers | 9PM EST |
| Tuesday, November 27 | Kings | Canucks | 10PM EST |
| Wednesday, November 28 | Blues | Red Wings | 7PM EST |
| Wednesday, November 28 | Ducks | Panthers | 7PM EST |
| Wednesday, November 28 | Sharks | Maple Leafs | 7:30PM EST |
| Wednesday, November 28 | Stars | Flames | 9PM EST |
| Wednesday, November 28 | Penguins | Avalanche | 9:30PM EST |
| Thursday, November 29 | Islanders | Bruins | 7PM EST |
| Thursday, November 29 | Wild | Blue Jackets | 7PM EST |
| Thursday, November 29 | Rangers | Senators | 7:30PM EST |
| Thursday, November 29 | Sabres | Lightning | 7:30PM EST |
| Thursday, November 29 | Coyotes | Predators | 8PM EST |
| Thursday, November 29 | Blackhawks | Jets | 8PM EST |
| Thursday, November 29 | Kings | Edmonton Oilers | 9PM EST |
| Thursday, November 29 | Golden Knights | Canucks | 10PM EST |
| Friday, November 30 | Sabres | Panthers | 7PM EST |
| Friday, November 30 | Devils | Capitals | 7PM EST |
| Friday, November 30 | Ducks | Hurricanes | 7:30PM EST |
| Friday, November 30 | Blues | Avalanche | 9PM EST |
| Friday, November 30 | Kings | Flames | 9PM EST |
| Saturday, December 01 | Sharks | Senators | 2PM EST |
| Saturday, December 01 | Stars | Canucks | 4PM EST |
| Saturday, December 01 | Maple Leafs | Wild | 7PM EST |
| Saturday, December 01 | Red Wings | Bruins | 7PM EST |
| Saturday, December 01 | Rangers | Canadiens | 7PM EST |
| Saturday, December 01 | Lightning | Panthers | 7PM EST |
| Saturday, December 01 | Jets | Devils | 7PM EST |
| Saturday, December 01 | Blue Jackets | Islanders | 7PM EST |
| Saturday, December 01 | Flyers | Penguins | 7PM EST |
| Saturday, December 01 | Blues | Coyotes | 8PM EST |
| Saturday, December 01 | Blackhawks | Predators | 8PM EST |
| Saturday, December 01 | Golden Knights | Edmonton Oilers | 10PM EST |
| Sunday, December 02 | Ducks | Capitals | 3PM EST |
| Sunday, December 02 | Jets | Rangers | 6PM EST |
| Sunday, December 02 | Flames | Blackhawks | 7PM EST |
| Sunday, December 02 | Sharks | Canadiens | 7PM EST |
| Sunday, December 02 | Avalanche | Red Wings | 7PM EST |
| Sunday, December 02 | Hurricanes | Kings | 10:30PM EST |
| Monday, December 03 | Lightning | Devils | 7PM EST |
| Monday, December 03 | Sabres | Predators | 8PM EST |
| Monday, December 03 | Edmonton Oilers | Stars | 8:30PM EST |
| Tuesday, December 04 | Maple Leafs | Sabres | 7PM EST |
| Tuesday, December 04 | Bruins | Panthers | 7PM EST |
| Tuesday, December 04 | Jets | Islanders | 7PM EST |
| Tuesday, December 04 | Avalanche | Penguins | 7PM EST |
| Tuesday, December 04 | Flames | Blue Jackets | 7PM EST |
| Tuesday, December 04 | Senators | Canadiens | 7:30PM EST |
| Tuesday, December 04 | Lightning | Red Wings | 7:30PM EST |
| Tuesday, December 04 | Wild | Canucks | 10PM EST |
| Tuesday, December 04 | Capitals | Golden Knights | 10PM EST |
| Tuesday, December 04 | Coyotes | Kings | 10:30PM EST |
| Wednesday, December 05 | Edmonton Oilers | Blues | 8PM EST |
| Wednesday, December 05 | Blackhawks | Ducks | 10:30PM EST |
| Wednesday, December 05 | Hurricanes | Sharks | 10:30PM EST |
| Thursday, December 06 | Red Wings | Maple Leafs | 7PM EST |
| Thursday, December 06 | Avalanche | Panthers | 7PM EST |
| Thursday, December 06 | Blue Jackets | Flyers | 7PM EST |
| Thursday, December 06 | Islanders | Penguins | 7PM EST |
| Thursday, December 06 | Canadiens | Senators | 7:30PM EST |
| Thursday, December 06 | Bruins | Lightning | 7:30PM EST |
| Thursday, December 06 | Wild | Flames | 9PM EST |
| Thursday, December 06 | Capitals | Coyotes | 9PM EST |
| Thursday, December 06 | Predators | Canucks | 10PM EST |
| Thursday, December 06 | Blackhawks | Golden Knights | 10PM EST |
| Thursday, December 06 | Devils | Kings | 10:30PM EST |
| Friday, December 07 | Sharks | Stars | 8PM EST |
| Friday, December 07 | Blues | Jets | 8PM EST |
| Friday, December 07 | Wild | Edmonton Oilers | 9PM EST |
| Friday, December 07 | Hurricanes | Ducks | 10PM EST |
| Saturday, December 08 | Flyers | Sabres | 1PM EST |
| Saturday, December 08 | Golden Knights | Kings | 4PM EST |
| Saturday, December 08 | Maple Leafs | Bruins | 7PM EST |
| Saturday, December 08 | Penguins | Senators | 7PM EST |
| Saturday, December 08 | Islanders | Red Wings | 7PM EST |
| Saturday, December 08 | Avalanche | Lightning | 7PM EST |
| Saturday, December 08 | Rangers | Panthers | 7PM EST |
| Saturday, December 08 | Capitals | Blue Jackets | 7PM EST |
| Saturday, December 08 | Sharks | Coyotes | 8PM EST |
| Saturday, December 08 | Predators | Flames | 10PM EST |
| Sunday, December 09 | Canucks | Blues | 3PM EST |
| Sunday, December 09 | Flyers | Jets | 3PM EST |
| Sunday, December 09 | Bruins | Senators | 5PM EST |
| Sunday, December 09 | Canadiens | Blackhawks | 6PM EST |
| Sunday, December 09 | Devils | Ducks | 8PM EST |
| Sunday, December 09 | Stars | Golden Knights | 9PM EST |
| Sunday, December 09 | Flames | Edmonton Oilers | 9PM EST |
| Monday, December 10 | Penguins | Islanders | 7PM EST |
| Monday, December 10 | Kings | Red Wings | 7:30PM EST |
| Monday, December 10 | Rangers | Lightning | 7:30PM EST |
| Monday, December 10 | Devils | Sharks | 10:30PM EST |
| Tuesday, December 11 | Coyotes | Bruins | 7PM EST |
| Tuesday, December 11 | Kings | Sabres | 7PM EST |
| Tuesday, December 11 | Red Wings | Capitals | 7PM EST |
| Tuesday, December 11 | Maple Leafs | Hurricanes | 7PM EST |
| Tuesday, December 11 | Canucks | Blue Jackets | 7PM EST |
| Tuesday, December 11 | Panthers | Blues | 8PM EST |
| Tuesday, December 11 | Senators | Predators | 8PM EST |
| Tuesday, December 11 | Canadiens | Wild | 8PM EST |
| Tuesday, December 11 | Blackhawks | Jets | 8PM EST |
| Tuesday, December 11 | Edmonton Oilers | Avalanche | 9PM EST |
| Wednesday, December 12 | Golden Knights | Islanders | 7PM EST |
| Wednesday, December 12 | Penguins | Blackhawks | 8PM EST |
| Wednesday, December 12 | Flyers | Flames | 8:30PM EST |
| Wednesday, December 12 | Stars | Ducks | 10PM EST |
| Thursday, December 13 | Coyotes | Sabres | 7PM EST |
| Thursday, December 13 | Kings | Blue Jackets | 7PM EST |
| Thursday, December 13 | Hurricanes | Canadiens | 7:30PM EST |
| Thursday, December 13 | Maple Leafs | Lightning | 7:30PM EST |
| Thursday, December 13 | Canucks | Predators | 8PM EST |
| Thursday, December 13 | Panthers | Wild | 8PM EST |
| Thursday, December 13 | Edmonton Oilers | Jets | 8PM EST |
| Thursday, December 13 | Stars | Sharks | 10:30PM EST |
| Friday, December 14 | Golden Knights | Devils | 7PM EST |
| Friday, December 14 | Coyotes | Rangers | 7PM EST |
| Friday, December 14 | Bruins | Penguins | 7PM EST |
| Friday, December 14 | Senators | Red Wings | 7:30PM EST |
| Friday, December 14 | Capitals | Hurricanes | 7:30PM EST |
| Friday, December 14 | Avalanche | Blues | 8PM EST |
| Friday, December 14 | Jets | Blackhawks | 8:30PM EST |
| Friday, December 14 | Flyers | Edmonton Oilers | 9PM EST |
| Saturday, December 15 | Flames | Wild | 2PM EST |
| Saturday, December 15 | Senators | Canadiens | 7PM EST |
| Saturday, December 15 | Maple Leafs | Panthers | 7PM EST |
| Saturday, December 15 | Red Wings | Islanders | 7PM EST |
| Saturday, December 15 | Kings | Penguins | 7PM EST |
| Saturday, December 15 | Sabres | Capitals | 7PM EST |
| Saturday, December 15 | Ducks | Blue Jackets | 7PM EST |
| Saturday, December 15 | Devils | Predators | 8PM EST |
| Saturday, December 15 | Stars | Avalanche | 9PM EST |
| Saturday, December 15 | Flyers | Canucks | 10PM EST |
| Sunday, December 16 | Golden Knights | Rangers | 1PM EST |
| Sunday, December 16 | Coyotes | Hurricanes | 1PM EST |
| Sunday, December 16 | Flames | Blues | 3PM EST |
| Sunday, December 16 | Sabres | Bruins | 5PM EST |
| Sunday, December 16 | Sharks | Blackhawks | 7PM EST |
| Sunday, December 16 | Lightning | Jets | 7PM EST |
| Sunday, December 16 | Edmonton Oilers | Canucks | 10PM EST |
| Monday, December 17 | Ducks | Penguins | 7PM EST |
| Monday, December 17 | Golden Knights | Blue Jackets | 7PM EST |
| Monday, December 17 | Bruins | Canadiens | 7:30PM EST |
| Monday, December 17 | Predators | Senators | 7:30PM EST |
| Monday, December 17 | Islanders | Avalanche | 9PM EST |
| Tuesday, December 18 | Panthers | Sabres | 7PM EST |
| Tuesday, December 18 | Maple Leafs | Devils | 7PM EST |
| Tuesday, December 18 | Ducks | Rangers | 7PM EST |
| Tuesday, December 18 | Red Wings | Flyers | 7PM EST |
| Tuesday, December 18 | Sharks | Wild | 8PM EST |
| Tuesday, December 18 | Predators | Blackhawks | 8:30PM EST |
| Tuesday, December 18 | Flames | Stars | 8:30PM EST |
| Tuesday, December 18 | Blues | Edmonton Oilers | 9PM EST |
| Tuesday, December 18 | Islanders | Coyotes | 9PM EST |
| Tuesday, December 18 | Lightning | Canucks | 10PM EST |
| Tuesday, December 18 | Jets | Kings | 10:30PM EST |
| Wednesday, December 19 | Penguins | Capitals | 8PM EST |
| Wednesday, December 19 | Canadiens | Avalanche | 8:30PM EST |
| Thursday, December 20 | Ducks | Bruins | 7PM EST |
| Thursday, December 20 | Panthers | Maple Leafs | 7PM EST |
| Thursday, December 20 | Predators | Flyers | 7PM EST |
| Thursday, December 20 | Wild | Penguins | 7PM EST |
| Thursday, December 20 | Red Wings | Hurricanes | 7PM EST |
| Thursday, December 20 | Devils | Blue Jackets | 7PM EST |
| Thursday, December 20 | Blackhawks | Stars | 8:30PM EST |
| Thursday, December 20 | Lightning | Flames | 9PM EST |
| Thursday, December 20 | Canadiens | Coyotes | 9PM EST |
| Thursday, December 20 | Blues | Canucks | 10PM EST |
| Thursday, December 20 | Islanders | Golden Knights | 10PM EST |
| Thursday, December 20 | Jets | Sharks | 10:30PM EST |
| Friday, December 21 | Senators | Devils | 7PM EST |
| Friday, December 21 | Sabres | Capitals | 7PM EST |
| Friday, December 21 | Blackhawks | Avalanche | 9PM EST |
| Saturday, December 22 | Predators | Bruins | 1PM EST |
| Saturday, December 22 | Blue Jackets | Flyers | 1PM EST |
| Saturday, December 22 | Panthers | Red Wings | 2PM EST |
| Saturday, December 22 | Canadiens | Golden Knights | 4PM EST |
| Saturday, December 22 | Kings | Sharks | 4PM EST |
| Saturday, December 22 | Blues | Flames | 4PM EST |
| Saturday, December 22 | Avalanche | Coyotes | 7PM EST |
| Saturday, December 22 | Ducks | Sabres | 7PM EST |
| Saturday, December 22 | Rangers | Maple Leafs | 7PM EST |
| Saturday, December 22 | Capitals | Senators | 7PM EST |
| Saturday, December 22 | Penguins | Hurricanes | 7PM EST |
| Saturday, December 22 | Stars | Wild | 8PM EST |
| Saturday, December 22 | Jets | Canucks | 10PM EST |
| Saturday, December 22 | Lightning | Edmonton Oilers | 10PM EST |
| Sunday, December 23 | Blue Jackets | Devils | 1PM EST |
| Sunday, December 23 | Bruins | Hurricanes | 5PM EST |
| Sunday, December 23 | Panthers | Blackhawks | 7PM EST |
| Sunday, December 23 | Flyers | Rangers | 7PM EST |
| Sunday, December 23 | Red Wings | Maple Leafs | 7:30PM EST |
| Sunday, December 23 | Kings | Golden Knights | 8PM EST |
| Sunday, December 23 | Coyotes | Sharks | 8PM EST |
| Sunday, December 23 | Islanders | Stars | 8PM EST |
| Thursday, December 27 | Devils | Bruins | 7PM EST |
| Thursday, December 27 | Blue Jackets | Rangers | 7PM EST |
| Thursday, December 27 | Red Wings | Penguins | 7PM EST |
| Thursday, December 27 | Hurricanes | Capitals | 7PM EST |
| Thursday, December 27 | Flyers | Lightning | 7:30PM EST |
| Thursday, December 27 | Sabres | Blues | 8PM EST |
| Thursday, December 27 | Stars | Predators | 8PM EST |
| Thursday, December 27 | Flames | Jets | 8PM EST |
| Thursday, December 27 | Wild | Blackhawks | 8:30PM EST |
| Thursday, December 27 | Canucks | Edmonton Oilers | 9PM EST |
| Thursday, December 27 | Avalanche | Golden Knights | 10PM EST |
| Thursday, December 27 | Coyotes | Kings | 10:30PM EST |
| Thursday, December 27 | Ducks | Sharks | 10:30PM EST |
| Friday, December 28 | Canadiens | Panthers | 7PM EST |
| Friday, December 28 | Senators | Islanders | 7PM EST |
| Friday, December 28 | Maple Leafs | Blue Jackets | 7PM EST |
| Saturday, December 29 | Hurricanes | Devils | 1PM EST |
| Saturday, December 29 | Wild | Jets | 3PM EST |
| Saturday, December 29 | Golden Knights | Kings | 4PM EST |
| Saturday, December 29 | Sharks | Edmonton Oilers | 4PM EST |
| Saturday, December 29 | Bruins | Sabres | 7PM EST |
| Saturday, December 29 | Islanders | Maple Leafs | 7PM EST |
| Saturday, December 29 | Capitals | Senators | 7PM EST |
| Saturday, December 29 | Canadiens | Lightning | 7PM EST |
| Saturday, December 29 | Flyers | Panthers | 7PM EST |
| Saturday, December 29 | Penguins | Blues | 8PM EST |
| Saturday, December 29 | Rangers | Predators | 8PM EST |
| Saturday, December 29 | Red Wings | Stars | 8PM EST |
| Saturday, December 29 | Blackhawks | Avalanche | 9PM EST |
| Saturday, December 29 | Coyotes | Ducks | 10PM EST |
| Saturday, December 29 | Canucks | Flames | 10PM EST |
| Sunday, December 30 | Golden Knights | Coyotes | 8PM EST |
| Monday, December 31 | Predators | Capitals | 12:30PM EST |
| Monday, December 31 | Canucks | Devils | 1PM EST |
| Monday, December 31 | Penguins | Wild | 6PM EST |
| Monday, December 31 | Islanders | Sabres | 6PM EST |
| Monday, December 31 | Flyers | Hurricanes | 6PM EST |
| Monday, December 31 | Rangers | Blues | 7PM EST |
| Monday, December 31 | Senators | Blue Jackets | 7PM EST |
| Monday, December 31 | Panthers | Red Wings | 7:30PM EST |
| Monday, December 31 | Kings | Avalanche | 8PM EST |
| Monday, December 31 | Canadiens | Stars | 8:30PM EST |
| Monday, December 31 | Sharks | Flames | 9PM EST |
| Monday, December 31 | Jets | Edmonton Oilers | 9PM EST |
| Monday, December 31 | Lightning | Ducks | 10PM EST |
| Tuesday, January 01 | Bruins | Blackhawks | 1PM EST |
| Tuesday, January 01 | Flyers | Predators | 8:30PM EST |
| Tuesday, January 01 | Kings | Golden Knights | 9PM EST |
| Wednesday, January 02 | Canucks | Senators | 7PM EST |
| Wednesday, January 02 | Flames | Red Wings | 7PM EST |
| Wednesday, January 02 | Penguins | Rangers | 7PM EST |
| Wednesday, January 02 | Devils | Stars | 8:30PM EST |
| Wednesday, January 02 | Sharks | Avalanche | 9:30PM EST |
| Wednesday, January 02 | Edmonton Oilers | Coyotes | 9:30PM EST |
| Thursday, January 03 | Wild | Maple Leafs | 2PM EST |
| Thursday, January 03 | Flames | Bruins | 7PM EST |
| Thursday, January 03 | Panthers | Sabres | 7PM EST |
| Thursday, January 03 | Blackhawks | Islanders | 7PM EST |
| Thursday, January 03 | Hurricanes | Flyers | 7PM EST |
| Thursday, January 03 | Canucks | Canadiens | 7:30PM EST |
| Thursday, January 03 | Capitals | Blues | 8PM EST |
| Thursday, January 03 | Lightning | Kings | 10:30PM EST |
| Friday, January 04 | Jets | Penguins | 7PM EST |
| Friday, January 04 | Predators | Red Wings | 7:30PM EST |
| Friday, January 04 | Blue Jackets | Hurricanes | 7:30PM EST |
| Friday, January 04 | Capitals | Stars | 8PM EST |
| Friday, January 04 | Rangers | Avalanche | 9PM EST |
| Friday, January 04 | Devils | Coyotes | 9PM EST |
| Friday, January 04 | Golden Knights | Ducks | 10PM EST |
| Saturday, January 05 | Flames | Flyers | 1PM EST |
| Saturday, January 05 | Wild | Senators | 2PM EST |
| Saturday, January 05 | Sabres | Bruins | 7PM EST |
| Saturday, January 05 | Canucks | Maple Leafs | 7PM EST |
| Saturday, January 05 | Predators | Canadiens | 7PM EST |
| Saturday, January 05 | Blue Jackets | Panthers | 7PM EST |
| Saturday, January 05 | Islanders | Blues | 8PM EST |
| Saturday, January 05 | Edmonton Oilers | Kings | 10PM EST |
| Saturday, January 05 | Lightning | Sharks | 11PM EST |
| Sunday, January 06 | Hurricanes | Senators | 2PM EST |
| Sunday, January 06 | Devils | Golden Knights | 4PM EST |
| Sunday, January 06 | Rangers | Coyotes | 4PM EST |
| Sunday, January 06 | Stars | Jets | 5PM EST |
| Sunday, January 06 | Capitals | Red Wings | 5PM EST |
| Sunday, January 06 | Edmonton Oilers | Ducks | 8PM EST |
| Sunday, January 06 | Blackhawks | Penguins | 8PM EST |
| Monday, January 07 | Predators | Maple Leafs | 7PM EST |
| Monday, January 07 | Blues | Flyers | 7PM EST |
| Monday, January 07 | Wild | Canadiens | 7:30PM EST |
| Monday, January 07 | Flames | Blackhawks | 8:30PM EST |
| Monday, January 07 | Kings | Sharks | 10:30PM EST |
| Tuesday, January 08 | Wild | Bruins | 7PM EST |
| Tuesday, January 08 | Devils | Sabres | 7PM EST |
| Tuesday, January 08 | Hurricanes | Islanders | 7PM EST |
| Tuesday, January 08 | Panthers | Penguins | 7PM EST |
| Tuesday, January 08 | Flyers | Capitals | 7PM EST |
| Tuesday, January 08 | Canadiens | Red Wings | 7:30PM EST |
| Tuesday, January 08 | Blue Jackets | Lightning | 7:30PM EST |
| Tuesday, January 08 | Stars | Blues | 8PM EST |
| Tuesday, January 08 | Avalanche | Jets | 8PM EST |
| Tuesday, January 08 | Rangers | Golden Knights | 10PM EST |
| Tuesday, January 08 | Edmonton Oilers | Sharks | 10:30PM EST |
| Wednesday, January 09 | Predators | Blackhawks | 8PM EST |
| Wednesday, January 09 | Avalanche | Flames | 9:30PM EST |
| Wednesday, January 09 | Senators | Ducks | 10PM EST |
| Thursday, January 10 | Capitals | Bruins | 7PM EST |
| Thursday, January 10 | Maple Leafs | Devils | 7PM EST |
| Thursday, January 10 | Islanders | Rangers | 7PM EST |
| Thursday, January 10 | Stars | Flyers | 7PM EST |
| Thursday, January 10 | Predators | Blue Jackets | 7PM EST |
| Thursday, January 10 | Hurricanes | Lightning | 7:30PM EST |
| Thursday, January 10 | Canadiens | Blues | 8PM EST |
| Thursday, January 10 | Jets | Wild | 8PM EST |
| Thursday, January 10 | Panthers | Edmonton Oilers | 9PM EST |
| Thursday, January 10 | Coyotes | Canucks | 10PM EST |
| Thursday, January 10 | Sharks | Golden Knights | 10PM EST |
| Thursday, January 10 | Senators | Kings | 10:30PM EST |
| Friday, January 11 | Sabres | Hurricanes | 7:30PM EST |
| Friday, January 11 | Red Wings | Jets | 8PM EST |
| Friday, January 11 | Panthers | Flames | 9PM EST |
| Friday, January 11 | Penguins | Ducks | 10PM EST |
| Saturday, January 12 | Flyers | Devils | 1PM EST |
| Saturday, January 12 | Rangers | Islanders | 1PM EST |
| Saturday, January 12 | Lightning | Sabres | 7PM EST |
| Saturday, January 12 | Bruins | Maple Leafs | 7PM EST |
| Saturday, January 12 | Avalanche | Canadiens | 7PM EST |
| Saturday, January 12 | Blue Jackets | Capitals | 7PM EST |
| Saturday, January 12 | Red Wings | Wild | 8PM EST |
| Saturday, January 12 | Golden Knights | Blackhawks | 8:30PM EST |
| Saturday, January 12 | Blues | Stars | 9PM EST |
| Saturday, January 12 | Senators | Sharks | 10PM EST |
| Saturday, January 12 | Coyotes | Edmonton Oilers | 10PM EST |
| Saturday, January 12 | Penguins | Kings | 10:30PM EST |
| Sunday, January 13 | Predators | Hurricanes | 1PM EST |
| Sunday, January 13 | Ducks | Jets | 6PM EST |
| Sunday, January 13 | Rangers | Blue Jackets | 6PM EST |
| Sunday, January 13 | Panthers | Canucks | 7PM EST |
| Sunday, January 13 | Lightning | Islanders | 7PM EST |
| Sunday, January 13 | Coyotes | Flames | 9:30PM EST |
| Monday, January 14 | Canadiens | Bruins | 7PM EST |
| Monday, January 14 | Avalanche | Maple Leafs | 7PM EST |
| Monday, January 14 | Blackhawks | Devils | 7PM EST |
| Monday, January 14 | Wild | Flyers | 7PM EST |
| Monday, January 14 | Blues | Capitals | 7PM EST |
| Monday, January 14 | Sabres | Edmonton Oilers | 9PM EST |
| Tuesday, January 15 | Blues | Islanders | 7PM EST |
| Tuesday, January 15 | Hurricanes | Rangers | 7PM EST |
| Tuesday, January 15 | Devils | Blue Jackets | 7PM EST |
| Tuesday, January 15 | Panthers | Canadiens | 7:30PM EST |
| Tuesday, January 15 | Ducks | Red Wings | 7:30PM EST |
| Tuesday, January 15 | Capitals | Predators | 8PM EST |
| Tuesday, January 15 | Kings | Wild | 8PM EST |
| Tuesday, January 15 | Golden Knights | Jets | 8PM EST |
| Tuesday, January 15 | Lightning | Stars | 8:30PM EST |
| Tuesday, January 15 | Penguins | Sharks | 10PM EST |
| Wednesday, January 16 | Avalanche | Senators | 7PM EST |
| Wednesday, January 16 | Bruins | Flyers | 7:30PM EST |
| Wednesday, January 16 | Sabres | Flames | 9:30PM EST |
| Wednesday, January 16 | Edmonton Oilers | Canucks | 10PM EST |
| Wednesday, January 16 | Sharks | Coyotes | 10PM EST |
| Thursday, January 17 | Blues | Bruins | 7PM EST |
| Thursday, January 17 | Devils | Islanders | 7PM EST |
| Thursday, January 17 | Blackhawks | Rangers | 7PM EST |
| Thursday, January 17 | Maple Leafs | Lightning | 7:30PM EST |
| Thursday, January 17 | Jets | Predators | 8PM EST |
| Thursday, January 17 | Ducks | Wild | 8PM EST |
| Thursday, January 17 | Kings | Stars | 8:30PM EST |
| Friday, January 18 | Maple Leafs | Panthers | 7PM EST |
| Friday, January 18 | Canadiens | Blue Jackets | 7PM EST |
| Friday, January 18 | Islanders | Capitals | 7:30PM EST |
| Friday, January 18 | Senators | Hurricanes | 7:30PM EST |
| Friday, January 18 | Red Wings | Flames | 9PM EST |
| Friday, January 18 | Penguins | Coyotes | 9PM EST |
| Friday, January 18 | Sabres | Canucks | 10PM EST |
| Saturday, January 19 | Ducks | Devils | 1PM EST |
| Saturday, January 19 | Kings | Avalanche | 3PM EST |
| Saturday, January 19 | Senators | Blues | 7PM EST |
| Saturday, January 19 | Jets | Stars | 7PM EST |
| Saturday, January 19 | Rangers | Bruins | 7PM EST |
| Saturday, January 19 | Flyers | Canadiens | 7PM EST |
| Saturday, January 19 | Sharks | Lightning | 7PM EST |
| Saturday, January 19 | Panthers | Predators | 8PM EST |
| Saturday, January 19 | Blue Jackets | Wild | 9PM EST |
| Saturday, January 19 | Penguins | Golden Knights | 10PM EST |
| Saturday, January 19 | Flames | Edmonton Oilers | 10PM EST |
| Sunday, January 20 | Capitals | Blackhawks | 12:30PM EST |
| Sunday, January 20 | Ducks | Islanders | 3PM EST |
| Sunday, January 20 | Red Wings | Canucks | 4PM EST |
| Sunday, January 20 | Coyotes | Maple Leafs | 7PM EST |
| Sunday, January 20 | Hurricanes | Edmonton Oilers | 9:30PM EST |
| Monday, January 21 | Predators | Avalanche | 3PM EST |
| Monday, January 21 | Blues | Kings | 4PM EST |
| Monday, January 21 | Wild | Golden Knights | 6PM EST |
| Monday, January 21 | Sharks | Panthers | 7PM EST |
| Tuesday, January 22 | Sharks | Capitals | 7PM EST |
| Tuesday, January 22 | Coyotes | Senators | 7:30PM EST |
| Tuesday, January 22 | Islanders | Blackhawks | 8:30PM EST |
| Tuesday, January 22 | Hurricanes | Flames | 9PM EST |
| Tuesday, January 22 | Red Wings | Edmonton Oilers | 9PM EST |
| Wednesday, January 23 | Capitals | Maple Leafs | 7:30PM EST |
| Wednesday, January 23 | Coyotes | Canadiens | 7:30PM EST |
| Wednesday, January 23 | Wild | Avalanche | 9:30PM EST |
| Wednesday, January 23 | Predators | Golden Knights | 10PM EST |
| Wednesday, January 23 | Blues | Ducks | 10PM EST |
| Wednesday, January 23 | Hurricanes | Canucks | 10:30PM EST |
| Monday, January 28 | Jets | Flyers | 7PM EST |
| Monday, January 28 | Devils | Penguins | 7PM EST |
| Tuesday, January 29 | Jets | Bruins | 7PM EST |
| Tuesday, January 29 | Flyers | Rangers | 7PM EST |
| Tuesday, January 29 | Sabres | Blue Jackets | 7PM EST |
| Wednesday, January 30 | Lightning | Penguins | 8PM EST |
| Wednesday, January 30 | Sabres | Stars | 8:30PM EST |
| Thursday, January 31 | Flyers | Bruins | 7PM EST |
| Thursday, January 31 | Rangers | Devils | 7PM EST |
| Thursday, January 31 | Blue Jackets | Jets | 8PM EST |
| Friday, February 01 | Blackhawks | Sabres | 7PM EST |
| Friday, February 01 | Predators | Panthers | 7PM EST |
| Friday, February 01 | Lightning | Islanders | 7PM EST |
| Friday, February 01 | Senators | Penguins | 7PM EST |
| Friday, February 01 | Flames | Capitals | 7PM EST |
| Friday, February 01 | Maple Leafs | Red Wings | 7:30PM EST |
| Friday, February 01 | Golden Knights | Hurricanes | 7:30PM EST |
| Friday, February 01 | Wild | Stars | 8PM EST |
| Saturday, February 02 | Edmonton Oilers | Flyers | 1PM EST |
| Saturday, February 02 | Devils | Canadiens | 2PM EST |
| Saturday, February 02 | Ducks | Jets | 7PM EST |
| Saturday, February 02 | Penguins | Maple Leafs | 7PM EST |
| Saturday, February 02 | Red Wings | Senators | 7PM EST |
| Saturday, February 02 | Golden Knights | Panthers | 7PM EST |
| Saturday, February 02 | Kings | Islanders | 7PM EST |
| Saturday, February 02 | Lightning | Rangers | 7PM EST |
| Saturday, February 02 | Blues | Blue Jackets | 7PM EST |
| Saturday, February 02 | Stars | Predators | 8PM EST |
| Saturday, February 02 | Blackhawks | Wild | 8PM EST |
| Saturday, February 02 | Canucks | Avalanche | 10PM EST |
| Saturday, February 02 | Coyotes | Sharks | 10:30PM EST |
| Sunday, February 03 | Bruins | Capitals | 12:30PM EST |
| Sunday, February 03 | Edmonton Oilers | Canadiens | 2PM EST |
| Sunday, February 03 | Flames | Hurricanes | 2PM EST |
| Monday, February 04 | Ducks | Maple Leafs | 7PM EST |
| Monday, February 04 | Kings | Rangers | 7PM EST |
| Monday, February 04 | Canucks | Flyers | 7PM EST |
| Monday, February 04 | Coyotes | Stars | 8:30PM EST |
| Tuesday, February 05 | Islanders | Bruins | 7PM EST |
| Tuesday, February 05 | Wild | Sabres | 7PM EST |
| Tuesday, February 05 | Blues | Panthers | 7PM EST |
| Tuesday, February 05 | Kings | Devils | 7PM EST |
| Tuesday, February 05 | Hurricanes | Penguins | 7PM EST |
| Tuesday, February 05 | Canucks | Capitals | 7PM EST |
| Tuesday, February 05 | Ducks | Canadiens | 7:30PM EST |
| Tuesday, February 05 | Golden Knights | Lightning | 7:30PM EST |
| Tuesday, February 05 | Coyotes | Predators | 8PM EST |
| Tuesday, February 05 | Sharks | Jets | 8PM EST |
| Tuesday, February 05 | Blue Jackets | Avalanche | 9PM EST |
| Tuesday, February 05 | Blackhawks | Edmonton Oilers | 9PM EST |
| Wednesday, February 06 | Senators | Maple Leafs | 7:30PM EST |
| Wednesday, February 06 | Bruins | Rangers | 8PM EST |
| Thursday, February 07 | Hurricanes | Sabres | 7PM EST |
| Thursday, February 07 | Penguins | Panthers | 7PM EST |
| Thursday, February 07 | Islanders | Devils | 7PM EST |
| Thursday, February 07 | Kings | Flyers | 7PM EST |
| Thursday, February 07 | Avalanche | Capitals | 7PM EST |
| Thursday, February 07 | Jets | Canadiens | 7:30PM EST |
| Thursday, February 07 | Ducks | Senators | 7:30PM EST |
| Thursday, February 07 | Golden Knights | Red Wings | 7:30PM EST |
| Thursday, February 07 | Blues | Lightning | 7:30PM EST |
| Thursday, February 07 | Stars | Predators | 8PM EST |
| Thursday, February 07 | Edmonton Oilers | Wild | 8PM EST |
| Thursday, February 07 | Canucks | Blackhawks | 8:30PM EST |
| Thursday, February 07 | Sharks | Flames | 9PM EST |
| Thursday, February 07 | Blue Jackets | Coyotes | 9PM EST |
| Friday, February 08 | Hurricanes | Rangers | 7PM EST |
| Saturday, February 09 | Kings | Bruins | 1PM EST |
| Saturday, February 09 | Red Wings | Sabres | 1PM EST |
| Saturday, February 09 | Wild | Devils | 1PM EST |
| Saturday, February 09 | Avalanche | Islanders | 1PM EST |
| Saturday, February 09 | Ducks | Flyers | 1PM EST |
| Saturday, February 09 | Predators | Blues | 2PM EST |
| Saturday, February 09 | Jets | Senators | 2PM EST |
| Saturday, February 09 | Stars | Coyotes | 4PM EST |
| Saturday, February 09 | Sharks | Edmonton Oilers | 7PM EST |
| Saturday, February 09 | Maple Leafs | Canadiens | 7PM EST |
| Saturday, February 09 | Penguins | Lightning | 7PM EST |
| Saturday, February 09 | Panthers | Capitals | 7PM EST |
| Saturday, February 09 | Flames | Canucks | 10PM EST |
| Saturday, February 09 | Blue Jackets | Golden Knights | 10PM EST |
| Sunday, February 10 | Blues | Predators | 12:30PM EST |
| Sunday, February 10 | Red Wings | Blackhawks | 3PM EST |
| Sunday, February 10 | Avalanche | Bruins | 3PM EST |
| Sunday, February 10 | Jets | Sabres | 3PM EST |
| Sunday, February 10 | Hurricanes | Devils | 3PM EST |
| Sunday, February 10 | Wild | Islanders | 3PM EST |
| Sunday, February 10 | Lightning | Panthers | 6PM EST |
| Sunday, February 10 | Maple Leafs | Rangers | 7PM EST |
| Monday, February 11 | Penguins | Flyers | 7PM EST |
| Monday, February 11 | Kings | Capitals | 7PM EST |
| Monday, February 11 | Sharks | Canucks | 10PM EST |
| Tuesday, February 12 | Blackhawks | Bruins | 7PM EST |
| Tuesday, February 12 | Islanders | Sabres | 7PM EST |
| Tuesday, February 12 | Stars | Panthers | 7PM EST |
| Tuesday, February 12 | Capitals | Blue Jackets | 7PM EST |
| Tuesday, February 12 | Hurricanes | Senators | 7:30PM EST |
| Tuesday, February 12 | Flames | Lightning | 7:30PM EST |
| Tuesday, February 12 | Devils | Blues | 8PM EST |
| Tuesday, February 12 | Red Wings | Predators | 8PM EST |
| Tuesday, February 12 | Flyers | Wild | 8PM EST |
| Tuesday, February 12 | Rangers | Jets | 8PM EST |
| Tuesday, February 12 | Maple Leafs | Avalanche | 9PM EST |
| Tuesday, February 12 | Coyotes | Golden Knights | 10PM EST |
| Wednesday, February 13 | Edmonton Oilers | Penguins | 8PM EST |
| Wednesday, February 13 | Canucks | Ducks | 10:30PM EST |
| Thursday, February 14 | Flames | Panthers | 7PM EST |
| Thursday, February 14 | Islanders | Blue Jackets | 7PM EST |
| Thursday, February 14 | Senators | Red Wings | 7:30PM EST |
| Thursday, February 14 | Stars | Lightning | 7:30PM EST |
| Thursday, February 14 | Canadiens | Predators | 8PM EST |
| Thursday, February 14 | Avalanche | Jets | 8PM EST |
| Thursday, February 14 | Devils | Blackhawks | 8:30PM EST |
| Thursday, February 14 | Blues | Coyotes | 9PM EST |
| Thursday, February 14 | Maple Leafs | Golden Knights | 10PM EST |
| Thursday, February 14 | Canucks | Kings | 10:30PM EST |
| Thursday, February 14 | Capitals | Sharks | 10:30PM EST |
| Friday, February 15 | Rangers | Sabres | 7PM EST |
| Friday, February 15 | Edmonton Oilers | Hurricanes | 7:30PM EST |
| Friday, February 15 | Devils | Wild | 8:30PM EST |
| Friday, February 15 | Bruins | Ducks | 10PM EST |
| Saturday, February 16 | Red Wings | Flyers | 1PM EST |
| Saturday, February 16 | Flames | Penguins | 1PM EST |
| Saturday, February 16 | Blues | Avalanche | 3PM EST |
| Saturday, February 16 | Maple Leafs | Coyotes | 7PM EST |
| Saturday, February 16 | Senators | Jets | 7PM EST |
| Saturday, February 16 | Canadiens | Lightning | 7PM EST |
| Saturday, February 16 | Edmonton Oilers | Islanders | 7PM EST |
| Saturday, February 16 | Stars | Hurricanes | 8PM EST |
| Saturday, February 16 | Blue Jackets | Blackhawks | 8:30PM EST |
| Saturday, February 16 | Predators | Golden Knights | 10PM EST |
| Saturday, February 16 | Canucks | Sharks | 10PM EST |
| Saturday, February 16 | Bruins | Kings | 10:30PM EST |
| Sunday, February 17 | Rangers | Penguins | 12:30PM EST |
| Sunday, February 17 | Blues | Wild | 3PM EST |
| Sunday, February 17 | Sabres | Devils | 6PM EST |
| Sunday, February 17 | Flyers | Red Wings | 7PM EST |
| Sunday, February 17 | Canadiens | Panthers | 7PM EST |
| Sunday, February 17 | Capitals | Ducks | 9PM EST |
| Monday, February 18 | Coyotes | Flames | 4PM EST |
| Monday, February 18 | Lightning | Blue Jackets | 7PM EST |
| Monday, February 18 | Senators | Blackhawks | 8:30PM EST |
| Monday, February 18 | Golden Knights | Avalanche | 9PM EST |
| Monday, February 18 | Capitals | Kings | 10:30PM EST |
| Monday, February 18 | Bruins | Sharks | 10:30PM EST |
| Tuesday, February 19 | Sabres | Panthers | 7PM EST |
| Tuesday, February 19 | Penguins | Devils | 7PM EST |
| Tuesday, February 19 | Lightning | Flyers | 7PM EST |
| Tuesday, February 19 | Rangers | Hurricanes | 7PM EST |
| Tuesday, February 19 | Blue Jackets | Canadiens | 7:30PM EST |
| Tuesday, February 19 | Maple Leafs | Blues | 8PM EST |
| Tuesday, February 19 | Ducks | Wild | 8PM EST |
| Tuesday, February 19 | Predators | Stars | 8:30PM EST |
| Tuesday, February 19 | Coyotes | Edmonton Oilers | 9PM EST |
| Wednesday, February 20 | Blackhawks | Red Wings | 7:30PM EST |
| Wednesday, February 20 | Jets | Avalanche | 8:30PM EST |
| Wednesday, February 20 | Islanders | Flames | 9:30PM EST |
| Wednesday, February 20 | Bruins | Golden Knights | 10PM EST |
| Thursday, February 21 | Capitals | Maple Leafs | 7PM EST |
| Thursday, February 21 | Hurricanes | Panthers | 7PM EST |
| Thursday, February 21 | Senators | Devils | 7PM EST |
| Thursday, February 21 | Wild | Rangers | 7PM EST |
| Thursday, February 21 | Sharks | Penguins | 7PM EST |
| Thursday, February 21 | Flyers | Canadiens | 7:30PM EST |
| Thursday, February 21 | Sabres | Lightning | 7:30PM EST |
| Thursday, February 21 | Kings | Predators | 8PM EST |
| Thursday, February 21 | Blues | Stars | 8:30PM EST |
| Thursday, February 21 | Islanders | Edmonton Oilers | 9PM EST |
| Thursday, February 21 | Coyotes | Canucks | 10PM EST |
| Friday, February 22 | Blue Jackets | Senators | 7PM EST |
| Friday, February 22 | Avalanche | Blackhawks | 7:30PM EST |
| Friday, February 22 | Wild | Red Wings | 7:30PM EST |
| Friday, February 22 | Ducks | Flames | 9PM EST |
| Friday, February 22 | Jets | Golden Knights | 10PM EST |
| Saturday, February 23 | Capitals | Sabres | 1PM EST |
| Saturday, February 23 | Devils | Rangers | 1PM EST |
| Saturday, February 23 | Bruins | Blues | 4PM EST |
| Saturday, February 23 | Hurricanes | Stars | 5PM EST |
| Saturday, February 23 | Kings | Panthers | 5PM EST |
| Saturday, February 23 | Sharks | Blue Jackets | 5PM EST |
| Saturday, February 23 | Avalanche | Predators | 5:30PM EST |
| Saturday, February 23 | Canadiens | Maple Leafs | 7PM EST |
| Saturday, February 23 | Penguins | Flyers | 8PM EST |
| Saturday, February 23 | Islanders | Canucks | 10PM EST |
| Saturday, February 23 | Ducks | Edmonton Oilers | 10PM EST |
| Sunday, February 24 | Rangers | Capitals | 12:30PM EST |
| Sunday, February 24 | Stars | Blackhawks | 3PM EST |
| Sunday, February 24 | Sharks | Red Wings | 3PM EST |
| Sunday, February 24 | Blues | Wild | 7PM EST |
| Sunday, February 24 | Flames | Senators | 7PM EST |
| Sunday, February 24 | Jets | Coyotes | 9PM EST |
| Monday, February 25 | Sabres | Maple Leafs | 7PM EST |
| Monday, February 25 | Canadiens | Devils | 7PM EST |
| Monday, February 25 | Kings | Lightning | 7:30PM EST |
| Monday, February 25 | Edmonton Oilers | Predators | 8PM EST |
| Monday, February 25 | Panthers | Avalanche | 9PM EST |
| Monday, February 25 | Ducks | Canucks | 10PM EST |
| Tuesday, February 26 | Sharks | Bruins | 7PM EST |
| Tuesday, February 26 | Flames | Islanders | 7PM EST |
| Tuesday, February 26 | Sabres | Flyers | 7PM EST |
| Tuesday, February 26 | Senators | Capitals | 7PM EST |
| Tuesday, February 26 | Kings | Hurricanes | 7PM EST |
| Tuesday, February 26 | Penguins | Blue Jackets | 7PM EST |
| Tuesday, February 26 | Canadiens | Red Wings | 7:30PM EST |
| Tuesday, February 26 | Predators | Blues | 8PM EST |
| Tuesday, February 26 | Wild | Jets | 8PM EST |
| Tuesday, February 26 | Panthers | Coyotes | 9PM EST |
| Tuesday, February 26 | Stars | Golden Knights | 10PM EST |
| Wednesday, February 27 | Edmonton Oilers | Maple Leafs | 7PM EST |
| Wednesday, February 27 | Flames | Devils | 7PM EST |
| Wednesday, February 27 | Lightning | Rangers | 7:30PM EST |
| Wednesday, February 27 | Canucks | Avalanche | 9:30PM EST |
| Wednesday, February 27 | Blackhawks | Ducks | 10PM EST |
| Thursday, February 28 | Lightning | Bruins | 7PM EST |
| Thursday, February 28 | Maple Leafs | Islanders | 7PM EST |
| Thursday, February 28 | Flyers | Blue Jackets | 7PM EST |
| Thursday, February 28 | Edmonton Oilers | Senators | 7:30PM EST |
| Thursday, February 28 | Canucks | Coyotes | 9PM EST |
| Thursday, February 28 | Panthers | Golden Knights | 10PM EST |
| Thursday, February 28 | Stars | Kings | 10:30PM EST |
| Friday, March 01 | Penguins | Sabres | 7PM EST |
| Friday, March 01 | Flyers | Devils | 7PM EST |
| Friday, March 01 | Capitals | Islanders | 7PM EST |
| Friday, March 01 | Canadiens | Rangers | 7PM EST |
| Friday, March 01 | Blues | Hurricanes | 7:30PM EST |
| Friday, March 01 | Predators | Jets | 8PM EST |
| Friday, March 01 | Golden Knights | Ducks | 10PM EST |
| Friday, March 01 | Avalanche | Sharks | 10:30PM EST |
| Saturday, March 02 | Edmonton Oilers | Blue Jackets | 2PM EST |
| Saturday, March 02 | Blackhawks | Kings | 4PM EST |
| Saturday, March 02 | Devils | Bruins | 7PM EST |
| Saturday, March 02 | Sabres | Maple Leafs | 7PM EST |
| Saturday, March 02 | Penguins | Canadiens | 7PM EST |
| Saturday, March 02 | Senators | Lightning | 7PM EST |
| Saturday, March 02 | Hurricanes | Panthers | 7PM EST |
| Saturday, March 02 | Red Wings | Coyotes | 8PM EST |
| Saturday, March 02 | Stars | Blues | 8PM EST |
| Saturday, March 02 | Wild | Flames | 10PM EST |
| Sunday, March 03 | Capitals | Rangers | 12:30PM EST |
| Sunday, March 03 | Flyers | Islanders | 3PM EST |
| Sunday, March 03 | Canucks | Golden Knights | 4PM EST |
| Sunday, March 03 | Avalanche | Ducks | 4PM EST |
| Sunday, March 03 | Senators | Panthers | 5PM EST |
| Sunday, March 03 | Jets | Blue Jackets | 7PM EST |
| Sunday, March 03 | Predators | Wild | 7:30PM EST |
| Sunday, March 03 | Blackhawks | Sharks | 10PM EST |
| Monday, March 04 | Edmonton Oilers | Sabres | 7PM EST |
| Monday, March 04 | Maple Leafs | Flames | 9PM EST |
| Tuesday, March 05 | Hurricanes | Bruins | 7PM EST |
| Tuesday, March 05 | Blue Jackets | Devils | 7PM EST |
| Tuesday, March 05 | Senators | Islanders | 7PM EST |
| Tuesday, March 05 | Panthers | Penguins | 7PM EST |
| Tuesday, March 05 | Jets | Lightning | 7:30PM EST |
| Tuesday, March 05 | Wild | Predators | 8PM EST |
| Tuesday, March 05 | Rangers | Stars | 8:30PM EST |
| Tuesday, March 05 | Red Wings | Avalanche | 9PM EST |
| Tuesday, March 05 | Ducks | Coyotes | 9PM EST |
| Tuesday, March 05 | Canadiens | Kings | 10:30PM EST |
| Wednesday, March 06 | Capitals | Flyers | 7:30PM EST |
| Wednesday, March 06 | Maple Leafs | Canucks | 9PM EST |
| Wednesday, March 06 | Blues | Ducks | 10PM EST |
| Wednesday, March 06 | Flames | Golden Knights | 10:30PM EST |
| Thursday, March 07 | Panthers | Bruins | 7PM EST |
| Thursday, March 07 | Blue Jackets | Penguins | 7PM EST |
| Thursday, March 07 | Islanders | Senators | 7:30PM EST |
| Thursday, March 07 | Rangers | Red Wings | 7:30PM EST |
| Thursday, March 07 | Wild | Lightning | 7:30PM EST |
| Thursday, March 07 | Sabres | Blackhawks | 8:30PM EST |
| Thursday, March 07 | Avalanche | Stars | 8:30PM EST |
| Thursday, March 07 | Canucks | Edmonton Oilers | 9PM EST |
| Thursday, March 07 | Flames | Coyotes | 9PM EST |
| Thursday, March 07 | Blues | Kings | 10:30PM EST |
| Thursday, March 07 | Canadiens | Sharks | 10:30PM EST |
| Friday, March 08 | Wild | Panthers | 7PM EST |
| Friday, March 08 | Devils | Capitals | 7PM EST |
| Friday, March 08 | Jets | Hurricanes | 7:30PM EST |
| Friday, March 08 | Canadiens | Ducks | 10PM EST |
| Saturday, March 09 | Sabres | Avalanche | 3PM EST |
| Saturday, March 09 | Blues | Sharks | 4PM EST |
| Saturday, March 09 | Maple Leafs | Edmonton Oilers | 7PM EST |
| Saturday, March 09 | Senators | Bruins | 7PM EST |
| Saturday, March 09 | Red Wings | Lightning | 7PM EST |
| Saturday, March 09 | Flyers | Islanders | 7PM EST |
| Saturday, March 09 | Devils | Rangers | 7PM EST |
| Saturday, March 09 | Penguins | Blue Jackets | 7PM EST |
| Saturday, March 09 | Kings | Coyotes | 8PM EST |
| Saturday, March 09 | Hurricanes | Predators | 8PM EST |
| Saturday, March 09 | Blackhawks | Stars | 8PM EST |
| Saturday, March 09 | Golden Knights | Canucks | 10PM EST |
| Sunday, March 10 | Red Wings | Panthers | 5PM EST |
| Sunday, March 10 | Jets | Capitals | 7PM EST |
| Sunday, March 10 | Bruins | Penguins | 7:30PM EST |
| Sunday, March 10 | Golden Knights | Flames | 9:30PM EST |
| Sunday, March 10 | Kings | Ducks | 10PM EST |
| Monday, March 11 | Lightning | Maple Leafs | 7PM EST |
| Monday, March 11 | Blue Jackets | Islanders | 7PM EST |
| Monday, March 11 | Senators | Flyers | 7PM EST |
| Monday, March 11 | Sharks | Wild | 8PM EST |
| Monday, March 11 | Coyotes | Blackhawks | 8:30PM EST |
| Monday, March 11 | Hurricanes | Avalanche | 9PM EST |
| Monday, March 11 | Rangers | Edmonton Oilers | 9PM EST |
| Tuesday, March 12 | Stars | Sabres | 7PM EST |
| Tuesday, March 12 | Capitals | Penguins | 7PM EST |
| Tuesday, March 12 | Bruins | Blue Jackets | 7PM EST |
| Tuesday, March 12 | Red Wings | Canadiens | 7:30PM EST |
| Tuesday, March 12 | Coyotes | Blues | 8PM EST |
| Tuesday, March 12 | Sharks | Jets | 8PM EST |
| Tuesday, March 12 | Devils | Flames | 9PM EST |
| Tuesday, March 12 | Predators | Ducks | 10PM EST |
| Wednesday, March 13 | Blackhawks | Maple Leafs | 7PM EST |
| Wednesday, March 13 | Devils | Edmonton Oilers | 9:30PM EST |
| Wednesday, March 13 | Rangers | Canucks | 10PM EST |
| Thursday, March 14 | Penguins | Sabres | 7PM EST |
| Thursday, March 14 | Canadiens | Islanders | 7PM EST |
| Thursday, March 14 | Capitals | Flyers | 7PM EST |
| Thursday, March 14 | Blues | Senators | 7:30PM EST |
| Thursday, March 14 | Lightning | Red Wings | 7:30PM EST |
| Thursday, March 14 | Stars | Wild | 8PM EST |
| Thursday, March 14 | Bruins | Jets | 8PM EST |
| Thursday, March 14 | Ducks | Coyotes | 10PM EST |
| Thursday, March 14 | Predators | Kings | 10:30PM EST |
| Thursday, March 14 | Panthers | Sharks | 10:30PM EST |
| Friday, March 15 | Flyers | Maple Leafs | 7PM EST |
| Friday, March 15 | Hurricanes | Blue Jackets | 7PM EST |
| Friday, March 15 | Golden Knights | Stars | 8PM EST |
| Friday, March 15 | Ducks | Avalanche | 9PM EST |
| Friday, March 15 | Rangers | Flames | 9PM EST |
| Friday, March 15 | Devils | Canucks | 10PM EST |
| Saturday, March 16 | Blues | Penguins | 1PM EST |
| Saturday, March 16 | Islanders | Red Wings | 2PM EST |
| Saturday, March 16 | Panthers | Kings | 4PM EST |
| Saturday, March 16 | Flames | Jets | 7PM EST |
| Saturday, March 16 | Blue Jackets | Bruins | 7PM EST |
| Saturday, March 16 | Blackhawks | Canadiens | 7PM EST |
| Saturday, March 16 | Maple Leafs | Senators | 7PM EST |
| Saturday, March 16 | Capitals | Lightning | 7PM EST |
| Saturday, March 16 | Sabres | Hurricanes | 7PM EST |
| Saturday, March 16 | Rangers | Wild | 8PM EST |
| Saturday, March 16 | Edmonton Oilers | Coyotes | 10PM EST |
| Saturday, March 16 | Predators | Sharks | 10:30PM EST |
| Sunday, March 17 | Devils | Avalanche | 3PM EST |
| Sunday, March 17 | Blues | Sabres | 5PM EST |
| Sunday, March 17 | Islanders | Wild | 6PM EST |
| Sunday, March 17 | Canucks | Stars | 7PM EST |
| Sunday, March 17 | Flyers | Penguins | 7:30PM EST |
| Sunday, March 17 | Panthers | Ducks | 9PM EST |
| Sunday, March 17 | Edmonton Oilers | Golden Knights | 10PM EST |
| Monday, March 18 | Coyotes | Lightning | 7:30PM EST |
| Monday, March 18 | Canucks | Blackhawks | 8:30PM EST |
| Monday, March 18 | Jets | Kings | 10:30PM EST |
| Monday, March 18 | Golden Knights | Sharks | 10:30PM EST |
| Tuesday, March 19 | Capitals | Devils | 7PM EST |
| Tuesday, March 19 | Bruins | Islanders | 7PM EST |
| Tuesday, March 19 | Red Wings | Rangers | 7PM EST |
| Tuesday, March 19 | Canadiens | Flyers | 7PM EST |
| Tuesday, March 19 | Penguins | Hurricanes | 7PM EST |
| Tuesday, March 19 | Edmonton Oilers | Blues | 8PM EST |
| Tuesday, March 19 | Maple Leafs | Predators | 8PM EST |
| Tuesday, March 19 | Avalanche | Wild | 8PM EST |
| Tuesday, March 19 | Panthers | Stars | 8:30PM EST |
| Tuesday, March 19 | Blue Jackets | Flames | 9PM EST |
| Wednesday, March 20 | Maple Leafs | Sabres | 7PM EST |
| Wednesday, March 20 | Lightning | Capitals | 7:30PM EST |
| Wednesday, March 20 | Senators | Canucks | 10PM EST |
| Wednesday, March 20 | Jets | Ducks | 10PM EST |
| Thursday, March 21 | Coyotes | Panthers | 7PM EST |
| Thursday, March 21 | Bruins | Devils | 7PM EST |
| Thursday, March 21 | Lightning | Hurricanes | 7PM EST |
| Thursday, March 21 | Islanders | Canadiens | 7:30PM EST |
| Thursday, March 21 | Red Wings | Blues | 8PM EST |
| Thursday, March 21 | Penguins | Predators | 8PM EST |
| Thursday, March 21 | Flyers | Blackhawks | 8:30PM EST |
| Thursday, March 21 | Avalanche | Stars | 8:30PM EST |
| Thursday, March 21 | Senators | Flames | 9PM EST |
| Thursday, March 21 | Blue Jackets | Edmonton Oilers | 9PM EST |
| Thursday, March 21 | Jets | Golden Knights | 10PM EST |
| Thursday, March 21 | Sharks | Kings | 10:30PM EST |
| Friday, March 22 | Wild | Capitals | 7PM EST |
| Friday, March 22 | Sharks | Ducks | 10PM EST |
| Saturday, March 23 | Coyotes | Devils | 1PM EST |
| Saturday, March 23 | Islanders | Flyers | 1PM EST |
| Saturday, March 23 | Blackhawks | Avalanche | 3PM EST |
| Saturday, March 23 | Senators | Edmonton Oilers | 4PM EST |
| Saturday, March 23 | Predators | Jets | 7PM EST |
| Saturday, March 23 | Rangers | Maple Leafs | 7PM EST |
| Saturday, March 23 | Sabres | Canadiens | 7PM EST |
| Saturday, March 23 | Bruins | Panthers | 7PM EST |
| Saturday, March 23 | Wild | Hurricanes | 7PM EST |
| Saturday, March 23 | Lightning | Blues | 8PM EST |
| Saturday, March 23 | Penguins | Stars | 8PM EST |
| Saturday, March 23 | Flames | Canucks | 10PM EST |
| Saturday, March 23 | Red Wings | Golden Knights | 10PM EST |
| Saturday, March 23 | Ducks | Kings | 10:30PM EST |
| Sunday, March 24 | Flyers | Capitals | 12:30PM EST |
| Sunday, March 24 | Coyotes | Islanders | 3PM EST |
| Sunday, March 24 | Canadiens | Hurricanes | 7PM EST |
| Sunday, March 24 | Avalanche | Blackhawks | 8PM EST |
| Sunday, March 24 | Blue Jackets | Canucks | 10PM EST |
| Monday, March 25 | Panthers | Maple Leafs | 7PM EST |
| Monday, March 25 | Sabres | Devils | 7PM EST |
| Monday, March 25 | Penguins | Rangers | 7PM EST |
| Monday, March 25 | Bruins | Lightning | 7:30PM EST |
| Monday, March 25 | Golden Knights | Blues | 8PM EST |
| Monday, March 25 | Predators | Wild | 8PM EST |
| Monday, March 25 | Stars | Jets | 8PM EST |
| Monday, March 25 | Kings | Flames | 9PM EST |
| Monday, March 25 | Red Wings | Sharks | 10:30PM EST |
| Tuesday, March 26 | Hurricanes | Capitals | 7PM EST |
| Tuesday, March 26 | Islanders | Blue Jackets | 7PM EST |
| Tuesday, March 26 | Panthers | Canadiens | 7:30PM EST |
| Tuesday, March 26 | Sabres | Senators | 7:30PM EST |
| Tuesday, March 26 | Kings | Edmonton Oilers | 9PM EST |
| Tuesday, March 26 | Ducks | Canucks | 10PM EST |
| Tuesday, March 26 | Blackhawks | Coyotes | 10PM EST |
| Wednesday, March 27 | Maple Leafs | Flyers | 7PM EST |
| Wednesday, March 27 | Rangers | Bruins | 7:30PM EST |
| Wednesday, March 27 | Stars | Flames | 9:30PM EST |
| Wednesday, March 27 | Golden Knights | Avalanche | 10PM EST |
| Thursday, March 28 | Red Wings | Sabres | 7PM EST |
| Thursday, March 28 | Capitals | Hurricanes | 7PM EST |
| Thursday, March 28 | Canadiens | Blue Jackets | 7PM EST |
| Thursday, March 28 | Panthers | Senators | 7:30PM EST |
| Thursday, March 28 | Islanders | Jets | 8PM EST |
| Thursday, March 28 | Stars | Edmonton Oilers | 9PM EST |
| Thursday, March 28 | Kings | Canucks | 10PM EST |
| Thursday, March 28 | Blackhawks | Sharks | 10:30PM EST |
| Friday, March 29 | Blues | Rangers | 7PM EST |
| Friday, March 29 | Predators | Penguins | 7PM EST |
| Friday, March 29 | Devils | Red Wings | 7:30PM EST |
| Friday, March 29 | Coyotes | Avalanche | 9PM EST |
| Friday, March 29 | Ducks | Flames | 9PM EST |
| Friday, March 29 | Wild | Golden Knights | 10PM EST |
| Saturday, March 30 | Flyers | Hurricanes | 1PM EST |
| Saturday, March 30 | Canadiens | Jets | 7PM EST |
| Saturday, March 30 | Panthers | Bruins | 7PM EST |
| Saturday, March 30 | Maple Leafs | Senators | 7PM EST |
| Saturday, March 30 | Capitals | Lightning | 7PM EST |
| Saturday, March 30 | Blues | Devils | 7PM EST |
| Saturday, March 30 | Sabres | Islanders | 7PM EST |
| Saturday, March 30 | Blue Jackets | Predators | 8PM EST |
| Saturday, March 30 | Golden Knights | Sharks | 9PM EST |
| Saturday, March 30 | Stars | Canucks | 10PM EST |
| Saturday, March 30 | Ducks | Edmonton Oilers | 10PM EST |
| Saturday, March 30 | Blackhawks | Kings | 10:30PM EST |
| Sunday, March 31 | Rangers | Flyers | 12:30PM EST |
| Sunday, March 31 | Wild | Coyotes | 5PM EST |
| Sunday, March 31 | Hurricanes | Penguins | 5PM EST |
| Sunday, March 31 | Blue Jackets | Sabres | 6PM EST |
| Sunday, March 31 | Bruins | Red Wings | 7:30PM EST |
| Sunday, March 31 | Flames | Sharks | 8PM EST |
| Monday, April 01 | Capitals | Panthers | 7PM EST |
| Monday, April 01 | Rangers | Devils | 7PM EST |
| Monday, April 01 | Maple Leafs | Islanders | 7PM EST |
| Monday, April 01 | Lightning | Senators | 7:30PM EST |
| Monday, April 01 | Avalanche | Blues | 8PM EST |
| Monday, April 01 | Jets | Blackhawks | 8:30PM EST |
| Monday, April 01 | Edmonton Oilers | Golden Knights | 10PM EST |
| Monday, April 01 | Flames | Kings | 10PM EST |
| Tuesday, April 02 | Predators | Sabres | 7PM EST |
| Tuesday, April 02 | Bruins | Blue Jackets | 7PM EST |
| Tuesday, April 02 | Hurricanes | Maple Leafs | 7:30PM EST |
| Tuesday, April 02 | Lightning | Canadiens | 7:30PM EST |
| Tuesday, April 02 | Penguins | Red Wings | 7:30PM EST |
| Tuesday, April 02 | Jets | Wild | 8PM EST |
| Tuesday, April 02 | Flyers | Stars | 8:30PM EST |
| Tuesday, April 02 | Edmonton Oilers | Avalanche | 9PM EST |
| Tuesday, April 02 | Sharks | Canucks | 10PM EST |
| Tuesday, April 02 | Kings | Coyotes | 10PM EST |
| Wednesday, April 03 | Senators | Rangers | 7:30PM EST |
| Wednesday, April 03 | Blues | Blackhawks | 8PM EST |
| Wednesday, April 03 | Flames | Ducks | 10:30PM EST |
| Thursday, April 04 | Senators | Sabres | 7PM EST |
| Thursday, April 04 | Lightning | Maple Leafs | 7PM EST |
| Thursday, April 04 | Islanders | Panthers | 7PM EST |
| Thursday, April 04 | Red Wings | Penguins | 7PM EST |
| Thursday, April 04 | Canadiens | Capitals | 7PM EST |
| Thursday, April 04 | Devils | Hurricanes | 7PM EST |
| Thursday, April 04 | Flyers | Blues | 8PM EST |
| Thursday, April 04 | Canucks | Predators | 8PM EST |
| Thursday, April 04 | Bruins | Wild | 8PM EST |
| Thursday, April 04 | Jets | Avalanche | 9PM EST |
| Thursday, April 04 | Sharks | Edmonton Oilers | 9PM EST |
| Thursday, April 04 | Coyotes | Golden Knights | 10PM EST |
| Friday, April 05 | Blue Jackets | Rangers | 7PM EST |
| Friday, April 05 | Stars | Blackhawks | 8:30PM EST |
| Friday, April 05 | Kings | Ducks | 10PM EST |
| Saturday, April 06 | Lightning | Bruins | 12:30PM EST |
| Saturday, April 06 | Canucks | Blues | 4PM EST |
| Saturday, April 06 | Maple Leafs | Canadiens | 7PM EST |
| Saturday, April 06 | Blue Jackets | Senators | 7PM EST |
| Saturday, April 06 | Sabres | Red Wings | 7PM EST |
| Saturday, April 06 | Devils | Panthers | 7PM EST |
| Saturday, April 06 | Hurricanes | Flyers | 7PM EST |
| Saturday, April 06 | Rangers | Penguins | 7PM EST |
| Saturday, April 06 | Islanders | Capitals | 7PM EST |
| Saturday, April 06 | Blackhawks | Predators | 8PM EST |
| Saturday, April 06 | Wild | Stars | 8PM EST |
| Saturday, April 06 | Jets | Coyotes | 10PM EST |
| Saturday, April 06 | Edmonton Oilers | Flames | 10PM EST |
| Saturday, April 06 | Golden Knights | Kings | 10:30PM EST |
| Saturday, April 06 | Avalanche | Sharks | 10:30PM EST |
Follow @BetNHL
BetNHL.ca » Schedule »