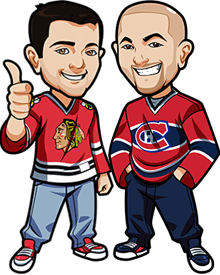 Follow @BetNHL
This UTC+1 schedule was requested by one of our readers. Always happy to do this for you guys.
Kind of a tricky one to do but hopefully we got it right – as the season kicks in we'll double check it and make sure it's right but if you notice any mistakes hit us up at betnhl.ca@gmail.com
Places such as Norway, Denmark etc all use this and we have a lot of Scandanavian followers so hopefully this helps.
This is a printable and downloadable UTC+1 NHL 2018/2019 schedule.
2018/2019 NHL Schedule in UTC+1
| Date: | Road: | Home: | Time: |
| --- | --- | --- | --- |
| Thursday, October 04, 2018 | Canadiens | Maple Leafs | 12AM UTC+1 |
| Thursday, October 04, 2018 | Bruins | Capitals | 12:30AM UTC+1 |
| Thursday, October 04, 2018 | Flames | Canucks | 3AM UTC+1 |
| Thursday, October 04, 2018 | Ducks | Sharks | 3:30AM UTC+1 |
| Friday, October 05, 2018 | Bruins | Sabres | 12AM UTC+1 |
| Friday, October 05, 2018 | Predators | Rangers | 12AM UTC+1 |
| Friday, October 05, 2018 | Capitals | Penguins | 12AM UTC+1 |
| Friday, October 05, 2018 | Islanders | Hurricanes | 12AM UTC+1 |
| Friday, October 05, 2018 | Blackhawks | Senators | 12:30AM UTC+1 |
| Friday, October 05, 2018 | Blue Jackets | Red Wings | 12:30AM UTC+1 |
| Friday, October 05, 2018 | Jets | Blues | 1AM UTC+1 |
| Friday, October 05, 2018 | Coyotes | Stars | 1:30AM UTC+1 |
| Friday, October 05, 2018 | Wild | Avalanche | 2AM UTC+1 |
| Friday, October 05, 2018 | Flyers | Golden Knights | 3AM UTC+1 |
| Saturday, October 06, 2018 | Hurricanes | Blue Jackets | 12AM UTC+1 |
| Saturday, October 06, 2018 | Sharks | Kings | 3:30AM UTC+1 |
| Saturday, October 06, 2018 | Edmonton Oilers | Devils | 6PM UTC+1 |
| Sunday, October 07, 2018 | Jets | Stars | 12AM UTC+1 |
| Sunday, October 07, 2018 | Rangers | Sabres | 12AM UTC+1 |
| Sunday, October 07, 2018 | Senators | Maple Leafs | 12AM UTC+1 |
| Sunday, October 07, 2018 | Panthers | Lightning | 12AM UTC+1 |
| Sunday, October 07, 2018 | Predators | Islanders | 12AM UTC+1 |
| Sunday, October 07, 2018 | Canadiens | Penguins | 12AM UTC+1 |
| Sunday, October 07, 2018 | Blackhawks | Blues | 1AM UTC+1 |
| Sunday, October 07, 2018 | Golden Knights | Wild | 1AM UTC+1 |
| Sunday, October 07, 2018 | Ducks | Coyotes | 2AM UTC+1 |
| Sunday, October 07, 2018 | Flyers | Avalanche | 2AM UTC+1 |
| Sunday, October 07, 2018 | Canucks | Flames | 3AM UTC+1 |
| Sunday, October 07, 2018 | Rangers | Hurricanes | 10PM UTC+1 |
| Monday, October 08, 2018 | Maple Leafs | Blackhawks | 12AM UTC+1 |
| Monday, October 08, 2018 | Red Wings | Kings | 3:30AM UTC+1 |
| Monday, October 08, 2018 | Senators | Bruins | 6PM UTC+1 |
| Monday, October 08, 2018 | Sharks | Islanders | 6PM UTC+1 |
| Monday, October 08, 2018 | Golden Knights | Sabres | 8PM UTC+1 |
| Tuesday, October 09, 2018 | Red Wings | Ducks | 3AM UTC+1 |
| Wednesday, October 10, 2018 | Sharks | Flyers | 12AM UTC+1 |
| Wednesday, October 10, 2018 | Canucks | Hurricanes | 12AM UTC+1 |
| Wednesday, October 10, 2018 | Avalanche | Blue Jackets | 12AM UTC+1 |
| Wednesday, October 10, 2018 | Flames | Predators | 1AM UTC+1 |
| Wednesday, October 10, 2018 | Kings | Jets | 1AM UTC+1 |
| Wednesday, October 10, 2018 | Maple Leafs | Stars | 1:30AM UTC+1 |
| Thursday, October 11, 2018 | Flyers | Senators | 12:30AM UTC+1 |
| Thursday, October 11, 2018 | Golden Knights | Capitals | 1AM UTC+1 |
| Thursday, October 11, 2018 | Coyotes | Ducks | 3AM UTC+1 |
| Friday, October 12, 2018 | Edmonton Oilers | Bruins | 12AM UTC+1 |
| Friday, October 12, 2018 | Avalanche | Sabres | 12AM UTC+1 |
| Friday, October 12, 2018 | Blue Jackets | Panthers | 12AM UTC+1 |
| Friday, October 12, 2018 | Capitals | Devils | 12AM UTC+1 |
| Friday, October 12, 2018 | Sharks | Rangers | 12AM UTC+1 |
| Friday, October 12, 2018 | Golden Knights | Penguins | 12AM UTC+1 |
| Friday, October 12, 2018 | Kings | Canadiens | 12:30AM UTC+1 |
| Friday, October 12, 2018 | Maple Leafs | Red Wings | 12:30AM UTC+1 |
| Friday, October 12, 2018 | Canucks | Lightning | 12:30AM UTC+1 |
| Friday, October 12, 2018 | Flames | Blues | 1AM UTC+1 |
| Friday, October 12, 2018 | Jets | Predators | 1AM UTC+1 |
| Friday, October 12, 2018 | Blackhawks | Wild | 1AM UTC+1 |
| Friday, October 12, 2018 | Edmonton Oilers | Rangers | 6PM UTC+1 |
| Friday, October 12, 2018 | Golden Knights | Flyers | 6PM UTC+1 |
| Friday, October 12, 2018 | Kings | Senators | 7PM UTC+1 |
| Saturday, October 13, 2018 | Hurricanes | Wild | 11PM UTC+1 |
| Sunday, October 14, 2018 | Red Wings | Bruins | 12AM UTC+1 |
| Sunday, October 14, 2018 | Penguins | Canadiens | 12AM UTC+1 |
| Sunday, October 14, 2018 | Blue Jackets | Lightning | 12AM UTC+1 |
| Sunday, October 14, 2018 | Canucks | Panthers | 12AM UTC+1 |
| Sunday, October 14, 2018 | Maple Leafs | Capitals | 12AM UTC+1 |
| Sunday, October 14, 2018 | Islanders | Predators | 1AM UTC+1 |
| Sunday, October 14, 2018 | Ducks | Stars | 1AM UTC+1 |
| Sunday, October 14, 2018 | Blues | Blackhawks | 1:30AM UTC+1 |
| Sunday, October 14, 2018 | Sabres | Coyotes | 2AM UTC+1 |
| Sunday, October 14, 2018 | Flames | Avalanche | 3AM UTC+1 |
| Sunday, October 14, 2018 | Sharks | Devils | 6PM UTC+1 |
| Monday, October 15, 2018 | Ducks | Blues | 12AM UTC+1 |
| Monday, October 15, 2018 | Hurricanes | Jets | 12AM UTC+1 |
| Tuesday, October 16, 2018 | Kings | Maple Leafs | 12:30AM UTC+1 |
| Tuesday, October 16, 2018 | Red Wings | Canadiens | 12:30AM UTC+1 |
| Tuesday, October 16, 2018 | Stars | Senators | 12:30AM UTC+1 |
| Tuesday, October 16, 2018 | Wild | Predators | 1AM UTC+1 |
| Wednesday, October 17, 2018 | Stars | Devils | 12AM UTC+1 |
| Wednesday, October 17, 2018 | Avalanche | Rangers | 12AM UTC+1 |
| Wednesday, October 17, 2018 | Panthers | Flyers | 12AM UTC+1 |
| Wednesday, October 17, 2018 | Canucks | Penguins | 12AM UTC+1 |
| Wednesday, October 17, 2018 | Hurricanes | Lightning | 12:30AM UTC+1 |
| Wednesday, October 17, 2018 | Coyotes | Wild | 1AM UTC+1 |
| Wednesday, October 17, 2018 | Edmonton Oilers | Jets | 1AM UTC+1 |
| Wednesday, October 17, 2018 | Sabres | Golden Knights | 3AM UTC+1 |
| Thursday, October 18, 2018 | Blues | Canadiens | 12AM UTC+1 |
| Thursday, October 18, 2018 | Rangers | Capitals | 12AM UTC+1 |
| Thursday, October 18, 2018 | Bruins | Flames | 2:30AM UTC+1 |
| Thursday, October 18, 2018 | Islanders | Ducks | 3AM UTC+1 |
| Friday, October 19, 2018 | Penguins | Maple Leafs | 12AM UTC+1 |
| Friday, October 19, 2018 | Avalanche | Devils | 12AM UTC+1 |
| Friday, October 19, 2018 | Flyers | Blue Jackets | 12AM UTC+1 |
| Friday, October 19, 2018 | Red Wings | Lightning | 12:30AM UTC+1 |
| Friday, October 19, 2018 | Canucks | Jets | 1AM UTC+1 |
| Friday, October 19, 2018 | Coyotes | Blackhawks | 1:30AM UTC+1 |
| Friday, October 19, 2018 | Bruins | Edmonton Oilers | 2AM UTC+1 |
| Friday, October 19, 2018 | Islanders | Kings | 3:30AM UTC+1 |
| Friday, October 19, 2018 | Sabres | Sharks | 3:30AM UTC+1 |
| Saturday, October 20, 2018 | Panthers | Capitals | 12AM UTC+1 |
| Saturday, October 20, 2018 | Wild | Stars | 1AM UTC+1 |
| Saturday, October 20, 2018 | Predators | Flames | 2AM UTC+1 |
| Saturday, October 20, 2018 | Devils | Flyers | 6PM UTC+1 |
| Saturday, October 20, 2018 | Avalanche | Hurricanes | 6PM UTC+1 |
| Saturday, October 20, 2018 | Coyotes | Jets | 8PM UTC+1 |
| Saturday, October 20, 2018 | Sabres | Kings | 9PM UTC+1 |
| Sunday, October 21, 2018 | Blues | Maple Leafs | 12AM UTC+1 |
| Sunday, October 21, 2018 | Canadiens | Senators | 12AM UTC+1 |
| Sunday, October 21, 2018 | Red Wings | Panthers | 12AM UTC+1 |
| Sunday, October 21, 2018 | Blackhawks | Blue Jackets | 12AM UTC+1 |
| Sunday, October 21, 2018 | Lightning | Wild | 1AM UTC+1 |
| Sunday, October 21, 2018 | Bruins | Canucks | 3AM UTC+1 |
| Sunday, October 21, 2018 | Ducks | Golden Knights | 3AM UTC+1 |
| Sunday, October 21, 2018 | Predators | Edmonton Oilers | 3AM UTC+1 |
| Sunday, October 21, 2018 | Islanders | Sharks | 3:30AM UTC+1 |
| Monday, October 22, 2018 | Lightning | Blackhawks | 12AM UTC+1 |
| Monday, October 22, 2018 | Flames | Rangers | 12AM UTC+1 |
| Monday, October 22, 2018 | Sabres | Ducks | 1AM UTC+1 |
| Tuesday, October 23, 2018 | Avalanche | Flyers | 12AM UTC+1 |
| Tuesday, October 23, 2018 | Hurricanes | Red Wings | 12:30AM UTC+1 |
| Tuesday, October 23, 2018 | Blues | Jets | 1AM UTC+1 |
| Tuesday, October 23, 2018 | Capitals | Canucks | 3AM UTC+1 |
| Wednesday, October 24, 2018 | Panthers | Rangers | 12AM UTC+1 |
| Wednesday, October 24, 2018 | Coyotes | Blue Jackets | 12AM UTC+1 |
| Wednesday, October 24, 2018 | Flames | Canadiens | 12:30AM UTC+1 |
| Wednesday, October 24, 2018 | Bruins | Senators | 12:30AM UTC+1 |
| Wednesday, October 24, 2018 | Sharks | Predators | 1AM UTC+1 |
| Wednesday, October 24, 2018 | Ducks | Blackhawks | 1:30AM UTC+1 |
| Wednesday, October 24, 2018 | Kings | Stars | 1:30AM UTC+1 |
| Wednesday, October 24, 2018 | Penguins | Edmonton Oilers | 2AM UTC+1 |
| Thursday, October 25, 2018 | Maple Leafs | Jets | 12AM UTC+1 |
| Thursday, October 25, 2018 | Panthers | Islanders | 12AM UTC+1 |
| Thursday, October 25, 2018 | Lightning | Avalanche | 2:30AM UTC+1 |
| Thursday, October 25, 2018 | Canucks | Golden Knights | 3AM UTC+1 |
| Friday, October 26, 2018 | Flyers | Bruins | 12AM UTC+1 |
| Friday, October 26, 2018 | Canadiens | Sabres | 12AM UTC+1 |
| Friday, October 26, 2018 | Predators | Devils | 12AM UTC+1 |
| Friday, October 26, 2018 | Blue Jackets | Blues | 1AM UTC+1 |
| Friday, October 26, 2018 | Kings | Wild | 1AM UTC+1 |
| Friday, October 26, 2018 | Rangers | Blackhawks | 1:30AM UTC+1 |
| Friday, October 26, 2018 | Ducks | Stars | 1:30AM UTC+1 |
| Friday, October 26, 2018 | Penguins | Flames | 2AM UTC+1 |
| Friday, October 26, 2018 | Capitals | Edmonton Oilers | 2AM UTC+1 |
| Friday, October 26, 2018 | Canucks | Coyotes | 3AM UTC+1 |
| Friday, October 26, 2018 | Lightning | Golden Knights | 11PM UTC+1 |
| Saturday, October 27, 2018 | Jets | Red Wings | 12:30AM UTC+1 |
| Saturday, October 27, 2018 | Sharks | Hurricanes | 12:30AM UTC+1 |
| Saturday, October 27, 2018 | Senators | Avalanche | 2AM UTC+1 |
| Saturday, October 27, 2018 | Panthers | Devils | 6PM UTC+1 |
| Saturday, October 27, 2018 | Islanders | Flyers | 6PM UTC+1 |
| Saturday, October 27, 2018 | Edmonton Oilers | Predators | 8PM UTC+1 |
| Saturday, October 27, 2018 | Capitals | Flames | 9PM UTC+1 |
| Sunday, October 28, 2018 | Canadiens | Bruins | 12AM UTC+1 |
| Sunday, October 28, 2018 | Jets | Maple Leafs | 12AM UTC+1 |
| Sunday, October 28, 2018 | Sabres | Blue Jackets | 12AM UTC+1 |
| Sunday, October 28, 2018 | Blackhawks | Blues | 1AM UTC+1 |
| Sunday, October 28, 2018 | Avalanche | Wild | 1AM UTC+1 |
| Sunday, October 28, 2018 | Lightning | Coyotes | 2AM UTC+1 |
| Sunday, October 28, 2018 | Penguins | Canucks | 3AM UTC+1 |
| Sunday, October 28, 2018 | Rangers | Kings | 8:30PM UTC+1 |
| Sunday, October 28, 2018 | Stars | Red Wings | 10PM UTC+1 |
| Sunday, October 28, 2018 | Islanders | Hurricanes | 10PM UTC+1 |
| Sunday, October 28, 2018 | Edmonton Oilers | Blackhawks | 11PM UTC+1 |
| Monday, October 29, 2018 | Senators | Golden Knights | 1AM UTC+1 |
| Monday, October 29, 2018 | Sharks | Ducks | 1AM UTC+1 |
| Tuesday, October 30, 2018 | Flames | Maple Leafs | 12AM UTC+1 |
| Tuesday, October 30, 2018 | Wild | Canucks | 3AM UTC+1 |
| Wednesday, October 31, 2018 | Flames | Sabres | 12AM UTC+1 |
| Wednesday, October 31, 2018 | Islanders | Penguins | 12AM UTC+1 |
| Wednesday, October 31, 2018 | Bruins | Hurricanes | 12AM UTC+1 |
| Wednesday, October 31, 2018 | Red Wings | Blue Jackets | 12AM UTC+1 |
| Wednesday, October 31, 2018 | Stars | Canadiens | 12:30AM UTC+1 |
| Wednesday, October 31, 2018 | Devils | Lightning | 12:30AM UTC+1 |
| Wednesday, October 31, 2018 | Golden Knights | Predators | 1AM UTC+1 |
| Wednesday, October 31, 2018 | Wild | Edmonton Oilers | 2AM UTC+1 |
| Wednesday, October 31, 2018 | Senators | Coyotes | 3AM UTC+1 |
| Wednesday, October 31, 2018 | Flyers | Ducks | 3AM UTC+1 |
| Wednesday, October 31, 2018 | Rangers | Sharks | 3:30AM UTC+1 |
| Thursday, November 01, 2018 | Blackhawks | Canucks | 3AM UTC+1 |
| Thursday, November 01, 2018 | Jets | Panthers | 7PM UTC+1 |
| Friday, November 02, 2018 | Stars | Maple Leafs | 12AM UTC+1 |
| Friday, November 02, 2018 | Penguins | Islanders | 12AM UTC+1 |
| Friday, November 02, 2018 | Capitals | Canadiens | 12:30AM UTC+1 |
| Friday, November 02, 2018 | Sabres | Senators | 12:30AM UTC+1 |
| Friday, November 02, 2018 | Devils | Red Wings | 12:30AM UTC+1 |
| Friday, November 02, 2018 | Predators | Lightning | 12:30AM UTC+1 |
| Friday, November 02, 2018 | Golden Knights | Blues | 1AM UTC+1 |
| Friday, November 02, 2018 | Avalanche | Flames | 2AM UTC+1 |
| Friday, November 02, 2018 | Blackhawks | Edmonton Oilers | 2AM UTC+1 |
| Friday, November 02, 2018 | Rangers | Ducks | 3AM UTC+1 |
| Friday, November 02, 2018 | Flyers | Kings | 3:30AM UTC+1 |
| Friday, November 02, 2018 | Blue Jackets | Sharks | 3:30AM UTC+1 |
| Friday, November 02, 2018 | Panthers | Jets | 7PM UTC+1 |
| Saturday, November 03, 2018 | Avalanche | Canucks | 3AM UTC+1 |
| Saturday, November 03, 2018 | Hurricanes | Coyotes | 3AM UTC+1 |
| Saturday, November 03, 2018 | Senators | Sabres | 6PM UTC+1 |
| Sunday, November 04, 2018 | Lightning | Canadiens | 12AM UTC+1 |
| Sunday, November 04, 2018 | Edmonton Oilers | Red Wings | 12AM UTC+1 |
| Sunday, November 04, 2018 | Devils | Islanders | 12AM UTC+1 |
| Sunday, November 04, 2018 | Maple Leafs | Penguins | 12AM UTC+1 |
| Sunday, November 04, 2018 | Stars | Capitals | 12AM UTC+1 |
| Sunday, November 04, 2018 | Wild | Blues | 1AM UTC+1 |
| Sunday, November 04, 2018 | Bruins | Predators | 1AM UTC+1 |
| Sunday, November 04, 2018 | Hurricanes | Golden Knights | 3AM UTC+1 |
| Sunday, November 04, 2018 | Blackhawks | Flames | 3AM UTC+1 |
| Sunday, November 04, 2018 | Blue Jackets | Kings | 3:30AM UTC+1 |
| Sunday, November 04, 2018 | Flyers | Sharks | 3:30AM UTC+1 |
| Monday, November 05, 2018 | Lightning | Senators | 12AM UTC+1 |
| Monday, November 05, 2018 | Sabres | Rangers | 12AM UTC+1 |
| Monday, November 05, 2018 | Blue Jackets | Ducks | 2AM UTC+1 |
| Tuesday, November 06, 2018 | Stars | Bruins | 12AM UTC+1 |
| Tuesday, November 06, 2018 | Canadiens | Islanders | 12AM UTC+1 |
| Tuesday, November 06, 2018 | Devils | Penguins | 12AM UTC+1 |
| Tuesday, November 06, 2018 | Edmonton Oilers | Capitals | 12AM UTC+1 |
| Tuesday, November 06, 2018 | Flyers | Coyotes | 2AM UTC+1 |
| Wednesday, November 07, 2018 | Golden Knights | Maple Leafs | 12AM UTC+1 |
| Wednesday, November 07, 2018 | Canadiens | Rangers | 12AM UTC+1 |
| Wednesday, November 07, 2018 | Stars | Blue Jackets | 12AM UTC+1 |
| Wednesday, November 07, 2018 | Devils | Senators | 12:30AM UTC+1 |
| Wednesday, November 07, 2018 | Canucks | Red Wings | 12:30AM UTC+1 |
| Wednesday, November 07, 2018 | Edmonton Oilers | Lightning | 12:30AM UTC+1 |
| Wednesday, November 07, 2018 | Hurricanes | Blues | 1AM UTC+1 |
| Wednesday, November 07, 2018 | Ducks | Kings | 3:30AM UTC+1 |
| Wednesday, November 07, 2018 | Wild | Sharks | 3:30AM UTC+1 |
| Thursday, November 08, 2018 | Penguins | Capitals | 12:30AM UTC+1 |
| Thursday, November 08, 2018 | Predators | Avalanche | 3AM UTC+1 |
| Thursday, November 08, 2018 | Flames | Ducks | 3:30AM UTC+1 |
| Friday, November 09, 2018 | Canucks | Bruins | 12AM UTC+1 |
| Friday, November 09, 2018 | Edmonton Oilers | Panthers | 12AM UTC+1 |
| Friday, November 09, 2018 | Coyotes | Flyers | 12AM UTC+1 |
| Friday, November 09, 2018 | Sabres | Canadiens | 12:30AM UTC+1 |
| Friday, November 09, 2018 | Golden Knights | Senators | 12:30AM UTC+1 |
| Friday, November 09, 2018 | Islanders | Lightning | 12:30AM UTC+1 |
| Friday, November 09, 2018 | Hurricanes | Blackhawks | 1:30AM UTC+1 |
| Friday, November 09, 2018 | Sharks | Stars | 1:30AM UTC+1 |
| Friday, November 09, 2018 | Wild | Kings | 3:30AM UTC+1 |
| Saturday, November 10, 2018 | Devils | Maple Leafs | 12AM UTC+1 |
| Saturday, November 10, 2018 | Blue Jackets | Capitals | 12AM UTC+1 |
| Saturday, November 10, 2018 | Rangers | Red Wings | 12:30AM UTC+1 |
| Saturday, November 10, 2018 | Sharks | Blues | 1AM UTC+1 |
| Saturday, November 10, 2018 | Avalanche | Jets | 1AM UTC+1 |
| Saturday, November 10, 2018 | Wild | Ducks | 3AM UTC+1 |
| Saturday, November 10, 2018 | Canucks | Sabres | 6PM UTC+1 |
| Saturday, November 10, 2018 | Blackhawks | Flyers | 6PM UTC+1 |
| Saturday, November 10, 2018 | Predators | Stars | 7PM UTC+1 |
| Sunday, November 11, 2018 | Maple Leafs | Bruins | 12AM UTC+1 |
| Sunday, November 11, 2018 | Golden Knights | Canadiens | 12AM UTC+1 |
| Sunday, November 11, 2018 | Senators | Lightning | 12AM UTC+1 |
| Sunday, November 11, 2018 | Islanders | Panthers | 12AM UTC+1 |
| Sunday, November 11, 2018 | Coyotes | Penguins | 12AM UTC+1 |
| Sunday, November 11, 2018 | Red Wings | Hurricanes | 12AM UTC+1 |
| Sunday, November 11, 2018 | Rangers | Blue Jackets | 12AM UTC+1 |
| Sunday, November 11, 2018 | Flames | Kings | 3AM UTC+1 |
| Sunday, November 11, 2018 | Wild | Blues | 8PM UTC+1 |
| Sunday, November 11, 2018 | Senators | Panthers | 10PM UTC+1 |
| Sunday, November 11, 2018 | Coyotes | Capitals | 10PM UTC+1 |
| Monday, November 12, 2018 | Devils | Jets | 12AM UTC+1 |
| Monday, November 12, 2018 | Golden Knights | Bruins | 12AM UTC+1 |
| Monday, November 12, 2018 | Flames | Sharks | 2AM UTC+1 |
| Monday, November 12, 2018 | Avalanche | Edmonton Oilers | 2:30AM UTC+1 |
| Tuesday, November 13, 2018 | Canucks | Rangers | 12AM UTC+1 |
| Tuesday, November 13, 2018 | Blackhawks | Hurricanes | 12AM UTC+1 |
| Tuesday, November 13, 2018 | Blue Jackets | Stars | 1:30AM UTC+1 |
| Tuesday, November 13, 2018 | Predators | Ducks | 3AM UTC+1 |
| Wednesday, November 14, 2018 | Lightning | Sabres | 12AM UTC+1 |
| Wednesday, November 14, 2018 | Penguins | Devils | 12AM UTC+1 |
| Wednesday, November 14, 2018 | Canucks | Islanders | 12AM UTC+1 |
| Wednesday, November 14, 2018 | Panthers | Flyers | 12AM UTC+1 |
| Wednesday, November 14, 2018 | Coyotes | Red Wings | 12:30AM UTC+1 |
| Wednesday, November 14, 2018 | Capitals | Wild | 1AM UTC+1 |
| Wednesday, November 14, 2018 | Canadiens | Edmonton Oilers | 2AM UTC+1 |
| Wednesday, November 14, 2018 | Maple Leafs | Kings | 3:30AM UTC+1 |
| Wednesday, November 14, 2018 | Predators | Sharks | 3:30AM UTC+1 |
| Thursday, November 15, 2018 | Blues | Blackhawks | 1AM UTC+1 |
| Thursday, November 15, 2018 | Capitals | Jets | 1AM UTC+1 |
| Thursday, November 15, 2018 | Bruins | Avalanche | 3AM UTC+1 |
| Thursday, November 15, 2018 | Ducks | Golden Knights | 3:30AM UTC+1 |
| Friday, November 16, 2018 | Rangers | Islanders | 12AM UTC+1 |
| Friday, November 16, 2018 | Devils | Flyers | 12AM UTC+1 |
| Friday, November 16, 2018 | Lightning | Penguins | 12AM UTC+1 |
| Friday, November 16, 2018 | Panthers | Blue Jackets | 12AM UTC+1 |
| Friday, November 16, 2018 | Red Wings | Senators | 12:30AM UTC+1 |
| Friday, November 16, 2018 | Canucks | Wild | 1AM UTC+1 |
| Friday, November 16, 2018 | Canadiens | Flames | 2AM UTC+1 |
| Friday, November 16, 2018 | Predators | Coyotes | 2AM UTC+1 |
| Friday, November 16, 2018 | Maple Leafs | Sharks | 3:30AM UTC+1 |
| Saturday, November 17, 2018 | Bruins | Stars | 1AM UTC+1 |
| Saturday, November 17, 2018 | Sabres | Jets | 1AM UTC+1 |
| Saturday, November 17, 2018 | Kings | Blackhawks | 1:30AM UTC+1 |
| Saturday, November 17, 2018 | Capitals | Avalanche | 2AM UTC+1 |
| Saturday, November 17, 2018 | Blues | Golden Knights | 3AM UTC+1 |
| Saturday, November 17, 2018 | Maple Leafs | Ducks | 3AM UTC+1 |
| Saturday, November 17, 2018 | Red Wings | Devils | 6PM UTC+1 |
| Saturday, November 17, 2018 | Lightning | Flyers | 6PM UTC+1 |
| Saturday, November 17, 2018 | Sabres | Wild | 11PM UTC+1 |
| Sunday, November 18, 2018 | Canadiens | Canucks | 12AM UTC+1 |
| Sunday, November 18, 2018 | Penguins | Senators | 12AM UTC+1 |
| Sunday, November 18, 2018 | Panthers | Rangers | 12AM UTC+1 |
| Sunday, November 18, 2018 | Blue Jackets | Hurricanes | 12AM UTC+1 |
| Sunday, November 18, 2018 | Bruins | Coyotes | 1AM UTC+1 |
| Sunday, November 18, 2018 | Kings | Predators | 1AM UTC+1 |
| Sunday, November 18, 2018 | Edmonton Oilers | Flames | 3AM UTC+1 |
| Sunday, November 18, 2018 | Blues | Sharks | 3:30AM UTC+1 |
| Sunday, November 18, 2018 | Stars | Islanders | 6PM UTC+1 |
| Sunday, November 18, 2018 | Devils | Hurricanes | 10PM UTC+1 |
| Sunday, November 18, 2018 | Wild | Blackhawks | 11PM UTC+1 |
| Monday, November 19, 2018 | Avalanche | Ducks | 1AM UTC+1 |
| Monday, November 19, 2018 | Golden Knights | Edmonton Oilers | 1AM UTC+1 |
| Tuesday, November 20, 2018 | Blue Jackets | Maple Leafs | 12AM UTC+1 |
| Tuesday, November 20, 2018 | Stars | Rangers | 12AM UTC+1 |
| Tuesday, November 20, 2018 | Sabres | Penguins | 12AM UTC+1 |
| Tuesday, November 20, 2018 | Capitals | Canadiens | 12:30AM UTC+1 |
| Tuesday, November 20, 2018 | Panthers | Senators | 12:30AM UTC+1 |
| Tuesday, November 20, 2018 | Kings | Blues | 1AM UTC+1 |
| Tuesday, November 20, 2018 | Lightning | Predators | 1AM UTC+1 |
| Tuesday, November 20, 2018 | Golden Knights | Flames | 2AM UTC+1 |
| Tuesday, November 20, 2018 | Jets | Canucks | 3AM UTC+1 |
| Wednesday, November 21, 2018 | Edmonton Oilers | Sharks | 3:30AM UTC+1 |
| Thursday, November 22, 2018 | Flyers | Sabres | 12AM UTC+1 |
| Thursday, November 22, 2018 | Canadiens | Devils | 12AM UTC+1 |
| Thursday, November 22, 2018 | Islanders | Rangers | 12AM UTC+1 |
| Thursday, November 22, 2018 | Stars | Penguins | 12AM UTC+1 |
| Thursday, November 22, 2018 | Blackhawks | Capitals | 12AM UTC+1 |
| Thursday, November 22, 2018 | Maple Leafs | Hurricanes | 12AM UTC+1 |
| Thursday, November 22, 2018 | Bruins | Red Wings | 12:30AM UTC+1 |
| Thursday, November 22, 2018 | Panthers | Lightning | 12:30AM UTC+1 |
| Thursday, November 22, 2018 | Blues | Predators | 1AM UTC+1 |
| Thursday, November 22, 2018 | Senators | Wild | 1AM UTC+1 |
| Thursday, November 22, 2018 | Golden Knights | Coyotes | 2AM UTC+1 |
| Thursday, November 22, 2018 | Canucks | Ducks | 3AM UTC+1 |
| Thursday, November 22, 2018 | Jets | Flames | 3AM UTC+1 |
| Thursday, November 22, 2018 | Avalanche | Kings | 3:30AM UTC+1 |
| Friday, November 23, 2018 | Rangers | Flyers | 6PM UTC+1 |
| Friday, November 23, 2018 | Edmonton Oilers | Ducks | 9PM UTC+1 |
| Friday, November 23, 2018 | Jets | Wild | 9PM UTC+1 |
| Friday, November 23, 2018 | Canadiens | Sabres | 9PM UTC+1 |
| Friday, November 23, 2018 | Islanders | Devils | 9PM UTC+1 |
| Friday, November 23, 2018 | Red Wings | Capitals | 9PM UTC+1 |
| Friday, November 23, 2018 | Flames | Golden Knights | 11PM UTC+1 |
| Saturday, November 24, 2018 | Maple Leafs | Blue Jackets | 12AM UTC+1 |
| Saturday, November 24, 2018 | Penguins | Bruins | 12:30AM UTC+1 |
| Saturday, November 24, 2018 | Blackhawks | Lightning | 12:30AM UTC+1 |
| Saturday, November 24, 2018 | Panthers | Hurricanes | 12:30AM UTC+1 |
| Saturday, November 24, 2018 | Avalanche | Coyotes | 1AM UTC+1 |
| Saturday, November 24, 2018 | Predators | Blues | 1AM UTC+1 |
| Saturday, November 24, 2018 | Senators | Stars | 1AM UTC+1 |
| Saturday, November 24, 2018 | Canucks | Sharks | 2AM UTC+1 |
| Saturday, November 24, 2018 | Capitals | Rangers | 7PM UTC+1 |
| Sunday, November 25, 2018 | Jets | Blues | 12AM UTC+1 |
| Sunday, November 25, 2018 | Flyers | Maple Leafs | 12AM UTC+1 |
| Sunday, November 25, 2018 | Bruins | Canadiens | 12AM UTC+1 |
| Sunday, November 25, 2018 | Sabres | Red Wings | 12AM UTC+1 |
| Sunday, November 25, 2018 | Blackhawks | Panthers | 12AM UTC+1 |
| Sunday, November 25, 2018 | Hurricanes | Islanders | 12AM UTC+1 |
| Sunday, November 25, 2018 | Blue Jackets | Penguins | 12AM UTC+1 |
| Sunday, November 25, 2018 | Stars | Avalanche | 2AM UTC+1 |
| Sunday, November 25, 2018 | Sharks | Golden Knights | 3AM UTC+1 |
| Sunday, November 25, 2018 | Canucks | Kings | 3AM UTC+1 |
| Sunday, November 25, 2018 | Flames | Coyotes | 8PM UTC+1 |
| Monday, November 26, 2018 | Devils | Lightning | 12AM UTC+1 |
| Monday, November 26, 2018 | Ducks | Predators | 1AM UTC+1 |
| Monday, November 26, 2018 | Edmonton Oilers | Kings | 3:30AM UTC+1 |
| Tuesday, November 27, 2018 | Bruins | Maple Leafs | 12AM UTC+1 |
| Tuesday, November 27, 2018 | Devils | Panthers | 12AM UTC+1 |
| Tuesday, November 27, 2018 | Capitals | Islanders | 12AM UTC+1 |
| Tuesday, November 27, 2018 | Senators | Rangers | 12AM UTC+1 |
| Tuesday, November 27, 2018 | Blue Jackets | Red Wings | 12:30AM UTC+1 |
| Wednesday, November 28, 2018 | Sharks | Sabres | 12AM UTC+1 |
| Wednesday, November 28, 2018 | Senators | Flyers | 12AM UTC+1 |
| Wednesday, November 28, 2018 | Hurricanes | Canadiens | 12:30AM UTC+1 |
| Wednesday, November 28, 2018 | Ducks | Lightning | 12:30AM UTC+1 |
| Wednesday, November 28, 2018 | Avalanche | Predators | 1AM UTC+1 |
| Wednesday, November 28, 2018 | Coyotes | Wild | 1AM UTC+1 |
| Wednesday, November 28, 2018 | Penguins | Jets | 1AM UTC+1 |
| Wednesday, November 28, 2018 | Golden Knights | Blackhawks | 1:30AM UTC+1 |
| Wednesday, November 28, 2018 | Stars | Edmonton Oilers | 2AM UTC+1 |
| Wednesday, November 28, 2018 | Kings | Canucks | 3AM UTC+1 |
| Thursday, November 29, 2018 | Blues | Red Wings | 12AM UTC+1 |
| Thursday, November 29, 2018 | Ducks | Panthers | 12AM UTC+1 |
| Thursday, November 29, 2018 | Sharks | Maple Leafs | 12:30AM UTC+1 |
| Thursday, November 29, 2018 | Stars | Flames | 2AM UTC+1 |
| Thursday, November 29, 2018 | Penguins | Avalanche | 2:30AM UTC+1 |
| Friday, November 30, 2018 | Islanders | Bruins | 12AM UTC+1 |
| Friday, November 30, 2018 | Wild | Blue Jackets | 12AM UTC+1 |
| Friday, November 30, 2018 | Rangers | Senators | 12:30AM UTC+1 |
| Friday, November 30, 2018 | Sabres | Lightning | 12:30AM UTC+1 |
| Friday, November 30, 2018 | Coyotes | Predators | 1AM UTC+1 |
| Friday, November 30, 2018 | Blackhawks | Jets | 1AM UTC+1 |
| Friday, November 30, 2018 | Kings | Edmonton Oilers | 2AM UTC+1 |
| Friday, November 30, 2018 | Golden Knights | Canucks | 3AM UTC+1 |
| Saturday, December 01, 2018 | Sabres | Panthers | 12AM UTC+1 |
| Saturday, December 01, 2018 | Devils | Capitals | 12AM UTC+1 |
| Saturday, December 01, 2018 | Ducks | Hurricanes | 12:30AM UTC+1 |
| Saturday, December 01, 2018 | Blues | Avalanche | 2AM UTC+1 |
| Saturday, December 01, 2018 | Kings | Flames | 2AM UTC+1 |
| Saturday, December 01, 2018 | Sharks | Senators | 7PM UTC+1 |
| Saturday, December 01, 2018 | Stars | Canucks | 9PM UTC+1 |
| Sunday, December 02, 2018 | Maple Leafs | Wild | 12AM UTC+1 |
| Sunday, December 02, 2018 | Red Wings | Bruins | 12AM UTC+1 |
| Sunday, December 02, 2018 | Rangers | Canadiens | 12AM UTC+1 |
| Sunday, December 02, 2018 | Lightning | Panthers | 12AM UTC+1 |
| Sunday, December 02, 2018 | Jets | Devils | 12AM UTC+1 |
| Sunday, December 02, 2018 | Blue Jackets | Islanders | 12AM UTC+1 |
| Sunday, December 02, 2018 | Flyers | Penguins | 12AM UTC+1 |
| Sunday, December 02, 2018 | Blues | Coyotes | 1AM UTC+1 |
| Sunday, December 02, 2018 | Blackhawks | Predators | 1AM UTC+1 |
| Sunday, December 02, 2018 | Golden Knights | Edmonton Oilers | 3AM UTC+1 |
| Sunday, December 02, 2018 | Ducks | Capitals | 8PM UTC+1 |
| Sunday, December 02, 2018 | Jets | Rangers | 11PM UTC+1 |
| Monday, December 03, 2018 | Flames | Blackhawks | 12AM UTC+1 |
| Monday, December 03, 2018 | Sharks | Canadiens | 12AM UTC+1 |
| Monday, December 03, 2018 | Avalanche | Red Wings | 12AM UTC+1 |
| Monday, December 03, 2018 | Hurricanes | Kings | 3:30AM UTC+1 |
| Tuesday, December 04, 2018 | Lightning | Devils | 12AM UTC+1 |
| Tuesday, December 04, 2018 | Sabres | Predators | 1AM UTC+1 |
| Tuesday, December 04, 2018 | Edmonton Oilers | Stars | 1:30AM UTC+1 |
| Wednesday, December 05, 2018 | Maple Leafs | Sabres | 12AM UTC+1 |
| Wednesday, December 05, 2018 | Bruins | Panthers | 12AM UTC+1 |
| Wednesday, December 05, 2018 | Jets | Islanders | 12AM UTC+1 |
| Wednesday, December 05, 2018 | Avalanche | Penguins | 12AM UTC+1 |
| Wednesday, December 05, 2018 | Flames | Blue Jackets | 12AM UTC+1 |
| Wednesday, December 05, 2018 | Senators | Canadiens | 12:30AM UTC+1 |
| Wednesday, December 05, 2018 | Lightning | Red Wings | 12:30AM UTC+1 |
| Wednesday, December 05, 2018 | Wild | Canucks | 3AM UTC+1 |
| Wednesday, December 05, 2018 | Capitals | Golden Knights | 3AM UTC+1 |
| Wednesday, December 05, 2018 | Coyotes | Kings | 3:30AM UTC+1 |
| Thursday, December 06, 2018 | Edmonton Oilers | Blues | 1AM UTC+1 |
| Thursday, December 06, 2018 | Blackhawks | Ducks | 3:30AM UTC+1 |
| Thursday, December 06, 2018 | Hurricanes | Sharks | 3:30AM UTC+1 |
| Friday, December 07, 2018 | Red Wings | Maple Leafs | 12AM UTC+1 |
| Friday, December 07, 2018 | Avalanche | Panthers | 12AM UTC+1 |
| Friday, December 07, 2018 | Blue Jackets | Flyers | 12AM UTC+1 |
| Friday, December 07, 2018 | Islanders | Penguins | 12AM UTC+1 |
| Friday, December 07, 2018 | Canadiens | Senators | 12:30AM UTC+1 |
| Friday, December 07, 2018 | Bruins | Lightning | 12:30AM UTC+1 |
| Friday, December 07, 2018 | Wild | Flames | 2AM UTC+1 |
| Friday, December 07, 2018 | Capitals | Coyotes | 2AM UTC+1 |
| Friday, December 07, 2018 | Predators | Canucks | 3AM UTC+1 |
| Friday, December 07, 2018 | Blackhawks | Golden Knights | 3AM UTC+1 |
| Friday, December 07, 2018 | Devils | Kings | 3:30AM UTC+1 |
| Saturday, December 08, 2018 | Sharks | Stars | 1AM UTC+1 |
| Saturday, December 08, 2018 | Blues | Jets | 1AM UTC+1 |
| Saturday, December 08, 2018 | Wild | Edmonton Oilers | 2AM UTC+1 |
| Saturday, December 08, 2018 | Hurricanes | Ducks | 3AM UTC+1 |
| Saturday, December 08, 2018 | Flyers | Sabres | 6PM UTC+1 |
| Saturday, December 08, 2018 | Golden Knights | Kings | 9PM UTC+1 |
| Sunday, December 09, 2018 | Maple Leafs | Bruins | 12AM UTC+1 |
| Sunday, December 09, 2018 | Penguins | Senators | 12AM UTC+1 |
| Sunday, December 09, 2018 | Islanders | Red Wings | 12AM UTC+1 |
| Sunday, December 09, 2018 | Avalanche | Lightning | 12AM UTC+1 |
| Sunday, December 09, 2018 | Rangers | Panthers | 12AM UTC+1 |
| Sunday, December 09, 2018 | Capitals | Blue Jackets | 12AM UTC+1 |
| Sunday, December 09, 2018 | Sharks | Coyotes | 1AM UTC+1 |
| Sunday, December 09, 2018 | Predators | Flames | 3AM UTC+1 |
| Sunday, December 09, 2018 | Canucks | Blues | 8PM UTC+1 |
| Sunday, December 09, 2018 | Flyers | Jets | 8PM UTC+1 |
| Sunday, December 09, 2018 | Bruins | Senators | 10PM UTC+1 |
| Sunday, December 09, 2018 | Canadiens | Blackhawks | 11PM UTC+1 |
| Monday, December 10, 2018 | Devils | Ducks | 1AM UTC+1 |
| Monday, December 10, 2018 | Stars | Golden Knights | 2AM UTC+1 |
| Monday, December 10, 2018 | Flames | Edmonton Oilers | 2AM UTC+1 |
| Tuesday, December 11, 2018 | Penguins | Islanders | 12AM UTC+1 |
| Tuesday, December 11, 2018 | Kings | Red Wings | 12:30AM UTC+1 |
| Tuesday, December 11, 2018 | Rangers | Lightning | 12:30AM UTC+1 |
| Tuesday, December 11, 2018 | Devils | Sharks | 3:30AM UTC+1 |
| Wednesday, December 12, 2018 | Coyotes | Bruins | 12AM UTC+1 |
| Wednesday, December 12, 2018 | Kings | Sabres | 12AM UTC+1 |
| Wednesday, December 12, 2018 | Red Wings | Capitals | 12AM UTC+1 |
| Wednesday, December 12, 2018 | Maple Leafs | Hurricanes | 12AM UTC+1 |
| Wednesday, December 12, 2018 | Canucks | Blue Jackets | 12AM UTC+1 |
| Wednesday, December 12, 2018 | Panthers | Blues | 1AM UTC+1 |
| Wednesday, December 12, 2018 | Senators | Predators | 1AM UTC+1 |
| Wednesday, December 12, 2018 | Canadiens | Wild | 1AM UTC+1 |
| Wednesday, December 12, 2018 | Blackhawks | Jets | 1AM UTC+1 |
| Wednesday, December 12, 2018 | Edmonton Oilers | Avalanche | 2AM UTC+1 |
| Thursday, December 13, 2018 | Golden Knights | Islanders | 12AM UTC+1 |
| Thursday, December 13, 2018 | Penguins | Blackhawks | 1AM UTC+1 |
| Thursday, December 13, 2018 | Flyers | Flames | 1:30AM UTC+1 |
| Thursday, December 13, 2018 | Stars | Ducks | 3AM UTC+1 |
| Friday, December 14, 2018 | Coyotes | Sabres | 12AM UTC+1 |
| Friday, December 14, 2018 | Kings | Blue Jackets | 12AM UTC+1 |
| Friday, December 14, 2018 | Hurricanes | Canadiens | 12:30AM UTC+1 |
| Friday, December 14, 2018 | Maple Leafs | Lightning | 12:30AM UTC+1 |
| Friday, December 14, 2018 | Canucks | Predators | 1AM UTC+1 |
| Friday, December 14, 2018 | Panthers | Wild | 1AM UTC+1 |
| Friday, December 14, 2018 | Edmonton Oilers | Jets | 1AM UTC+1 |
| Friday, December 14, 2018 | Stars | Sharks | 3:30AM UTC+1 |
| Saturday, December 15, 2018 | Golden Knights | Devils | 12AM UTC+1 |
| Saturday, December 15, 2018 | Coyotes | Rangers | 12AM UTC+1 |
| Saturday, December 15, 2018 | Bruins | Penguins | 12AM UTC+1 |
| Saturday, December 15, 2018 | Senators | Red Wings | 12:30AM UTC+1 |
| Saturday, December 15, 2018 | Capitals | Hurricanes | 12:30AM UTC+1 |
| Saturday, December 15, 2018 | Avalanche | Blues | 1AM UTC+1 |
| Saturday, December 15, 2018 | Jets | Blackhawks | 1:30AM UTC+1 |
| Saturday, December 15, 2018 | Flyers | Edmonton Oilers | 2AM UTC+1 |
| Saturday, December 15, 2018 | Flames | Wild | 7PM UTC+1 |
| Sunday, December 16, 2018 | Senators | Canadiens | 12AM UTC+1 |
| Sunday, December 16, 2018 | Maple Leafs | Panthers | 12AM UTC+1 |
| Sunday, December 16, 2018 | Red Wings | Islanders | 12AM UTC+1 |
| Sunday, December 16, 2018 | Kings | Penguins | 12AM UTC+1 |
| Sunday, December 16, 2018 | Sabres | Capitals | 12AM UTC+1 |
| Sunday, December 16, 2018 | Ducks | Blue Jackets | 12AM UTC+1 |
| Sunday, December 16, 2018 | Devils | Predators | 1AM UTC+1 |
| Sunday, December 16, 2018 | Stars | Avalanche | 2AM UTC+1 |
| Sunday, December 16, 2018 | Flyers | Canucks | 3AM UTC+1 |
| Sunday, December 16, 2018 | Golden Knights | Rangers | 6PM UTC+1 |
| Sunday, December 16, 2018 | Coyotes | Hurricanes | 6PM UTC+1 |
| Sunday, December 16, 2018 | Flames | Blues | 8PM UTC+1 |
| Sunday, December 16, 2018 | Sabres | Bruins | 10PM UTC+1 |
| Monday, December 17, 2018 | Sharks | Blackhawks | 12AM UTC+1 |
| Monday, December 17, 2018 | Lightning | Jets | 12AM UTC+1 |
| Monday, December 17, 2018 | Edmonton Oilers | Canucks | 3AM UTC+1 |
| Tuesday, December 18, 2018 | Ducks | Penguins | 12AM UTC+1 |
| Tuesday, December 18, 2018 | Golden Knights | Blue Jackets | 12AM UTC+1 |
| Tuesday, December 18, 2018 | Bruins | Canadiens | 12:30AM UTC+1 |
| Tuesday, December 18, 2018 | Predators | Senators | 12:30AM UTC+1 |
| Tuesday, December 18, 2018 | Islanders | Avalanche | 2AM UTC+1 |
| Wednesday, December 19, 2018 | Panthers | Sabres | 12AM UTC+1 |
| Wednesday, December 19, 2018 | Maple Leafs | Devils | 12AM UTC+1 |
| Wednesday, December 19, 2018 | Ducks | Rangers | 12AM UTC+1 |
| Wednesday, December 19, 2018 | Red Wings | Flyers | 12AM UTC+1 |
| Wednesday, December 19, 2018 | Sharks | Wild | 1AM UTC+1 |
| Wednesday, December 19, 2018 | Predators | Blackhawks | 1:30AM UTC+1 |
| Wednesday, December 19, 2018 | Flames | Stars | 1:30AM UTC+1 |
| Wednesday, December 19, 2018 | Blues | Edmonton Oilers | 2AM UTC+1 |
| Wednesday, December 19, 2018 | Islanders | Coyotes | 2AM UTC+1 |
| Wednesday, December 19, 2018 | Lightning | Canucks | 3AM UTC+1 |
| Wednesday, December 19, 2018 | Jets | Kings | 3:30AM UTC+1 |
| Thursday, December 20, 2018 | Penguins | Capitals | 1AM UTC+1 |
| Thursday, December 20, 2018 | Canadiens | Avalanche | 1:30AM UTC+1 |
| Friday, December 21, 2018 | Ducks | Bruins | 12AM UTC+1 |
| Friday, December 21, 2018 | Panthers | Maple Leafs | 12AM UTC+1 |
| Friday, December 21, 2018 | Predators | Flyers | 12AM UTC+1 |
| Friday, December 21, 2018 | Wild | Penguins | 12AM UTC+1 |
| Friday, December 21, 2018 | Red Wings | Hurricanes | 12AM UTC+1 |
| Friday, December 21, 2018 | Devils | Blue Jackets | 12AM UTC+1 |
| Friday, December 21, 2018 | Blackhawks | Stars | 1:30AM UTC+1 |
| Friday, December 21, 2018 | Lightning | Flames | 2AM UTC+1 |
| Friday, December 21, 2018 | Canadiens | Coyotes | 2AM UTC+1 |
| Friday, December 21, 2018 | Blues | Canucks | 3AM UTC+1 |
| Friday, December 21, 2018 | Islanders | Golden Knights | 3AM UTC+1 |
| Friday, December 21, 2018 | Jets | Sharks | 3:30AM UTC+1 |
| Saturday, December 22, 2018 | Senators | Devils | 12AM UTC+1 |
| Saturday, December 22, 2018 | Sabres | Capitals | 12AM UTC+1 |
| Saturday, December 22, 2018 | Blackhawks | Avalanche | 2AM UTC+1 |
| Saturday, December 22, 2018 | Predators | Bruins | 6PM UTC+1 |
| Saturday, December 22, 2018 | Blue Jackets | Flyers | 6PM UTC+1 |
| Saturday, December 22, 2018 | Panthers | Red Wings | 7PM UTC+1 |
| Saturday, December 22, 2018 | Canadiens | Golden Knights | 9PM UTC+1 |
| Saturday, December 22, 2018 | Kings | Sharks | 9PM UTC+1 |
| Saturday, December 22, 2018 | Blues | Flames | 9PM UTC+1 |
| Sunday, December 23, 2018 | Avalanche | Coyotes | 12AM UTC+1 |
| Sunday, December 23, 2018 | Ducks | Sabres | 12AM UTC+1 |
| Sunday, December 23, 2018 | Rangers | Maple Leafs | 12AM UTC+1 |
| Sunday, December 23, 2018 | Capitals | Senators | 12AM UTC+1 |
| Sunday, December 23, 2018 | Penguins | Hurricanes | 12AM UTC+1 |
| Sunday, December 23, 2018 | Stars | Wild | 1AM UTC+1 |
| Sunday, December 23, 2018 | Jets | Canucks | 3AM UTC+1 |
| Sunday, December 23, 2018 | Lightning | Edmonton Oilers | 3AM UTC+1 |
| Sunday, December 23, 2018 | Blue Jackets | Devils | 6PM UTC+1 |
| Sunday, December 23, 2018 | Bruins | Hurricanes | 10PM UTC+1 |
| Monday, December 24, 2018 | Panthers | Blackhawks | 12AM UTC+1 |
| Monday, December 24, 2018 | Flyers | Rangers | 12AM UTC+1 |
| Monday, December 24, 2018 | Red Wings | Maple Leafs | 12:30AM UTC+1 |
| Monday, December 24, 2018 | Kings | Golden Knights | 1AM UTC+1 |
| Monday, December 24, 2018 | Coyotes | Sharks | 1AM UTC+1 |
| Monday, December 24, 2018 | Islanders | Stars | 1AM UTC+1 |
| Friday, December 28, 2018 | Devils | Bruins | 12AM UTC+1 |
| Friday, December 28, 2018 | Blue Jackets | Rangers | 12AM UTC+1 |
| Friday, December 28, 2018 | Red Wings | Penguins | 12AM UTC+1 |
| Friday, December 28, 2018 | Hurricanes | Capitals | 12AM UTC+1 |
| Friday, December 28, 2018 | Flyers | Lightning | 12:30AM UTC+1 |
| Friday, December 28, 2018 | Sabres | Blues | 1AM UTC+1 |
| Friday, December 28, 2018 | Stars | Predators | 1AM UTC+1 |
| Friday, December 28, 2018 | Flames | Jets | 1AM UTC+1 |
| Friday, December 28, 2018 | Wild | Blackhawks | 1:30AM UTC+1 |
| Friday, December 28, 2018 | Canucks | Edmonton Oilers | 2AM UTC+1 |
| Friday, December 28, 2018 | Avalanche | Golden Knights | 3AM UTC+1 |
| Friday, December 28, 2018 | Coyotes | Kings | 3:30AM UTC+1 |
| Friday, December 28, 2018 | Ducks | Sharks | 3:30AM UTC+1 |
| Saturday, December 29, 2018 | Canadiens | Panthers | 12AM UTC+1 |
| Saturday, December 29, 2018 | Senators | Islanders | 12AM UTC+1 |
| Saturday, December 29, 2018 | Maple Leafs | Blue Jackets | 12AM UTC+1 |
| Saturday, December 29, 2018 | Hurricanes | Devils | 6PM UTC+1 |
| Saturday, December 29, 2018 | Wild | Jets | 8PM UTC+1 |
| Saturday, December 29, 2018 | Golden Knights | Kings | 9PM UTC+1 |
| Saturday, December 29, 2018 | Sharks | Edmonton Oilers | 9PM UTC+1 |
| Sunday, December 30, 2018 | Bruins | Sabres | 12AM UTC+1 |
| Sunday, December 30, 2018 | Islanders | Maple Leafs | 12AM UTC+1 |
| Sunday, December 30, 2018 | Capitals | Senators | 12AM UTC+1 |
| Sunday, December 30, 2018 | Canadiens | Lightning | 12AM UTC+1 |
| Sunday, December 30, 2018 | Flyers | Panthers | 12AM UTC+1 |
| Sunday, December 30, 2018 | Penguins | Blues | 1AM UTC+1 |
| Sunday, December 30, 2018 | Rangers | Predators | 1AM UTC+1 |
| Sunday, December 30, 2018 | Red Wings | Stars | 1AM UTC+1 |
| Sunday, December 30, 2018 | Blackhawks | Avalanche | 2AM UTC+1 |
| Sunday, December 30, 2018 | Coyotes | Ducks | 3AM UTC+1 |
| Sunday, December 30, 2018 | Canucks | Flames | 3AM UTC+1 |
| Monday, December 31, 2018 | Golden Knights | Coyotes | 1AM UTC+1 |
| Monday, December 31, 2018 | Predators | Capitals | 5:30PM UTC+1 |
| Monday, December 31, 2018 | Canucks | Devils | 6PM UTC+1 |
| Monday, December 31, 2018 | Penguins | Wild | 11PM UTC+1 |
| Monday, December 31, 2018 | Islanders | Sabres | 11PM UTC+1 |
| Monday, December 31, 2018 | Flyers | Hurricanes | 11PM UTC+1 |
| Tuesday, January 01, 2019 | Rangers | Blues | 12AM UTC+1 |
| Tuesday, January 01, 2019 | Senators | Blue Jackets | 12AM UTC+1 |
| Tuesday, January 01, 2019 | Panthers | Red Wings | 12:30AM UTC+1 |
| Tuesday, January 01, 2019 | Kings | Avalanche | 1AM UTC+1 |
| Tuesday, January 01, 2019 | Canadiens | Stars | 1:30AM UTC+1 |
| Tuesday, January 01, 2019 | Sharks | Flames | 2AM UTC+1 |
| Tuesday, January 01, 2019 | Jets | Edmonton Oilers | 2AM UTC+1 |
| Tuesday, January 01, 2019 | Lightning | Ducks | 3AM UTC+1 |
| Tuesday, January 01, 2019 | Bruins | Blackhawks | 6PM UTC+1 |
| Wednesday, January 02, 2019 | Flyers | Predators | 1:30AM UTC+1 |
| Wednesday, January 02, 2019 | Kings | Golden Knights | 2AM UTC+1 |
| Thursday, January 03, 2019 | Canucks | Senators | 12AM UTC+1 |
| Thursday, January 03, 2019 | Flames | Red Wings | 12AM UTC+1 |
| Thursday, January 03, 2019 | Penguins | Rangers | 12AM UTC+1 |
| Thursday, January 03, 2019 | Devils | Stars | 1:30AM UTC+1 |
| Thursday, January 03, 2019 | Sharks | Avalanche | 2:30AM UTC+1 |
| Thursday, January 03, 2019 | Edmonton Oilers | Coyotes | 2:30AM UTC+1 |
| Thursday, January 03, 2019 | Wild | Maple Leafs | 7PM UTC+1 |
| Friday, January 04, 2019 | Flames | Bruins | 12AM UTC+1 |
| Friday, January 04, 2019 | Panthers | Sabres | 12AM UTC+1 |
| Friday, January 04, 2019 | Blackhawks | Islanders | 12AM UTC+1 |
| Friday, January 04, 2019 | Hurricanes | Flyers | 12AM UTC+1 |
| Friday, January 04, 2019 | Canucks | Canadiens | 12:30AM UTC+1 |
| Friday, January 04, 2019 | Capitals | Blues | 1AM UTC+1 |
| Friday, January 04, 2019 | Lightning | Kings | 3:30AM UTC+1 |
| Saturday, January 05, 2019 | Jets | Penguins | 12AM UTC+1 |
| Saturday, January 05, 2019 | Predators | Red Wings | 12:30AM UTC+1 |
| Saturday, January 05, 2019 | Blue Jackets | Hurricanes | 12:30AM UTC+1 |
| Saturday, January 05, 2019 | Capitals | Stars | 1AM UTC+1 |
| Saturday, January 05, 2019 | Rangers | Avalanche | 2AM UTC+1 |
| Saturday, January 05, 2019 | Devils | Coyotes | 2AM UTC+1 |
| Saturday, January 05, 2019 | Golden Knights | Ducks | 3AM UTC+1 |
| Saturday, January 05, 2019 | Flames | Flyers | 6PM UTC+1 |
| Saturday, January 05, 2019 | Wild | Senators | 7PM UTC+1 |
| Sunday, January 06, 2019 | Sabres | Bruins | 12AM UTC+1 |
| Sunday, January 06, 2019 | Canucks | Maple Leafs | 12AM UTC+1 |
| Sunday, January 06, 2019 | Predators | Canadiens | 12AM UTC+1 |
| Sunday, January 06, 2019 | Blue Jackets | Panthers | 12AM UTC+1 |
| Sunday, January 06, 2019 | Islanders | Blues | 1AM UTC+1 |
| Sunday, January 06, 2019 | Edmonton Oilers | Kings | 3AM UTC+1 |
| Sunday, January 06, 2019 | Lightning | Sharks | 6PM UTC+1 |
| Sunday, January 06, 2019 | Hurricanes | Senators | 7PM UTC+1 |
| Sunday, January 06, 2019 | Devils | Golden Knights | 9PM UTC+1 |
| Sunday, January 06, 2019 | Rangers | Coyotes | 9PM UTC+1 |
| Sunday, January 06, 2019 | Stars | Jets | 10PM UTC+1 |
| Sunday, January 06, 2019 | Capitals | Red Wings | 10PM UTC+1 |
| Monday, January 07, 2019 | Edmonton Oilers | Ducks | 1AM UTC+1 |
| Monday, January 07, 2019 | Blackhawks | Penguins | 1AM UTC+1 |
| Tuesday, January 08, 2019 | Predators | Maple Leafs | 12AM UTC+1 |
| Tuesday, January 08, 2019 | Blues | Flyers | 12AM UTC+1 |
| Tuesday, January 08, 2019 | Wild | Canadiens | 12:30AM UTC+1 |
| Tuesday, January 08, 2019 | Flames | Blackhawks | 1:30AM UTC+1 |
| Tuesday, January 08, 2019 | Kings | Sharks | 3:30AM UTC+1 |
| Wednesday, January 09, 2019 | Wild | Bruins | 12AM UTC+1 |
| Wednesday, January 09, 2019 | Devils | Sabres | 12AM UTC+1 |
| Wednesday, January 09, 2019 | Hurricanes | Islanders | 12AM UTC+1 |
| Wednesday, January 09, 2019 | Panthers | Penguins | 12AM UTC+1 |
| Wednesday, January 09, 2019 | Flyers | Capitals | 12AM UTC+1 |
| Wednesday, January 09, 2019 | Canadiens | Red Wings | 12:30AM UTC+1 |
| Wednesday, January 09, 2019 | Blue Jackets | Lightning | 12:30AM UTC+1 |
| Wednesday, January 09, 2019 | Stars | Blues | 1AM UTC+1 |
| Wednesday, January 09, 2019 | Avalanche | Jets | 1AM UTC+1 |
| Wednesday, January 09, 2019 | Rangers | Golden Knights | 3AM UTC+1 |
| Wednesday, January 09, 2019 | Edmonton Oilers | Sharks | 3:30AM UTC+1 |
| Thursday, January 10, 2019 | Predators | Blackhawks | 1AM UTC+1 |
| Thursday, January 10, 2019 | Avalanche | Flames | 2:30AM UTC+1 |
| Thursday, January 10, 2019 | Senators | Ducks | 3AM UTC+1 |
| Friday, January 11, 2019 | Capitals | Bruins | 12AM UTC+1 |
| Friday, January 11, 2019 | Maple Leafs | Devils | 12AM UTC+1 |
| Friday, January 11, 2019 | Islanders | Rangers | 12AM UTC+1 |
| Friday, January 11, 2019 | Stars | Flyers | 12AM UTC+1 |
| Friday, January 11, 2019 | Predators | Blue Jackets | 12AM UTC+1 |
| Friday, January 11, 2019 | Hurricanes | Lightning | 12:30AM UTC+1 |
| Friday, January 11, 2019 | Canadiens | Blues | 1AM UTC+1 |
| Friday, January 11, 2019 | Jets | Wild | 1AM UTC+1 |
| Friday, January 11, 2019 | Panthers | Edmonton Oilers | 2AM UTC+1 |
| Friday, January 11, 2019 | Coyotes | Canucks | 3AM UTC+1 |
| Friday, January 11, 2019 | Sharks | Golden Knights | 3AM UTC+1 |
| Friday, January 11, 2019 | Senators | Kings | 3:30AM UTC+1 |
| Saturday, January 12, 2019 | Sabres | Hurricanes | 12:30AM UTC+1 |
| Saturday, January 12, 2019 | Red Wings | Jets | 1AM UTC+1 |
| Saturday, January 12, 2019 | Panthers | Flames | 2AM UTC+1 |
| Saturday, January 12, 2019 | Penguins | Ducks | 3AM UTC+1 |
| Saturday, January 12, 2019 | Flyers | Devils | 6PM UTC+1 |
| Saturday, January 12, 2019 | Rangers | Islanders | 6PM UTC+1 |
| Sunday, January 13, 2019 | Lightning | Sabres | 12AM UTC+1 |
| Sunday, January 13, 2019 | Bruins | Maple Leafs | 12AM UTC+1 |
| Sunday, January 13, 2019 | Avalanche | Canadiens | 12AM UTC+1 |
| Sunday, January 13, 2019 | Blue Jackets | Capitals | 12AM UTC+1 |
| Sunday, January 13, 2019 | Red Wings | Wild | 1AM UTC+1 |
| Sunday, January 13, 2019 | Golden Knights | Blackhawks | 1:30AM UTC+1 |
| Sunday, January 13, 2019 | Blues | Stars | 2AM UTC+1 |
| Sunday, January 13, 2019 | Senators | Sharks | 3AM UTC+1 |
| Sunday, January 13, 2019 | Coyotes | Edmonton Oilers | 3AM UTC+1 |
| Sunday, January 13, 2019 | Penguins | Kings | 3:30AM UTC+1 |
| Sunday, January 13, 2019 | Predators | Hurricanes | 6PM UTC+1 |
| Sunday, January 13, 2019 | Ducks | Jets | 11PM UTC+1 |
| Sunday, January 13, 2019 | Rangers | Blue Jackets | 11PM UTC+1 |
| Monday, January 14, 2019 | Panthers | Canucks | 12AM UTC+1 |
| Monday, January 14, 2019 | Lightning | Islanders | 12AM UTC+1 |
| Monday, January 14, 2019 | Coyotes | Flames | 2:30AM UTC+1 |
| Tuesday, January 15, 2019 | Canadiens | Bruins | 12AM UTC+1 |
| Tuesday, January 15, 2019 | Avalanche | Maple Leafs | 12AM UTC+1 |
| Tuesday, January 15, 2019 | Blackhawks | Devils | 12AM UTC+1 |
| Tuesday, January 15, 2019 | Wild | Flyers | 12AM UTC+1 |
| Tuesday, January 15, 2019 | Blues | Capitals | 12AM UTC+1 |
| Tuesday, January 15, 2019 | Sabres | Edmonton Oilers | 2AM UTC+1 |
| Wednesday, January 16, 2019 | Blues | Islanders | 12AM UTC+1 |
| Wednesday, January 16, 2019 | Hurricanes | Rangers | 12AM UTC+1 |
| Wednesday, January 16, 2019 | Devils | Blue Jackets | 12AM UTC+1 |
| Wednesday, January 16, 2019 | Panthers | Canadiens | 12:30AM UTC+1 |
| Wednesday, January 16, 2019 | Ducks | Red Wings | 12:30AM UTC+1 |
| Wednesday, January 16, 2019 | Capitals | Predators | 1AM UTC+1 |
| Wednesday, January 16, 2019 | Kings | Wild | 1AM UTC+1 |
| Wednesday, January 16, 2019 | Golden Knights | Jets | 1AM UTC+1 |
| Wednesday, January 16, 2019 | Lightning | Stars | 1:30AM UTC+1 |
| Wednesday, January 16, 2019 | Penguins | Sharks | 3AM UTC+1 |
| Thursday, January 17, 2019 | Avalanche | Senators | 12AM UTC+1 |
| Thursday, January 17, 2019 | Bruins | Flyers | 12:30AM UTC+1 |
| Thursday, January 17, 2019 | Sabres | Flames | 2:30AM UTC+1 |
| Thursday, January 17, 2019 | Edmonton Oilers | Canucks | 3AM UTC+1 |
| Thursday, January 17, 2019 | Sharks | Coyotes | 3AM UTC+1 |
| Friday, January 18, 2019 | Blues | Bruins | 12AM UTC+1 |
| Friday, January 18, 2019 | Devils | Islanders | 12AM UTC+1 |
| Friday, January 18, 2019 | Blackhawks | Rangers | 12AM UTC+1 |
| Friday, January 18, 2019 | Maple Leafs | Lightning | 12:30AM UTC+1 |
| Friday, January 18, 2019 | Jets | Predators | 1AM UTC+1 |
| Friday, January 18, 2019 | Ducks | Wild | 1AM UTC+1 |
| Friday, January 18, 2019 | Kings | Stars | 1:30AM UTC+1 |
| Saturday, January 19, 2019 | Maple Leafs | Panthers | 12AM UTC+1 |
| Saturday, January 19, 2019 | Canadiens | Blue Jackets | 12AM UTC+1 |
| Saturday, January 19, 2019 | Islanders | Capitals | 12:30AM UTC+1 |
| Saturday, January 19, 2019 | Senators | Hurricanes | 12:30AM UTC+1 |
| Saturday, January 19, 2019 | Red Wings | Flames | 2AM UTC+1 |
| Saturday, January 19, 2019 | Penguins | Coyotes | 2AM UTC+1 |
| Saturday, January 19, 2019 | Sabres | Canucks | 3AM UTC+1 |
| Saturday, January 19, 2019 | Ducks | Devils | 6PM UTC+1 |
| Saturday, January 19, 2019 | Kings | Avalanche | 8PM UTC+1 |
| Sunday, January 20, 2019 | Senators | Blues | 12AM UTC+1 |
| Sunday, January 20, 2019 | Jets | Stars | 12AM UTC+1 |
| Sunday, January 20, 2019 | Rangers | Bruins | 12AM UTC+1 |
| Sunday, January 20, 2019 | Flyers | Canadiens | 12AM UTC+1 |
| Sunday, January 20, 2019 | Sharks | Lightning | 12AM UTC+1 |
| Sunday, January 20, 2019 | Panthers | Predators | 1AM UTC+1 |
| Sunday, January 20, 2019 | Blue Jackets | Wild | 2AM UTC+1 |
| Sunday, January 20, 2019 | Penguins | Golden Knights | 3AM UTC+1 |
| Sunday, January 20, 2019 | Flames | Edmonton Oilers | 3AM UTC+1 |
| Sunday, January 20, 2019 | Capitals | Blackhawks | 5:30PM UTC+1 |
| Sunday, January 20, 2019 | Ducks | Islanders | 8PM UTC+1 |
| Sunday, January 20, 2019 | Red Wings | Canucks | 9PM UTC+1 |
| Monday, January 21, 2019 | Coyotes | Maple Leafs | 12AM UTC+1 |
| Monday, January 21, 2019 | Hurricanes | Edmonton Oilers | 2:30AM UTC+1 |
| Monday, January 21, 2019 | Predators | Avalanche | 8PM UTC+1 |
| Monday, January 21, 2019 | Blues | Kings | 9PM UTC+1 |
| Monday, January 21, 2019 | Wild | Golden Knights | 11PM UTC+1 |
| Tuesday, January 22, 2019 | Sharks | Panthers | 12AM UTC+1 |
| Wednesday, January 23, 2019 | Sharks | Capitals | 12AM UTC+1 |
| Wednesday, January 23, 2019 | Coyotes | Senators | 12:30AM UTC+1 |
| Wednesday, January 23, 2019 | Islanders | Blackhawks | 1:30AM UTC+1 |
| Wednesday, January 23, 2019 | Hurricanes | Flames | 2AM UTC+1 |
| Wednesday, January 23, 2019 | Red Wings | Edmonton Oilers | 2AM UTC+1 |
| Thursday, January 24, 2019 | Capitals | Maple Leafs | 12:30AM UTC+1 |
| Thursday, January 24, 2019 | Coyotes | Canadiens | 12:30AM UTC+1 |
| Thursday, January 24, 2019 | Wild | Avalanche | 2:30AM UTC+1 |
| Thursday, January 24, 2019 | Predators | Golden Knights | 3AM UTC+1 |
| Thursday, January 24, 2019 | Blues | Ducks | 3AM UTC+1 |
| Thursday, January 24, 2019 | Hurricanes | Canucks | 3:30AM UTC+1 |
| Tuesday, January 29, 2019 | Jets | Flyers | 12AM UTC+1 |
| Tuesday, January 29, 2019 | Devils | Penguins | 12AM UTC+1 |
| Wednesday, January 30, 2019 | Jets | Bruins | 12AM UTC+1 |
| Wednesday, January 30, 2019 | Flyers | Rangers | 12AM UTC+1 |
| Wednesday, January 30, 2019 | Sabres | Blue Jackets | 12AM UTC+1 |
| Thursday, January 31, 2019 | Lightning | Penguins | 1AM UTC+1 |
| Thursday, January 31, 2019 | Sabres | Stars | 1:30AM UTC+1 |
| Friday, February 01, 2019 | Flyers | Bruins | 12AM UTC+1 |
| Friday, February 01, 2019 | Rangers | Devils | 12AM UTC+1 |
| Friday, February 01, 2019 | Blue Jackets | Jets | 1AM UTC+1 |
| Saturday, February 02, 2019 | Blackhawks | Sabres | 12AM UTC+1 |
| Saturday, February 02, 2019 | Predators | Panthers | 12AM UTC+1 |
| Saturday, February 02, 2019 | Lightning | Islanders | 12AM UTC+1 |
| Saturday, February 02, 2019 | Senators | Penguins | 12AM UTC+1 |
| Saturday, February 02, 2019 | Flames | Capitals | 12AM UTC+1 |
| Saturday, February 02, 2019 | Maple Leafs | Red Wings | 12:30AM UTC+1 |
| Saturday, February 02, 2019 | Golden Knights | Hurricanes | 12:30AM UTC+1 |
| Saturday, February 02, 2019 | Wild | Stars | 1AM UTC+1 |
| Saturday, February 02, 2019 | Edmonton Oilers | Flyers | 6PM UTC+1 |
| Saturday, February 02, 2019 | Devils | Canadiens | 7PM UTC+1 |
| Sunday, February 03, 2019 | Ducks | Jets | 12AM UTC+1 |
| Sunday, February 03, 2019 | Penguins | Maple Leafs | 12AM UTC+1 |
| Sunday, February 03, 2019 | Red Wings | Senators | 12AM UTC+1 |
| Sunday, February 03, 2019 | Golden Knights | Panthers | 12AM UTC+1 |
| Sunday, February 03, 2019 | Kings | Islanders | 12AM UTC+1 |
| Sunday, February 03, 2019 | Lightning | Rangers | 12AM UTC+1 |
| Sunday, February 03, 2019 | Blues | Blue Jackets | 12AM UTC+1 |
| Sunday, February 03, 2019 | Stars | Predators | 1AM UTC+1 |
| Sunday, February 03, 2019 | Blackhawks | Wild | 1AM UTC+1 |
| Sunday, February 03, 2019 | Canucks | Avalanche | 3AM UTC+1 |
| Sunday, February 03, 2019 | Coyotes | Sharks | 3:30AM UTC+1 |
| Sunday, February 03, 2019 | Bruins | Capitals | 5:30PM UTC+1 |
| Sunday, February 03, 2019 | Edmonton Oilers | Canadiens | 7PM UTC+1 |
| Sunday, February 03, 2019 | Flames | Hurricanes | 7PM UTC+1 |
| Tuesday, February 05, 2019 | Ducks | Maple Leafs | 12AM UTC+1 |
| Tuesday, February 05, 2019 | Kings | Rangers | 12AM UTC+1 |
| Tuesday, February 05, 2019 | Canucks | Flyers | 12AM UTC+1 |
| Tuesday, February 05, 2019 | Coyotes | Stars | 1:30AM UTC+1 |
| Wednesday, February 06, 2019 | Islanders | Bruins | 12AM UTC+1 |
| Wednesday, February 06, 2019 | Wild | Sabres | 12AM UTC+1 |
| Wednesday, February 06, 2019 | Blues | Panthers | 12AM UTC+1 |
| Wednesday, February 06, 2019 | Kings | Devils | 12AM UTC+1 |
| Wednesday, February 06, 2019 | Hurricanes | Penguins | 12AM UTC+1 |
| Wednesday, February 06, 2019 | Canucks | Capitals | 12AM UTC+1 |
| Wednesday, February 06, 2019 | Ducks | Canadiens | 12:30AM UTC+1 |
| Wednesday, February 06, 2019 | Golden Knights | Lightning | 12:30AM UTC+1 |
| Wednesday, February 06, 2019 | Coyotes | Predators | 1AM UTC+1 |
| Wednesday, February 06, 2019 | Sharks | Jets | 1AM UTC+1 |
| Wednesday, February 06, 2019 | Blue Jackets | Avalanche | 2AM UTC+1 |
| Wednesday, February 06, 2019 | Blackhawks | Edmonton Oilers | 2AM UTC+1 |
| Thursday, February 07, 2019 | Senators | Maple Leafs | 12:30AM UTC+1 |
| Thursday, February 07, 2019 | Bruins | Rangers | 1AM UTC+1 |
| Friday, February 08, 2019 | Hurricanes | Sabres | 12AM UTC+1 |
| Friday, February 08, 2019 | Penguins | Panthers | 12AM UTC+1 |
| Friday, February 08, 2019 | Islanders | Devils | 12AM UTC+1 |
| Friday, February 08, 2019 | Kings | Flyers | 12AM UTC+1 |
| Friday, February 08, 2019 | Avalanche | Capitals | 12AM UTC+1 |
| Friday, February 08, 2019 | Jets | Canadiens | 12:30AM UTC+1 |
| Friday, February 08, 2019 | Ducks | Senators | 12:30AM UTC+1 |
| Friday, February 08, 2019 | Golden Knights | Red Wings | 12:30AM UTC+1 |
| Friday, February 08, 2019 | Blues | Lightning | 12:30AM UTC+1 |
| Friday, February 08, 2019 | Stars | Predators | 1AM UTC+1 |
| Friday, February 08, 2019 | Edmonton Oilers | Wild | 1AM UTC+1 |
| Friday, February 08, 2019 | Canucks | Blackhawks | 1:30AM UTC+1 |
| Friday, February 08, 2019 | Sharks | Flames | 2AM UTC+1 |
| Friday, February 08, 2019 | Blue Jackets | Coyotes | 2AM UTC+1 |
| Saturday, February 09, 2019 | Hurricanes | Rangers | 12AM UTC+1 |
| Saturday, February 09, 2019 | Kings | Bruins | 6PM UTC+1 |
| Saturday, February 09, 2019 | Red Wings | Sabres | 6PM UTC+1 |
| Saturday, February 09, 2019 | Wild | Devils | 6PM UTC+1 |
| Saturday, February 09, 2019 | Avalanche | Islanders | 6PM UTC+1 |
| Saturday, February 09, 2019 | Ducks | Flyers | 6PM UTC+1 |
| Saturday, February 09, 2019 | Predators | Blues | 7PM UTC+1 |
| Saturday, February 09, 2019 | Jets | Senators | 7PM UTC+1 |
| Saturday, February 09, 2019 | Stars | Coyotes | 9PM UTC+1 |
| Sunday, February 10, 2019 | Sharks | Edmonton Oilers | 12AM UTC+1 |
| Sunday, February 10, 2019 | Maple Leafs | Canadiens | 12AM UTC+1 |
| Sunday, February 10, 2019 | Penguins | Lightning | 12AM UTC+1 |
| Sunday, February 10, 2019 | Panthers | Capitals | 12AM UTC+1 |
| Sunday, February 10, 2019 | Flames | Canucks | 3AM UTC+1 |
| Sunday, February 10, 2019 | Blue Jackets | Golden Knights | 3AM UTC+1 |
| Sunday, February 10, 2019 | Blues | Predators | 5:30PM UTC+1 |
| Sunday, February 10, 2019 | Red Wings | Blackhawks | 8PM UTC+1 |
| Sunday, February 10, 2019 | Avalanche | Bruins | 8PM UTC+1 |
| Sunday, February 10, 2019 | Jets | Sabres | 8PM UTC+1 |
| Sunday, February 10, 2019 | Hurricanes | Devils | 8PM UTC+1 |
| Sunday, February 10, 2019 | Wild | Islanders | 8PM UTC+1 |
| Sunday, February 10, 2019 | Lightning | Panthers | 11PM UTC+1 |
| Monday, February 11, 2019 | Maple Leafs | Rangers | 12AM UTC+1 |
| Tuesday, February 12, 2019 | Penguins | Flyers | 12AM UTC+1 |
| Tuesday, February 12, 2019 | Kings | Capitals | 12AM UTC+1 |
| Tuesday, February 12, 2019 | Sharks | Canucks | 3AM UTC+1 |
| Wednesday, February 13, 2019 | Blackhawks | Bruins | 12AM UTC+1 |
| Wednesday, February 13, 2019 | Islanders | Sabres | 12AM UTC+1 |
| Wednesday, February 13, 2019 | Stars | Panthers | 12AM UTC+1 |
| Wednesday, February 13, 2019 | Capitals | Blue Jackets | 12AM UTC+1 |
| Wednesday, February 13, 2019 | Hurricanes | Senators | 12:30AM UTC+1 |
| Wednesday, February 13, 2019 | Flames | Lightning | 12:30AM UTC+1 |
| Wednesday, February 13, 2019 | Devils | Blues | 1AM UTC+1 |
| Wednesday, February 13, 2019 | Red Wings | Predators | 1AM UTC+1 |
| Wednesday, February 13, 2019 | Flyers | Wild | 1AM UTC+1 |
| Wednesday, February 13, 2019 | Rangers | Jets | 1AM UTC+1 |
| Wednesday, February 13, 2019 | Maple Leafs | Avalanche | 2AM UTC+1 |
| Wednesday, February 13, 2019 | Coyotes | Golden Knights | 3AM UTC+1 |
| Thursday, February 14, 2019 | Edmonton Oilers | Penguins | 1AM UTC+1 |
| Thursday, February 14, 2019 | Canucks | Ducks | 3:30AM UTC+1 |
| Friday, February 15, 2019 | Flames | Panthers | 12AM UTC+1 |
| Friday, February 15, 2019 | Islanders | Blue Jackets | 12AM UTC+1 |
| Friday, February 15, 2019 | Senators | Red Wings | 12:30AM UTC+1 |
| Friday, February 15, 2019 | Stars | Lightning | 12:30AM UTC+1 |
| Friday, February 15, 2019 | Canadiens | Predators | 1AM UTC+1 |
| Friday, February 15, 2019 | Avalanche | Jets | 1AM UTC+1 |
| Friday, February 15, 2019 | Devils | Blackhawks | 1:30AM UTC+1 |
| Friday, February 15, 2019 | Blues | Coyotes | 2AM UTC+1 |
| Friday, February 15, 2019 | Maple Leafs | Golden Knights | 3AM UTC+1 |
| Friday, February 15, 2019 | Canucks | Kings | 3:30AM UTC+1 |
| Friday, February 15, 2019 | Capitals | Sharks | 3:30AM UTC+1 |
| Saturday, February 16, 2019 | Rangers | Sabres | 12AM UTC+1 |
| Saturday, February 16, 2019 | Edmonton Oilers | Hurricanes | 12:30AM UTC+1 |
| Saturday, February 16, 2019 | Devils | Wild | 1:30AM UTC+1 |
| Saturday, February 16, 2019 | Bruins | Ducks | 3AM UTC+1 |
| Saturday, February 16, 2019 | Red Wings | Flyers | 6PM UTC+1 |
| Saturday, February 16, 2019 | Flames | Penguins | 6PM UTC+1 |
| Saturday, February 16, 2019 | Blues | Avalanche | 8PM UTC+1 |
| Sunday, February 17, 2019 | Maple Leafs | Coyotes | 12AM UTC+1 |
| Sunday, February 17, 2019 | Senators | Jets | 12AM UTC+1 |
| Sunday, February 17, 2019 | Canadiens | Lightning | 12AM UTC+1 |
| Sunday, February 17, 2019 | Edmonton Oilers | Islanders | 12AM UTC+1 |
| Sunday, February 17, 2019 | Stars | Hurricanes | 1AM UTC+1 |
| Sunday, February 17, 2019 | Blue Jackets | Blackhawks | 1:30AM UTC+1 |
| Sunday, February 17, 2019 | Predators | Golden Knights | 3AM UTC+1 |
| Sunday, February 17, 2019 | Canucks | Sharks | 3AM UTC+1 |
| Sunday, February 17, 2019 | Bruins | Kings | 3:30AM UTC+1 |
| Sunday, February 17, 2019 | Rangers | Penguins | 5:30PM UTC+1 |
| Sunday, February 17, 2019 | Blues | Wild | 8PM UTC+1 |
| Sunday, February 17, 2019 | Sabres | Devils | 11PM UTC+1 |
| Monday, February 18, 2019 | Flyers | Red Wings | 12AM UTC+1 |
| Monday, February 18, 2019 | Canadiens | Panthers | 12AM UTC+1 |
| Monday, February 18, 2019 | Capitals | Ducks | 2AM UTC+1 |
| Monday, February 18, 2019 | Coyotes | Flames | 9PM UTC+1 |
| Tuesday, February 19, 2019 | Lightning | Blue Jackets | 12AM UTC+1 |
| Tuesday, February 19, 2019 | Senators | Blackhawks | 1:30AM UTC+1 |
| Tuesday, February 19, 2019 | Golden Knights | Avalanche | 2AM UTC+1 |
| Tuesday, February 19, 2019 | Capitals | Kings | 3:30AM UTC+1 |
| Tuesday, February 19, 2019 | Bruins | Sharks | 3:30AM UTC+1 |
| Wednesday, February 20, 2019 | Sabres | Panthers | 12AM UTC+1 |
| Wednesday, February 20, 2019 | Penguins | Devils | 12AM UTC+1 |
| Wednesday, February 20, 2019 | Lightning | Flyers | 12AM UTC+1 |
| Wednesday, February 20, 2019 | Rangers | Hurricanes | 12AM UTC+1 |
| Wednesday, February 20, 2019 | Blue Jackets | Canadiens | 12:30AM UTC+1 |
| Wednesday, February 20, 2019 | Maple Leafs | Blues | 1AM UTC+1 |
| Wednesday, February 20, 2019 | Ducks | Wild | 1AM UTC+1 |
| Wednesday, February 20, 2019 | Predators | Stars | 1:30AM UTC+1 |
| Wednesday, February 20, 2019 | Coyotes | Edmonton Oilers | 2AM UTC+1 |
| Thursday, February 21, 2019 | Blackhawks | Red Wings | 12:30AM UTC+1 |
| Thursday, February 21, 2019 | Jets | Avalanche | 1:30AM UTC+1 |
| Thursday, February 21, 2019 | Islanders | Flames | 2:30AM UTC+1 |
| Thursday, February 21, 2019 | Bruins | Golden Knights | 3AM UTC+1 |
| Friday, February 22, 2019 | Capitals | Maple Leafs | 12AM UTC+1 |
| Friday, February 22, 2019 | Hurricanes | Panthers | 12AM UTC+1 |
| Friday, February 22, 2019 | Senators | Devils | 12AM UTC+1 |
| Friday, February 22, 2019 | Wild | Rangers | 12AM UTC+1 |
| Friday, February 22, 2019 | Sharks | Penguins | 12AM UTC+1 |
| Friday, February 22, 2019 | Flyers | Canadiens | 12:30AM UTC+1 |
| Friday, February 22, 2019 | Sabres | Lightning | 12:30AM UTC+1 |
| Friday, February 22, 2019 | Kings | Predators | 1AM UTC+1 |
| Friday, February 22, 2019 | Blues | Stars | 1:30AM UTC+1 |
| Friday, February 22, 2019 | Islanders | Edmonton Oilers | 2AM UTC+1 |
| Friday, February 22, 2019 | Coyotes | Canucks | 3AM UTC+1 |
| Saturday, February 23, 2019 | Blue Jackets | Senators | 12AM UTC+1 |
| Saturday, February 23, 2019 | Avalanche | Blackhawks | 12:30AM UTC+1 |
| Saturday, February 23, 2019 | Wild | Red Wings | 12:30AM UTC+1 |
| Saturday, February 23, 2019 | Ducks | Flames | 2AM UTC+1 |
| Saturday, February 23, 2019 | Jets | Golden Knights | 3AM UTC+1 |
| Saturday, February 23, 2019 | Capitals | Sabres | 6PM UTC+1 |
| Saturday, February 23, 2019 | Devils | Rangers | 6PM UTC+1 |
| Saturday, February 23, 2019 | Bruins | Blues | 9PM UTC+1 |
| Saturday, February 23, 2019 | Hurricanes | Stars | 10PM UTC+1 |
| Saturday, February 23, 2019 | Kings | Panthers | 10PM UTC+1 |
| Saturday, February 23, 2019 | Sharks | Blue Jackets | 10PM UTC+1 |
| Saturday, February 23, 2019 | Avalanche | Predators | 10:30PM UTC+1 |
| Sunday, February 24, 2019 | Canadiens | Maple Leafs | 12AM UTC+1 |
| Sunday, February 24, 2019 | Penguins | Flyers | 1AM UTC+1 |
| Sunday, February 24, 2019 | Islanders | Canucks | 3AM UTC+1 |
| Sunday, February 24, 2019 | Ducks | Edmonton Oilers | 3AM UTC+1 |
| Sunday, February 24, 2019 | Rangers | Capitals | 5:30PM UTC+1 |
| Sunday, February 24, 2019 | Stars | Blackhawks | 8PM UTC+1 |
| Sunday, February 24, 2019 | Sharks | Red Wings | 8PM UTC+1 |
| Monday, February 25, 2019 | Blues | Wild | 12AM UTC+1 |
| Monday, February 25, 2019 | Flames | Senators | 12AM UTC+1 |
| Monday, February 25, 2019 | Jets | Coyotes | 2AM UTC+1 |
| Tuesday, February 26, 2019 | Sabres | Maple Leafs | 12AM UTC+1 |
| Tuesday, February 26, 2019 | Canadiens | Devils | 12AM UTC+1 |
| Tuesday, February 26, 2019 | Kings | Lightning | 12:30AM UTC+1 |
| Tuesday, February 26, 2019 | Edmonton Oilers | Predators | 1AM UTC+1 |
| Tuesday, February 26, 2019 | Panthers | Avalanche | 2AM UTC+1 |
| Tuesday, February 26, 2019 | Ducks | Canucks | 3AM UTC+1 |
| Wednesday, February 27, 2019 | Sharks | Bruins | 12AM UTC+1 |
| Wednesday, February 27, 2019 | Flames | Islanders | 12AM UTC+1 |
| Wednesday, February 27, 2019 | Sabres | Flyers | 12AM UTC+1 |
| Wednesday, February 27, 2019 | Senators | Capitals | 12AM UTC+1 |
| Wednesday, February 27, 2019 | Kings | Hurricanes | 12AM UTC+1 |
| Wednesday, February 27, 2019 | Penguins | Blue Jackets | 12AM UTC+1 |
| Wednesday, February 27, 2019 | Canadiens | Red Wings | 12:30AM UTC+1 |
| Wednesday, February 27, 2019 | Predators | Blues | 1AM UTC+1 |
| Wednesday, February 27, 2019 | Wild | Jets | 1AM UTC+1 |
| Wednesday, February 27, 2019 | Panthers | Coyotes | 2AM UTC+1 |
| Wednesday, February 27, 2019 | Stars | Golden Knights | 3AM UTC+1 |
| Thursday, February 28, 2019 | Edmonton Oilers | Maple Leafs | 12AM UTC+1 |
| Thursday, February 28, 2019 | Flames | Devils | 12AM UTC+1 |
| Thursday, February 28, 2019 | Lightning | Rangers | 12:30AM UTC+1 |
| Thursday, February 28, 2019 | Canucks | Avalanche | 2:30AM UTC+1 |
| Thursday, February 28, 2019 | Blackhawks | Ducks | 3AM UTC+1 |
| Friday, March 01, 2019 | Lightning | Bruins | 12AM UTC+1 |
| Friday, March 01, 2019 | Maple Leafs | Islanders | 12AM UTC+1 |
| Friday, March 01, 2019 | Flyers | Blue Jackets | 12AM UTC+1 |
| Friday, March 01, 2019 | Edmonton Oilers | Senators | 12:30AM UTC+1 |
| Friday, March 01, 2019 | Canucks | Coyotes | 2AM UTC+1 |
| Friday, March 01, 2019 | Panthers | Golden Knights | 3AM UTC+1 |
| Friday, March 01, 2019 | Stars | Kings | 3:30AM UTC+1 |
| Saturday, March 02, 2019 | Penguins | Sabres | 12AM UTC+1 |
| Saturday, March 02, 2019 | Flyers | Devils | 12AM UTC+1 |
| Saturday, March 02, 2019 | Capitals | Islanders | 12AM UTC+1 |
| Saturday, March 02, 2019 | Canadiens | Rangers | 12AM UTC+1 |
| Saturday, March 02, 2019 | Blues | Hurricanes | 12:30AM UTC+1 |
| Saturday, March 02, 2019 | Predators | Jets | 1AM UTC+1 |
| Saturday, March 02, 2019 | Golden Knights | Ducks | 3AM UTC+1 |
| Saturday, March 02, 2019 | Avalanche | Sharks | 3:30AM UTC+1 |
| Saturday, March 02, 2019 | Edmonton Oilers | Blue Jackets | 7PM UTC+1 |
| Saturday, March 02, 2019 | Blackhawks | Kings | 9PM UTC+1 |
| Sunday, March 03, 2019 | Devils | Bruins | 12AM UTC+1 |
| Sunday, March 03, 2019 | Sabres | Maple Leafs | 12AM UTC+1 |
| Sunday, March 03, 2019 | Penguins | Canadiens | 12AM UTC+1 |
| Sunday, March 03, 2019 | Senators | Lightning | 12AM UTC+1 |
| Sunday, March 03, 2019 | Hurricanes | Panthers | 12AM UTC+1 |
| Sunday, March 03, 2019 | Red Wings | Coyotes | 1AM UTC+1 |
| Sunday, March 03, 2019 | Stars | Blues | 1AM UTC+1 |
| Sunday, March 03, 2019 | Wild | Flames | 3AM UTC+1 |
| Sunday, March 03, 2019 | Capitals | Rangers | 5:30PM UTC+1 |
| Sunday, March 03, 2019 | Flyers | Islanders | 8PM UTC+1 |
| Sunday, March 03, 2019 | Canucks | Golden Knights | 9PM UTC+1 |
| Sunday, March 03, 2019 | Avalanche | Ducks | 9PM UTC+1 |
| Sunday, March 03, 2019 | Senators | Panthers | 10PM UTC+1 |
| Monday, March 04, 2019 | Jets | Blue Jackets | 12AM UTC+1 |
| Monday, March 04, 2019 | Predators | Wild | 12:30AM UTC+1 |
| Monday, March 04, 2019 | Blackhawks | Sharks | 3AM UTC+1 |
| Tuesday, March 05, 2019 | Edmonton Oilers | Sabres | 12AM UTC+1 |
| Tuesday, March 05, 2019 | Maple Leafs | Flames | 2AM UTC+1 |
| Wednesday, March 06, 2019 | Hurricanes | Bruins | 12AM UTC+1 |
| Wednesday, March 06, 2019 | Blue Jackets | Devils | 12AM UTC+1 |
| Wednesday, March 06, 2019 | Senators | Islanders | 12AM UTC+1 |
| Wednesday, March 06, 2019 | Panthers | Penguins | 12AM UTC+1 |
| Wednesday, March 06, 2019 | Jets | Lightning | 12:30AM UTC+1 |
| Wednesday, March 06, 2019 | Wild | Predators | 1AM UTC+1 |
| Wednesday, March 06, 2019 | Rangers | Stars | 1:30AM UTC+1 |
| Wednesday, March 06, 2019 | Red Wings | Avalanche | 2AM UTC+1 |
| Wednesday, March 06, 2019 | Ducks | Coyotes | 2AM UTC+1 |
| Wednesday, March 06, 2019 | Canadiens | Kings | 3:30AM UTC+1 |
| Thursday, March 07, 2019 | Capitals | Flyers | 12:30AM UTC+1 |
| Thursday, March 07, 2019 | Maple Leafs | Canucks | 2AM UTC+1 |
| Thursday, March 07, 2019 | Blues | Ducks | 3AM UTC+1 |
| Thursday, March 07, 2019 | Flames | Golden Knights | 3:30AM UTC+1 |
| Friday, March 08, 2019 | Panthers | Bruins | 12AM UTC+1 |
| Friday, March 08, 2019 | Blue Jackets | Penguins | 12AM UTC+1 |
| Friday, March 08, 2019 | Islanders | Senators | 12:30AM UTC+1 |
| Friday, March 08, 2019 | Rangers | Red Wings | 12:30AM UTC+1 |
| Friday, March 08, 2019 | Wild | Lightning | 12:30AM UTC+1 |
| Friday, March 08, 2019 | Sabres | Blackhawks | 1:30AM UTC+1 |
| Friday, March 08, 2019 | Avalanche | Stars | 1:30AM UTC+1 |
| Friday, March 08, 2019 | Canucks | Edmonton Oilers | 2AM UTC+1 |
| Friday, March 08, 2019 | Flames | Coyotes | 2AM UTC+1 |
| Friday, March 08, 2019 | Blues | Kings | 3:30AM UTC+1 |
| Friday, March 08, 2019 | Canadiens | Sharks | 3:30AM UTC+1 |
| Saturday, March 09, 2019 | Wild | Panthers | 12AM UTC+1 |
| Saturday, March 09, 2019 | Devils | Capitals | 12AM UTC+1 |
| Saturday, March 09, 2019 | Jets | Hurricanes | 12:30AM UTC+1 |
| Saturday, March 09, 2019 | Canadiens | Ducks | 3AM UTC+1 |
| Saturday, March 09, 2019 | Sabres | Avalanche | 8PM UTC+1 |
| Saturday, March 09, 2019 | Blues | Sharks | 9PM UTC+1 |
| Sunday, March 10, 2019 | Maple Leafs | Edmonton Oilers | 12AM UTC+1 |
| Sunday, March 10, 2019 | Senators | Bruins | 12AM UTC+1 |
| Sunday, March 10, 2019 | Red Wings | Lightning | 12AM UTC+1 |
| Sunday, March 10, 2019 | Flyers | Islanders | 12AM UTC+1 |
| Sunday, March 10, 2019 | Devils | Rangers | 12AM UTC+1 |
| Sunday, March 10, 2019 | Penguins | Blue Jackets | 12AM UTC+1 |
| Sunday, March 10, 2019 | Kings | Coyotes | 1AM UTC+1 |
| Sunday, March 10, 2019 | Hurricanes | Predators | 1AM UTC+1 |
| Sunday, March 10, 2019 | Blackhawks | Stars | 1AM UTC+1 |
| Sunday, March 10, 2019 | Golden Knights | Canucks | 3AM UTC+1 |
| Sunday, March 10, 2019 | Red Wings | Panthers | 10PM UTC+1 |
| Monday, March 11, 2019 | Jets | Capitals | 12AM UTC+1 |
| Monday, March 11, 2019 | Bruins | Penguins | 12:30AM UTC+1 |
| Monday, March 11, 2019 | Golden Knights | Flames | 2:30AM UTC+1 |
| Monday, March 11, 2019 | Kings | Ducks | 3AM UTC+1 |
| Tuesday, March 12, 2019 | Lightning | Maple Leafs | 12AM UTC+1 |
| Tuesday, March 12, 2019 | Blue Jackets | Islanders | 12AM UTC+1 |
| Tuesday, March 12, 2019 | Senators | Flyers | 12AM UTC+1 |
| Tuesday, March 12, 2019 | Sharks | Wild | 1AM UTC+1 |
| Tuesday, March 12, 2019 | Coyotes | Blackhawks | 1:30AM UTC+1 |
| Tuesday, March 12, 2019 | Hurricanes | Avalanche | 2AM UTC+1 |
| Tuesday, March 12, 2019 | Rangers | Edmonton Oilers | 2AM UTC+1 |
| Wednesday, March 13, 2019 | Stars | Sabres | 12AM UTC+1 |
| Wednesday, March 13, 2019 | Capitals | Penguins | 12AM UTC+1 |
| Wednesday, March 13, 2019 | Bruins | Blue Jackets | 12AM UTC+1 |
| Wednesday, March 13, 2019 | Red Wings | Canadiens | 12:30AM UTC+1 |
| Wednesday, March 13, 2019 | Coyotes | Blues | 1AM UTC+1 |
| Wednesday, March 13, 2019 | Sharks | Jets | 1AM UTC+1 |
| Wednesday, March 13, 2019 | Devils | Flames | 2AM UTC+1 |
| Wednesday, March 13, 2019 | Predators | Ducks | 3AM UTC+1 |
| Thursday, March 14, 2019 | Blackhawks | Maple Leafs | 12AM UTC+1 |
| Thursday, March 14, 2019 | Devils | Edmonton Oilers | 2:30AM UTC+1 |
| Thursday, March 14, 2019 | Rangers | Canucks | 3AM UTC+1 |
| Friday, March 15, 2019 | Penguins | Sabres | 12AM UTC+1 |
| Friday, March 15, 2019 | Canadiens | Islanders | 12AM UTC+1 |
| Friday, March 15, 2019 | Capitals | Flyers | 12AM UTC+1 |
| Friday, March 15, 2019 | Blues | Senators | 12:30AM UTC+1 |
| Friday, March 15, 2019 | Lightning | Red Wings | 12:30AM UTC+1 |
| Friday, March 15, 2019 | Stars | Wild | 1AM UTC+1 |
| Friday, March 15, 2019 | Bruins | Jets | 1AM UTC+1 |
| Friday, March 15, 2019 | Ducks | Coyotes | 3AM UTC+1 |
| Friday, March 15, 2019 | Predators | Kings | 3:30AM UTC+1 |
| Friday, March 15, 2019 | Panthers | Sharks | 3:30AM UTC+1 |
| Saturday, March 16, 2019 | Flyers | Maple Leafs | 12AM UTC+1 |
| Saturday, March 16, 2019 | Hurricanes | Blue Jackets | 12AM UTC+1 |
| Saturday, March 16, 2019 | Golden Knights | Stars | 1AM UTC+1 |
| Saturday, March 16, 2019 | Ducks | Avalanche | 2AM UTC+1 |
| Saturday, March 16, 2019 | Rangers | Flames | 2AM UTC+1 |
| Saturday, March 16, 2019 | Devils | Canucks | 3AM UTC+1 |
| Saturday, March 16, 2019 | Blues | Penguins | 6PM UTC+1 |
| Saturday, March 16, 2019 | Islanders | Red Wings | 7PM UTC+1 |
| Saturday, March 16, 2019 | Panthers | Kings | 9PM UTC+1 |
| Sunday, March 17, 2019 | Flames | Jets | 12AM UTC+1 |
| Sunday, March 17, 2019 | Blue Jackets | Bruins | 12AM UTC+1 |
| Sunday, March 17, 2019 | Blackhawks | Canadiens | 12AM UTC+1 |
| Sunday, March 17, 2019 | Maple Leafs | Senators | 12AM UTC+1 |
| Sunday, March 17, 2019 | Capitals | Lightning | 12AM UTC+1 |
| Sunday, March 17, 2019 | Sabres | Hurricanes | 12AM UTC+1 |
| Sunday, March 17, 2019 | Rangers | Wild | 1AM UTC+1 |
| Sunday, March 17, 2019 | Edmonton Oilers | Coyotes | 3AM UTC+1 |
| Sunday, March 17, 2019 | Predators | Sharks | 3:30AM UTC+1 |
| Sunday, March 17, 2019 | Devils | Avalanche | 8PM UTC+1 |
| Sunday, March 17, 2019 | Blues | Sabres | 10PM UTC+1 |
| Sunday, March 17, 2019 | Islanders | Wild | 11PM UTC+1 |
| Monday, March 18, 2019 | Canucks | Stars | 12AM UTC+1 |
| Monday, March 18, 2019 | Flyers | Penguins | 12:30AM UTC+1 |
| Monday, March 18, 2019 | Panthers | Ducks | 2AM UTC+1 |
| Monday, March 18, 2019 | Edmonton Oilers | Golden Knights | 3AM UTC+1 |
| Tuesday, March 19, 2019 | Coyotes | Lightning | 12:30AM UTC+1 |
| Tuesday, March 19, 2019 | Canucks | Blackhawks | 1:30AM UTC+1 |
| Tuesday, March 19, 2019 | Jets | Kings | 3:30AM UTC+1 |
| Tuesday, March 19, 2019 | Golden Knights | Sharks | 3:30AM UTC+1 |
| Wednesday, March 20, 2019 | Capitals | Devils | 12AM UTC+1 |
| Wednesday, March 20, 2019 | Bruins | Islanders | 12AM UTC+1 |
| Wednesday, March 20, 2019 | Red Wings | Rangers | 12AM UTC+1 |
| Wednesday, March 20, 2019 | Canadiens | Flyers | 12AM UTC+1 |
| Wednesday, March 20, 2019 | Penguins | Hurricanes | 12AM UTC+1 |
| Wednesday, March 20, 2019 | Edmonton Oilers | Blues | 1AM UTC+1 |
| Wednesday, March 20, 2019 | Maple Leafs | Predators | 1AM UTC+1 |
| Wednesday, March 20, 2019 | Avalanche | Wild | 1AM UTC+1 |
| Wednesday, March 20, 2019 | Panthers | Stars | 1:30AM UTC+1 |
| Wednesday, March 20, 2019 | Blue Jackets | Flames | 2AM UTC+1 |
| Thursday, March 21, 2019 | Maple Leafs | Sabres | 12AM UTC+1 |
| Thursday, March 21, 2019 | Lightning | Capitals | 12:30AM UTC+1 |
| Thursday, March 21, 2019 | Senators | Canucks | 3AM UTC+1 |
| Thursday, March 21, 2019 | Jets | Ducks | 3AM UTC+1 |
| Friday, March 22, 2019 | Coyotes | Panthers | 12AM UTC+1 |
| Friday, March 22, 2019 | Bruins | Devils | 12AM UTC+1 |
| Friday, March 22, 2019 | Lightning | Hurricanes | 12AM UTC+1 |
| Friday, March 22, 2019 | Islanders | Canadiens | 12:30AM UTC+1 |
| Friday, March 22, 2019 | Red Wings | Blues | 1AM UTC+1 |
| Friday, March 22, 2019 | Penguins | Predators | 1AM UTC+1 |
| Friday, March 22, 2019 | Flyers | Blackhawks | 1:30AM UTC+1 |
| Friday, March 22, 2019 | Avalanche | Stars | 1:30AM UTC+1 |
| Friday, March 22, 2019 | Senators | Flames | 2AM UTC+1 |
| Friday, March 22, 2019 | Blue Jackets | Edmonton Oilers | 2AM UTC+1 |
| Friday, March 22, 2019 | Jets | Golden Knights | 3AM UTC+1 |
| Friday, March 22, 2019 | Sharks | Kings | 3:30AM UTC+1 |
| Saturday, March 23, 2019 | Wild | Capitals | 12AM UTC+1 |
| Saturday, March 23, 2019 | Sharks | Ducks | 3AM UTC+1 |
| Saturday, March 23, 2019 | Coyotes | Devils | 6PM UTC+1 |
| Saturday, March 23, 2019 | Islanders | Flyers | 6PM UTC+1 |
| Saturday, March 23, 2019 | Blackhawks | Avalanche | 8PM UTC+1 |
| Saturday, March 23, 2019 | Senators | Edmonton Oilers | 9PM UTC+1 |
| Sunday, March 24, 2019 | Predators | Jets | 12AM UTC+1 |
| Sunday, March 24, 2019 | Rangers | Maple Leafs | 12AM UTC+1 |
| Sunday, March 24, 2019 | Sabres | Canadiens | 12AM UTC+1 |
| Sunday, March 24, 2019 | Bruins | Panthers | 12AM UTC+1 |
| Sunday, March 24, 2019 | Wild | Hurricanes | 12AM UTC+1 |
| Sunday, March 24, 2019 | Lightning | Blues | 1AM UTC+1 |
| Sunday, March 24, 2019 | Penguins | Stars | 1AM UTC+1 |
| Sunday, March 24, 2019 | Flames | Canucks | 3AM UTC+1 |
| Sunday, March 24, 2019 | Red Wings | Golden Knights | 3AM UTC+1 |
| Sunday, March 24, 2019 | Ducks | Kings | 3:30AM UTC+1 |
| Sunday, March 24, 2019 | Flyers | Capitals | 5:30PM UTC+1 |
| Sunday, March 24, 2019 | Coyotes | Islanders | 8PM UTC+1 |
| Monday, March 25, 2019 | Canadiens | Hurricanes | 12AM UTC+1 |
| Monday, March 25, 2019 | Avalanche | Blackhawks | 1AM UTC+1 |
| Monday, March 25, 2019 | Blue Jackets | Canucks | 3AM UTC+1 |
| Tuesday, March 26, 2019 | Panthers | Maple Leafs | 12AM UTC+1 |
| Tuesday, March 26, 2019 | Sabres | Devils | 12AM UTC+1 |
| Tuesday, March 26, 2019 | Penguins | Rangers | 12AM UTC+1 |
| Tuesday, March 26, 2019 | Bruins | Lightning | 12:30AM UTC+1 |
| Tuesday, March 26, 2019 | Golden Knights | Blues | 1AM UTC+1 |
| Tuesday, March 26, 2019 | Predators | Wild | 1AM UTC+1 |
| Tuesday, March 26, 2019 | Stars | Jets | 1AM UTC+1 |
| Tuesday, March 26, 2019 | Kings | Flames | 2AM UTC+1 |
| Tuesday, March 26, 2019 | Red Wings | Sharks | 3:30AM UTC+1 |
| Wednesday, March 27, 2019 | Hurricanes | Capitals | 12AM UTC+1 |
| Wednesday, March 27, 2019 | Islanders | Blue Jackets | 12AM UTC+1 |
| Wednesday, March 27, 2019 | Panthers | Canadiens | 12:30AM UTC+1 |
| Wednesday, March 27, 2019 | Sabres | Senators | 12:30AM UTC+1 |
| Wednesday, March 27, 2019 | Kings | Edmonton Oilers | 2AM UTC+1 |
| Wednesday, March 27, 2019 | Ducks | Canucks | 3AM UTC+1 |
| Wednesday, March 27, 2019 | Blackhawks | Coyotes | 3AM UTC+1 |
| Thursday, March 28, 2019 | Maple Leafs | Flyers | 12AM UTC+1 |
| Thursday, March 28, 2019 | Rangers | Bruins | 12:30AM UTC+1 |
| Thursday, March 28, 2019 | Stars | Flames | 2:30AM UTC+1 |
| Thursday, March 28, 2019 | Golden Knights | Avalanche | 3AM UTC+1 |
| Friday, March 29, 2019 | Red Wings | Sabres | 12AM UTC+1 |
| Friday, March 29, 2019 | Capitals | Hurricanes | 12AM UTC+1 |
| Friday, March 29, 2019 | Canadiens | Blue Jackets | 12AM UTC+1 |
| Friday, March 29, 2019 | Panthers | Senators | 12:30AM UTC+1 |
| Friday, March 29, 2019 | Islanders | Jets | 1AM UTC+1 |
| Friday, March 29, 2019 | Stars | Edmonton Oilers | 2AM UTC+1 |
| Friday, March 29, 2019 | Kings | Canucks | 3AM UTC+1 |
| Friday, March 29, 2019 | Blackhawks | Sharks | 3:30AM UTC+1 |
| Saturday, March 30, 2019 | Blues | Rangers | 12AM UTC+1 |
| Saturday, March 30, 2019 | Predators | Penguins | 12AM UTC+1 |
| Saturday, March 30, 2019 | Devils | Red Wings | 12:30AM UTC+1 |
| Saturday, March 30, 2019 | Coyotes | Avalanche | 2AM UTC+1 |
| Saturday, March 30, 2019 | Ducks | Flames | 2AM UTC+1 |
| Saturday, March 30, 2019 | Wild | Golden Knights | 3AM UTC+1 |
| Saturday, March 30, 2019 | Flyers | Hurricanes | 6PM UTC+1 |
| Sunday, March 31, 2019 | Canadiens | Jets | 12AM UTC+1 |
| Sunday, March 31, 2019 | Panthers | Bruins | 12AM UTC+1 |
| Sunday, March 31, 2019 | Maple Leafs | Senators | 12AM UTC+1 |
| Sunday, March 31, 2019 | Capitals | Lightning | 12AM UTC+1 |
| Sunday, March 31, 2019 | Blues | Devils | 12AM UTC+1 |
| Sunday, March 31, 2019 | Sabres | Islanders | 12AM UTC+1 |
| Sunday, March 31, 2019 | Blue Jackets | Predators | 1AM UTC+1 |
| Sunday, March 31, 2019 | Golden Knights | Sharks | 2AM UTC+1 |
| Sunday, March 31, 2019 | Stars | Canucks | 3AM UTC+1 |
| Sunday, March 31, 2019 | Ducks | Edmonton Oilers | 3AM UTC+1 |
| Sunday, March 31, 2019 | Blackhawks | Kings | 3:30AM UTC+1 |
| Sunday, March 31, 2019 | Rangers | Flyers | 5:30PM UTC+1 |
| Sunday, March 31, 2019 | Wild | Coyotes | 10PM UTC+1 |
| Sunday, March 31, 2019 | Hurricanes | Penguins | 10PM UTC+1 |
| Sunday, March 31, 2019 | Blue Jackets | Sabres | 11PM UTC+1 |
| Monday, April 01, 2019 | Bruins | Red Wings | 12:30AM UTC+1 |
| Monday, April 01, 2019 | Flames | Sharks | 1AM UTC+1 |
| Tuesday, April 02, 2019 | Capitals | Panthers | 12AM UTC+1 |
| Tuesday, April 02, 2019 | Rangers | Devils | 12AM UTC+1 |
| Tuesday, April 02, 2019 | Maple Leafs | Islanders | 12AM UTC+1 |
| Tuesday, April 02, 2019 | Lightning | Senators | 12:30AM UTC+1 |
| Tuesday, April 02, 2019 | Avalanche | Blues | 1AM UTC+1 |
| Tuesday, April 02, 2019 | Jets | Blackhawks | 1:30AM UTC+1 |
| Tuesday, April 02, 2019 | Edmonton Oilers | Golden Knights | 3AM UTC+1 |
| Tuesday, April 02, 2019 | Flames | Kings | 3AM UTC+1 |
| Wednesday, April 03, 2019 | Predators | Sabres | 12AM UTC+1 |
| Wednesday, April 03, 2019 | Bruins | Blue Jackets | 12AM UTC+1 |
| Wednesday, April 03, 2019 | Hurricanes | Maple Leafs | 12:30AM UTC+1 |
| Wednesday, April 03, 2019 | Lightning | Canadiens | 12:30AM UTC+1 |
| Wednesday, April 03, 2019 | Penguins | Red Wings | 12:30AM UTC+1 |
| Wednesday, April 03, 2019 | Jets | Wild | 1AM UTC+1 |
| Wednesday, April 03, 2019 | Flyers | Stars | 1:30AM UTC+1 |
| Wednesday, April 03, 2019 | Edmonton Oilers | Avalanche | 2AM UTC+1 |
| Wednesday, April 03, 2019 | Sharks | Canucks | 3AM UTC+1 |
| Wednesday, April 03, 2019 | Kings | Coyotes | 3AM UTC+1 |
| Thursday, April 04, 2019 | Senators | Rangers | 12:30AM UTC+1 |
| Thursday, April 04, 2019 | Blues | Blackhawks | 1AM UTC+1 |
| Thursday, April 04, 2019 | Flames | Ducks | 3:30AM UTC+1 |
| Friday, April 05, 2019 | Senators | Sabres | 12AM UTC+1 |
| Friday, April 05, 2019 | Lightning | Maple Leafs | 12AM UTC+1 |
| Friday, April 05, 2019 | Islanders | Panthers | 12AM UTC+1 |
| Friday, April 05, 2019 | Red Wings | Penguins | 12AM UTC+1 |
| Friday, April 05, 2019 | Canadiens | Capitals | 12AM UTC+1 |
| Friday, April 05, 2019 | Devils | Hurricanes | 12AM UTC+1 |
| Friday, April 05, 2019 | Flyers | Blues | 1AM UTC+1 |
| Friday, April 05, 2019 | Canucks | Predators | 1AM UTC+1 |
| Friday, April 05, 2019 | Bruins | Wild | 1AM UTC+1 |
| Friday, April 05, 2019 | Jets | Avalanche | 2AM UTC+1 |
| Friday, April 05, 2019 | Sharks | Edmonton Oilers | 2AM UTC+1 |
| Friday, April 05, 2019 | Coyotes | Golden Knights | 3AM UTC+1 |
| Saturday, April 06, 2019 | Blue Jackets | Rangers | 12AM UTC+1 |
| Saturday, April 06, 2019 | Stars | Blackhawks | 1:30AM UTC+1 |
| Saturday, April 06, 2019 | Kings | Ducks | 3AM UTC+1 |
| Saturday, April 06, 2019 | Lightning | Bruins | 5:30PM UTC+1 |
| Saturday, April 06, 2019 | Canucks | Blues | 9PM UTC+1 |
| Sunday, April 07, 2019 | Maple Leafs | Canadiens | 12AM UTC+1 |
| Sunday, April 07, 2019 | Blue Jackets | Senators | 12AM UTC+1 |
| Sunday, April 07, 2019 | Sabres | Red Wings | 12AM UTC+1 |
| Sunday, April 07, 2019 | Devils | Panthers | 12AM UTC+1 |
| Sunday, April 07, 2019 | Hurricanes | Flyers | 12AM UTC+1 |
| Sunday, April 07, 2019 | Rangers | Penguins | 12AM UTC+1 |
| Sunday, April 07, 2019 | Islanders | Capitals | 12AM UTC+1 |
| Sunday, April 07, 2019 | Blackhawks | Predators | 1AM UTC+1 |
| Sunday, April 07, 2019 | Wild | Stars | 1AM UTC+1 |
| Sunday, April 07, 2019 | Jets | Coyotes | 3AM UTC+1 |
| Sunday, April 07, 2019 | Edmonton Oilers | Flames | 3AM UTC+1 |
| Sunday, April 07, 2019 | Golden Knights | Kings | 3:30AM UTC+1 |
| Sunday, April 07, 2019 | Avalanche | Sharks | 3:30AM UTC+1 |
Follow @BetNHL
BetNHL.ca » Schedule »