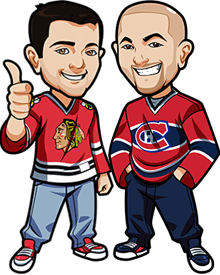 Follow @BetNHL
What's up my CST homies?
There's a sentence I've never uttered before…and hopefully will never utter again!
Keep up to date with the NHL and what games are on with our in-depth and simple NHL Schedule in CST format. If you're in the central time then this printable schedule is perfect for you – a nice easy way to know when each team is playing and what time without having to battle with that annoying timezone math.
So bookmark this page and keep coming back to keep tabs on what games are being played at what time in the Central Standard Time format with this NHL Central Standard Time Schedule:
March 1, 2013 Edmonton Oilers at St. Louis Blues 7:00 PM CST
March 1, 2013 Columbus Blue Jackets at Chicago Blackhawks 7:30 PM CST
March 1, 2013 Minnesota Wild at Anaheim Ducks 9:00 PM CST
March 2, 2013 Ottawa Senators at Philadelphia Flyers 11:00 AM CST
March 2, 2013 Tampa Bay Lightning at Boston Bruins 12:00 PM CST
March 2, 2013 New Jersey Devils at Buffalo Sabres 2:00 PM CST
March 2, 2013 Washington Capitals at Winnipeg Jets 2:00 PM CST
March 2, 2013 Pittsburgh Penguins at Montreal Canadiens 6:00 PM CST
March 2, 2013 Florida Panthers at Carolina Hurricanes 6:00 PM CST
March 2, 2013 Anaheim Ducks at Phoenix Coyotes 7:00 PM CST
March 2, 2013 Los Angeles Kings at Vancouver Canucks 9:00 PM CST
March 2, 2013 Nashville Predators at San Jose Sharks 9:30 PM CST
March 3, 2013 Chicago Blackhawks at Detroit Red Wings 11:30 AM CST
March 3, 2013 Ottawa Senators at New York Islanders 2:00 PM CST
March 3, 2013 Colorado Avalance at Columbus Blue Jackets 2:00 PM CST
March 3, 2013 St. Louis Blues at Dallas Stars 2:00 PM CST
March 3, 2013 Carolina Hurricanes at Florida Panthers 5:00 PM CST
March 3, 2013 Montreal Canadiens at Boston Bruins 6:30 PM CST
March 3, 2013 Buffalo Sabres at New York Rangers 6:30 PM CST
March 3, 2013 Edmonton Oilers at Minnesota Wild 7:00 PM CST
March 3, 2013 Vancouver Canucks at Calgary Flames 7:00 PM CST
March 4, 2013 New Jersey Devils at Toronto Maple Leafs 6:00 PM CST
March 4, 2013 Tampa Bay Lightning at Pittsburgh Penguins 6:30 PM CST
March 4, 2013 Anaheim Ducks at Phoenix Coyotes 8:00 PM CST
March 4, 2013 Nashville Predators at Los Angeles Kings 9:30 PM CST
March 5, 2013 Tampa Bay Lightning at New Jersey Devils 6:00 PM CST
March 5, 2013 Montreal Canadiens at New York Islanders 6:00 PM CST
March 5, 2013 Boston Bruins at Washington Capitals 6:00 PM CST
March 5, 2013 Buffalo Sabres at Carolina Hurricanes 6:00 PM CST
March 5, 2013 Edmonton Oilers at Columbus Blue Jackets 6:00 PM CST
March 5, 2013 Philadelphia Flyers at New York Rangers 6:30 PM CST
March 5, 2013 Winnipeg Jets at Florida Panthers 6:30 PM CST
March 5, 2013 Colorado Avalance at Detroit Red Wings 6:30 PM CST
March 5, 2013 Minnesota Wild at Chicago Blackhawks 7:30 PM CST
March 5, 2013 San Jose Sharks at Vancouver Canucks 9:00 PM CST
March 5, 2013 St. Louis Blues at Los Angeles Kings 9:30 PM CST
March 6, 2013 Ottawa Senators at Toronto Maple Leafs 6:00 PM CST
March 6, 2013 Colorado Avalance at Chicago Blackhawks 7:00 PM CST
March 6, 2013 San Jose Sharks at Calgary Flames 8:30 PM CST
March 6, 2013 Phoenix Coyotes at Anaheim Ducks 9:00 PM CST
March 7, 2013 Toronto Maple Leafs at Boston Bruins 6:00 PM CST
March 7, 2013 Buffalo Sabres at New Jersey Devils 6:00 PM CST
March 7, 2013 New York Rangers at New York Islanders 6:00 PM CST
March 7, 2013 Pittsburgh Penguins at Philadelphia Flyers 6:00 PM CST
March 7, 2013 Florida Panthers at Washington Capitals 6:00 PM CST
March 7, 2013 Montreal Canadiens at Carolina Hurricanes 6:00 PM CST
March 7, 2013 Vancouver Canucks at Columbus Blue Jackets 6:00 PM CST
March 7, 2013 Winnipeg Jets at Tampa Bay Lightning 6:30 PM CST
March 7, 2013 Edmonton Oilers at Detroit Red Wings 6:30 PM CST
March 7, 2013 St. Louis Blues at Phoenix Coyotes 8:00 PM CST
March 7, 2013 Dallas Stars at Los Angeles Kings 9:30 PM CST
March 8, 2013 Ottawa Senators at New York Rangers 6:00 PM CST
March 8, 2013 Winnipeg Jets at Florida Panthers 6:30 PM CST
March 8, 2013 Edmonton Oilers at Nashville Predators 7:00 PM CST
March 8, 2013 Chicago Blackhawks at Colorado Avalance 8:00 PM CST
March 8, 2013 Calgary Flames at Anaheim Ducks 9:30 PM CST
March 9, 2013 Philadelphia Flyers at Boston Bruins 12:00 PM CST
March 9, 2013 Washington Capitals at New York Islanders 12:00 PM CST
March 9, 2013 Detroit Red Wings at Columbus Blue Jackets 1:00 PM CST
March 9, 2013 St. Louis Blues at San Jose Sharks 3:00 PM CST
March 9, 2013 Pittsburgh Penguins at Toronto Maple Leafs 6:00 PM CST
March 9, 2013 New Jersey Devils at Carolina Hurricanes 6:00 PM CST
March 9, 2013 Montreal Canadiens at Tampa Bay Lightning 6:00 PM CST
March 9, 2013 Minnesota Wild at Nashville Predators 7:00 PM CST
March 9, 2013 Dallas Stars at Phoenix Coyotes 7:00 PM CST
March 9, 2013 Calgary Flames at Los Angeles Kings 9:00 PM CST
March 10, 2013 New York Rangers at Washington Capitals 11:30 AM CST
March 10, 2013 Columbus Blue Jackets at Detroit Red Wings 4:00 PM CST
March 10, 2013 Montreal Canadiens at Florida Panthers 5:00 PM CST
March 10, 2013 Winnipeg Jets at New Jersey Devils 6:00 PM CST
March 10, 2013 New York Islanders at Pittsburgh Penguins 6:00 PM CST
March 10, 2013 Edmonton Oilers at Chicago Blackhawks 6:00 PM CST
March 10, 2013 Buffalo Sabres at Philadelphia Flyers 6:30 PM CST
March 10, 2013 Vancouver Canucks at Minnesota Wild 7:00 PM CST
March 10, 2013 San Jose Sharks at Colorado Avalance 7:00 PM CST
March 10, 2013 St. Louis Blues at Anaheim Ducks 7:00 PM CST
March 11, 2013 Boston Bruins at Ottawa Senators 6:30 PM CST
March 11, 2013 Calgary Flames at Los Angeles Kings 9:00 PM CST
March 12, 2013 New York Rangers at Buffalo Sabres 6:00 PM CST
March 12, 2013 Carolina Hurricanes at Washington Capitals 6:00 PM CST
March 12, 2013 Vancouver Canucks at Columbus Blue Jackets 6:00 PM CST
March 12, 2013 Boston Bruins at Pittsburgh Penguins 6:30 PM CST
March 12, 2013 Tampa Bay Lightning at Florida Panthers 6:30 PM CST
March 12, 2013 Toronto Maple Leafs at Winnipeg Jets 7:00 PM CST
March 12, 2013 San Jose Sharks at St. Louis Blues 7:00 PM CST
March 12, 2013 Anaheim Ducks at Minnesota Wild 7:00 PM CST
March 12, 2013 Nashville Predators at Dallas Stars 7:30 PM CST
March 12, 2013 Edmonton Oilers at Colorado Avalance 8:00 PM CST
March 12, 2013 Los Angeles Kings at Phoenix Coyotes 9:00 PM CST
March 13, 2013 Ottawa Senators at Montreal Canadiens 6:00 PM CST
March 13, 2013 Philadelphia Flyers at New Jersey Devils 6:30 PM CST
March 13, 2013 Detroit Red Wings at Calgary Flames 8:30 PM CST
March 14, 2013 Florida Panthers at Boston Bruins 6:00 PM CST
March 14, 2013 Pittsburgh Penguins at Toronto Maple Leafs 6:00 PM CST
March 14, 2013 Washington Capitals at Carolina Hurricanes 6:00 PM CST
March 14, 2013 Chicago Blackhawks at Columbus Blue Jackets 6:00 PM CST
March 14, 2013 New York Islanders at Tampa Bay Lightning 6:30 PM CST
March 14, 2013 New York Rangers at Winnipeg Jets 7:00 PM CST
March 14, 2013 Phoenix Coyotes at St. Louis Blues 7:00 PM CST
March 14, 2013 Colorado Avalance at Minnesota Wild 7:00 PM CST
March 14, 2013 Anaheim Ducks at Dallas Stars 7:30 PM CST
March 14, 2013 Nashville Predators at Vancouver Canucks 9:00 PM CST
March 14, 2013 Los Angeles Kings at San Jose Sharks 9:30 PM CST
March 15, 2013 New Jersey Devils at Philadelphia Flyers 6:00 PM CST
March 15, 2013 Nashville Predators at Calgary Flames 8:00 PM CST
March 15, 2013 Detroit Red Wings at Edmonton Oilers 8:30 PM CST
March 16, 2013 Washington Capitals at Boston Bruins 12:00 PM CST
March 16, 2013 New York Rangers at Pittsburgh Penguins 12:00 PM CST
March 16, 2013 Ottawa Senators at Buffalo Sabres 2:00 PM CST
March 16, 2013 Minnesota Wild at Colorado Avalance 2:00 PM CST
March 16, 2013 Winnipeg Jets at Toronto Maple Leafs 6:00 PM CST
March 16, 2013 Montreal Canadiens at New Jersey Devils 6:00 PM CST
March 16, 2013 Carolina Hurricanes at Tampa Bay Lightning 6:00 PM CST
March 16, 2013 Phoenix Coyotes at Columbus Blue Jackets 6:00 PM CST
March 16, 2013 New York Islanders at Florida Panthers 6:30 PM CST
March 16, 2013 Anaheim Ducks at St. Louis Blues 7:00 PM CST
March 16, 2013 Chicago Blackhawks at Dallas Stars 7:00 PM CST
March 16, 2013 Detroit Red Wings at Vancouver Canucks 9:00 PM CST
March 16, 2013 San Jose Sharks at Los Angeles Kings 9:30 PM CST
March 17, 2013 Boston Bruins at Pittsburgh Penguins 11:30 AM CST
March 17, 2013 Winnipeg Jets at Ottawa Senators 4:00 PM CST
March 17, 2013 Buffalo Sabres at Washington Capitals 6:00 PM CST
March 17, 2013 Nashville Predators at Edmonton Oilers 7:00 PM CST
March 18, 2013 Carolina Hurricanes at New York Rangers 6:00 PM CST
March 18, 2013 Philadelphia Flyers at Tampa Bay Lightning 6:30 PM CST
March 18, 2013 Calgary Flames at Dallas Stars 7:30 PM CST
March 18, 2013 Chicago Blackhawks at Colorado Avalance 8:00 PM CST
March 18, 2013 Minnesota Wild at Vancouver Canucks 9:00 PM CST
March 18, 2013 San Jose Sharks at Anaheim Ducks 9:00 PM CST
March 18, 2013 Phoenix Coyotes at Los Angeles Kings 9:30 PM CST
March 19, 2013 New York Rangers at New Jersey Devils 6:00 PM CST
March 19, 2013 Ottawa Senators at New York Islanders 6:00 PM CST
March 19, 2013 Florida Panthers at Carolina Hurricanes 6:00 PM CST
March 19, 2013 Nashville Predators at Columbus Blue Jackets 6:00 PM CST
March 19, 2013 Buffalo Sabres at Montreal Canadiens 6:30 PM CST
March 19, 2013 Washington Capitals at Pittsburgh Penguins 6:30 PM CST
March 19, 2013 Boston Bruins at Winnipeg Jets 7:00 PM CST
March 19, 2013 St. Louis Blues at Vancouver Canucks 9:00 PM CST
March 19, 2013 Phoenix Coyotes at Los Angeles Kings 9:30 PM CST
March 20, 2013 Tampa Bay Lightning at Toronto Maple Leafs 6:00 PM CST
March 20, 2013 Minnesota Wild at Detroit Red Wings 6:30 PM CST
March 20, 2013 Dallas Stars at Colorado Avalance 8:30 PM CST
March 20, 2013 San Jose Sharks at Edmonton Oilers 8:30 PM CST
March 20, 2013 Chicago Blackhawks at Anaheim Ducks 9:00 PM CST
March 21, 2013 Toronto Maple Leafs at Buffalo Sabres 6:00 PM CST
March 21, 2013 Montreal Canadiens at New York Islanders 6:00 PM CST
March 21, 2013 Florida Panthers at New York Rangers 6:00 PM CST
March 21, 2013 New Jersey Devils at Carolina Hurricanes 6:00 PM CST
March 21, 2013 Boston Bruins at Ottawa Senators 6:30 PM CST
March 21, 2013 Washington Capitals at Winnipeg Jets 7:00 PM CST
March 21, 2013 Calgary Flames at Nashville Predators 7:00 PM CST
March 21, 2013 Vancouver Canucks at Phoenix Coyotes 9:00 PM CST
March 21, 2013 Dallas Stars at Los Angeles Kings 9:30 PM CST
March 22, 2013 Pittsburgh Penguins at New York Islanders 6:00 PM CST
March 22, 2013 Calgary Flames at Columbus Blue Jackets 6:00 PM CST
March 22, 2013 Washington Capitals at Winnipeg Jets 6:00 PM CST
March 22, 2013 Detroit Red Wings at Anaheim Ducks 9:00 PM CST
March 23, 2013 Tampa Bay Lightning at Ottawa Senators 1:00 PM CST
March 23, 2013 San Jose Sharks at Minnesota Wild 1:00 PM CST
March 23, 2013 Vancouver Canucks at Los Angeles Kings 3:00 PM CST
March 23, 2013 Boston Bruins at Toronto Maple Leafs 6:00 PM CST
March 23, 2013 Buffalo Sabres at Montreal Canadiens 6:00 PM CST
March 23, 2013 Florida Panthers at New Jersey Devils 6:00 PM CST
March 23, 2013 Columbus Blue Jackets at Nashville Predators 7:00 PM CST
March 23, 2013 Colorado Avalance at Dallas Stars 7:00 PM CST
March 23, 2013 St. Louis Blues at Edmonton Oilers 9:00 PM CST
March 24, 2013 Florida Panthers at New York Islanders 4:00 PM CST
March 24, 2013 Philadelphia Flyers at Pittsburgh Penguins 6:00 PM CST
March 24, 2013 Washington Capitals at New York Rangers 6:00 PM CST
March 24, 2013 Tampa Bay Lightning at Winnipeg Jets 7:00 PM CST
March 24, 2013 Vancouver Canucks at Colorado Avalance 7:00 PM CST
March 24, 2013 St. Louis Blues at Calgary Flames 7:00 PM CST
March 24, 2013 Detroit Red Wings at Anaheim Ducks 7:00 PM CST
March 25, 2013 Toronto Maple Leafs at Boston Bruins 6:00 PM CST
March 25, 2013 New Jersey Devils at Ottawa Senators 6:30 PM CST
March 25, 2013 Los Angeles Kings at Chicago Blackhawks 7:00 PM CST
March 25, 2013 Edmonton Oilers at Nashville Predators 7:00 PM CST
March 25, 2013 Minnesota Wild at Dallas Stars 7:30 PM CST
March 25, 2013 Detroit Red Wings at Phoenix Coyotes 9:00 PM CST
March 25, 2013 San Jose Sharks at Anaheim Ducks 9:00 PM CST
March 26, 2013 Florida Panthers at Toronto Maple Leafs 6:00 PM CST
March 26, 2013 Montreal Canadiens at Pittsburgh Penguins 6:00 PM CST
March 26, 2013 New York Islanders at Washington Capitals 6:00 PM CST
March 26, 2013 Winnipeg Jets at Carolina Hurricanes 6:00 PM CST
March 26, 2013 New York Rangers at Philadelphia Flyers 6:30 PM CST
March 26, 2013 Buffalo Sabres at Tampa Bay Lightning 6:30 PM CST
March 26, 2013 Edmonton Oilers at St. Louis Blues 7:00 PM CST
March 26, 2013 Calgary Flames at Chicago Blackhawks 7:30 PM CST
March 26, 2013 Columbus Blue Jackets at Vancouver Canucks 9:00 PM CST
March 27, 2013 Montreal Canadiens at Boston Bruins 6:30 PM CST
March 27, 2013 Phoenix Coyotes at Minnesota Wild 8:00 PM CST
March 27, 2013 Colorado Avalance at Calgary Flames 9:00 PM CST
March 27, 2013 Anaheim Ducks at San Jose Sharks 9:00 PM CST
March 28, 2013 Carolina Hurricanes at Toronto Maple Leafs 6:00 PM CST
March 28, 2013 New York Islanders at Philadelphia Flyers 6:00 PM CST
March 28, 2013 Winnipeg Jets at Pittsburgh Penguins 6:00 PM CST
March 28, 2013 New York Rangers at Ottawa Senators 6:30 PM CST
March 28, 2013 Buffalo Sabres at Florida Panthers 6:30 PM CST
March 28, 2013 Los Angeles Kings at St. Louis Blues 7:00 PM CST
March 28, 2013 Phoenix Coyotes at Nashville Predators 7:00 PM CST
March 28, 2013 Columbus Blue Jackets at Edmonton Oilers 8:30 PM CST
March 28, 2013 Colorado Avalance at Vancouver Canucks 9:00 PM CST
March 28, 2013 Detroit Red Wings at San Jose Sharks 9:30 PM CST
March 29, 2013 New Jersey Devils at Tampa Bay Lightning 6:30 PM CST
March 29, 2013 Anaheim Ducks at Chicago Blackhawks 7:30 PM CST
March 29, 2013 Minnesota Wild at Dallas Stars 7:30 PM CST
March 29, 2013 Columbus Blue Jackets at Calgary Flames 8:00 PM CST
March 30, 2013 Boston Bruins at Philadelphia Flyers 12:00 PM CST
March 30, 2013 New York Islanders at Pittsburgh Penguins 12:00 PM CST
March 30, 2013 Carolina Hurricanes at Winnipeg Jets 2:00 PM CST
March 30, 2013 Nashville Predators at Colorado Avalance 2:00 PM CST
March 30, 2013 Washington Capitals at Buffalo Sabres 6:00 PM CST
March 30, 2013 New York Rangers at Montreal Canadiens 6:00 PM CST
March 30, 2013 Toronto Maple Leafs at Ottawa Senators 6:00 PM CST
March 30, 2013 New Jersey Devils at Florida Panthers 6:30 PM CST
March 30, 2013 Los Angeles Kings at Minnesota Wild 7:00 PM CST
March 30, 2013 Vancouver Canucks at Edmonton Oilers 9:00 PM CST
March 30, 2013 Phoenix Coyotes at San Jose Sharks 9:30 PM CST
March 31, 2013 Chicago Blackhawks at Detroit Red Wings 11:30 AM CST
March 31, 2013 Anaheim Ducks at Columbus Blue Jackets 5:00 PM CST
March 31, 2013 Los Angeles Kings at Dallas Stars 5:00 PM CST
March 31, 2013 Boston Bruins at Buffalo Sabres 6:00 PM CST
March 31, 2013 Washington Capitals at Philadelphia Flyers 6:30 PM CST
Follow @BetNHL
BetNHL.ca » Schedule »