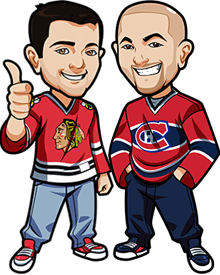 Follow @BetNHL
5Dimes NHL Betting Quick Review:
If ever there was a case where "first impressions shouldn't matter" then 5Dimes is the perfect example of this.
If you visit http://www.5Dimes.eu you might be apt to close your browser. The design looks very old, sportsbook odds aren't even listed until you register and log in. And even when you do – the betting interface feels like something out of the stone ages.
Yet if you close the browser based on that, you're missing out on one of the online sportsbook industries best kept secrets. 5Dimes is one of the best online sportsbooks around.
Where 5Dimes really shines is their reduced juice. They will often have the best lines with reduced juice lines on a lot of betting options. While some books may have one line at -110, 5Dimes can have it as low as -102 and beating the 10 cent lines is something that can really add up.
5Dimes is also an extremely professionally run company who process deposits and withdrawals very fast. They have telephone, e-mail and live chat customer service around the clock and are just overall a top book who also offer some great rewards programs.
So don't let first impressions fool you – 5Dimes are a top quality book who you really should have an account at, as the majority of the time they're going to offer better NHL betting odds than anyone else.
Have a look at our NHL Live Betting Odds which displays odds from the best sportsbooks and I'm sure 5Dimes is the best for a couple of the games.
5Dimes NHL Betting Options:
Here is a list of all of the bets that you can make at 5Dimes on any given NHL Gameday: Spread Betting(Puck Line, Money Line, Total Points Over/Under, Overtime result betting, regulation time betting, Individual Team Points Over/Under, 1st Period Spread, 1st Period Money Line, 1st Period Total Points, 2nd Period Money Line, 3rd Period Money Line, Grand Salami, whether a game will go to overtime or not, Home Goals vs Away Goals, Home Goals vs Away Goals Spread Betting.
5Dimes offer futures betting on the NHL. You can bet on who will win the Stanley Cup for example.
Prior to the season beginning you will be able to bet on the division winners.
On top of that 5Dimes at some point will offer odds on the NHL Stanley Cup matchup. So for example, you could bet the Penguins vs the Kings as the Stanley Cup final..
5Dimes also offers player prop bets throughout the season – bet on the Art Ross Trophy Winner, Calder Memorial Trophy Winner, Hart Memorial Trophy Winner, James Norris Memorial Trophy Winner, Maurice Rocket Richard Trophy Winner and of course – check out our NHL Betting Tips Futures/Props section so you can see our suggestions on who to bet.
Why Canadians Should Bet at 5Dimes:
There are a lot of reasons as to why Canadians should NOT bet at 5Dimes which I will list below – but 5Dimes are one of the sportsbooks I bet most regularly at. Why? Simple: value. Why bet $110 to win $100 at one sportsbook, when I can bet $102 to win $100 at 5Dimes? And that's not a rarirty – 5Dimes are ALWAYS offering reduced juice lines to the point that the majority of my game betting is done there.
5Dimes also offers some solid rewards – reduced juice is their main promo, but they also offer 50% bonus up to $520 in new player bonuses, a few free plays in their casino, reload bonuses, and cash back rewards.
Depositing and withdrawing is great at 5Dimes – every withdrawal I have ever made has taken less than 24 hours to be processed on a weekday – longer on weekends.
5Dimes also caters themselves both to new players who are betting for the first time, and experienced betters. They offer complete comprehensive guides to get you started, and explain everything very well.
Why Canadians Shouldn't Bet at 5Dimes:
As mentioned – the interface. It isn't very user-friendly, and can be quite frustrating at times.
Also they offer a mobile site – but I wouldn't recommend betting 5Dimes on your cellphone. Numerous times I've been trying to place a bet and it's been frustrating – I would keep getting logged out while in the process of placing a bet.
If there are a lot of betting options, the 5Dimes system also doesn't handle it very well. Thankfully that doesn't come up often – but I remember clicking "Superbowl Props" and then having to sit there for a good 10 minutes before they all showed up. It's the same for NHL Stanley Cup props so just don't leave those bets until the last minute.
The Bottom Line:
Every sports better should have an account at 5Dimes. It's lacking the glitz and glamour of other sportsbooks but they make up for that with fantastic reduced juice lines.
The interface may be frustrating – but getting the best value for your money is anything but. Be sure to have yourself an account at 5Dimes – you won't regret it. Sign up here.
Follow @BetNHL
BetNHL.ca » NHL Sportsbooks »