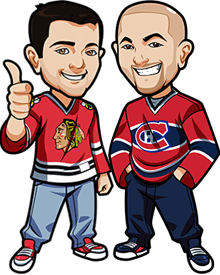 Follow @BetNHL
BetOnline NHL Betting Quick Review:
Since launching in 2009 and gaining over 1 million sports betters, BetOnline (BetOnline.) are a sportsbook that have just got bigger and better with age. They've added better promotions every year ranging from huge contests to free bets.
Unfortunately, BetOnline do seem to have a strong focus on American sports such as NBA and NFL, and less of a focus on the NHL. A lot of the promotions that Canadians who bet hockey at BetOnline will be taking advantage of are generic promotions. Now that's not necessarily a bad thing – BetOnline offer a ton of great promotions – but it can get a bit frustrating seeing NFL fans being given great promos, while NHL fans don't get much.
The organization of BetOnline is a but frustrating too. For example prior to the NHL 2013 season, they offered betting on the Stanley Cup 2012/2013 winners, as well as betting on who will win their respective conferences. If you go to the Hockey section of their website however, NHL wasn't even listed. You would have to scroll down to the "Futures & Props" tab, expand that then choose "Hockey Futures" to see the Stanley Cup Winners and Conference Winners betting options.
It's minor things like that which are frustrating because you could miss out on some potentially great bets. However overall BetOnline is still a highly recommended sportsbook due to their bonuses. It's not a sportsbook you should be betting at every day, but it's one you should be coming back to every now and again to take advantage of the promotions and bonuses that they offer. Have a look at BetOnline. and see if the interface irks you as much as it irks me!
BetOnline NHL Betting Options:
You can have a look for yourself – but right now for each individual game, BetOnline is Spread, Over/Under, Team Goal total bet, 1st period winner, Bet if home teams or away teams will score more goals for the night.
Also the Grand Salami where you can bet the Over/Under on TOTAL goals in that day. So some days may have the over/under of 70 goals and if you bet over 70 goals, then over 70 goals needs to be scored on that day. Probably one of my favourite bets.
As mentioned above, currently BetOnline are offering betting on the NHL 2012/2013 Stanley Cup Winners, as well as betting on the NHL Western Conference Winners and Eastern Conference Winners. To find those you have to scroll down to the "Futures & Props" tab on the sidebar, expand that and you will find the Hockey Futures section there.
Why Canadians Should Bet at BetOnline:
The main reason is the promotions and bonuses. BetOnline will tailor a lot of contests and promotions towards the NFL and NBA but we're hoping that once the NFL season is over, they focus more on the NHL.
They offer a lot of generic promotions and bonuses that it is recommended you take advantage of though. For example right now as I write this – BetOnline are offering $25 free to try out their live betting software – which is when you bet during the game.
They also have a lot of other features to suit the hockey punter. Live betting of course as mentioned – betting in-play is great, and adds a whole new dimension to the game. I mean you don't just have to sit there, with the Leafs 2-0 down to the Habs telling everyone the "Leafs will come back" – you can actually put your money where your mouth is, hop online to BetOnline and back the Leafs to come back and win the game.
Heck – you don't even need to get off your couch. BetOnline offer mobile betting software which is very good software and allows you to bet from your phone. They don't offer specific iPhone, iPad or Android apps – what they offer is a mobile website. When you visit BetOnline from your Blackberry, iPhone or any other smartphone the website will detect you are on a mobile device and send you to their mobile site.
And you can even call them and place a bet via the telephone if need be. So give them a look – they're worth it for the free $25 for live betting.
Why Canadians Shouldn't Bet at BetOnline:
Hockey isn't a big focus at Bet Online – at least it hasn't been in previous years. Unlike say – Titan Bet – where hockey is a huge focus, Bet Online generally focus more on the NFL and NBA.
Things could change this year though and we're hoping it does because BetOnline is a generally solid sportsbook with some great promotions that keep you coming back for more.
Their NHL betting odds are average at best – you'll rarely find them offering better odds than the majority of other sportsbooks either.
The Bottom Line:
BetOnline is a solid choice to bet the NHL, and if BetOnline add a lot more specific promotions for the NHL or for Canadians, then they could become one of our most recommended sportsbooks.
As it is I recommend giving them a try if only to check out their risk free $25 bet on live betting. Click here to visit BetOnline.
Follow @BetNHL
BetNHL.ca » NHL Sportsbooks »