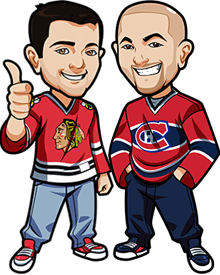 Follow @BetNHL
Bodog Canada NHL Betting Quick Review:
If you watch much TSN Sportscentre then you've no doubt heard of Bodog ([geocode id=5). Bodog sponsor a variety of segments on TSN. They also have their own poker show, as well as sponsor other poker events, on Sportsnet and The Score.
Bodog are arguably the biggest online sportsbook, and one of the best. They didn't get popular by screwing customers week in, week out – they got big by appreciating the customer, giving them rewards, great promos, fair lines, solid bonuses and offering great software.
The key thing with Bodog is they respect everything that they offer in terms of betting. They don't just add lines for the hell of it – they take great care in treating their customer base with great promotions based on what they offer.
For example – they offer NHL lines, which a lot of Canadians are betting on. So they run exclusive promotions for Canadians based on hockey, give free bets for Canadians to bet on the NHL – that sort of thing.
There's a lot of great things about Bodog – but as a Canadian betting hockey, the one thing you'll appreciate is how they reward you. They're one sportsbook that really seem like they want to thank you for betting there. Click here and see what specials Bodog are currently offering for the NHL.
Bodog Canada NHL Betting Options:
Spread, Over/Under, Unique Player Props, Moneyline,1st period line ,First period total goals, Who will score first, First to 3 goals, Total team goals, Will game go to overtime, Player props, Team props, Margin of victory
Currently however, Bodog are offering a variety of NHL Player Props, NHL Team Props and NHL Future Betting options.
Here is the current NHL Betting Options available at Bodog:
NHL Player Props: Bet on who will win the James Norris Trophy, Vezina Top Goaltender Betting, Bet on who will be the NHL Points Leader and win the Art Ross Trophy, Maurice "Rocket" Richard Trophy for the NHL Top Goalscorer Betting and NHLs Most Valuable Player Betting – bet on who the winner of the Hart Memorial Trophy is.
NHL Team Props: Bet on the Over/Under on Regular Season Points. For example, you can bet on the amount of points the Boston Bruins will have in the regular season – over 57.5 points or under 57.5 points. Also you can bet on what teams will make the NHL Playoffs. So for example you can bet on the Columbus Blue Jackets and whether or not they will make the NHL Playoffs – at this time, "Yes" is +4.75 and "No" is -700.
NHL Futures Props: You can currently bet on who will win the Stanley Cup, who will win the Eastern Conference and who will win the Western Conference. If you are looking for where to bet the Division winners, then Bodog also has you covered there.
Have a look at the complete list of NHL Betting Lines available at Bodog – click here.
Why Canadians Should Bet at Bodog Canada:
Wow – just so many reasons.
#1 is trust. It's hard to find an online sportsbook you can trust more in Canada. Bodog have their main offices in Canada – Montreal, Quebec to be exact. Bodog opened up their very own Canada division and website so they can connect with Canadians a lot better, and tailor their whole website specifically for Canadians. Which is why if you visit Bodog.ca right now you'll see lots of hockey, hockey, hockey!
When it comes to hockey, Bodog offer a TON of unique prop betting and are famous for that. You can bet on practically anything at Bodog as it is – elections, reality TV shows etc – and they keep it very unique with hockey as well, and the options available for betting on hockey.
Bodog also offer a 100% to $100 bonus meaning if you deposit $100 you'll get $100 free from Bodog. They also offer live betting on many NHL games meaning you can hop on at any time during a game and place a bet on it.
Give them a quick look at http://www.bodog.ca and you'll be impressed.
Why Canadians Shouldn't Bet at Bodog Canada:
There's really only one reason – mobile betting, or a lack of it.
Bodog don't have a mobile app for any OS – be it iPhone, iPad, Android or Blackberry. They also don't have a mobile version of their website. While it isn't impossible to bet on your cellphone at Bodog – it's not too easy using their website. It's a shame because this is really the only thing Bodog is lacking.
The Bottom Line:
You can't go wrong with Bodog. They are one of the best sportsbooks you can bet hockey at without a shadow of a doubt. Click here to check out Bodog – you won't be disappointed.
Follow @BetNHL
BetNHL.ca » NHL Sportsbooks »