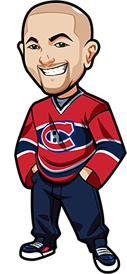 Follow @BetNHL
Bovada is an online sportsbook that only accepts Americans, and it is without a doubt the most popular sportsbook for Americans looking to bet hockey.
That's not to say it's the best online sportsbook for hockey bettors. It does have it's positives but it also has a few negatives too.
The two main negatives – the first one is the delay in odds posting. For example on a night with games beginning at 7pm EST, at 12pm EST there'll be just 3 things you can bet at Bovada on the game. The puck line, the money line and then the Over/Under total.
It will take until late in the afternoon for the rest of the Bovada betting lines to be released.
The other thing is the odds. Bovada rarely has the best betting odds for a game. We list the best betting odds for each NHL Tip we provide, and we only list Bovada maybe once in every 30 games. Sometimes they will have the SAME odds as other American sportsbooks – but they also will have worse odds at times.
Those are the two big negatives but don't let that scare you off – Bovada has a lot going for it.
First of all they have really solid software which is easy to use and easy to bet on. They also offer live betting so you can bet in the game and their interface for that is really easy to use.
They offer a fair amount of bonuses like a $250 welcone bonus for sports, and then also bonuses for referring a friend. They also offer a great online casino and poker room – so if you are looking for a gambling solution to cover everything they're good for that.
They're 100% trustworthy and reliable. They've been around for years(formerly Bodog) and are backed by Calvin Ayre. Withdrawals are quick and they don't do anything shady when it comes to handling their finances. 5Dimes for example were paying people out in Amazon gift cards which was not cool.
When they DO list their odds for the games and their various props, they offer an absolute bloody ton of them. Here's just a few things Bovada offer out of the 30+ bet types per game:
– Regulation Time Bets
– Live Betting
– Alternate Lines
– Who Will Score First
– Will There Be A Goal in the First 9:30
– Correct Score First Game
– Correct Score per Period
– Player Props like Will _____ Score
– Over/Under on Total Shots on goal per game per player
– Over/Under on Total Saves
– Who will record more points? Players against each other ie: Palmieri vs Eriksson
Overall while they're not the best online sportsbook in terms of odds, it's easy to see why they are so popular and we'd recommend Americans get an account there. Clear the bonus for sure and you may just fall in love with the interface and use Bovada as your convenience sportsbook.
Follow @BetNHL
BetNHL.ca » NHL Sportsbooks »