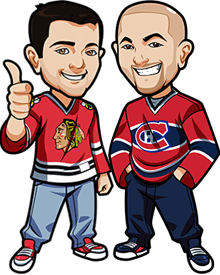 Follow @BetNHL
InterTops NHL Betting Quick Review:
Intertops(http://www.Intertops.eu) were established offline in 1983 and moved online in 1996. That might not surprise you when you see their webpage – it does look at times like it was designed in the late 90s! Not the most cosmetically appealing sportsbook at any rate.
The main highlights of Intertops are winning tickets, and rewards. Intertops often do promotions where they give away tickets to NHL games, be it a regular season game, the playoffs or even the Stanley Cup final itself.
Hell – sometimes you don't even need to enter a contest there. If you're a regular sports better at Intertops you may be able to just e-mail them, tell them you want tickets to a particular game and if they're available and Intertops like you enough – they'll hook you up! That's the sort of personal attention that really makes Intertops stand out.
They also offer the best rewards program out of any NHL hockey sportsbook. You earn points every time you make a bet, and you can turn those points into free cash. It's a really sweet deal, and they reward you extremely well. You can check your current points at any time, and see a complete history of your rewards and bonus points.
Check out the full details at http://www.intertops.eu.
InterTops NHL Betting Options:
Grand Salami, 1st period lines,Game spread, Over/Under, Moneyline
They currently offer the following NHL Futures and Antepost: To Win the Stanley Cup Outright, To Win the Eastern Conference and to win the Western Conference.
You can currently bet all of those futures at Intertops.
You can also bet currently who will win each division. So if you are looking to bet on who will win the Atlantic Division, Central Division, Northwest Division, Northeast Division, Pacific Divison or Southeast Division then head on over to Intertops.
Why Canadians Should Bet at InterTops:
As mentioned in the opening – the rewards program. That's the best reason to bet at Intertops. If you ever gamble at a casino they give you a rewards program card and you get cash back or free meals etc. That's the same at Intertops. They give you a great deal on cash back every time you bet – no matter whether you win or lose.
You earn points, and you can use those points to get money back from Intertops with NO wagering requirements or hidden catches at all. It's fantastic. On top of that the more you bet – the more Intertops notice. Then they will reward you with a variety of things – as mentioned above, you may be able to get tickets for an NHL game, get exclusive contests, that sort of thing.
Why Canadians Shouldn't Bet at InterTops:
Honestly, a lot of reasons. They offer a fantastic rewards program which is the best for anyone wanting to bet hockey – but there are a lot of negatives too. The interface and design of the site is old and outdated. Some people might like it though – but as someone who has been betting for years online – I'm not a big fan and find it frustrating.
They have a mobile option but it's very weak – I like to bet a lot on my cellphone and I didn't enjoy betting on my iPhone at Intertops. It felt like it was still set up for a phone from 2002 – and I don't think there's many people still carrying their Motorola Razr around!
The betting options are limited at Intertops too when it comes to betting hockey compared to someone like B365. They only offer select games for live betting too – not every game, which can be disappointing if you are looking to bet live and in-play.
The Bottom Line:
Intertops offer a solid rewards program, and the best option for someone looking to build up rewards points while betting on hockey. Intertops will reward your loyalty for sure.
So it's how important that is to you – I mean, they also offer a lot of bonuses too.like special signup bonuses, 10% deposit bonuses on Tuesdays and Thursday, and a generous refer a friend program. Plus they're currently offering a $20 Free Bet. Place your first bet of $20 and if it loses they'll refund the money so that's pretty sweet.
I'd recommend checking Intertops out and if you can get past the interface or get used to it, then it may be a great sportsbook for you to bet NHL hockey regularly at.
Follow @BetNHL
BetNHL.ca » NHL Sportsbooks »