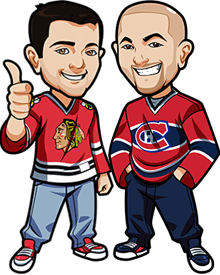 Follow @BetNHL
Important Note: We are no longer recommending JustBet. Instead, we are recommending you withdraw from them and stay the hell away from them.
JustBet were taken over by the rogue Bookmaker group who have a bad history when it comes to players. In short – stay the hell away from JustBet. We are blacklisting them.
The rest of this review is up purely for archival and transparency purposes:



---
JustBet (http://www.JustBet.cx) is a sportsbook that you should look to bet NHL at for two main reasons: a great welcome bonus, and some unique betting options.

That's not to say that's the ONLY reasons you should bet at JustBet – they have a solid mobile sportsbook for example. But these are the two reasons that make them a better choice than a lot of other sportsbooks.

The welcome bonus is an EXCLUSIVE bonus for BetNHL.ca visitors. You need to click this special link to activate it.

To start with – you get $10 free – this is to be used on the mobile sportsbook only. Their mobile sportsbook is great – it's a mobile-friendly website that works on Blackberry, iPhone, Androids and any other smartphone with a web browser. It also offers live scores and statistics all updated in real-time, plus a few other nifty things like displaying the chance you have of winning a bet during the game. One of those silly little things that you really appreciate, and miss when you bet at other sportsbooks.

They also offer the 100% to $500 deposit bonus with just a 10x rollover. This is one of the lowest wagering requirements at any sportsbook, and will be very easy to clear within just a couple of weeks of betting NHL.

JustBet also is known for offering some unique betting opportunities. For example, last season was the triple option during NHL games where you could bet who would be winning the 1st, 2nd AND 3rd period with a great payout if you got all three right.

JustBet is a great choice for betting NHL. For more details on their bonuses and the $10 freeplay, click here.

JustBet NHL Betting Options:

Spread, Over/Under, Grand Salami, Moneyline

Currently they are offering two futures. You can bet on who is going to win the NHL outright, and you have the option of betting who will win their conference.

In case I'm lazy and they have added more – head on over to JustBet and see if any new odds are up.

Why Canadians Should Bet at JustBet:

As mentioned above – the bonus. Not just the signup bonus of 100% to $500 with just 10x rollover – but so many more bonuses that JustBet give. They offer a good variety of reload bonuses – 50% on every bonus, the option of 10% Gamblers Insurance, special contests that all members can join where JustBet give free cash away – and quite a few more promotions.

They also offer the $10 freeplay mobile bet, so you can test out their mobile client with a free NHL bet.

Another great feature of Just Bet is their "Bet of the Day". Basically they will pick a particular betting option every day and give reduced lines, cash back, or some other promotion in relation to it. Now this sadly isn't always NHL – it can be NBA or NFL as well – but it's still something to keep an eye on as you can get a lot of great value from betting this way.

Why Canadians Shouldn't Bet at JustBet:

One reason not to bet at JustBet is the NHL betting odds available. You can usually find better odds at other sportsbooks. However that's countered by the bonus – as long as you are playing with a sportsbook bonus or clearing a wagering requirement it's okay. In short – don't play without a bonus at JustBet.

Depositing and withdrawing may cause issues too – your credit card may be rejected on deposits. They do have other options – so if your credit card is rejected, be sure to contact support about the best way to deposit there. Withdrawing you get one free withdrawal per month of a minimum of $300. If you're only planning on betting $5 a game or something – I wouldn't go to JustBet. It's aimed more at betters with a bankroll of a few hundred dollars.

The Bottom Line:

JustBet is a sportsbook that relies strongly on the promotions they offer. While I wouldn't make them my regular sportsbook, I would be sure to take advantage of their signup bonus, as well as their mobile freeplay – and always keep an eye on "bet of the day". That's where the REAL value comes in.

Check out todays JustBet "Bet of the Day" – click here.
Follow @BetNHL
BetNHL.ca » NHL Sportsbooks »