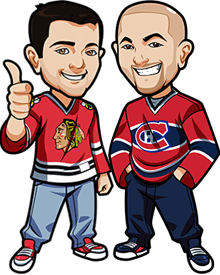 Follow @BetNHL
NordicBet NHL Betting Quick Review:
I may be a bit biased when I mention NordicBet – they were one of the first sportsbooks I ever bet online at, and I've always had a place in my heart for them. http://www.NordicBet.com is always a favourite on my bookmarks toolabr.
That's not to say they're a BAD sportsbook by any means – but there are a lot of better options out there. However one thing I really like about NordicBet is they VALUE Hockey – heck their sportsbook background is a mix of hockey and poker:
If you like to bet hockey other than the NHL – then NordicBet are the best sportsbook for you. Whether it's the AHL or hockey from Sweden, Russia, Austria, Finland, Germany, Norway or Poland – Nordicbet have you covered. They offer a wide variety of hockey, allow you to watch a lot of hockey live, and also bet on it too while the game is going.
They also offer the basics of sports betting like a decent bonus, option to bet mobile, a good variety of betting options etc. As they are a European focused sportsbook they're not my #1 book by any means – but I'd certainly check them out.
NordicBet NHL Betting Options:
Total goals for 1st 2nd and 3rd periods, First team to score, Exact score for each period, Spread, Over/Under, Double Chance bets-Two outcomes for one bet ie.Bet wins if game end in draw or away win, Moneyline, 1st, 2nd and 3rd period winners
Nordicbet allow future betting on the Stanley Cup winners and the Western Conference/Eastern Conference Winners.
Nordicbet also allow you to bet on the winner of each Division – ie you can bet on the Winner of the Central Division, or the Northeast Division. You can do live betting at NordicBet on select games, and currently for game line odds they are offering the moneyline option – meaning you bet whether the game will have one winner or be a tie after regular time, and also the option to do a double chance bet where you bet TWO outcomes at once. So you could bet on EITHER the Kings or Blackhawks in one game, or bet the Kings OR a tie.
For more information on the double chance bets check out http://www.NordicBet.com.
Why Canadians Should Bet at NordicBet:
As I said above – first of all, if you want to bet the European Hockey Leagues then Nordic Bet is a GREAT place to bet hockey. They're decent for the NHL but European Hockey is NordicBets forte, and they do a great job covering all european hockey leagues, adding in live betting and live stream. During the NHL lockout I spent a LOT of time betting on and watching European hockey at Nordic Bet.
They also offer a great bonus – it's 100% to 100 euros and the wagering requirements are really low. What this means is that you can sign up there, deposit, clear the bonus and add some nice free cash to your bankroll. This is a great bonus to hit, and even if you don't stick around it's not a bad thing – NordicBet will often offer additional bonuses to you to try and come back – so it's worth getting on their mailing list to get some free hockey bets sent to you. So sign up there even if you don't deposit right away.
Why Canadians Shouldn't Bet at NordicBet:
It's not that NordicBet are bad – it's just that they're not great. You can get better odds at Pinnacle, you can get better rewards at 5Dimes, more betting options at B365 – that sort of thing.
I wouldn't make NordicBet my #1 and only sportsbook when betting hockey – however I WOULD have an account there, and take advantage of that bonus. If you're a beginner betting hockey online then you should take advantage of the bonus at NordicBet to pad your bankroll. Deposit $100 and get $100 very quickly, taking your bankroll up to $200+.
They also offer mobile betting and live streaming and live betting. For all three of these B365 do a better job in terms of quality and offerings, but again it's not that NordicBet are bad – it's just that others do it better.
The Bottom Line:
If you're looking to bet ice hockey outside of the NHL, then NordicBet should be your #1 choice.
If you ONLY want to bet the NHL, then NordicBet shouldn't be your sportsbook where you regularly bet. However you should at the very least sign up there and take advantage of their deposit bonus. Then you will be on their mailing list, and they'll often offer free bets.
In the 2011/2012 NHL Season I'd receive aboue one e-mail every two weeks with a specific NHL promo – with promotions like "If the game is 0-0 by end of 3rd period you get your bets back" – that sort of thing. Those are great value and recommended to take advantage of.
So head on over to Nordicbet and check it out for yourself.
Follow @BetNHL
BetNHL.ca » NHL Sportsbooks »