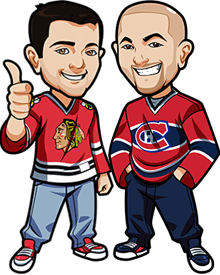 Follow @BetNHL
Please Note: Titan Bet are starting to stop people playing at various countries, and we no longer recommend Titan Bet. We recommend players from United States play at Bovada for Americans and http://www.Bet365.com for everyone else. instead.
Titan Bet NHL Betting Quick Review:
Titan Bet (http://www.TitanBet.com) is quite the interesting sportsbook. They launched in 2009, and attempted to go over the global audience as sportsbooks do, with a strong focus on soccer. Unfortunately it didn't work out, even with them giving away money like crazy with promos during the World Cup.
They were struggling – but then they noticed something: Canada. For whatever reason, Canadians were signing up at Titan Bet in droves and betting on the NHL. So Titan Bet started focusing more and more on Canada when it comes to betting, to the point that Titan Bet is one of the best online sportsbooks to bet hockey at.
Titan offer a variety of great bets for the NHL better. For example – when you sign up there, you'll get $50 in free bets. On top of that, they will give you $30 in free bets EVERY WEEK.
Titan Bet is a great sportsbook for a Canadian to have an account at, due to the various hockey promotions they run. Titan Bets #1 sport is the NHL, so be sure to jump on the bandwagon – sign up at Titan Bet today, and enjoy all the free NHL bets.
Titan Bet NHL Betting Options:
Team to score first, Team to have first powerplay, Total goals odd or even, 1st 2nd and 3rd period winners or tie, Will game go to overtime, Spread, Over/Under, 3 way and 2 way betting options, Moneyline.
It is expected that player props, team props and a variety of futures will be available within the next week. I'll update this section when that happens. In the meantime you can also head on over to Titan Bet and see the latest NHL betting odds for yourself.
Why Canadians Should Bet at Titan Bet:
As mentioned above – NHL is now practically the flagship sport of Titan Bet. Titan offer a variety of great promos related to NHL. Canadians are also the flagship nationality for Titan Bet – so they are offering a variety of great promotions exclusively to Canadians.
Titan Bet also get you started with $50 in free bets, so it's a great way to kick off the NHL season and it's very easy to claim the 50 bucks in free bets. Titan Bet also use payment processors within Canada, so it makes it a lot easier to deposit money with your credit card or bank account, and withdrawals are also processed promptly. I use Moneybookers personally, and I get my withdrawals within 24 hours.
Titan also have an online poker room and an online casino attached to them – so you can take your Penguins winnings and hit up the poker tables or slot machines. These are quality and I really enjoyed playing there. It's great to be able to have all your gambling money in one place and the software is great.
Their interface is really slick too – have a look.
Why Canadians Shouldn't Bet at Titan Bet:
The bonus is small – you can get a bigger signup bonus at a lot of other online sportsbooks. Also the odds aren't as competitive – I mean the betting odds there are decent, but if you shop around you'll find some better betting lines about 90% of the time.
The Bottom Line:
Titan Bets flagship sport is hockey. Titan bets flagship country is Canada. This is really a no-brainer. While I wouldn't be doing ALL my betting at Titan Bet – it's a professionally run, excellent sportsbook and we're its target market. They're going to be giving us a lot of great promos that we need to be registered to take advantage of.
So sign up at Titan Bet to bet NHL Hockey, and let the good times roll.
Follow @BetNHL
BetNHL.ca » NHL Sportsbooks »