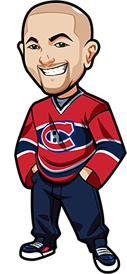 Follow @BetNHL
William Hill is one of the biggest and best online sportsbooks out there. It may surprise you, but this UK based bookmaker is one of the best options for NHL Betting.
The amount of betting options William Hill offer for hockey is impressive. Pick one random game and you can have over 60 freaking bets for it.
Click here to check out William Hill.
You can bet the standards like the money line, pick line, over/unders etc. You can also do a double chance bet like Red Wings or Draw – based on regulation time.
William Hill also offer a really cool Enhanced Odds special – based on a goalscorer and team to win. The odds can be impressive too – for example you can bet Datsyuk to score and the Wings to win, and the odds can be as high as 17.00 for that.
For every bet they offer, they go into so many options. At a lot of books you can bet just Over 5 goals. Here you can do Over 7.5 goals and so on, and there's a huge variety. They also offer set up specials like Wings win and Under 4.5 goals.
You can also bet the Race to X Goals for example who will score 3 goals first(with the option of betting neither team) and then on top of that, be able to bet when the first goal will be scored.
NHL isn't the only league William Hill cover. They ofer a variety of other hockey betting options like the Swedish Hockey League, Slovakian Extraliga etc. Always good when the NHL is on the off-season.
Click here to see all the options available at William Hill.
William Hill also offer both mobile betting and live betting and then cover a variety of other betting. You have your usual basketball, baseball etc but so much more. You can bet on TV shows here and WWE wrestling and they even have an awesome virtual world betting where you can bet on things like virtual soccer and virtual horse racing which is just ridiculously fun. Sadly no virtual hockey as of yet.
They don't actually advertise it too well but William Hill offer a 100% match bonus as well. If you're Canadian it's 100% to $100 and if you're in the UK it's a 100 pound bonus.
William Hill offer a nice easy clearable bonus as well so if you're jumping from book to book building your bankroll via bonus, William Hill is one you should be stopping at.
Overall, William Hill is an excellent online sportsbook. They're very trustworthy and I find that you can get the best odds there on completely random games. Like a random Tampa Bay Lightning game will have the Lightning at 2.20 while everywhere else they're 2.05. Sometimes you'll find it's the other way though – 1.80 everywhere and then an insanely low 1.60 elsewhere.
So don't do all your betting at William Hill. As we ALWAYS recommend have multiple accounts at multiple sportsbooks and bet based on the odds. With the crazy variance in odds here, it's for the best.
Click here to sign up at William Hill.
Follow @BetNHL
BetNHL.ca » NHL Sportsbooks »