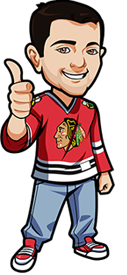 Written by Scott on Tuesday, June 21st, 2016
Follow @BetNHL
The NHL Awards are tomorrow and you can bet on who you think will win the award with an updated list of available players over at Bodog/Bovada and 888 Sports.  This is different that the preseason award picks where they were the most likely candidates to win based on last season.  Below I'll go over 3 of the awards with who I think will win it.  The Odds aren't great for the favorites but there are some awards that have some great odds where it's not yet determined who will win.
Calder Memorial Trophy
The Calder is given to the player " most proficient in his first year of competition in the National Hockey League".  In other words it's the rookie of the year award.
Artemi Panarin – -325
Conner McDavid – +255
Shayne Gostisbehere – +800
In my opinion this award isn't even in question. Panarin had an amazing season.  He had 77 points in 80 games, 30 goals and 47 assists, and the chemistry he had with Kane helped carry the Hawks all season. He should win this.  McDavid had a great year averaging over a point a game but he was hurt for almost half the season.
Bet on the Calder Memorial Trophy over at:
Canada: [geocode id=5
USA: Bovada
Everyone Else: 888 Sports
Jack Adams Award
This award is given to the coach of the year.  This can be due to the season they had or for the success they had this season after the year they had previous.
Barry Trotz (Was) – -105
Gérard Gallant (Fla) – -115
Lindy Ruff (Dal) – +800
The Caps had an amazing year.  They ran away with the Presidents Trophy and had their best season in franchise history.  The Panthers had a great year too. But the numbers speak volumes.
Bet on the Jack Adams:
Canada: [geocode id=5
USA: Bovada
Everyone Else: 888 Sports
Vezina Trophy
The Vezina is an award given to the goalie who had the best regular season. 
Braden Holtby – -3000
Ben Bishop – +700
Jonathan Quick – +1500
Much like the Calder Trophy, this isn't even a contest.  Holtby had 48 wins, which was 8 more than the 2nd place Quick, to lead the league.  The 48 wins he achieved tied the single season record set by Martin Brodeur and he did it in 12 less games played.  The Odds show you why this is a runaway win for Holtby.
If you want to bet on the Vezina and go with or against Holtby then you can do that here although I don't see any point in betting this as there is no value whatsoever:
Canada: [geocode id=5
USA: Bovada
Everyone Else: 888 Sports
To get the complete list of awards you can bet on then be sure to go to:
Canada: [geocode id=5
USA: Bovada
Everyone Else: 888 Sports
Follow @BetNHL
BetNHL.ca » Tonights Tips »