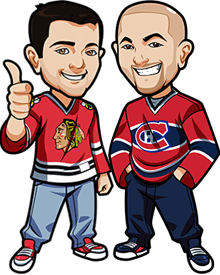 Written by Graeme & Scott on Sunday, July 13th, 2014
Follow @BetNHL
The summertime is great. Nice weather, can get outside and do things, swimming, campfires the list goes on and on. But one thing is obviously missing and that's hockey. The summer months can drag on without any hockey to watch and bet on. So that's where Bovada comes in to save the day.
Bovada has already released their futures betting odds on who will win the 2015 Stanley Cup. It's not actual NHL action but it's just enough to hold us over for a little bit. And with all of the moves that have already happened it's interesting to see the odds for each team. Below we will go over a few teams that are worth discussing and hopefully help you with your decision.
Things will change before the start of the season as more moves will be made. But it's good to jump on these teams and bets now before the odds change. It's always good to bet a couple teams also. When it's this early you have nothing to lose. All of the teams listed below would be a good bet and they are listed in no particular order
Chicago Blackhawks
The Hawks are the early favourites to win the 2015 Stanley Cup.
The finally have a true number 2 center with Brad Richards and the have locked up both Toews and Kane to long term contracts. And have virtually the same team returning as they did last season.
But with Richards coming on board and Toews and Kane making 84 million each per season they are now up against the wall for the salary cap.
They fell short against the eventual champs, the Kings, and added only one player. But they are sure to lose some important pieces before the season begins thanks to their budget.
The Hawks have what it takes to win it next year but who will be on the way out?. But if you think Richards was the final piece then head to Bovada and bet the Blackhawks for 8.00
Anaheim Ducks
Now here is a team that is going to do some damage next year.
They were 1st in the Western Conference last season and 2nd overall only by a point behind the Bruins.
They did lose a legend when Selanne retired but they got much better.
They landed arguably the biggest prize of the free agent pool with Ryan Kesler. And then they went out and grabbed Dany Heatley, who is eager to prove that he is still capable of being a star in the NHL.
I like the Ducks chances this year. A top six that features; Kesler, Heatley, Corey Perry, Ryan Getzlaf and the continued improvement of some of their young stars and this team is scary
Bet them to win the 2015 Stanley Cup at Bovada for 13.00
Dallas Stars
Another team who added some big guns and are on the verge of being a powerhouse in the NHL are the Stars.
They already have two young superstars with Jamie Benn and Tyler Seguin but they are now much deeper.
They grabbed Jason Spezza and Ales Hemsky for their second line. They added Patrick Eaves for depth and also a more than capable backup goalie in Anders Lindback. A deep team has gotten deeper and much better.
With no glaring holes this team looks more than ready to take then next step.
If you like the Dallas Stars the bet them to win the 2015 Stanley Cup for 19.00 odds.
Tampa Bay Lightning
This team made the playoffs without a healthy Steve Stamkos thanks to Marty St. Louis. Well Marty has moved on and we now get to look forward to a full season from Stamkos and see what he can do without his long time friend and linemate.
The Lightning added towering center Brian Boyle and Brandon Morrow up front. Evgeni Nabokov as a backup will help Ben Bishop with the workload. On defense they really improved adding Jason Garrison and Anton Stralman.
And after the years that the Lightning's rookies Tyler Johnson and Ondrej Palat had this team is deep and ready to go
Bet a healthy Stamkos and the Lightning to win the 2015 Stanley Cup for 19.00 odds at Bovada
Washington Capitals
They just missed the playoffs last year and you can't blame that on Ovechkin. He scored 51 goals, 8 ahead of second place Corey Perry, and you have to think he's ready to jump back into the playoffs to try and claim his first Cup
Well what many argue was missing was defense. That's not a problem this year. They signed Penguins free agent defenseman Matt Niskanen and Brooks Orpik. Many argue that they over paid for Niskanen but as of now this is the deepest defense the Caps have ever had and maybe even the best in the NHL.
Niskanen and Orpik join Mike Green and John Carlson so the back end is covered. Up front Ovechkin, Backstrom, Brouwer and company will score goals. This could be their year.
Great early odds on the Capitals winning the 2015 Stanley Cup at Bovada of 41.
Follow @BetNHL
BetNHL.ca » Tonights Tips »