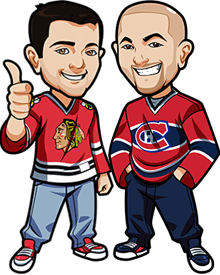 Written by Graeme & Scott on Sunday, May 8th, 2016
Follow @BetNHL
3 solid hockey games yesterday, with two teams taking a 3-2 lead and another team clawing one back.
The Washington Capitals were finally able to get by Murray. They only racked up 19 shots on goal but that was enough with 3 of them going by him and Holtby having a solid game. Capitals are 3-2 now and will go to Pittsburgh hoping to tie it up.
The St. Louis Blues got a massive 4-1 win in Dallas to take control of that series. They can now finish it off at home.
The San Jose Sharks will be hoping to recapture their tremendous regular season road form in Game 6 because that will be enough to see them move onto the next round.
We have one game today which is the New York Islanders vs the Tampa Bay Lightning. This is Game 5, and takes place in Tampa. Tampa lead the series 3-1, and in their previous two home games won and lost against the Islanders. They then went on the road where they beat the Islanders twice – requiring overtime both times. They also beat the Red Wings in all 3 of their home games.
It's an interesting situation because as some Lightning fans are pointing out – the longer the Lightning are in it, the more chance Stamkos gets to come back. But as others are pointing out – the longer the Lightning are in it, the more Stamkos value goes down.
Going to be a very interesting off-season for them.
Let's get to todays tips:
Islanders vs Lightning Game 5 Betting Tips:
Islanders vs Lightning
Scott:  With one more win the Lightning will be in the East finals for the 2nd straight year.  The fact that they have done this without Stamkos or Stralman is amazing and shows off their depth and makes the possibility of Stamkos moving on in the off season more likely.  The Isles are down 3-1 but have played well just haven't gotten the results they were looking for.  This is a tough game to call.  With the Lightning holding the huge edge and being at home I would lean towards them but I can't say that with confidence.
No Bet
Graeme: This is a tough one. I'm more focused on the Islanders here. They have played so well in this series and have dominated large portions of the games – yet see themselves on the brink of elimination. If they get eliminated today that will be a sad end for them considering the way they're playing. They're doing everything they need to – just sometimes it just doesn't go your way.
I think the Islanders have a bit of life left in them yet and they're going to push this one at least one more game. Islanders to win. They might need a few bounces in their favour but I think the odds make it worth the bet.
Canada: 2.45 Odds at Bet365 (Americans: We recommend http://www.bovada.lv.
USA: +145 Odds at Bovada.
Everyone Else: 2.45 Odds at Bet365 (Americans: We recommend http://www.bovada.lv.
Follow @BetNHL
BetNHL.ca » Tonights Tips »