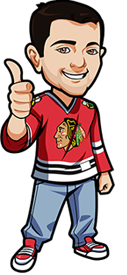 Written by Scott on Monday, June 19th, 2017
Follow @BetNHL
Now that the dust has settled and the Penguins are again the Stanley Cup Champs, the focus now turns to the NHL entry draft.
This year's list of players doesn't have a McDavid or a Matthews among them but there is still plenty of great young talent available.
The are sportsbooks that offer props on the draft and below we will go over some of them.  But be sure to head to the sites to get a complete list and up to date odds.
First Overall Pick
This prop is available at 888 Sports and is who will go first overall.   It's between Nolan Patrick and Nico Hischier. 
Nolan Patrick – 1.85
Nico Hischier – 1.85
Both players are centers and have high potential.  But it has been Patrick who has been the higher ranked by central scouting for the whole season.  He's bigger than Hischier but had dealt with some injuries.  If a GM is worried about those injuries being an ongoing thing than they may pass on him. 
But the Devils need a player like Patrick to start their rebuild and to someday play with Taylor Hall.  I think he goes first overall
I think Nolan Patrick will go first overall.
3rd overall pick
With the first 2 picks all but guaranteed we now move onto who will be chosen 3rd overall. 
Cale Makar – 3.25
Miro Heiskanen – 3.25
Gabe Vilardi – 6.50
Cody Glass – 7.50
Anyone Else – 2.85
This is where it gets tricky.  There is no standout or guarntee for the 3rd overall pick.  The Stars moved up in the entry draft and hold this position. 
With 2 centers gone already why not make it 3 in a row.  Vilardi is listed as a center but plays on the wing.  He had a great year for the Spitfires when he was healthy.  He hurt his knee and had an emergency appendectomy which cost him some games.  But he did play in 49 games scoring 29 goals and adding 32 assists. 
This kid is big and talented and should go 3rd overall.  The fact that he was born in the town we live in doesn't affect our pick.  With him playing center and wing, the Stars would have a stellar cast of forwards with him, Benn and Seguin.
Gabriel Vilardi to be picked 3rd overall at Sports Interaction
Total Finnish Players drafted in the first round
At 888 Sports you can bet in the number of players born in Finland to be selected in the first round.
There are many choices with Over/Under numbers to choose from.
I have been following the scouting reports and Finland has some good young players this year.
Heiskanen will be drafted in the top 10 and could be the first defensemen drafted.  Tolvanen is ranked around the 10th spot.  In the middle of the first round we should see Valimaki and Vesalainen taken.  With 4 players from Finland gone we need to determine if Vaakanainen will go too.  He didn't have a strong season but scouts liked what they saw.  And with teams always needing good defensemen I like his chances to be take in the first round.
After those 5 I don't see any Finnish Players having a chance at going in the first round.
Under 5.5
Any Swedish Player drafted in Top 10
A rich hockey nation like Sweden would surely have a player taken in Top 10 right?  Well there's a chance that they won't.
2 players could.  Elias Pettersson is a center who put up great numbers but will need to grow physically before he could even think of playing in the NHL.   Timothy Liljegren had a rough year.  At one point he was going to be taking 2nd overall but a down season had his stock drop.   These players are too good to drop below the 10th spot
At 888 Sports you can bet in if a player from Sweden will be drafted in the Top 10.
A player from Sweden WILL be drafted in the Top 10 for 1.72 odds
From what we see from looking at all the online sportsbooks and all of the draft props they have going on, the best place for the draft bets this year is 888 Sports – Click to see what they have to offer.
Follow @BetNHL
BetNHL.ca » Tonights Tips »