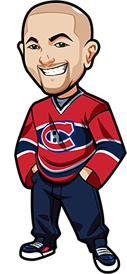 Written by Graeme on Friday, March 20th, 2015
Follow @BetNHL
An excellent night last night, as we went 4-0. That puts us at 9-0 in the last 3 days.
Game of the night by far was the Senators vs Bruins. We had the Senators to win that one – and they won, but not in the fashion that we expected. That was just a very, very thrilling game – especially with the refs getting taken out!
We had the Sharks to beat the Leafs in regulation and they promptly delivered, as did the Flames, and the Colorado Avalanche.
A great night. Loved this e-mail:
Hey guys,
I've read all you have wrote about bankroll management and bonus chasing etc. I'd worked my bankroll up slowly the past few weeks at B365, from $5 all the way to $56. Well I decided to take a shot yesterday, and decided to go big or go home and check it out!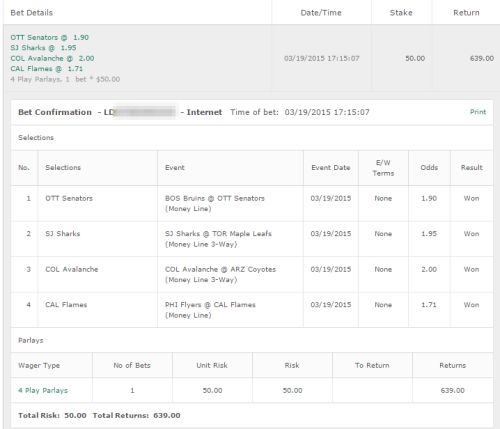 Thanks so much, keep em coming!
While I cringe at that bankroll management – at least it worked out and he managed to multiply his bankroll 10x! FYI if you bet that at Pro Line or Sport Select or similar you'd probably get about $200 for that $50.
That's why you should bet online!!!! Grab the $20 free bet at Sports Interaction, as well as the other bonuses there and get started.
Speaking of – it's Friday, time to chat with our friends over at Sports Interaction. This is a weekly segment where we sit down and speak to the bookie about all things hockey and get their perspective on matters.
BetNHL.ca: I've noticed the odds shrink heavily on the Flames over at Sports Interaction lately.
Sports Interaction: Yep – this team is for real, to the point that the casual Canadian punters are betting on them. They were one of the most popular picks in every game they played last week – against the Ducks, Leafs and Avalanche.
BetNHL.ca: Another big change – the New York Rangers. Now the favourites to win the Stanley Cup at Sports Interaction.
Sports Interaction: That is correct. As of this call they are +750 to win the Stanley Cup. They were +1400 exactly 6 weeks ago.
Of course that +1400 was a bit inflated – it was the day after Lundqvist went down. However despite his injury, the Rangers continue to do the business and are just killing it. So it's no surprise they have jumped to the top of the list in terms of Stanley Cup winner favourites – to overcome a major injury lik ethat is huge. And when they get Lundqvist, Klein and St Louis all back – watch out.
BetNHL.ca: The other big story this week is Andrew Hammond. Ottawas playoff hopes really didn't look good at all. Now they're right up there. How's that going to play out?
Sports Interaction: That win over Boston was massive. Ottawa are right behind the Bruins now. 2 points behind, with a game in hand. That's a great position to be.
It's not just Hammond of course – it's also the much better structure that Dave Cameron has going there. It's also interesting to look at the Bruins. They went 7-0-1 recently and you'd think yep – they're a cert for playoffs. Then they get shutout by the Capitals, lose in a shootout to the Sabres. Going to be a VERY interesting couple of weeks.
BetNHL.ca: Away from the playoffs – who are the "spoiler" team people should look at? That team who don't really have a chance of the playoffs but are going to screw up the hopes of others.
Sports Interaction: Panthers are a good one. They're young, and they want to play and play hard and it doesn't matter for what reason. Luongo coming back will help too. The Avs are another one. McKinnon being out sucks, but they've stepped up and have shown a great team mentality and Varlamov is running hot too. They're going to upset a lot of teams.
BetNHL.ca: And the free bet is still active?
Sports Interaction: Yes it is. $20 free bet for all Canadians PLUS $125 free for all new depositors. If you're not Canadian, you can still get $125 free! All exclusive to BetNHL,ca, ends in March. See here for all the details.
BetNHL.ca: Thanks guys.
NHL Betting Tips for March 20th, 2015:
Nothing really stands out tip wise, but let's analyze each game:
Sabres vs Devils: An easy value bet on the Buffalo Sabres to win. Devils have beaten them twice this season, but both times were in New Jersey. Buffalo haven't played much at home this month but when they have, they have looked fairly good, forcing the Capitals to go to overtime and beating the Canucks. Also tight losses against the Rangers. 2.67 odds including overtime and shootout? Yep, nice and easy value bet.
Red Wings vs Lightning: Tampa, rested, are coming off that big win over the Habs. Red Wings are stuttering, played last night and lost to the Panthers. Lightning have also matched up well with the Red Wings this season. You can NEVER count the Red Wings out, but form wise you just have to go with Tampa at the moment. The only question is whether you take them in regulation at 2.00 or -1.5 at 2.80, as the overtime/shootout odds of 1.62 are too low for us. Take the risk away by betting with the bookies money.
Avalanche vs Ducks: Another value bet, this one on the Avs at 2.75 odds. Avs are still hanging in there in terms of the wild card spot. They've had an easier schedule than other teams at this stage of the season so it can be a bit deceiving. Ducks ARE the better team and should win. But there is probably just enough value on the Avs.
Follow @BetNHL
BetNHL.ca » Tonights Tips »