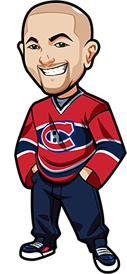 Written by Graeme on Sunday, March 14th, 2021
Follow @BetNHL
I'll probably regret not tipping Bruins in reg.
Ron Howard: "He didn't."
It was a winning night with our lone NHL Tip as the Florida Panthers got the victory over the Chicago Blackhawks.
It was a solid night of hockey. I posted in the comments that the two plays I liked the most where Pens in reg and Flyers/Caps over. I held back from fully advising them as the Pens reg line had moved to unbettable territory and overs give me a bit of the jitters lately but it was good to see both of them come in.
The Pens are luring me into false confidence territory. I guarantee we bet them feeling damn good about them within the next week or two and they just blow up in my face.
It's been a good few days with a lot of expected results. Let's hope it continues.
Let's look at Sunday:
Avs vs Kings:
Avs hammered away at the Kings like crazy the other night but were only able to get out of there with a 2-0 victory.
Kings canceled their practise yesterday due to players feeing sick. Avs are the better team, Kings are feeling ill, and I mean that was just a dominant game by the Avs.
Avs In Regulation
Canada: 1.71 Odds at Sports Interaction (SIA) + free $20 bet.
USA: -160 Odds at BetOnline..
Everyone Else: 1.70 Odds at Bet365 (Americans: We recommend http://www.bovada.lv.
(Odds correct as of 2021/03/14 7:37:10 AM EST but are subject to change.)
Senators vs Leafs:
Sens come in on a nights rest. Leafs no rest. I believe Leafs have only had one night with no rest against alternating teams and they lost it to the Canucks on the 4th.
I'd like to say it's the Battle of Ontario and Leafs rise up to the occasion but you have to wonder with the all-Canadian division if the specialness of those games fades away somewhat.
Just based on the no rest policy – Sens are probably a good pick. Leafs are a team they normally raise their game against. Senators actually have a surprisingly good home record of 5-6-1.
Call me crazy but I've spent time analyzing the Sens home metrics and they are at least a top half team, and top 5/10 in some of the metrics. The odds actually make this a justifiable bet based on the math alone I'd say. Leafs on no rest too is enough for me to take it.
I'm well aware this could blow up in my face in an embarrassing fashion and I'm tempted to go with a safer bet like Senators Or Draw but I'm going to roll the dice with Senators to win incl OT/SO.
May God have mercy on our souls.
Canada: 3.10 Odds at Bet365 (Americans: We recommend http://www.bovada.lv.
USA: +210 Odds at GT Bets..
Everyone Else: 3.10 Odds at Bet365 (Americans: We recommend http://www.bovada.lv.
(Odds correct as of 2021/03/14 7:37:10 AM EST but are subject to change.)
Wild vs Coyotes:
I always feel weird going back to bets on the 2nd leg however this is an easy pass on the Wild. We've already seen a lot this season – teams trading wins when they play twice in a row. We literally saw this last week with the Wild beating the Coyotes and then losing the following night.
The difference here is Wild have had rest. They're still rolling with Talbot here. Anyway after last weeks results I'm fine staying away although Wild in reg is probably worth the risk.
Red Wings vs Hurricanes:
Red Wings come into this after two great games against Tampa. Can they continue these performances? I spent some time analyzing the advanced metrics of the Red Wings to see the differences between home and away. In the Corsi & Fenwick metrics they're better on the road and actually in a few more metrics they are too which was interesting to see. I was curious if beyond the results they were a better home team but doesn't seem to be the case.
These two teams have played three times before. They played at the beginning of the season and traded wins then Canes beat them 5-2 at home 10 days ago. That last one was a tight one until the third period.
Canes are riding a strong power play. They'll be without Trocheck though who is their current goals and points leader.
I expect Canes to do the business. But with Trocheck out, some heavy reliance on the PP, and the Red Wings performances coming into this game – feels like I'd be forcing this one in. I'm going to skip it.
Devils vs Islanders:
Again? My god no just no.
Follow @BetNHL
BetNHL.ca » Tonights Tips » March 14th, 2021 NHL Betting Tips