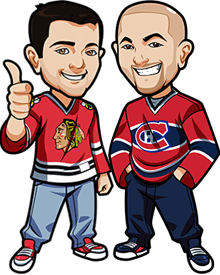 Written by Graeme & Scott on Wednesday, June 9th, 2021
Follow @BetNHL
Another team makes it into the next round of the Stanley Cup playoffs. The Tampa Bay Lightning defeated the Carolina Hurricanes 2-0 for a Gentleman's Sweep.
This was a consensus pick by us. We both liked Tampa to win the series and they were able to do so.
Alas our Avs -1.5 pick for the series is busto. The Vegas Knights got a key 3-2 road win yesterday in overtime and now the Avs look to be out. In saying that – down 3-2 with your backs against the wall in enemy territory – if you're worthy of the cup, you win these games.
Tonight we've got just the one game as the New York Islanders host the Boston Bruins.
The Islanders are up 3-2 and it's a crucial Game 6.
Islanders vs Bruins Game 6 Betting Tips:
Scott: The Islanders can win the series tonight.  They will have their home fans cheering them on so the Bruins will have their work cut out for them.  If the Isles win this game or next they would move on to the final 4 for the 2nd year in a row.
But the Bruins need to not panic and instead just do what they know how to.    They pulled Rask in game 5 for what coach Cassidy said was for "maintenance" and that he wasn't 100%.
This has been a close series and it deserves to go to 7 games but with Rask having a rough day I hope he sorted out what was troubling him and we get a deserved game 7.
Bruins win incl OT
Canada: 1.77 Odds at Bovada.
Everyone Else: 1.76 Odds at BetOnline..
(Odds correct as of 2021/06/09 11:09:35 AM EST but are subject to change.)
Graeme: Man the Islanders just winning by the skin of their teeth. Varlamov with 40 saves, three PPGs – that's the way to do it against the Bruins. Make them pay for the penalties they incur.
Tonights game will be interesting. Cassidy ranted about the refse and got fined $25k. That actually has an interesting effect – often you will see refs, after being called out, let things go a lot more in the next game.
Not always the case but that could be a big factor here.
Similar to the Avs mention above – this is an absolutely crucial one. I just don't know if the Bruins have it in them.
When I break it down by the metrics – it's pretty mental the Islanders are in this great spot.
Islanders at home are dangerous too. This is one I'd like to pass on but I think the Bruins are running out of steam, and are going with Islanders win incl OT
Canada: 2.19 Odds at BetOnline..
USA: +119 Odds at BetOnline..
Everyone Else: 2.19 Odds at BetOnline..
(Odds correct as of 2021/06/09 11:09:35 AM EST but are subject to change.)
Follow @BetNHL
BetNHL.ca » Tonights Tips »